Doing Business in...
Argentina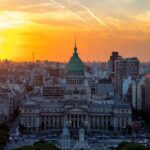 1. Introduction. Argentina is the 8th largest country in the world and produces several services and goods relating to a wide variety of industries including, among others, agribusiness, real estate, tourism, oil and gas, mining, technology, telecommunications, media, etc. Argentina also has sophisticated human resources dedicated to business, which due to the exchange rate of …
Contributed by Salaberren & Lopez Sanson (SyLS)
Read More...
Legal Market Overview
In Argentina, cautious optimism is in the air as the country begins its recovery after enduring difficult few years from 2018 to the beginning of 2021. A challenging pre-covid scenario was compounded by the direct and knock-on effects of the pandemic; however, a combination of declining covid-19 infection-rates, an acceleration in vaccination roll-out and President Alberto Fernández's left-wing Frente de Todos (FdT) coalition government conclusion of the process the country's debt restructuring, has led to economic growth projections of 2.5% in 2022 and 2.3% in 2023.
Uncertainty does remain, particularly with the 2023 general election on the horizon, however key sectors such as tourism and manufacturing show signs of rebounding, supported by a booming energy and natural resources market. Shale production in the Vaca Muerta region continues to go from strength-to-strength, with the country having becoming a net-exporter during the course of the last year. This booming sector is supported by increasing interest in the extractive sectors, particularly as regards lithium and copper. Elsewhere, renewables is an ever more important segment, globally, and Argentina is no exception: the dynamism of the solar and wind energy markets show no signs of slowing, with net-zero targets being a driving force in the area.
The thriving energy and natural resources sectors have provided a lot of work in the legal sector, where employment law issues and litigation are also keeping lawyers busy. The core area of Banking, insurance and IP law have been relatively stable markets, whilst 2021-22 saw an increase in advice sought in relation to consumer law and TMT.
The county's legal powerhouses Marval O'Farrell Mairal, Pérez Alati, Grondona, Benites & Arntsen, Bruchou & Funes de Rioja

and Beccar Varela provide a full-service and act at the top of the market in many key practice areas. Other prominent players are the well-known firms Allende & Brea, Bomchil, and Mitrani Caballero & Ruiz Moreno Abogados, with Martínez de Hoz & Rueda increasingly developing out of it original oil-and-gas sector specialism and into a far broader service offering. Zang, Bergel & Viñes Abogados too has a broad offering but remain strongest in its marquee-practice of real estate, and as is the case across most major Latin American jurisdictions, Baker McKenzie remains a significant presence in various sectors, notably compliance, labour and TMT.
In terms of more specialist and/or boutique offerings, O'Farrell remains prominent in its core areas of power and public/administrative law; Funes De Rioja & Asociados remains a benchmark for labour and employment legal services; G Breur retains its leadership of the IP space; Estudio Gabriel Macchiavello and Venditti Hierro Quinteros  are at the forefront of the increasingly prominent environmental sector; and go-to names for banking and finance include Salaverri, Burgio & Wetzler Malbran and Tavarone, Rovelli, Salim & Miani. The tax area saw one of the few major movements of 2022, with highly-regarded tax boutique Teijeiro & Ballone, Abogados merging into Bomchil to further strengthen the firm's tax department led by partners Alejandro Esteban Messineo and Ariadna Artopoulos. Following on from it's absorption of former oil and gas boutique Alliani & Bruzzon in late 2020, this latest move has very much seen Bomchil fully regain its role among the country's leading full service offerings.
Other notable developments saw Estudio Bunge strengthen its partnership with the promotions of Agustín César Bunge   (banking & finance, M&A and corporate governance), Silvia Ludtke (commercial, contract and corporate law), and Juan Cornejo   (civil & commercial litigation, arbitration, and bankruptcy & insolvency), as well as the Novemner-2021 hire of former Pérez Alati, Grondona, Benites & Arntsen counsel Pedro Menendez San Martin (VC, PE and M&A transactions and corporate finance) as partner; the team is now 26-strong with 11 partners and six of counsel. Beccar Varela also deepened the bench depth of its partnership in 2022 with the promotions of Ana Andrés (life sciences), Felipe Videla (banking & finance) and Lucía Degano (banking & finance / corporate); while Zang, Bergel & Viñes Abogados elected Francisco Roggero as its new managing partner in mid-2022 (replacing senior partner Carolina Zang) and also added a corporate-finance partner, María Angélica Grisolía -from energy boutique Beretta Godoy– in late 2021. Since publication, Beccar Varela – the first corporate firm to open a white-collar practice – has continued its innovative vein with the opening of a Public Affairs department – operative with effect from November 2022.