Doing Business in...
Argentina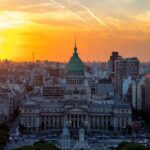 1. Introduction. Argentina is the 8th largest country in the world and produces several services and goods relating to a wide variety of industries including, among others, agribusiness, real estate, tourism, oil and gas, mining, technology, telecommunications, media, etc. Argentina also has sophisticated human resources dedicated to business, which due to the exchange rate of …
Contributed by Salaberren & Lopez Sanson (SyLS)
Read More...
Legal Market Overview
In a year defined by the seismic effects of the Covid-19 pandemic, Argentina's precarious economic reality was edged further towards crisis, dominating much of the political, social and legal narrative. In 2020 GDP declined by an estimated 10%, the result of a fragile economy battling one of the stricter Covid-19 lockdowns in the world, although this safety-first approach did contribute to Argentina having a significantly lower death toll from the virus in comparison to many of its neighbours.
President Alberto Fernández, who took office in December 2019, had to live up to election promises of redressing the country's economic downturn while faced with a global pandemic, a decline in imports and exports, inflation above 40% (according to World Bank figures), and a complex debt renegotiation. In 2020, Fernández's government reached a deal with creditors on the restructuring of $65bn of the country's foreign debt, which provided investors with more certainty, but hampered a fiscal stimulus strategy that included infrastructure investment and was supposed to get the country back on (economic) track.
The country's strong manufacturing industry, along with tourism, hospitality and retail, was particularly affected by the pandemic, with factories and industry shut for large portions of 2020 and 2021. On the flip side, the ever-reliable agricultural sector was among the least affected, and the government increased its spending in the health sector. The production of raw materials also continues to be an important contributor to the economy, notably shale production in the Vaca Muerta region. The other key driver in the Argentine energy sector is renewables, as in many countries, and this momentum was not slowed by the events of the past year.
The legal sector was no exception in having to adapt to the fast-changing situation as best it could, with employment, litigation and bankruptcy all proving to be notable areas of flux. In relation to the former, the government instituted measures to prevent employers from laying off staff without just cause, which was combined with financial support for workers and grants to cover payroll costs. The suspension of all court activities for at least 6 months, (with many still to fully reopen), naturally affected all practice areas with a contentious aspect. As the litigation hiatus begin to subside and courts gradually reopened their doors (literally or virtually), the focus increasingly turns to bankruptcy, restructuring and insolvency, with many companies rethinking strategies, and finances, in the light of the pandemic's impact.
The full-service legal juggernauts in Argentina are Marval O'Farrell Mairal, Pérez Alati, Grondona, Benites & Arntsen, Bruchou, Fernández Madero & Lombardi and Beccar Varela. They lead the market in many practice areas, along with the ever present Allende & Brea, Bomchil and O'Farrell, and the increasingly prominent Mitrani Caballero & Ruiz Moreno Abogados, and Martínez de Hoz & Rueda; the latter of which stands out in the energy space but continues to bolster its full-service credentials.
Elsewhere, Salaverri, Burgio & Wetzler Malbran and Tavarone, Rovelli, Salim & Miani provide strong banking and finance practices, while Rosso Alba & Rougès and Teijeiro & Ballone, Abogados are known for tax expertise and Funes De Rioja & Asociados is one of the go-to names for labour and employment. In the TMT field international firm Baker McKenzie particularly distinguishes itself and is active in the ever more crucial life sciences and healthcare areas; Marval O'Farrell Mairal and Beccar Varela being other key names in this space. A new arrival in the market was Spanish firm ECIJA, which announced its move into Argentina via a merger with EZLEN Abogados, and -with its broad global network- will be one to watch. The key development in the IP sector was the division of Berton Moreno + Ojam into the separate boutiques Berton Moreno IP Law and Ojam Bullrich Flanzbaum; both new firms continue to provide strong offerings.
There has been little in the way of new market developments but notable exceptions include the establishment by Javier Malamud of his own -eponymous firm; formerly a tax partner at both Bruchou and most recently, Cerolini & Ferrari, his boutique handles tax litigation and planning, transfer pricing advisory, corporate tax and international transactional tax matters. Elsewhere Daniel Calatrava and Fernando García Pulles left O'Farrell after some 15 years and re-established García Pullés & Calatrava Abogados in August 2020; former, long-standing Bomchil labour-partner Federico M Basile departed Krause Abogados (which he joined in 2018) to establish his own labour boutique, Basile Abogados; and long-standing Bulló partners Carlos Marin and Marcelo Perez opened labour boutique Marin Perez Abogados in March 2020. 
In other developments, since publication, Estudio Bunge has considerably strengthened its partnership, promoting Agustín César Bunge (banking and finance, M&A and corporate governance);  Silvia Ludtke (commercial, contract and corporate law); and Juan Cornejo (civil and commercial litigation, arbitration, and bankruptcy and insolvency), along with long-time Pérez Alati lawyer and counsel Pedro Menéndez San Martín (VC, PE and M&A transactions and corporate finance) to the partnership; the 26-strong firm now houses 11 partners and six of counsel. And on the 1st of February 2022, highly-regarded tax boutique Teijeiro & Ballone, Abogados announced its merger into corporate mainstay Bomchil, further strengthening a tax department long led by partners Alejandro Esteban Messineo and Ariadna Artopoulos.