Doing Business in...Argentina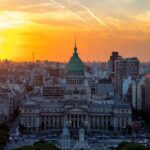 Argentina is the 8th largest country in the world and produces several services and goods relating to a wide variety of industries including, among others, agribusiness, real estate, tourism, oil and gas, mining, technology, telecommunications, media, etc. Argentina also has sophisticated human resources dedicated to business, which due to the exchange rate of the peso …
Contributed by Salaberren & Lopez Sanson (SyLS)
Read More...
Legal Market Overview
After only one term in power, 2019 witnessed the end of the President Mauricio Macri's centre-right experiment and a return to Argentina's 21st century 'business as usual' mode with the election of left-wing Peronist President, Alberto Fernández — notably, former Argentine premier Cristina Fernández de Kirchner ran as his vice president.
It has been a challenging few years for Argentina. In 2018 a sharp devaluation in the peso led to a record $57bn bailout from the International Monetary Fund; GDP fell by 2.5% that year, and shrank another 2.2% in 2019, dragging around 40% of its population into poverty.
In early 2020, the economy was battered again by the Corona-19 pandemic, as Argentina made the choice — like most countries globally — to batten down the hatches and put the nation -and the economy- into quarantine. In May, the inevitable happened and Argentina – at risk of default once again – had to seek renegotiations with foreign bondholders.
Against that troubled economic backdrop, the key story of the legal market has been infrastructure development as the government looks to use public spending to spur growth. The headline project continues to be the long-running RenovAr renewable energy auction programme, which entered its fourth round during 2019 and aims to push the country towards the target of deriving 20% of its energy share from renewable sources by 2025.
Another growing area for Argentine law firms is the emergent gambling industry. Following legislation passed in 2018,  in early 2020 Buenos Aires' lottery authority, LOTBA, adopted a series of regulations for internet gambling. Firms are already lining up to assist with licensing tenders, with LOTBA planning to begin reviewing applications before the end of 2020.
On the broader legislative front, the Macri administration passed a new tax reform at the end of 2019, which made sweeping changes to Argentina's tax regime, including corporate income tax, wealth tax, export duties and other tax areas. It also suspended the newly enacted Promotional Regime of the Knowledge-based Economy, which aimed to boost the digital, information and communications industries. Firms are reporting a significant uptick in regulatory matters as a result of companies seeking clarification on the new fiscal framework.
Unsurprisingly, the rocky economic climate has led to a more lawyers staying put this year, with fewer firm splits than has become usual of late. The only major story was on the restructuring side, where Naveira Truffat Martínez Abogados (NTMA) saw the departure of former name partners Javier Armando Lorente and Jorge López, who left to form new firm Lorente & Lopez Abogados in late 2019.
Argentina houses a sophisticated and highly competitive legal market, which is dominated by a band of globally recognised full-service firms, namely Marval O'Farrell Mairal, Pérez Alati, Grondona, Benites & Arntsen, Bruchou, Fernández Madero & Lombardi (recently invigorated by the completion of its transition to a second generation and associated new partnership agreement), and Beccar Varela, along with a resurgent Bomchil, the increasingly prominent Allende & Brea and Mitrani Caballero & Ruiz Moreno Abogados hot on their heels. Other members of the chasing pack include leading, medium-sized firms such as Martínez de Hoz & Rueda (a name which has become synonymous with energy work since its establishment in 2018), and Estudio O'Farrell, in turn best known for its electricity and public law offerings .
The market also fields a number of specialist firms that excel in certain niche areas. For banking and finance work, Salaverri, Burgio & Wetzler Malbran and, of late, Tavarone, Rovelli, Salim & Miani in particular, rank highly. On the IP front, Berton Moreno + Ojam, G. Breuer, Noetinger & Armando and Richelet & Richelet are key names. Funes De Rioja & Asociados shines in labour and employment, while Rosso Alba & Rougès and Teijeiro & Ballone, Abogados are both stand-out performers in the tax area.
An increasing number of global firms have also turned their attentions to Argentina over recent years. Notably, DLA Piper Argentina entered the market in 2018 through a tie-up with legacy local firm Cabanellas, Etchebarne & Kelly. Dentons launched in Buenos Aires a year later through a merger with local mid-size firm Rattagan Macchiavello Arocena; which also saw the former RMA's highly-regarded environmental practice spin-off into two new entities: Estudio Gabriel Macchiavello and Venditti Hierro Quinteros. In addition, Baker McKenzie has a long-standing presence in the country, acting on both local and cross-border work; and both Cleary Gottlieb Steen & Hamilton and Curtis, Mallet-Prevost, Colt & Mosle LLP (via its associated firm Curtis – Fernandez Quiroga, Ayarragaray & Ocampo) also benefit from boots on the ground.
The Legal 500 Client Service Survey
Data extracted from The Legal 500 Client Service Survey. Hover over data points to reveal number of Legal 500 firm rankings for this jurisdiction. All firm scores on display are above the Global Benchmark score for this criteria.