CMS > Zurich, Switzerland > Firm Profile
CMS
Offices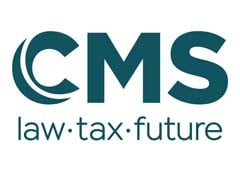 CMS
CMS von Erlach Partners Ltd
Räffelstrasse 26, PO Box
8022 Zurich
Switzerland
CMS > The Legal 500
Rankings
CMS
is particularly active advising domestic and international institutional investors, and handle a range of matters, including acquisitions and divestments of property, development projects, and sale-and-leaseback transactions.
Stefan Gerster
, who has worked in the practice area for more than 30 years, leads in Zurich, while
Olivier Carrard
, whose practice covers commercial real estate and project development, heads the Geneva office. Also key are
Sibylle Schnyder
, who brings additional expertise in real-estate litigation, and
Sidonie Morvan
.
CMS
is active in all areas of competition law, both locally and internationally. The team has vast experience in unfair competition matters, implementing compliance programs, and conducting internal audits. It is noted for its expertise in representing clients in Swiss antitrust administrative proceedings at all levels. Team head
Marquard Christen
stands out for his expertise in public procurement law, while co-head
Patrick Sommer
is particularly experienced in international and national merger control proceedings. Clients benefit from real time dawn raid assistance through the firm's Dawn Raid Assistant App.
The '
highly efficient and business-oriented'
group at
CMS
acts for domestic and international clients in a broad range of disputes. The department has an aptitude for complex contractual disputes, corporate responsibility matters, and trust and estate mandates, with particular strength in the construction, banking and insurance sectors.
Philipp Dickenmann
, who has experience in both commercial litigation and arbitration proceedings, co-leads the group with
Christian Lüscher
, who covers white-collar crime and international judicial mandates. Civil and commercial litigation expert
Pierre Ducret
and enforcement specialist
Reto Hunsperger
are also key names, as are
Daniel Kinzer
 and
Bernhard Lötscher
.
The '
pragmatic
' and '
hard-working
' employment team at
CMS
is led by
Christian Gersbach
, who specialises in cross-border and international employment matters; he is complimented by clients for his '
profound knowledge
'. The department provides advice and support on matters including post-merger integration of employees, employment contracts, workforce transfers, data protection for employees and terminations, and has also handled employment issues relating to the pandemic.
CMS
has a range of expertise, including research and development (particularly in clinical trials), patent enforcement, advertising and distribution issues and data protection, cooperating with over 480 healthcare lawyers across the globe. The firm has played an advisory role in the Swiss administrative proceedings regarding price recommendations for over-the-counter medication against erectile dysfunction, and provides pro bono support and legal education to charities such as Habitat for Humanity. Key lawyers include practice head
Christoph Willi
and
Alain Raemy
, who specialises in international and domestic M&A transactions, corporate restructurings, and relocations.
CMS
conducts proceedings before state courts and arbitration tribunals, as well as representing insurance/reinsurance companies when dealing with authorities in all matters relating to supervisory law. The team has experience of legal, regulatory and tax advice concerning the structuring, issuance, marketing and distribution of insurance products, as well as drafting and reviewing insurance and reinsurance policies and broker agreements.
Jodok Wicki
is the key name.
CMS
' office in Geneva is headed by managing partner and corporate M&A and competition practice head
Pascal Favre.
. The team's client list includes both Swiss and international companies, which range from multinationals to startups, financial institutions, government agencies, public utilities, entrepreneurs and individuals. The group also handles dispute resolution, tax, and sports law.
CMS
' Zurich office, headed by
Stefan Brunnschweiler
,
David Hurlimann
 and
Marquard Christen
, is lauded by clients as having
'remarkable knowledge
' and the ability to conceptualise '
innovative solutions with a holistic approach
'. The team offer full services from Zurich, assisting clients such as national and international companies, financial institutions, startups, government agencies, entrepreneurs, and public utilities. Other names to note include
Tina Balzli
, a specialist in capital and financial markets law,
Philipp J Dickenmann
, who is a key name for global dispute resolution, and
Dirk Spacek
, who handles intellectual property matters.
Led by Tobias Somary and Pierre Ducret, the private client team at CMS has a specific focus on domestic and international estate planning work and the related litigation. Services available to ultra-high-net-worth individuals, high-net-worth individuals and their families also include advice on succession planning issues, matrimonial property advice, philanthropy mandates, family business succession matters, and issues of legal incapacity. Other notable names in the 'outstanding' and 'extremely knowledgeable' team are David Hürlimann, Tanja Schaub, Louise Lutz Sciamanna and Sarah Busca Bonvin.
CMS
's main area of expertise in public law is handling public procurement processes; the team is also experienced in dealing with white-collar crime matters, administrative penal law, and economic sanctions. The department is led by
Marquard Christen
, who is particularly experienced in matters involving both competition and public procurement law. Clients include corporates from the energy, transportation, beverage, IT, consumer goods and hospitality sectors. The team has been lauded as '
friendly
', with '
exceptional knowledge
' and '
excellent qualifications
'.
CMS
advises clients on a wide range of TMT matters that include procurement and outsourcing, cross-border electronic contracting, as well as sector-related M&A transactions. The practice is led by
Dirk Spacek
, who assists TMT companies in transactional, advisory and contentious matters in the context of IT and IP law. Counsel
Simone Brauchbar Birkhäuser
advises clients from a range of sectors, including IT, pharmaceuticals, mechanical engineering and fashion, in issues relating to intellectual property.
CMS
's Zurich office advises financial institutions, funds, industrial enterprises and other companies on the full range of banking and finance matters. The team has particular strength in cross-border matters, and benefits from the firm's international network of offices.
Kaspar Landolt
leads the team, and has more than 20 years experience in acquisition finance, corporate lending, and asset finance work. Key contacts within the team include
André E Lebrecht
and
Tina Balzli
, as well as counsel
Dominique Gemperli
.
CMS
assists clients with equity and debt capital markets transactions, including IPOs, rights offerings, and bond issuances, and all regulatory and compliance matters. The department benefits from the firm's international network of offices, which adds key strength in handling cross-border mandates.
Stephan Werlen
leads the team, which includes
Tina Balzli
and
Matthias Kuert
, who is praised for his '
depth of detail and expertise
'.
CMS
offers both domestic and global advice, thanks to its strong international network. The department covers a broad range of areas, including energy, financial services, life sciences and healthcare, and real estate. Co-leading the team are
Stefan Brunnschweiler
and
Daniel Jenny
, who are based in Zurich, and
Pascal Favre
and
Jérôme Levrat
, who work from Geneva.
Alain Raemy,
 who focuses on private M&A and private equity transactions, is also key.
CMS
' Swiss data protection team advises domestic and international clients in regulated industries on global data privacy, protection, and information security projects, often multijurisdictional and with a focus on developing technologies. The practice is headed by
Dirk Spacek
, who handles outsourcing, data protection, cloud computing, and cybersecurity matters. Counsel
Simone Brauchbar Birkhäuser
and associate
Aline Steffen
are other names of note.
CMS
assists clients with a range of matters, including initial coin offerings, cryptocurrency exchanges, and submitting licensing applications to FINMA. The team, which is described as
'always responsive, creative in their solutions',
is led by
Tina Balzli
, who is noted for her '
outstanding reputation'.
Matthias Kuert
, who advises on general contract and corporate law matters, is another name to note.
The intellectual property practice at
CMS
is co-led by
Simone Brauchbar Birkhäuser
, who has significant experience in trade mark matters, and
Dirk Spacek
, who has a notable focus on copyright and patent law issues. The team has partiular strength in the software industry, advising on advertising matters, and patent litigation in relation to the pharmaceutical sector.
The
'solid'
CMS
sports practice is regularly instructed on sports-related litigation matters, with particular experience in the football and ice hockey sectors. Its work includes anti-doping, negligence and employment matters with
Philipp J Dickenmann
 and 
Pierre Ducret
leveraging extensive experience in both litigation and arbitration matters.
CMS
provides tax advice to private, public, institutional and non-profit clients, with expertise at both the national and international level. Group co-head
Andrio Orler
, based in Geneva, advises both corporate clients and high-net-worth individuals and families on a range of tax matters, while
Mark Cagienard
, who leads in Zurich, focuses on corporate finance, M&A and VAT work.
David Hurlimann
and
Sarah Busca Bonvin
are also key practitioners.
CMS
fields an arbitration team with experience in corporate, contract and commercial matters, in addition to broad sector-based expertise.
Philipp Dickenmann
works as counsel, chairman, sole arbitrator and co-arbitrator, and co-leads the department alongside
Christian Lüscher
. Sports matters are covered by
Pierre Ducret
and
Olivier Carrard
, while
Niklaus Zaugg
handles banking, construction and supply disputes, and
Jodok Wicki
focuses on insurance law, tort issues, and product liability claims.
CMS
covers debt enforcement, bankruptcy, and restructuring related matters. The department acts for both domestic and international clients, and is regularly active in multi-jurisdictional cases.
Marjolaine Jakob
leads the team, and has experience both advising and representing clients in relation with insolvency proceedings.
Reto Hunsperger
 has expertise in international insolvency law.
CMS >
Firm Profile
The firm: CMS von Erlach Partners is a leading Swiss law firm, with a proven track record and a reputation for excellent client service stretching back more than 80  years. The firm has a strong international focus and its expertise covers all areas of commercial law, making CMS Switzerland a solid player for international business law on the legal market. As a member of CMS, one of the world's ten biggest law firms, CMS Switzerland combines local roots and business connections with the global outlook and reach to serve its clients' needs across Europe and beyond.
CMS von Erlach Partners is the result of the 2014 merger of CMS von Erlach Henrici in Zurich and ZPG Avocats in Geneva, which brought together two prominent Swiss law firms. Working from Switzerland's major financial and commercial centres, the firm's experienced teams provide top-tier specialist legal expertise and business-focused advice in domestic and cross-border law and tax matters.
Areas of practice: CMS von Erlach Partners's main areas of practice include banking and finance, commercial, competition, corporate and M&A, dispute resolution,  employment, funds, insurance, intellectual property, public procurement, real estate and tax.
Clients: CMS von Erlach Partners advises a wide range of large and mid-sized national and international clients from all major industries including banking and finance, consumer products, energy, infrastructure and project finance, insurance and funds, life sciences, manufacturing, professional services,
real estate and construction, technology, media and telecommunication, and transport and logistics.
Major clients include: ABB Asea Brown Bovery Ltd., AIG Europe Limited, Bayer (Switzerland) AG, Atos AG, Burger King Europe, Credit Suisse, Lifewatch, Merbag, Michelin, Nike, Pfizer, Porsche, Rieter, Schaeffler Schweiz, Sunrise, and Swisscard AECS.
Staff Figures
Number of lawyers : >110 at this office : 65 worldwide : >5'000
Languages
German French English Italian Spanish Russian Dutch Norwegian Korean Japanese
Memberships
World Law Group
Other
Contacts : Stefan Brunnschweiler, Managing Partner Zurich Contacts : Pascal Favre, Managing Partner Geneva Other offices : Aberdeen Other offices : Algiers Other offices : Amsterdam Other offices : Antwerp Other offices : Barcelona Other offices : Beijing Other offices : Belgrade Other offices : Berlin Other offices : Bogota Other offices : Bratislava Other offices : Bristol Other offices : Brussels Other offices : Bucharest Other offices : Budapest Other offices : Casablanca Other offices : Cologne Other offices : Dubai Other offices : Dusseldorf Other offices : Edinburgh Other offices : Frankfurt Other offices : Funchal Other offices : Geneva Other offices : Glasgow Other offices : Hamburg Other offices : Hong Kong Other offices : Istanbul Other offices : Johannesburg Other offices : Kyiv Other offices : Leipzig Other offices : Lima Other offices : Lisbon Other offices : Ljubljana Other offices : London Other offices : Luanda Other offices : Luxembourg Other offices : Lyon Other offices : Madrid Other offices : Mexico City Other offices : Milan Other offices : Mombasa Other offices : Monaco Other offices : Moscow Other offices : Munich Other offices : Muscat Other offices : Paris Other offices : Podgorica Other offices : Poznan Other offices : Prague Other offices : Reading Other offices : Rio de Janeiro Other offices : Riyadh Other offices : Rome Other offices : Santiago de Chile Other offices : Sarajevo Other offices : Seville Other offices : Sheffield Other offices : Singapore Other offices : Skopje Other offices : Sofia Other offices : Strasbourg Other offices : Stuttgart Other offices : Tehran Other offices : Tirana Other offices : Utrecht Other offices : Vienna Other offices : Warsaw Other offices : Zagreb Other offices : Zurich CMS locations : CMS has 73 offices in 43 countries around the world
Legal Briefings
Doing business in the UAE

CMS's John O'Connor and Harkee Wilson discuss the challenges and issues businesses face operating in the UAE and investigate some of the recent changes in the business environment.