Firm Profile > CMS > Zurich, Switzerland
CMS
Offices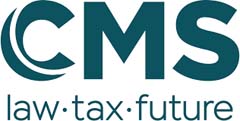 CMS
CMS von Erlach Poncet Ltd.
Dreikönigstrasse 7
8022 Zurich
Switzerland
CMS > The Legal 500
Rankings
CMS >
Firm Profile
The firm
Founded in 1999, with 74 offices in 42 countries, CMS is ranked third-most global firm in the AmLaw 2016 Global Top 100. More than 4,500 legal professionals across the world work in sector-based teams and are trained in project management. CMS offers specialist, business-focused advice in law and tax matters to clients operating in complex business and constantly changing regulatory environments. CMS lawyers focus on their clients and on providing the best possible service.
From major multinationals and mid-caps to enterprising start-ups, CMS provides the technical rigour, strategic excellence and a long-term partnership to keep each client ahead, regardless of its chosen markets.
Areas of practice
CMS von Erlach Poncet is a leading Swiss law firm, with a proven track record and reputation for excellent client service stretching back more than 80 years. The firm has a strong international focus and its expertise covers all areas of commercial law, making CMS Switzerland a solid player for international business law on the legal market. As a member of CMS, one of the world's ten biggest law firms, CMS Switzerland combines local roots and business connections with a global outlook and reach to serve its clients' needs across Europe and beyond.
CMS von Erlach Poncet is the result of the 2014 merger of CMS von Erlach Henrici in Zurich and ZPG Avocats in Geneva, which brought together two prominent Swiss law firms. Working from Switzerland's major financial and commercial centres, the firm's experienced teams provide top-tier specialist legal expertise and business-focused advice in domestic and cross-border law and tax matters.
Main Contacts
| Department | Name | Email | Telephone |
| --- | --- | --- | --- |
| Labour and pensions | Christian Gersbach | | |
| Banking and finance | Dr Kaspar Landolt | | |
| Banking and finance | Dominique Gemperli | | |
| Commercial | Reto Hunsperger | | |
| Energy | Alain Raemy | | |
| Funds | Dr Andre E Lebrecht | | |
| Corporate/M&A | Stefan Brunnschweiler | | |
| Corporate/M&A | Dr Pascal G Favre | | |
| Industrial property | Dr Robert G Briner | | |
| Hotels and leisure | Dr Sibylle Schnyder | | |
| Real estate and construction | Dr Stefan Gerster | | |
| Real estate and construction | Olivier Carrard | | |
| Infrastructure and projects | Dr Kaspar Landolt | | |
| Antitrust and EU | Dr Patrick Sommer | | |
| Antitrust and EU | Dr Pascal G Favre | | |
| Consumer goods | Stefan Brunnschweiler | | |
| Consumer goods | Dr Felix Kesselring | | |
| Life sciences | Dr Felix Kesselring | | |
| Life sciences | Dr Patrick Sommer | | |
| Private equity | Dr Stephan Werlen | | |
| Private equity | Alain Raemy | | |
| Private clients | Tobias Somary | | |
| Private clients | Philippe A Grumbach | | |
| Litigation and arbitration | Philipp Dickenmann | | |
| Litigation and arbitration | Christian Lüscher | | |
| Tax | David Hürlimann | | |
| Tax | Andrio Orler | | |
| TMC – technology, media and communications | Dr Robert G Briner | | |
| Public procurement | Marquard Christen | | |
| Insurance | Dr Jodok Wicki | | |
| Insurance | Dr Clemens von Zedtwitz | | |
Staff Figures
Number of lawyers : 96 at this office : 65 worldwide : >4,500
Languages
English French German Italian Spanish
Memberships
World Law Group
Other
Contacts : Jodok Wicki, managing partner Contacts : Olivier Carrard, partner, head Geneva office Other offices : Aberdeen Other offices : Algiers Other offices : Amsterdam Other offices : Antwerp Other offices : Barcelona Other offices : Beijing Other offices : Belgrade Other offices : Berlin Other offices : Bogota Other offices : Bratislava Other offices : Bristol Other offices : Brussels Other offices : Bucharest Other offices : Budapest Other offices : Casablanca Other offices : Cologne Other offices : Dubai Other offices : Dusseldorf Other offices : Edinburgh Other offices : Frankfurt Other offices : Funchal Other offices : Geneva Other offices : Glasgow Other offices : Hamburg Other offices : Hong Kong Other offices : Istanbul Other offices : Kyiv Other offices : Leipzig Other offices : Lima Other offices : Lisbon Other offices : Ljubljana Other offices : London Other offices : Luanda Other offices : Luxembourg Other offices : Lyon Other offices : Madrid Other offices : Mexico City Other offices : Milan Other offices : Monaco Other offices : Moscow Other offices : Munich Other offices : Muscat Other offices : Paris Other offices : Podgorica Other offices : Poznan Other offices : Prague Other offices : Reading Other offices : Rio de Janeiro Other offices : Riyadh Other offices : Rome Other offices : Santiago de Chile Other offices : Sarajevo Other offices : Seville Other offices : Shanghai Other offices : Sheffield Other offices : Singapore Other offices : Skopje Other offices : Sofia Other offices : Strasbourg Other offices : Stuttgart Other offices : Tehran Other offices : Tirana Other offices : Utrecht Other offices : Vienna Other offices : Warsaw Other offices : Zagreb Other offices : Zurich CMS locations : CMS has 74 offices in 42 countries around the world CMS locations :