Doing Business in...
Sweden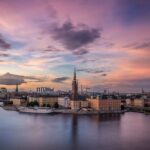 1. 5 REASONS TO DO BUSINESS IN SWEDEN Below we have listed five main advantages of doing business in Sweden: 1. Sweden is an impressive supplier of innovative solutions and products in a broad range of business areas particularly in the tech sector. Sweden is being regarded as an incubator for high-tech start-ups. The Swedish …
Contributed by Hammarskiöld
Read More...
Legal Market Overview
After a period of significant activity, which saw big international firms move into Stockholm, others disappear, and a slew of new boutiques open their doors, Sweden's legal market throughout 2020 was comparatively calm. Since its acquisition of domestic mid-market firm Hamilton Advokatbyrå in late 2019, Norway's market leader Advokatfirman Schjødt successfully proved itself as a serious player in the Stockholm scene, making it the first from Norway to do so.
The Swedish legal profession has proven to be remarkably resilient and adaptive throughout the Covid-19 crisis, with firms benefitting from the government's resistance to implementing the more serious lockdown procedures seen across Europe.
In other developments, the 'mid-market squeeze' remains a focus point, with the legal market increasingly being monopolised by a handful of large names including Mannheimer Swartling, Advokatfirman Vinge, Setterwalls, Roschier, Gernandt & Danielsson Advokatbyrå and Advokatfirman Cederquist KB, with those in the mid-market, such as Hammarskiöld, Törngren Magnell & Partners Advokatfirma KB, Magnusson Advokatbyrå and Hannes Snellman, having to adapt to maintain their competitiveness.
However, Sweden remains a thriving market for boutiques, and is also home to an active dispute resolution scene, buoyed by an internationally leading arbitration market, especially for East-West disputes; Advokatbyrån Wallin & Partners AB's establishment is indicative of growth and opportunity in this area.
The real estate and construction markets have rebounded following a brief Covid-induced slowdown in spring 2020, and infrastructure projects have largely continued unimpeded, while the logistics sector continues to be among the most active, with a number of projects and transactions focusing on warehouses and factories.