Firm Profile > CNPLaw LLP > Singapore, Singapore
CNPLaw LLP
Offices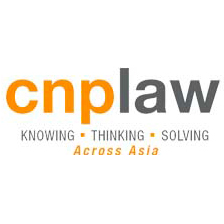 CNPLaw LLP
600 NORTH BRIDGE ROAD # 13-01
PARKVIEW SQUARE
SINGAPORE 188778
Singapore
CNPLaw LLP > The Legal 500
Rankings
CNPLaw LLP, which acts for employers and employees, has 'a solid reputation' for assisting domestic and international clients with a range of issues, including drafting employee benefits, incentives and compensation packages and advising on the transfer of employees as part of corporate transactions, as well as handling immigration matters and employment disputes. Pradeep Kumar Singh and Bill Jamieson jointly lead the practice.
CNPLaw LLP
is a strong mid-market player in Hong Kong and Singapore listings, including on Hong Kong's GEM board and Singapore's Catalist exchange. The team has a broad geographic outlook, reaching issuers in mainland China, Hong Kong and across Asia. 
Min-Li Tan
and
Stephen Soh
co-head the practice, the latter an especially experienced figure in TMT sector issuances.
Key clients
Synagie Corporation
Eggriculture Foods
International Press Softcom
Sunday Ins Holdings
CNPLaw LLP has an established practice with a notable record in cross-border M&A, Singapore takeovers and funds-related transactions. Fintech continues to be a growth area for the team. Ken Chia heads the corporate advisory practice, while Bill Jamieson and Amit Dhume co-head the funds and private equity group.
Key clients
Kalms Singapore
Distributed Ledger Technologies
Verita Healthcare Group
Integra Holdings
CNPLaw LLP
 primarily focuses on supporting domestic and foreign entities on blockchain, cryptocurrency and digital token offerings. 
Li Fei Quek
leads the team, which also includes
Mike Chiam
, a specialist in the fintech space, and
Adrian Toh
 who focuses on corporate transactions and digital token offerings.
Key clients
Infinitus Technologies Pte. Ltd.
Real Estate Doc Pte. Ltd.
EBS Capital Pte. Ltd.
Bybridge Consultants Pte. Ltd.
CNPLaw LLP
 has a longstanding presence in the finance segment and continues to make an impression in conventional and alternative finance, including engagements from credit funds. Much of the firm's work is in the cross-border finance segment, particularly where there is a strong Singapore law component. The team, under 
Bill Jamieson
 and 
Li Fei Quek
, has extensive regulatory expertise.
Testimonials
'The strong team is very efficient with allocation of time and tasks. It responds in a timely fashion and progress is properly scheduled.'
Key clients
Lend Collective
Beijing Enterprises Water Group
CNPLaw LLP
 has a wide-ranging practice and remains noted for shareholder, construction and insolvency disputes, along with cases involving Chinese parties. The practice represented a Hong Kong company in a High Court case against two wholly-owned subsidiaries of Singapore-listed Keppel Corporation
.
Subramanian Pillai
 is an experienced hand in commercial disputes and construction cases. 
See Tow Soo Ling
 is noted for commercial, matrimonial and estate-related disputes.
Key clients
Paramount Media Services
Gao Wenxi and Aussino International
Duncan Malcom Anderson
CNPLaw LLP's primary areas of activity include the establishment of asset management structures, including open-ended and closed-ended funds, and the administration of investment funds. The team also advises foreign clients on the licensing and registration of fund management companies in Singapore, as well as providing complementary expertise in tax incentives relating to fund management. Bill Jamieson and Amit Dhume are the practice co-heads.
Key clients
Gordian Capital Singapore Private Limited
Dios Asset Management Pte. Ltd.
Ginkgo Tree Asset Management Pte. Ltd.
R.E. Lee International Capital Pte. Ltd.
Lighthouse Canton Pte. Ltd.
CNPLaw LLP >
Firm Profile
Established in 1988, CNPLaw LLP (CNP) formally known as Colin Ng & Partners LLP  is a full-service law firm with a talent for cross-border business. Today, with close to 80 staff, including 40 fee-earners, many with experience of working in other jurisdictions outside Singapore. CNPLaw can deliver legal solutions in Singapore and beyond.
CNP is consistently recognised as being amongst the top law firms in Singapore by leading legal publications. We focus on business within and outside of Asia, in particular, Greater China, India, Hong Kong, Indonesia, Indo-China, Japan, Malaysia, the Philippines, Australia, the United Kingdom as well as Singapore. Our lawyers are qualified in jurisdictions beyond Singapore such as England and Wales, India, Malaysia, Australia and Hong Kong.
The firm is a member of international networks such as Interlaw (a network with law firms located in more than 140 cities worldwide), IR Global (a network of professional services firms across 155+ jurisdictions and SCG Legal, a network located in 82 countries).
With strong contacts in the foreign jurisdictions where our clients do business, CNP is well-placed to meet the ever-increasing need for practical and effective legal services in Singapore and for cross-border business in Asia and beyond.
We make knowing our clients' businesses our business and pride ourselves in providing innovative, yet practical and valuable advice.
CNPLAW LLP > PRACTICES
---
Please click on the bullet points below to find out more about our practices.
CNPLAW  LLP > PARTNERS 
---
As a managing partner, Lisa sees a need to ensure that our clients see us as their business partner and not a just legal service provider. Our aim is to provide innovative legal solutions for our clients across Asia with a high level of service and support that will help our clients better manage and succeed in their own businesses.
Email:  ltheng@cnplaw.com
Pradeep acts for corporations, whether they are private or listed companies, on all aspects of their business including advice on structuring their operations, the setting up of the business (such as incorporation of companies, registration of branches or representative offices), compliance with all legal and regulatory requirements, licensing requirements, advice and drafting of corporate documentation as well as advice and drafting of documentation on investments, joint ventures, mergers and acquisitions and restructurings.
Email:  pksingh@cnplaw.com
Amit's practice focuses on corporate law, investment funds, mergers and acquisitions and regulatory and compliance matters. He has over a decade of experience in these areas of law. You will find him to be a lawyer who is very comfortable working across jurisdictions. He advises on investments into Asia and matters relating to cross border M&A.
Email:  adhume@cnplaw.com
Bill is an English lawyer who is also registered to practise Singapore law in the areas of corporate law, banking and finance and securities laws. He enjoys working in the diverse and dynamic Asian market and helping his clients to achieve their goals.
Email:  billjamieson@cnplaw.com
Wai Mun has adopted a broad-based approach in developing his technical skills. Although he started out as a litigation lawyer, he quickly widened his job scope to take on real estate work. For him, it's a critical grounding to enhance not only legal skills but also develops a better appreciation of the commercial and private clients issues in legal practice.
Email:  wmchan@cnplaw.com
Edwin is in the firm's Dispute Resolution team and Family Law practice team. His practice areas encompass a broad range of matters, including civil and commercial litigation, disciplinary proceedings, shareholders disputes, employment matters, and defamation. He also regularly advises clients on wills and probate, lasting power of attorney, application under the Mental Capacity Act and contentious probate.
Email:  echia@cnplaw.com
Cinda is a pioneer of sorts, having experienced and worked through many "firsts" in Singapore's real estate history and scene, which are now taken as the norm. One of these was the start of the collective sales trend of private estates. Another "first" was the birth of executive condominiums in Singapore. As with anything new, lawyers then had to understand the new legislation and rules relating to this new piece of real estate and work through the initial lack of clarity and uncertainty when advising potential buyers on the legal obligations and their financiers (i.e. the banks and the CPFB) in their legal documentation. Yet another significant event was the conversion of land in Singapore (which was then largely unregistered) to the Torrens system of land registration, through a very massive and gradual exercise.
Email:  csim@cnplaw.com
Jimmy's main areas of practice for non-contentious work are Indonesia related corporate and commercial matters – such as investment into Indonesia, mergers & acquisitions, joint ventures, and franchising & licensing. In addition, he also focuses on Singapore and Hong Kong IPO-related legal due diligence.
Email:  jyap@cnplaw.com
Ken heads the Corporate advisory team in the firm and has an international focus in his corporate and M&A work having graduated from the University of Exeter in the UK and worked in business development positions with various subsidiaries of the Hang Lung Group (SEHK: 10) in Shanghai, the People's Republic of China and with Informa plc (LSE: INF) in Singapore.
Email:  kchia@cnplaw.com
Kenn's practice covers a wide range of corporate and commercial transactions such as mergers and acquisitions, joint ventures, foreign investments and private equity transactions. Fluent in both English and Mandarin, Kenn regularly acts for companies in a spectrum of industries in various domestic and cross-border corporate transactions.
Email:  klim@cnplaw.com
In addition to Li Fei's experience in acting for banks on varied transactions and in general corporate law, he also helps individuals in estate planning, including the legal aspects of wealth management, advising on and setting up trusts and off-shore structures to secure their future and the future of their families.
Email:  lfquek@cnplaw.com
Ravindran has 32 years of legal experience. He is in the firm's Dispute Resolution team and handles both civil and criminal work. He specialises in corporate advisory and corporate and criminal litigation work. He provides legal advice to directors and CEOs on laws and rules relating to directors' duties and corporate governance. He has a wealth of experience in advising local and regional companies on investment agreements, joint ventures, and corporate structures. He also advises many companies on fraud and due diligence measure to adopt in investments and overseas business development.
Email:  ravi@cnplaw.com
Soo Ling's main areas of practice are intellectual property and dispute resolution. She has experience in a diverse range of matters such as building construction, company law, commercial law, disciplinary proceedings, employment law, family law, intellectual property, property law, probate & administration and shareholder disputes.
Email:  slseetow@cnplaw.com
Stephen has more than two decades of experience, acquired both in-house and in private practice. His background in commercial litigation, corporate finance and technology law enables him to quickly identify key issues and areas of concern across a spectrum of complex corporate and technology-related transactions and to formulate pragmatic, end-to-end, solutions for his clients.
Email:  ssoh@cnplaw.com
Subramanian's practice has been primarily in the field of commercial litigation and arbitration. He heads the firm's International Arbitration and Construction, Engineering and Infrastructure teams. He has had an active commercial litigation practice for the last 26 years, he regularly advises and represents publicly listed companies, multi-national corporations and high net worth individuals in a variety of corporate and commercial disputes in the High Court and the Court of Appeal in Singapore.
Find out more about Subramanian
Email:  spillai@cnplaw.com
Min-Li's principal areas of expertise are in corporate and financial services with particular emphasis on corporate finance, securities and capital markets and mergers and acquisitions throughout Asia. She derives satisfaction from structuring practical legal solutions that work for clients, be it helping a client to extract value from his business through a sale or a listing or working on strategies to scale and expand, bringing the business to the next level. Her clients include private and listed companies, funds and financial institutions.
Email:  mltan@cnplaw.com
Venetia is a disputes lawyer with experience handling international arbitration, litigation and advisory work on international and local commercial disputes, in particular, disputes relating to foreign investments and joint ventures, financing, distributorships, and jurisdictional challenges.
Email:  vtan@cnplaw.com
Pei-Ling has over 23 years of experience in corporate and cross-border transactions, and has advised on investments, joint-ventures and commercial transactions in Singapore and Malaysia.  Over the years, she has also developed a practice in the areas of data protection, technology and employment.   Pei-Ling is qualified to practise law in Singapore and Malaysia, and was admitted to the English Bar in 1996.
Email:  plwong@cnplaw.com
Main Contacts
| Department | Name | Email | Telephone |
| --- | --- | --- | --- |
| Corporate, Dispute Resolution | Lisa Theng, Managing Partner | ltheng@cnplaw.com | +65 6349 8711 |
| Compliance and regulatory, Employment, Financial Services | Pradeep Kumar Singh, Admin Partner | pksingh@cnplaw.com | +65 6349 8697 |
| Corporate, Investment Funds | Amit Dhume, Partner | adhume@cnplaw.com | +65 6349 8729 |
| Corporate, Investment Funds | Bill Jamieson, Partner | billjamieson@cnplaw.com | +65 6349 8680 |
| Real Estate, Estate Planning, Family Offices | Chan Wai Mun, Partner | wmchan@cnplaw.com | +65 6349 8738 |
| Dispute Resolution, Probate | Chia Shengyou, Edwin, Partner | echia@cnplaw.com | +65 6349 8732 |
| Real Estate | Cinda Sim, Partner | csim@cnplaw.com | +65 6349 8744 |
| Corporate | Jimmy Yap, Partner | jyap@cnplaw.com | +65 6349 8707 |
| Corporate | Ken Chia, Partner | kchia@cnplaw.com | +65 6349 8661 |
| Corporate | Kenn Lim, Partner | klim@cnplaw.com | +65 6349 8708 |
| Banking and Finance, Cryptocurrency law and practice, Private Clients | Quek Li Fei, Partner | lfquek@cnplaw.com | +65 6349 8687 |
| Dispute Resolution | Ravindran Ramasamy, Partner | ravi@cnplaw.com | +65 6349 8702 |
| Dispute Resolution, Employment, Intellectual Property, Probate | See Tow Soo Ling, Partner | slseetow@cnplaw.com | +65 6349 8689 |
| Corporate Finance, Media and Technology | Stephen Soh, Partner | ssoh@cnplaw.com | +65 6349 8731 |
| Dispute Resolution, Arbitration, Construction | Subramanian Pillai, Partner | spillai@cnplaw.com | +65 6349 8714 |
| Corporate Finance | Tan Min-Li, Partner | mltan@cnplaw.com | +65 6349 8706 |
| Dispute Resolution, Arbitration | Venetia Tan, Partner | vtan@cnplaw.com | +65 6349 8696 |
| Corporate, Employment, Technology | Wong Pei-Ling, Partner | plwong@cnplaw.com | +65 6349 8737 |
Memberships
INTERLAW IR GLOBAL SCG Legal
Client Testimonials
COMPANY/FIRM: Spa Esprit Group
TESTIMONIAL: I am highly impressed with Venetia because she not only understands that each situation must be handled according to the specifics of the case, she would go the extra mile on the emotional aspect to show conscientious care and concern for her clients with her impeccable service. She always provides adequate important information which is extremely assuring for clients and is also someone who has the knowledge and experience.
---
COMPANY/FIRM: Paramount Media
TESTIMONIAL: We were especially pleased with Venetia's detailed knowledge of the subject area and her pragmatic approach to resolving contentious issues.
---
COMPANY/FIRM: antics@play
TESTIMONIAL: Throughout, the advice and recommendations, besides being sound and professional, exhibit strong understanding of our thinking and purpose as well as careful calibration of commercial value. To help us manage the cost of litigation, Venetia and her team planned for time-efficient communications, saving us time and money.
Most importantly, what distinguish CNPLaw as a good legal partner is the same as what distinguish a good business partner; to care genuinely about your clients and to think win-win.
We are very lucky to have found them and would recommend them to other businesses anytime.
---
COMPANY/FIRM: Floorspec Pte Ltd
TESTIMONIAL: Venetia provides legal guidance which is very good and clear. This helps us the client to come to a prompt decision much faster and easier. Should I have further legal matters I would like her to be our representative.
---
CLIENT: Florent Barret
COMPANY/FIRM: Hera Capital Partners
TESTIMONIAL: Bill Jamieson helps Hera Capital Partners with our fund formation in Singapore and some downstream investment and day to day issues that crop up in our asset management business. We can recommend him and CNPLaw to our business contacts who need support with Singapore law issues.