KPMG Abogados, Spain > MALAGA, Spain > Firm Profile
KPMG Abogados, Spain
Offices
KPMG Abogados, Spain
Marqués de Larios
12 - 3ª planta
MALAGA
Spain
KPMG Abogados, Spain > The Legal 500
Rankings
KPMG Abogados, Spain
's tax practice has a solid track record in advising on the due diligence and tax structuring of M&A transactions, and has extensive experience in domestic and cross-border matters. The team is also noted for its expertise in tax litigation, representing clients in disputes before national courts at all levels, as well as in the EU courts. Indirect tax, real estate tax, customs and excise duties, and financial services tax are also key drivers of work for the firm.
Alberto Estrelles
heads the team, which includes
Julio César García Muñoz
, who specialises in corporate tax and tax litigation;
Víctor Mendoza
, the leader of the financial services tax practice; and
Carlos Marín
, who heads the M&A and international corporate tax practice.
Key clients
Santander Consumer Finance (Banco Santander Group)
CECA (Spanish Association of Former Saving Banks)
Inditex
Caixabank
Alberta Investment Management Corporation (AIMco)
KKR
CVC
China Three Gorges
Beam Suntory Spain
Amitra Capital
Work highlights
Assisted Alberta Investment Management with the tax issues arising from the transfer of its 97.3% stake in Eolia Renovables de Inversiones to Engie and Credit Agricole Assurances for €2bn.
Advised KKR on the tax aspects of its acquisition of a 49% stake in Red Eléctrica Infraestucturas de Telecomunicaciones (Reintel).
KPMG Abogados, Spain
stands out for its comprehensive employment offering in relation to collective dismissals, restructurings, M&A and disinvesting. Co-led by
Francisco Javier Hervas Martinez
and
Francisco Fernández Diez
, its experience also extends to collective negotiations with unions and collective redundancy proceedings.
Alvaro Rodriguez de la Calle
is also noted, having joined as director of the Madrid office from his former role in the public sector, while
Juan Ignacio Olmos Martínez
, another recent arrival, joined from
Ceca Magán Abogados
.
Practice head(s):
Testimonials
'The team always delivers output on time, and they are concerned with understanding the information provided as well as giving new ideas and approaches that are very positive. They provide very interesting added value.'
'Availability, closeness, speed, commitment and dealing with the client. Their commitment and reliability, as well as knowledge of the issues, especially in the case of Francisco Javier Hervas and Francisco Artacho. Another notable person is Natalia Rodríguez Antón.'
'Close, professional, with technical knowledge of their specialty. They are coordinated not only locally but also internationally.'
'Francisco Fernández Diez and Ramón Mouriño are professional, empathetic and direct.'
'Francisco Fernández Diez has great knowledge and transmits confidence in his legal analysis. His closeness to the client is highly valued.'
Key clients
Adient Automotive
WPP Group
Ferrovial
Grupo Econocom España
Coca-Cola European Partners Iberia
Grupo Prisa
Grupo Ilunion Facility Services
Grupo Prim
Hearst España
Grupo Vocento
Cabify
Ithaka Investments Europe
Frinsa del Noroeste
Greening Group
Hankook España
Work highlights
Assisted Coca-Cola Europacific Partners Iberia with regard to a group-level collective dismissal affecting 270 employees across 10 companies and 52 work centres.
Representing Adient Automotive in collective negotiations with trade unions and work councils concerning the implementation of a voluntary separation plan affecting around 1,000 employees.
Assisting 15 group companies of British multinational WPP with the implementation of all mandatory policies and plans related to equal pay and equality at work.
The multidisciplinary team at KPMG Abogados, Spain has been further strengthened by the arrival of Francisco Carrasco Bahamonde from Gómez-Acebo & Pombo. The practice has extensive experience in insurance and reinsurance litigation, and often participates in M&A transactions, tax audits and tax restructuring operations. Irene Cao Ruiz is seasoned in providing advice on a wide spectrum of tax matters, while Pilar Galán Gavilá is adept in financial regulation.
Practice head(s):
Irene Cao Ruiz; Pilar Galán Gavilá
Other key lawyers:
Key clients
SANTANDER MEDIACIÓN OPERADOR DE BANCA-SEGUROS VINCULADO, S.A
SANTANDER SEGUROS Y REASEGUROS COMPAÑÍA ASEGURADORA, S.A.
VIDA-CAIXA, SOCIEDAD ANÓNIMA DE SEGUROS Y REASEGUROS
MUTUA MADRILEÑA AUTOMOVILISTA, SOCIEDAD DE SEGUROS A PRIMA FIJA
ASSITECA BROKER INTERNACIONAL DE SEGUROS SA
Work highlights
Advised Santander Mediación, Santander Seguros and other insurance entities and pension funds on the impact assessment and implementation of the new ESG requirements derived from EU regulation.
Advised Assiteca, listed on the Milan Stock Exchange, on the acquisition of a prominent Spanish insurance broker.
Advised Vida-Caixa and other insurance entities and pension funds on the impact assessment and implementation of the new ESG requirements derived from EU regulation.
Led by
Ana López Carrascal
, who is noted by clients for her '
very high commitment'
to matter outcomes, the regulatory, administrative and competition law group at
KPMG Abogados, Spain
 handles a wide spectrum of administrative law issues, including the implementation of new regulations, public procurement, administrative proceedings and the analysis of regulatory aspects in M&A transactions. Practice director
Borja Martínez
is another standout practitioner, specialising in competition law.
Borja Carvajal
left the firm in December 2021.
Practice head(s):
Other key lawyers:
Testimonials
'Very well trained, organised and highly efficient team.'
'Ana López Carrascal offers maximum quality, always thinking of adding value. Very high commitment to the result. Always available.'
'There is great internal coordination between different departments of the firm, which allows a 360 degree vision of the problems raised. Billing systems are extremely efficient and make work easy.'
'It has associates with a very deep knowledge of the sector and who are totally involved in the analysis of the issues. Ana López Carrascal is a perfect example of this.'
Key clients
Ouigo
Entidad Publica Empresarial Administrador de Infraestructuras Ferroviarias
Banco Santander
Repsol
Universidad Politécnica de Madrid
Sociedad Anónima Belga de los Pinares de El Paular
Asociación de Clubes de Baloncesto
Inditex
Leroy Merlin
Viamed Salud
KPMG Abogados, Spain
is particularly active in asset finance matters, frequently advising leading Spanish banks on domestic and cross-border transactions involving the sale and acquisition of ships and aircraft. The team also has a strong financial regulatory practice, which spans compliance and corporate governance issues, the authorisation and operation of regulated entities, and fintech and blockchain matters.
Francisco Uría Fernández
 heads the financial services practice, while
Pilar Galán Gavilá
leads the regulatory team, and
Luis Fernández
 focuses on shipping and aviation finance.
Testimonials
'The financial regulation team compare very favourably with their peers, both for how up to date they are with respect to the regulations and for the rigour and dedication they show in the issues on which we have worked with them.'
'In the particular case of Pilar Galán Gavilá and her team, they stand out for their ability to listen and their prudence when making their proposals, as well as for the speed of their responses and the reasoned presentation of their arguments. It is worth highlighting the involvement of Pablo Alonso Montes within Pilar's team.'
'A magnificent team that adequately combines technical knowledge with real experience in the application of the regulations.'
'The team stand out for their professionalism, accessibility, knowledge and experience.'
Key clients
INVERCO
AEB
CECA
UNACC
Caja Rural de Navarra, Sociedad Cooperativa de Crédito
Banco Santander S.A.
Boluda Corporación Marítima, S.L.
CaixaBank, S.A.
Dunas Aviation Leasing Limited
Pago Nxt Trade Solutions, S.L. (Santander Group Payment Division/HUB)
Credit Suisse Europe (Bank), S.A.
Kutxabank, S.A.
Work highlights
Providing Banco Santander with legal and regulatory advice on the definition of the group's model for the management and international distribution of collective investment schemes under Directive 2011/61/EU.
Advised Caja Rural de Navarra, Sociedad Cooperativa de Crédito on legal and regulatory issues associated with a €500m issuance of mortgage covered bonds.
Advised CaixaBank on the design, negotiation and implementation of a €342m financing granted to a Ritz Carlton Group company for the acquisition of a cruise vessel.
KPMG Abogados, Spain
 is home to a team active on M&A, disposals, joint ventures, share capital increases and corporate governance affairs. The practice, which is led by
Eneko Belausteguigoitia
 and often collaborates with its colleagues across the firm's overseas offices, is knowledgeable of a broad variety of sector, including the media, infrastructure, industrial and retail fields.
Testimonials
'Flexible team with a high capacity to adapt even in situations of lack of (human) resources and a great capacity to meet the deadlines that are asked of them.'
'For me, one of the best qualities is their ability to provide solutions to complex situations.'
Key clients
Schenker Logistics, S.A.
Liga Nacional de Fútbol Profesional (LaLiga)
Magnum Capital Partners
Econocom Group S.E.
Viamed Salud S.L.
Luarmia S.A. (Eugin Group)
Saeta Yield
Beacon Rail Leasing Limited
Enagas
Armonia SGR S.p.A.
Azimut SGR S.p.A.
Mutua Terrassa
Nortia Capital Investment Holding, S.L.
Work highlights
Acted as exclusive legal advisor to Enagás Renovable in the establishment of a joint venture with Grupo GeniaDabar for the development of several projects related to the anaerobic digestion of organic matter for the production of energy.
Assisting Italian asset management companies Armonia and Azimut Libera Impresa on the acquisition of Spanish corporate Petroplast S.A., a major manufacturer of packaging and other plastic products.
Acting as exclusive legal advisor to the shareholders of Altafonte Group on the sale of a stake in the company to US music investment fund Exceleration Music Partners LLC.
KPMG Abogados, Spain
 is frequently engaged in real estate M&A transactions and possesses a wealth of experience in joint venture agreements and corporate structuring.
Carlos Bardavío
leads the practice and has more than 20 years´ experience in advising regional and global clients on real estate financing, transactions and assets. Senior lawyer
María Llorens
is reputed for her expertise in real estate transactions, while
Beatriz Ron
, also a senior lawyer, is noted for her knowledge in structuring foreign investments.
Other key lawyers:
Testimonials
'The level of professional performance from the KPMG Legal team is outstanding. Both for the professional quality of its teams and for their coordination among themselves and with other consulting areas such as tax, accounting, and compliance.'
'The most notable qualities are dedication, availability and simplicity when it comes to posing problems and their most convenient solutions. The most outstanding names for us are Beatriz Ron and Carlos Bardavío.'
'Highly trained staff, with a great dedication to client service and with a lot of experience.'
Key clients
Patrizia
Logistik Service
DISA Corporación Petrolífera
Segro/SELP
Camina Gestion & Capital
Dunas Capital
Incus Capital
DHL
ONCISA
KPMG Abogados, Spain
is often sought by banks involved in shipping finance transactions, with an experienced team also capable in tax lease structures and cross-border transactions in this space.
Interviews
Francisco Uria, Global Head of Banking & Capital Markets at KPMG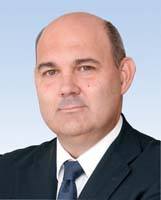 KPMG abogados is on the threshold of a new era in which our professionals will form part of multidisciplinary teams offering our clients solutions to complex problems, sharing tools and platforms with them in order to make our communications easier and more secure. Being multidisciplinary, global and IT-evolved is our key strategy.
What do you see as the main points that differentiate kpmg abogados from your competitors?
"KPMG-abogados" is different from other law firms as we are part of a global, multidisciplinary services firm such as KPMG. This gives us the possibility to work with many other advisory and audit professionals who contribute relevant expertise in different fields, and the capability to use the most advanced technology.
As a legal firm within the "Big Four" we have brought on board many highly-ranked professionals from the different and most prestigious lawyers´ rankings (Chambers, Legal500, Best Lawyers, IFRL1000, etc.). This combination of quality, multidisciplinary approach and being highly IT-based is quite unique.
Which practices do you see growing in the next 12 months? What are the drivers behind that?
The Spanish economy is recovering quite rapidly from the last crisis, with growth and employment showing a very positive trend in recent years. This has attracted additional interest in our economy from global investors. Areas related to M&A and transactions (including real estate) are the beneficiaries of this drive. I would also add that legal activity concerning regulatory implementation, especially in the financial sector (MIFID II, GDPR, PSD2 or PRIIPS), remains strong.
The activity surrounding Brexit has also been growing in recent months, with UK-based companies seeking different location alternatives, and Spanish companies established or with relevant activity in the UK wanting to gain a better understanding of the potential situations they are going to face in the coming years.
What's the main change you've made in the firm that will benefit clients?
One of the effects of the last crisis has been clients' sensitivity to costs. This is something that it is not going to change (at least dramatically) in the near future, so we have to adapt to a situation in which prices are going to be low compared with traditional standards.
We need to be more efficient in order to be able to provide high quality legal services at a moderate cost while also protecting our profitability and ensuring proper remuneration for our professionals. There is no doubt that technology is the only way to make this happen.
Is technology changing the way you interact with your clients, and the services you can provide them?
The change is already here. We are working to offer our clients shared tools and platforms in order to make our combined work more efficient and more secure. We are investing heavily in making this a reality for our clients.
Can you give us a practical example of how you have helped a client to add value to their business?
We prefer not to talk about individual clients or proposals but, generally speaking, I think that in the main regulatory implementation projects in which we have being participating over the last two years (MIFID II, GDPR, PSD2, PRIIPS or IDD) we have been able to help our clients in their strategic reflection, providing legal advice on the interpretation of new rules and helping them to effectively change their internal governance, systems and processes using a multidisciplinary team of lawyers and advisors.
I think those projects are a good illustration of the kind of complex projects we are equipped to deal with.
Are clients looking for stability and strategic direction from their law firms – where do you see the firm in three years' time?
In nearly all kinds of legal work there is a prior need for strategic reflection on the new regulatory aspects that are going to affect your business model, your profitability, the way in which clients will perceive you, the position you will occupy in the marketplace and your ability to compete with new entities (i.e. fintech or bigtech).
Data & analytics will be crucial to being in a position to provide sophisticated analysis and predictability to our clients, both in terms of customer behavior or future judicial decisions. I see KPMG as a multidisciplinary, global firm able to provide solutions to our clients by combining different perspectives, including tax and legal, and supported by technological capabilities we are only beginning to know.