Firm Profile > TUNCA ATTORNEY PARTNERSHIP > Ankara, Turkey
TUNCA ATTORNEY PARTNERSHIP
Offices

TUNCA ATTORNEY PARTNERSHIP
YILDIZEVLER MAHALLESI
738. CADDE, ZIRVE SITESI NO: 2-B BLOK 06550 ÇANKAYA
ANKARA
Turkey
TUNCA ATTORNEY PARTNERSHIP > The Legal 500
Rankings
TUNCA ATTORNEY PARTNERSHIP  handles domestic administrative and civil litigation across multiple areas, such as construction, tax, energy, finance and real estate. It also advises on cross-border disputes, including international commercial and investment treaty arbitrations. Sports-related arbitrations are a notable specialism. The team is led by managing partner Sidar Tunca, arbitration specialist Elif Öztürk, Gizem Kara and newly promoted partner Sefa Demirci.
Practice head(s):
Sidar Tunca; Elif Öztürk; Sefa Demirci; Gizem Kara
Testimonials
'Our projects require lot of staff meetings, despite that the attorneys of Tunca always attend and are very well prepared'.
'Sidar Tunca is very positive, easy-going, active and rational lawyer'.
'Working with Tunca we receive high quality legal services at reasonable price'.
'Sidar Tunca and Gizem Kara are very good litigating attorneys with very good experience in corporate and contract law'.
'They are upfront and honest about their areas of expertise'.
'Elif Sirin Ozturk is an excellent lawyer; her multicultural background, language skills, and international experience enable her to represent diverse clients on a wide range of matters'.
'Their most distinctive strength and capability is to identify and detect the potential risks that we may encounter'.
'Sefa Demirci always listens our never-ending concerns and demands regardless of time and space with an utmost patience and immediately provides us with the most effective and appropriate legal solutions mostly with more than one alternative'.
'Sidar Tunca is a trusted attorney who finds creative ways to solve problems fast'.
'They are reliable, they know their job very well and they do what they have to do, to protect the interests of their clients'.
Key clients
The Ministry of Energy and Natural Resources of Turkey
The Agency for Privatization of Turkey
The Union of Chambers and Commodity Exchanges of Turkey (TOBB)
KGF Kredi Garanti Fonu
Akfen Holding
Limak Holding
Atasay Otel Restoran Turizm İşletmeleri A.Ş.
Belbeton Beton Elemanları San. Üret. Tic. A.Ş.
Kuzu Toplu Konut İnşaat A.Ş.
Özaltın İnş. Tic. ve San. A.Ş.
Özdoğan İnş. San. ve Tic. Ltd. Şti.
Özkar İnşaat San. ve Tic. A.Ş.
Egemen İnşaat ve Ticaret Ltd. Şti.
Durmaz İnşaat Taahhüt Tic. Ltd. Şti.
Suryol İnş. Mad. Tur. San. ve Tic. A.Ş.
Tefirom Group
TUNCA ATTORNEY PARTNERSHIP >
Firm Profile
The firm: TUNCA LAW OFFICE was established in 2006 by Sidar Tunca. Starting mainly with litigation, public law, public procurements, and government contractor services areas of practice, the firm has emerged as one of the most prestigious Ankara-based full-service law offices.
We have 40 attorneys at law and advisers working in our main office in Ankara, Turkey and newly launched office in Istanbul. Our national network consists of partner offices in major locations in Turkey such as Izmir, Bursa, Adana and Antalya.
TUNCA LAW OFFICE advises a wide spectrum of government institutions and businesses and their stakeholders, ranging from medium-sized owner-managed businesses to large public companies and multinational corporations. Special focus is related to PPP Projects, Energy and natural resources, Corporate and commercial and Dispute resolution including ADR.
In 2017 TUNCA LAW OFFICE added International Business and Commercial Law and International Investment and Commercial Arbitration divisions to its practice. While as an entity TUNCA LAW INTERNATIONAL (www.tunca-international.com) was established just a year ago, it combines the prominent experience of its local lawyers with the international experience of a dynamic team composed of highly specialized lawyers and legal advisers from various countries, whose legal expertise includes international investment law, corporate and business law, public and private international law, and international arbitration law.
Areas of practice: Energy and natural resources: TUNCA LAW OFFICE advised some of the major transactions in the energy sector including renewable energy projects. Our expertise in this area covers all aspects of power plant projects, oil and gas and the minerals industries. We represent a broad range of interests in the energy sector such as generators, gas and energy traders and marketers, energy service providers, pipeline companies, industrial and commercial customers, investors, public entities and others in connection with the structuring, financing, regulatory approval and operation of power plants, energy market-related contract law, regulatory matters and litigation.
Corporate, mergers and acquisitions: TUNCA LAW OFFICE provides domestic and foreign clients with a full range of Turkish corporate and commercial legal advisory services (contracts, corporate law, corporate services, M&A and capital markets).
Construction and real estate: TUNCA LAW OFFICE's expertise in construction covers Build-Operate-Transfer projects, public and private tenders, concession contracts, joint ventures, construction contracts, subcontracts, license agreements, project management agreements, operational management agreements, contract administration, claim management and, where necessary resolving disputes through court litigation. The legal counselling provided by our experts assists clients through all phases from development to completion of real estate and infrastructure projects, including large scale ones, implemented in various regions of Turkey.
Intellectual property and telecommunications: We provide proactive and strategic advice on how companies can protect and enforce their intellectual property rights in copyright, trademarks, patents, trade names, domain names, design and know-how. Our lawyers have extensive experience in telecommunication-related regulatory matters; negotiating and drafting intellectual property agreements, licensing agreements, transfer agreements of registered trademarks and patents, technical assistance agreements, technology transfer agreements, management agreements, distribution agreements, and franchising agreements.
International business and commercial law: TUNCA LAW INTERNATIONAL provides strategic business consulting for complex cross-border trade and investment projects. For each matter, we build an operational team of lawyers admitted in the concerned jurisdiction and advisers on Bilateral Investment Treaties and Multilateral Investment Treaties. Thus, we ensure we provide innovative consulting services to address the needs of our clients and partners.
Main Contacts
| Department | Name | Email | Telephone |
| --- | --- | --- | --- |
| Capital Markets & Competition | Sidar Tunca | | |
| Capital Markets & Competition | Sedat Utku Dicleli | | |
| Capital Markets & Competition | Sefa Demirci | | |
| Compliance | S. Elif Öztürk | | |
| Compliance | Sedat Utku Dicleli | | |
| Contracts | Sedat Utku Dicleli | | |
| Contracts | Ayşegül Filiz | | |
| Contracts | Sefa Demirci | | |
| Construction and Real Estate | Sidar Tunca | | |
| Construction and Real Estate | Sedat Utku Dicleli | | |
| Corporate, Mergers and Acquisitions | Sidar Tunca | | |
| Corporate, Mergers and Acquisitions | Sedat Utku Dicleli | | |
| Corporate, Mergers and Acquisitions | Ayşegül Filiz | | |
| Corporate, Mergers and Acquisitions | Ayşe Gül Hacıoğlu Avcı | | |
| Dispute resolution: litigation and mediation | Sidar Tunca | | |
| Dispute resolution: litigation and mediation | Ayşegül Filiz | | |
| Dispute resolution: litigation and mediation | Sefa Demirci | | |
| Dispute resolution: litigation and mediation | Ayşe Gül Hacıoğlu Avcı | | |
| Dispute resolution: international arbitration | S. Elif Öztürk | | |
| Energy | Sidar Tunca | | |
| Energy | Sedat Utku Dicleli | | |
| Energy | Sefa Demirci | | |
| International business and commercial law | S. Elif Öztürk | | |
| International business and commercial law | Sedat Utku Dicleli | | |
| Intellectual Property | Sedat Utku Dicleli | | |
| Intellectual Property | Özge Yalınkılıç | | |
| Public Procurement & Administrative Law | Sidar Tunca | | |
| Public Procurement & Administrative Law | Sefa Demirci | | |
| Tax Law | Sidar Tunca | | |
| Tax Law | Sefa Demirci | | |
Client Testimonials
CLIENT: Gül Özdinç, Chief Legal Counsel
COMPANY/FIRM: OMV Samsun Elektrik Üretim San. ve Tic. A.S.
TESTIMONIAL: We have been working with Sidar Tunca since 2007. He advised some of our major projects including OMV Samsun Electricity Natural Gas Combined Cycle Power Plant, constructed by over 600 million Euros and has 890 MWe power capacity. Sidar is not only very experienced lawyer, but also entirely devoted to his clients and their needs.
---
CLIENT: Serdar Bacaksiz, Member of Board of Directors
COMPANY/FIRM: LIMAK, Limak Enerji Ticareti A.S.
TESTIMONIAL: Tunca Law Office handles our corporate matters since 2012. As a group of companies with many investments abroad, our construction and energy projects require effective solutions often concerning more than one jurisdiction. Tunca Law Office provide us with top tier international law firm quality service in proactive and timely efficient manner.
---
CLIENT: Cihan Kamer, Chairperson of Board of Directors
COMPANY/FIRM: ATASAY HOLDING
TESTIMONIAL: Sidar Tunca and the law office leaded by him handled many of our business transactions. He is reliable and trustworthy, knows our company and our business and present us effective solutions.
---
CLIENT: Ali Özdogan, Member of Board of Directors
COMPANY/FIRM: ÖZDOGAN GROUP
TESTIMONIAL: Precise, result oriented, innovative and devoted that is how we can describe Tunca Law Office's team. They provide Özdogan Group of companies with legal consulting services on matters related to Energy law, Trade law, Construction and Employment Law and represent our interests in many litigations. When you lead group of companies operating in different industries the last you need to hear from your lawyer is " it is not possible", Sidar Tunca's approach is "we can do" and that makes him the preferred legal adviser for us.
Interviews
Sidar Tunca, Founding and Managing Partner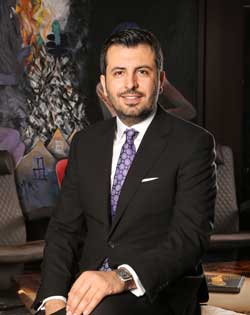 Founding and Managing Partner Sidar Tunca, explains how the Firm is adapting to its growth strategy and clients' changing needs.
What do you see as the main points that differentiate TUNCA ATTORNEY PARTNERSHIP from your competitors?
In our view, simple professional competence, when unsupported by in depth understanding of the corporate individuality of the client, is not enough to meet their long-term needs. We apply the same dedication to all our clients – a sole trader or a multinational corporation, each of our clients is equally valuable for us, because we treat them as a family. Each of our client knows that no matter what business challenges they face, we as "TUNCA LAW OFFICE" family will stay by their side and they can always rely on our support. This is not an approach for business development, it is part of our tradition that we value most. That explains why most of our clients are long-term clients.
Which practises do you see growing in the next 12 months? What are the drivers behind that?
Given the latest developments in the Turkish legislation, namely the announcement of the starting dates for the obligation to register with the Data Controllers Registry ("VERBİS") and the growing importance of the specific EU Regulations, GDPR, we see Data Protection to be among the fastest growing legal practices for Turkey. To meet the needs of our clients, which have significant interaction with EU residents, either directly or as a vendor, we joined our efforts with our partner office in Paris to provide Data Privacy Compliance Consulting.
Civil Aviation Law is another sphere of law where specialized consultancy will be needed. The third international airport in Istanbul is now complete, the production and use of unmanned aerial vehicles is increasing in Turkey, new significant investments are at planning phase, so we expect that expertise in this field will be needed and invest efforts in the qualification of our legal team in order to present high level consultancy in this specific area.
The undisputed position of Turkey as crossroad of various energy routes means that Energy Law is a constantly growing area of expertise. We expect increasing numbers renewable energy projects not only in our country, but in the region also.
The last few years show upward trend of Turkey as a preferred place for international commercial arbitration and we believe this trend will continue in the next years. The arbitration friendly domestic legislation and the growing popularity of ISTAC (Istanbul Arbitration Center) attracts companies that need fast, cost saving and predictable dispute resolution.
Cross border investments consultancy will continue growing with special focus on Middle East and Chinese enterprises.
What's the main change you've made in the firm that will benefit clients?
The most significant change we made in the last year was establishing our International Law practice. Since its establishment in 2006 TUNCA ATTORNEY PARTNERSHIP had been focusing mainly on Turkish Law. In order to serve the increasing needs of our clients on matters related to trade policy, and business and economic relations issues involving Turkish businesses engaged in foreign investment projects we joined our practices with Mrs S. Elif Ozturk – adviser in international law with over 16 years professional experience. As a result, Tunca Law International LLC (www.tunca-international.com ) was set up. Now we provide specially tailored consultancy that we named "several countries – one office". To illustrate with an example, our client company representative comes to our Ankara office and there receives update on ongoing litigation in Turkish courts; advising, concerning his trading activities in Russia by Russian lawyers; conducts consultations via videoconference with lawyers in Paris or Washington for his pending arbitration case in ICC or ICSID, without having to travel to different countries for this. This saves both time and cost for our clients.
Is technology changing the way you interact with your clients, and the services you can provide them?
Technology is changing each sphere of our lives including the professional. Case management solutions, protecting data transfers, video and teleconference communication systems, shared platforms and reporting tools – we invest in various technology solutions that make our interaction with the clients more efficient and secure.
Can you give us a practical example of how you have helped a client to add value to their business?
We invest efforts to change the perception of the lawyer as "emergency worker coming for lifesaving operations". While the big corporate companies take into account the importance of the strategic business legal consultancy, the middle level enterprises in our country still rely on their in-house counsels to handle all legal issues and seek established Law Offices only when, for example, the matter is already in court or a decision was already rendered against them in arbitration proceeding in foreign jurisdiction. This approach is erroneous.
Cost saving on legal services in the short term always leads to negative balance at the end.
Among the main factors for running successful business is involving the specialized lawyers' opinion in the business decision making process. As we know well the business of our permanent clients, we follow and regularly provide them with analysis on all developments in the sector regulations, in the legislations of the foreign countries they invest or trade with. Thus, we help them better navigate the changing and complex legal environment.
Are clients looking for stability and strategic direction from their law firms? – where do you see the firm in three years time?
Growing TUNCA ATTORNEY PARTNERSHIP from a few practicing attorneys to a full-service law firm, as it is now, we aimed to provide our clients with the full range of legal expertise they might need. We will continue adding value to our practice, engaging with strategic partnerships and investing in the coming generation of lawyers via the programs for supporting the legal education of young students.
In the next three years TUNCA ATTORNEY PARTNERSHIP is aiming to engage more actively in law based projects of civil society organizations and international networks of professionals.
Top Tier Firm Rankings
Firm Rankings