Firm Profile > Krispin Rubinstein Blecher Law Offices > Bnei Brak, Israel
Krispin Rubinstein Blecher Law Offices
Offices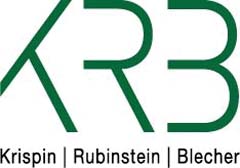 Krispin Rubinstein Blecher Law Offices
B.S.R 4 TOWER
7 MASADA STREET
BNEI BRAK 5126112
Israel
Krispin Rubinstein Blecher Law Offices > The Legal 500
Rankings
Krispin Rubinstein Blecher Law Offices >
Firm Profile
Krispin Rubinstein Blecher & Co.
General Overview
Krispin Rubinstein Blecher & Co. specializes in solving complex issues by providing its clients with effective and creative legal services, most notably in highly regulated sectors such as Energy, Banking, Finance and Telecom and Media.  The firm is proud of its entrepreneurial approach and of its ability to build strong personal connections with clients and their businesses, all while providing top-notch professional representation.
The firm vastly benefits from a close collaboration between its partners, each a prominent leader in its field: Amit Krispin, specializing in energy and infrastructure; Noga Rubinstein, specializing in various regulatory environments; Roy Belcher, who manages all dispute resolution matters (litigation & arbitration); Sagit Chen, who manages the commercial law practice; and Andrey Nickel, who specializes in competition law.
The Departments
Energy and Infrastructure
Our firm provides comprehensive legal services relating to the Israeli energy sector, and in the electricity and natural gas fields in particular. We represent many of Israel's leading energy companies and have advised with respect to the establishment and operation of various power plants and natural gas projects, including the establishment of the largest private power plant in Israel to have reached financial close (of over a billion dollars). In addition, we provide ongoing consultation to the natural gas IPPs' forum and represent two of the six natural gas distributors in Israel. Our team also holds vast experience consulting and negotiating the more commercial aspects of the energy sector, mainly with regards to EPC agreements, Power Purchase Agreements (PPA), O&M agreements, natural gas acquisition agreements (GSPA) etc., in addition to consultation regarding Project Finance.
Over the last few years, we have also been involved in a significant portion of the largest infrastructure projects in Israel. Our partners have advised leading companies in Israel and abroad on various infrastructure projects and initiatives in the fields of energy (including renewable energy projects such as wind and PV), transportation, development, water (including desalination plants), and more. Our firm provides clients, among them government agencies, government-owned corporations and private and public companies, with legal services that encompass all the financial and operational aspects of infrastructure and development projects. The comprehensive services we provide encompass all the stages of executing infrastructure projects – beginning from advising on the tender proceedings, through providing counsel and representation before the regulator, advising on finance procedures and drafting all agreements relating to the project, to ongoing counsel regarding the execution stages, statutory and legislative proceedings, and expropriations.
Commercial and Corporate
Krispin, Rubinstein, Blecher & Co. provides clients with an on-going legal support on all aspects of our clients' business activities. Our partners work closely with each client's management team in order to assist them in the daily operation of their businesses, as well as in the structuring and execution of domestic and international commercial transactions.
We have vast experience in providing such legal support to clients in a broad spectrum of industries, and some of the largest companies in Israel engage us on a regular basis. Our lawyers have vast experience and expertise in structuring, drafting and negotiating all types of commercial agreements while maintaining continuous contact with government authorities and handling all regulatory aspects relating to the transaction.
The firm's attorneys also regularly counsel companies and directors on the legal aspects advises on all areas of corporate law and legal issues affecting corporate clients, including corporate governance, finance, joint venture, commercial and merger and acquisition transactions.
 Litigation
Administrative Litigation. Our firm's litigation practice is very experienced in representing private and public parties in various administrative litigation proceedings. The firm handles complex administrative disputes, and represents clients in all relevant instances, including the High Court of Justice. Among its clients the firm can count companies in many industries, including broadcasting, energy, telecommunications, infrastructure and higher education.
Commercial and Corporate Litigation. The firm's litigation practice represents Israeli and international companies, as well as key business  figures and senior officials from the public sector. Our legal expertise, together with business expertise, enable our team to strive to resolve disputes in the shortest amount of time, while utilizing the most advanced and creative legal tools. The firm advises on a wide array of legal issues, among them complex commercial litigation; corporate litigation in public companies; class actions; international litigation and arbitration; administrative proceedings; antitrust litigation; internet litigation; and real estate litigation.
White Collar. Our firm represents senior members of the business and public sectors in criminal cases involving matters such as securities, antitrust, taxation, money laundering in addition to cases relating to defense and national security offenses. The firm also represents clients before governmental and military commissions of inquiry and in national security hearings.
Regulation and Administrative Law
Our firm represents its clients in various regulatory bodies and courts. The firm handles complex disputes and represents clients in all relevant instances, from administrative hearings to court litigation and petitions to the High Court of Justice.
The team provides comprehensive and diverse services, from swift solutions of specific issues to long term regulatory strategies. Inter alia, the team provides its clients with strategic advice in various fields of economic regulation, particularly in the financial sector with emphasis on banking, insurance, pension and securities
Telecom & Media
Our firm has extensive experience and deep knowledge of the field of Telecom & Media while possessing deep knowledge of its unique and complex regulatory environment. Our team regularly monitors legislative processes, government decisions and hearings, and is known for its ability to identify regulatory changes in advance, to predict the implications of emerging regulations and to establish matching long-term regulatory strategies.
We represent our clients in hearings on legislation and government policy with the relevant government bodies, including the Ministry of Communications and the various Councils and public authorities that supervise the the broadcasting industry.
The team provides ongoing legal counsel to a wide range of leading companies operating in the fields of communications, infrastructure, telecommunications, and broadcasting while also accompanying participants in tender proceedings relating to the industry.
Competition
Our firm has unique experience in the most complex competition matters and enjoys a prominent status in field of competition law. The firm is known for its strong working relationship with the Competition Authority (ICA) and is therefore constantly approached by clients wishing to achieve optimal and "out of the box" results.
The team advises on various competitive aspects, including monopolies, restrictive agreements and mergers, and regularly represents clients before the ICA and the Competition Court. Our team also has notable experience advising on matters related to other legislation enforced by the ICA such as the Reduction of Concentration Law and the Food Law.
.
Main Contacts
| Department | Name | Email | Telephone |
| --- | --- | --- | --- |
| Energy & Infrastructure / Project finance / Commercial, corporate and M&A | Amit Krispin | | |
| Energy & Infrastructure / Project finance / Commercial, corporate and M&A | Sagit Chen | | |
| Regulation / Administrative Law / Telecoms & Media / Competition/Antitrust | Noga Rubinstein | | |
| Competition/Antitrust | Andrey Nickel | | |
| Litigation (Commercial & Corporate / White-Collar / Administrative) | Roy Blecher | | |
| | | | |
| | | | |
| | | | |
| | | | |
| | | | |
| | | | |
| | | | |
| | | | |
| | | | |
Lawyer Profiles
| Photo | Name | Position | Profile |
| --- | --- | --- | --- |
| | Adv Roy Blecher | Adv. Roy Blecher, specializes in civil-commercial, administrative, criminal and disciplinary litigation, and… | View Profile |
| | Adv Sagit Chen | Adv. Sagit Chen advises on various complex commercial transactions, both domestic and… | View Profile |
| | Adv Amit Krispin | Adv. Krispin is one of the leading lawyers in the energy field… | View Profile |
| | Adv Andrey Nickel | Adv. Andrey Nickel specializes in Antitrust and Competition Law and regularly advises… | View Profile |
| | Adv Noga Rubinstein | Adv. Noga Rubinstein is the Head of the Regulation and Competition Team… | View Profile |
Staff Figures
Number of lawyers : 25
Languages
Arabic English French Hebrew Russian Spanish