Doing Business in...
Malta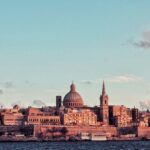 A Mediterranean archipelago, the Maltese islands are located at the crossroads between Europe and North Africa. Long popular for beach holidays, the islands also offer prehistoric temples, fossil-studded cliffs and a history of extraordinary grandeur.
Contributed by Chetcuti Cauchi Advocates
Read More...
Firms in the Spotlight...

Chetcuti Cauchi Advocates

Chetcuti Cauchi Advocates is one of the top-ranked firms throughout The Legal 500 Malta.  With offices in Malta's legal and financial capital city, Valletta, as well as in Cyprus, London, Zurich and Hong Kong, the firm is recognised as key player offering legal, tax and corporate services.
View Profile...
Legal Market Overview
Thanks to its small dimension and island nature, Malta has managed to escape the same scale of impact of the Covid-19 crisis as some of its European counterparts. The country's economy has taken a knock however, but is projected to improve at a healthy rate.
Over recent years, Malta has established itself as a 'Blockchain Island' thanks to the governments regulations and legislation in the cryptocurrency industry. E-gaming and gambling also continue to be prominent alongside a strong shipping sector thanks to the country's reputation as the major European flagging jurisdiction.
The country has seen an influx of companies looking to relocate here thanks to its corporate tax schemes, many firms have also noted an increase in countries wanting to set up an EU base in Malta as a result of Brexit.  Malta also attracts a lot of private wealth because of its relatively low tax rates and the "Golden Passport" scheme which allows citizenship through investment.
Fenech & Fenech Advocates, Ganado Advocates, Camilleri Preziosi and Mamo TCV Advocates are key names in the Maltese market.