Doing Business in...Malta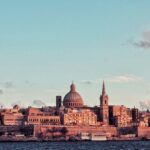 A Mediterranean archipelago, the Maltese islands are located at the crossroads between Europe and North Africa. Long popular for beach holidays, the islands also offer prehistoric temples, fossil-studded cliffs and a history of extraordinary grandeur.
Contributed by Chetcuti Cauchi Advocates
Read More...
Firms in the Spotlight...

Chetcuti Cauchi Advocates

Chetcuti Cauchi Advocates is one of the top-ranked firms throughout The Legal 500 Malta.  With offices in Malta's legal and financial capital city, Valletta, as well as in Cyprus, London, Zurich and Hong Kong, the firm is recognised as key player offering legal, tax and corporate services.
View Profile...
Legal Market Overview
Owing to Malta being regarded as one of the EU's most stable and rapidly-growing economies, its legal market is experiencing considerable growth . On the back of innovative government regulations and legislation in the cryptocurrency industry, the newly-dubbed 'Blockchain Island' has witnessed an influx of company re-locations looking to take advantage, bringing with them new investment, employment and development opportunities.
The thriving e-gaming and gambling industries offer significant commercial and M&A opportunities for law firms, and also provide subsequent work in the fields of commercial property and real estate. The shipping sector remains buoyant, as Malta continues to be seen as the premier flagging jurisdiction in Europe. Established in 2016, Prospects (a trading facility operated by the Malta Stock Exchange) is designed for SMEs looking to issue bonds and equities on the capital markets.
Prominent firms in the legal market include Ganado Advocates, Fenech & Fenech Advocates, Camilleri Preziosi and Mamo TCV Advocates. The legal system is a unique hybrid of civil and common law, due to the various waves of continental European and British colonial influence the archipelago has absorbed over the course of its history.