Doing Business in...
Greece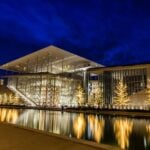 Greece is located in southeastern Europe, at the tip of the Balkan Peninsula, bordering with Turkey, Bulgaria, North Macedonia and Albania. Greece covers an area of 130,000km2 and has a population of 11 million. The country has a mild Mediterranean climate with temperatures ranging from 5C0-20C0 during the winter and from 25C0-35C0 during the summer. …
Contributed by Andersen Legal - Pistiolis - Triantafyllos & Associates Law Firm
Read More...
Legal Market Overview
Greece entered 2020 with a strong degree of optimism; its economy grew by 1.9% during 2019 and official government projections estimated a further expansion of 2.8% for the upcoming year.
The reality has, of course, been much bleaker for the country owing to the Covid-19 pandemic. Greece has proved particularly susceptible to the economic ramifications of the virus owing to its heavy reliance on tourism, which makes up around one-fifth of the nation's GDP. The IMF recently estimated that the Greek economy would protract by 9.5% in 2020, making it one of Europe's hardest hit economies.
On a more positive note, the country has fared far better with the virus from a humanitarian perspective. The government acted early and entered into a full lockdown on 22 March 2020 and, despite mounting during Europe's second wave, the nation's death toll is one of the smallest in Europe.
The relatively low number of cases in Greece has been of benefit to the country's legal sector, which has largely continued as usual with firms reporting no notable downturn in activity. Their perception is that Greece is well placed to rebound from the pandemic, with the IMF forecast projecting economic growth of 4.1% in 2021.
Despite an unfathomable setback, cause for optimism remains strong in the Greek legal market. Lawyers assert that the worst of the nation's economic crisis is over and that the country is now a viable option for international investment, a perception perhaps confirmed by Microsoft's recent announcement that it will invest $1bn in building three data centres in the country.
Elsewhere, the Hellinikon Project, an €8bn urban development in Athens, may be considered a further example of a brighter future for Greece. The project, which is being acted upon by firms across all manner of practice areas, is one of the largest of its kind in Europe and is expected to contribute 2.4% to the nation's GDP upon completion.
In addition, Greece's energy sector continues to thrive, with several projects such as the Trans Adriatic Pipeline still underway and the privatisation of DEPA SA, a state-controlled natural gas company, generating instructions for various firms of late.
Lawyers at ranked firms are generally fluent in at least one other language, speaking English, German, Italian, Spanish and French, and continue to be active in cross-border mandates owing to Greece's close trading and investment ties with its neighbours, namely Cyprus, Italy, Albania and Romania.
Several international firms are active in Greece, though they are predominantly based at the Port of Piraeus in order to focus on the country's vibrant shipping industry. The exceptions to this rule are Norton Rose Fulbright and Watson Farley & Williams – Greek Branch, which have offices in Athens and compete with domestic firms in a number of practice areas.