Member of the UN Global Compact as well as Science Based Targets initiative, Castrén & Snellman in Finland has integrated sustainability at the top level with Anna Kuusniemi-Laine

as Head of Sustainability. A sustainability steering group of multi-disciplinary experts across different departments supports Kuusniemi-Laine, and each legal practice area also has an appointment lawyer to lead on sustainability work. In 2022 the firm launched a corporate sustainability service to group together expertise in the field, also headed by Kuusniemi-Laine.
Head of banking and finance, Tero Tuomisto advises on high-value green finance transactions such as Finnfund's issuance of a €75m sustainability bond, representing the client's first issuance under its newly established Sustainability Bond Framework.
Samuli Tarkiainen  is experienced advising on a full spectrum of renewable energy technology and infrastructure projects. Tarkiainen is assisting Fortum in its collaboration with Microsoft on a joint data centre project which will capture excess heat generated by a new Microsoft data centre and transfer it to homes, services, and business premises via the district heating system. This will be the largest project of its kind in the world.
The firm is also contributing to the expansion of Finland's wind power capacity with support to OX2 regarding the development of two offshore wind farms, 'Halla' and 'Laine', and exploration permits in the wider areas. The client intends to fit over 300 offshore wind farms in the explored areas with a potential capcity of 23 TWh. Head of the environment, infrastructure and natural resources practice, Matias Wallgren

, leads on this matter.
Castrén & Snellman's Sustainability Team is led by Partner, Head of Sustainability Anna Kuusniemi-Laine, supported by Sustainability Specialist Marja Ollila and an internal Sustainability Steering Group.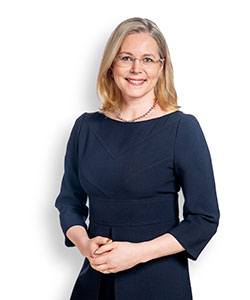 Anna Kuusniemi-Laine oversees and develops Castrén & Snellman's sustainability work. Driven by a strong personal interest in sustainability, her mission is to help lawyers make corporate responsibility an integral part of their work. She believes lawyers have great potential to make a positive impact in society and that they have an important role to play in the transition to a green economy. Anna is known as a first-generation EU law expert in Finland and as a specialist in public procurement, state aid and competition law, and she has long promoted sustainability in her fields of expertise. Anna is also a founding member of the Finnish Corporate Responsibility Law Association. She was appointed Castrén & Snellman's Head of Sustainability in 2019.
Marja Ollila is Castrén & Snellman's recently appointed Sustainability Specialist. She holds a M.Sc. degree in environmental management and has a background working in the corporate sustainability function of a major Finnish technology firm. At Castrén & Snellman, she has developed carbon footprinting and climate work and supports the organisation in integrating sustainability in the legal work.
Castrén & Snellman's mission is to help its clients build sustainable success stories. The key practice areas that support clients in reaching their sustainability targets are the following:
Environment, Infrastructure & Natural Resources – Matias Wallgren, Heidi Malmberg
Energy – Miika Pinomaa, Samuli Tarkiainen
Banking & Finance – Tero Tuomisto, Sakari Lukinmaa
PE & VC – Jarno Tanhuanpää, Jan Örndahl
M & A – Jan Örndahl, Heidi Paalanen-Koev, Carola Lindholm, Benjamin Bade
Capital Markets & Financial Regulation – Merja Kivelä, Janne Lauha
Corporate Governance – Pauliina Tenhunen
Data & Techology – Eija Warma-Lehtinen, Pia Ek, Kim Parviainen
Public Sector Projects – Anna Kuusniemi-Laine, Johanna Lähde
Dispute Resolution – Marko Hentunen, Anders Forss, Ilona Karppinen
Competition & Procurement – Jussi Nieminen, Anna Kuusniemi-Laine
There are massive economic and social issues to be tackled this decade. The largest of these ultimately impacts everything else: climate change.
It has been heartening to see just how ambitiously the private sector has tackled problems relating to climate change. Numerous Finnish companies have placed well on the Carbon Disclosure Project's list for their environmental efforts. International investors have placed climate change on top of their agenda.
Castrén & Snellman is part of this movement. Over the past few years, we have taken major steps forward in our sustainability work. We were the first Finnish law firm to join the UN Global Compact at the start of 2020. At the end of the same year, we joined the Science Based Targets business initiative. We have mapped our carbon footprint and committed to reducing our emissions in line with climate science. In addition, we have continued our work to foster diversity and equality at the workplace by measuring and tracking our performance.
While these are all significant steps, they are still just the first ones. The rapidly changing world and an increasing understanding in companies of the importance of their stakeholders will come to dictate companies' scope for action. The significance of various stakeholder groups is constantly shifting and is having an increasing impact of corporate value creation.
The green transition may still be in its infancy, but it has gotten off to a promising start. There is much work ahead for everyone, and in that work, dialogue will be key—not just between companies and their stakeholders, but between companies and their peers. Companies should share their experiences, insights and best practices. It is also clear that the market has shown its strength as a driver of change, provided that the regulatory framework is in place and emissions pricing functions correctly.
As lawyers, we can make the biggest difference by helping our clients develop their own sustainability. To do that most effectively, we have to understand the demands that sustainability puts on our clients inside and out. To us, that means that we can't just talk the talk, we have to walk the walk. We work to develop the sustainability of our own activities to benefit our clients.
Has your firm established a dedicated ESG/climate change/sustainability practice, team or task force?
Sustainability is a strategic priority for our firm, and our approach is to integrate sustainability considerations in all our practice areas. I think of sustainability as a mindset: we lawyers must learn to see the connections between our daily work and pressing sustainability issues such as climate change, biodiversity loss or inclusion.  They may be more or less obvious depending on the field of law you specialise in, but they are there. Once you start spotting them, you can also start making an impact.
Cultivating this mindset is a top priority for our internal sustainability team. In addition, our HR department carries out a substantial amount of sustainability work, especially as regards diversity and equity at the workplace. But we make our biggest impact through the client work of our experts. I should mention at least Matias Wallgren and Heidi Malmberg of our Environment, Infrastructure & Natural Resources service as well as Miika Pinomaa and Samuli Tarkiainen of our Energy service. Our Banking & Finance, PE&VC and M&A teams are also spearheading sustainability in their expertise areas.
The legal profession has a direct link to one of the UN sustainable development goals, namely that of peace, justice and strong institutions (SDG 16). Attorneys promote the rule of law. But we can do even more than that: we help our clients reach their sustainability goals. In this respect, sustainability work is just a new facet of the attorney's task.
What type of work do you handle in connection with "green change"?
At the core of green change lies renewable energy. Our Environment, Infrastructure & Natural Resources team and our Energy team have played a part in Finland's wind power sector from the start of the commercial development of wind power some 15 years ago. As a full-service law firm, we advise throughout the development process. This includes, for example, helping our clients balance renewable energy generation with nature conservation concerns, or drafting and negotiating power purchase agreements to bring financial certainty for projects. In many cases, we have created new market practices with our clients. The first project-financed wind power project and the first commercial PPA in Finland were both conducted by our team. Our Environment, Infrastructure & Natural Resources team is also deeply involved in the hydropower sector in Finland, helping our clients ensure that this stable form of renewable energy is available to balance the more volatile renewable energy sources.
Another crucial element of 'green change' is green financing. Our Banking & Finance team has seen the number of assignments multiply in green loans and bonds. The assignments can be roughly divided into two groups: either the financing is green based on what it is used for, such as investments into sustainable construction or wind power; or then it is question of performance-based financing, in which the borrower complies with external ESG principles in its own operations and is benchmarked against credible ESG targets. Our team closely monitors the European Loan Market Association's ESG updates and integrates them into practice.
The rise of green financing can also be seen in private equity and venture capital. Our PE&VC experts assist clients in the establishment of sustainability and impact funds and advise these funds as they invest in sustainable companies. They work with our clients to define investment policies and mechanisms to incentivise emissions reductions; this is a good example of how lawyers create solutions to help achieve the green transition.
Overall, aspects of corporate responsibility are increasingly being turned into legislation, as witnessed in the EU's ESG taxonomy and corporate sustainability due diligence initiative. This trend will be reflected in our corporate governance work and, we believe, in all areas of law.
Would you like to highlight a particular area of strength?
I'd like to mention our Environment, Infrastructure & Natural Resources team and our Energy team. These highly experienced groups are led by partners and senior attorneys with a broad and varied expertise, and they are committed to finding the best possible solutions for our clients. The teams have been involved in developing many first-of-a-kind projects in Finland. I already mentioned the wind sector, and they are currently advising a pioneering vanadium recovery project.
Has your firm implemented any internal best practices?
We organise sustainability trainings and knowledge sharing sessions for our personnel. Our aim is to implement sustainable practices across our full service offering and to develop sustainability expertise to create new operating models.
Has your firm joined any external ESG-related projects, networks or initiatives?
External initiatives have always been important for us because they help prioritise work and bring in new ideas. In 2020, as we took on a more strategic approach to our sustainability work, we joined the UN Global Compact initiative and the Science Based Targets initiative. Both were important steps for us since they provide a solid framework against which we can assess our work and objectives. We are members in several sustainability-related networks for Finnish businesses, including Finland's Sustainable Investment Forum Finsif, the Climate Leadership Council and the FIBS sustainable business community. In addition, we have monitored our energy consumption, paper usage and business travel in the WWF's Green Office programme since 2009.
Last year, we became one of the founding members of the Net Zero Lawyer Alliance. It is an international coalition of law firms that are committed to accelerate the transition to net zero emissions by 2050.  At Castrén & Snellman, this comes both directly with attention to our own carbon footprint and through the services we provide our clients.
We have been a member of esela, the legal network for social impact, for a number of years. Esela is currently joining with the Benefit Company Bar Association (BCBA) and Red Latinoamericana de Abogados de Impacto (RLAI) to form the Global Alliance of Impact Lawyers. These networks are co-founding a global community of legal leaders using their careers to have a positive impact on people and the planet.
To mention a specific cooperation, last year we assisted Simmons & Simmons in the publication of Clean Energy Tool, a web platform for clients looking to invest in renewable energy projects around the world.
What are your firm's ESG-related goals?
We track the share of turnover from assignments with a sustainability aspect and strive to increase it.
As a member of the Science Based Targets initiative, we are committed to reducing our greenhouse gas emissions in line with the target of limiting global warming to 1.5 degrees from pre-industrial levels. In this context, we have pledged to reduce our scope 1 and scope 2 emissions by 50% from the 2018 base year by 2030. In addition, we have set our own target of reducing our total carbon footprint by 25% from the 2019 base year by 2025. We are carbon neutral since 2020.
In social responsibility, our key goal is supporting diversity and equality at the workplace. Over the past few years, we have launched training programs for our personnel and started an annual equality survey to track progress. We have also established an initiative called Silta, which is Finnish for 'bridge', to support staff members with young children in achieving work-life balance. I'd also like to mention a small but crucial change: last year we adopted gender-neutral language. The words we use shape the world.
Is your firm involved in any relevant pro bono work?
As a result of our commitment to the UN Global Compact, we have directed our pro bono work towards the promotion of human rights and supporting an equal and participatory society. We offer legal advice and support for three NGOs that work for vulnerable groups: the Finnish Refugee Advice Centre, the Red Cross Youth Shelter and the Uusimaa District of the Mannerheim League for Child Welfare. For example, we have assisted the Refugee Advice centre in drafting appeals to the UN Committee on the Rights of the Child in family reunification cases in greater numbers than they could have achieved using just their own resources. With the Red Cross Youth Shelters, our experts have worked on digital services to youth during the COVID-19 pandemic, focusing on accessibility and data protection. Finally, our legal assistance for the Mannerheim League for Child Welfare has allowed the organisation to focus on helping children and their families to overcome the major negative impacts of the pandemic on their wellbeing.
Is your firm involved in any public outreach or client education?
Our service model includes seminars for clients. We organize several events each year to discuss changes in legislation with our clients and share best practices. In the past two years, we have had several events about dealing with the pandemic, and our experts have given talks on the increasing importance of corporate responsibility in the legal context, including several soft law instruments.
This spring we will launch a new seminar series called Sustainable Business Law, which will cover topics from green financing to ESG and compliance in transactions. It will also showcase a new sustainability solution: ecological compensation to protect biodiversity. This is a new possibility in Finland, and there is a real need for information.
We listen to our clients to make sure that our services suit their ESG needs. At the end of 2021, we ran a survey for our clients about ESG factors in compliance and due diligence processes as part of M&A.
Our website is an important way of reaching out. Our experts publish blogs and articles throughout the year for anyone to read. They also give speeches in events organised by the various networks we participate in.
It is a long-standing tradition at our firm to cooperate with universities and help raise future generations of lawyers. Our experts frequently give lectures at universities, and we host student events at our premises. We also work closely with universities that train legal assistants.
Have there been any recent non-confidential stand-out matters that were particularly innovative, pioneering or complex?
One of our recent cases, the Puskakorpi wind farm, is a good example of the vast and complex wind power projects that our Energy team leads together with an extensive group of experts from our other services. We advised the co-developers Smart Windpower Oy, Mincovest Oy and GE Energy, LLC in the development of the wind farm and in its later sale to Foresight Energy Infrastructure Partners. Our assignment began with the initial development and permitting of the project with the two Finnish companies, then we helped bring in GE Energy as a financier, and finally assisted in the sale to Foresight. The Puskakorpi wind farm is envisaged to comprise sixteen wind turbine generators with a designed total nominal capacity of 88 MW.
As regards financing the transition to renewable energy, we recently advised three Nordic banks in backing Finland's largest wind farm project so far. OP Corporate Bank, Nordea and SEB financed an arrangement in which OX2 signed an agreement with a consortium of three Finnish energy companies ­– Kymppivoima, Oulun Energia and Kuopion Energia – to construct and divest a 455.4 MW wind farm in Lestijärvi. The wind farm's yearly output will be over 1.3 TWh, which corresponds to about two per cent of the total annual electricity production in Finland, so it is definitely a landmark project.
The energy transition also requires metals, which means there is a pressing need for sustainable metal recovery solutions. One extremely interesting project in this respect is a joint venture between the Australian companies Critical Metals Ltd and Neometals Ltd, which consists of building a vanadium recovery plant in Pori on the west coast of Finland. The plant will use the by-products of SSAB, the Swedish steel company, to recover high-purity vanadium for use in energy storage solutions, eliminating the need to extract and process virgin minerals. Our Environment team has been assisting the companies with project development since 2020. The environmental impact assessment process was completed in January 2022, and it is expected that the environmental permit will be issued later this year. If everything goes by the plan, the plant will start operating by the end of 2024.
In green finance, our Banking & Finance team has assisted our clients in some pioneering projects. For example, we represented OP Financial Group, a leading Finnish financial services group, and Finnfund, a development financier, in the establishment of Finland's first impact fund that invests into emerging markets. The new fund, OP Finnfund Global Impact Fund I, promotes the achievement of the UN Sustainable Development Goals in a measurable way. The demand exceeded our clients' expectations: the fund raised 76 million euros in its first round of funding, and after the second round, it stands at 135 million euros.
Our Banking & Finance team also had the opportunity to advise Neste, a Finnish energy company, when they issued their first green bond under their newly established Green Finance Framework in 2021. Neste is the world's largest provider of renewable diesel, and the company is developing more sustainable fuels for aviation. The 500-million-euro bond will help Neste expand their renewable and circular solutions further, with the objective of mitigating climate change globally by reducing greenhouse gas emissions.
When did ESG, climate change and/or sustainability become an area of focus at your firm?
Sustainability is a journey that we began several years ago. We started from a 'good housekeeping' way of thinking and have now developed a more systematic approach where sustainability is a strategic priority, with my appointment as Head of Sustainability in 2019. Joining WWF's Green Office in 2009 was a first step for us, and the program has helped us reduce our electricity consumption and paper usage. Later, we began to compensate the emissions from our business travel. In 2020, we began measuring our carbon footprint in accordance with the Greenhouse Gas Protocol and decided to become carbon neutral. We set emissions reduction targets and joined the Science Based Targets initiative.
Since the beginning of the 2000s, we have worked continuously to support the career development of women lawyers. We appointed our first woman chairperson of the board in 2009 and our first woman managing partner in 2011. Today, we have the most gender equal teams in the Finnish legal sector. 55% of our lawyers and eleven of our partners are women.
What has driven your firm's involvement in a green transition? (Client demand? Business case? Personal attitudes/beliefs/initiatives?)
Our firm has changed with the world many times over the course of its 134-year history. This legacy is the foundation for our sustainability work today. In my view, sustainability is both a matter of values and a business necessity. Our task has always been to help our clients meet their goals, and sustainability is now one of them. To do this, we must understand the demands that sustainability places on them. One reason for us to develop our sustainability work is to be better able to place ourselves in our clients' position.
Of course, sustainability work is important for us as a work community. We want to develop a workplace where people know they are doing their own part, be it reducing emissions or enhancing the well-being of our employees. We build sustainable success stories for our employees and our clients alike.
Do you have any strategic plans to expand your work or your initiatives in this area in the future?
The green transition has only just begun, and there is much work ahead. In addition to promoting the 'sustainability mindset' I described earlier, we educate ourselves constantly and develop our competence. Since the green transition is a global challenge, we have enhanced our international cooperation to learn from other law firms. Joining the Legal 500 Global Green Guide stems from this strategic choice.
With the current legal initiatives in Europe and in Finland, we see that corporate responsibility is being codified into law. There is a need to bring together people working at the interface between regulation and corporate responsibility, and to facilitate the debate on corporate responsibility and its legal nature. We are participating in this process as one of the founders of the Finnish Corporate Responsibility Law Association.
We will also continue to manage our own impact by monitoring our performance and regularly evaluating our targets.
Where do you see the future of ESG/sustainability in the legal community (both in terms of legal offerings and firms' best practices)?
Sustainability has already become a central aspect in many fields of law. We expect this development to continue in the future. We believe that law firms must engage in sustainability work across their service offering. This calls for specific competence and for a sustainability mindset.
In the green transition, lawyers and law firms, legislation and industry cooperation all have an important role to play. Companies should share their experiences, insights and best practices to achieve green change at the required scale. We can support this by learning and developing legal tools and methods and by sharing the knowledge accrued from client cases. Naturally, this must occur within and the limits of attorney privilege and competition law. Currently, competition law rules set limits on knowledge sharing between competitors. A big question for the future is whether the interpretation of the rules should be changed to speed up the spreading of sustainable business practices.
Anna Kuusniemi-Laine | Partner and Head of Sustainability 
---