Interview with:

Spring Chang, Founding partner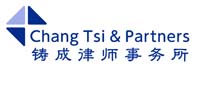 What do you see as the main points that differentiate
Chang Tsi Partners

from your competitors?
Maximize the interests of the clients by applying varied strategies
A one-stop shop At last, all aspects, multiple-leveled and one-stop are the service idea Chang Tsi & Partner always hold, it does not only provide the clients with all-time legal service 24 hours per day, 7 days per week, but also has the 24 hours limits working standard to meet the clients' need in time.
Supported by former judges and examiners experienced in every aspect of intellectual property rights
Experienced in cooperation with international law firms
Work closely with government, courts and other organizations to push your cases forward through various resources
Which practices do you see growing in the next 12 months? What are the drivers behind that?
We estimate our Patent cases will be growing rapidly in next 12 months. We acquired new domestic clients, who are planning file more patent in china next year and most of them will extend to oversee.
Our international patent practice is also booming. China has a stronger and stronger patent enforcement and authority deem patent system as a key to stimulate innovation and attract foreign direct investment. Their move includes but not limited to:
China Supreme Court directly takes the second instance of IP case which related to complicated technologies. The measurement greatly increase the transparency of technology-related IP cases;
Willful infringement will be introduced to the patent cases. As announced by President Xi at the CIIE (China International Import Expo), China will introduce punitive damage to the IP cases to increase the cost of the IP infringement.
What's the main change you've made in the firm that will benefit clients?
We restructured our workflow department and implement a stricter deadline control system.
We reviewed our conflict of interest checking policy to make sure there is no defect.
We enhanced our information safety policy and make sure our client's information will not been breached.
Is technology changing the way you interact with your clients, and the services you can provide them?
Yes, our clients could remotely log into Chang Tsi & Partners work platform on which they can real-timely acquire the progress of their cases.
Can you give us a practical example of how you have helped a client to add value to their business?
As entrusted by one of our U.S. clients, Chang Tsi & Partners provided legal opinions and drafted the cooperative development agreement between our client and a third-party company. Chang Tsi & Partners got involved from the beginning of negotiation, and provided legal opinions and suggestions throughout the negotiation, including ownership and protection of patent, exercise of right, evaluation, benefit allocation, and trade secret protection. These opinions and suggestions were accepted by the clients. When drafting the agreement for the clients, our corporate lawyers not only provided professional assistance for the client from the legal perspective so as to protect the client's rights and interests, but also helped achieve a win-win result in view of the business cooperation between the parties.
To develop new products in the Chinese market, our clients intended to purchase a series of patents (including patent applications) owned by a technology development company established in Beijing.
By providing these professional, efficient and tailored services, Chang Tsi & Partners succeeded in making the assignor significantly reduced its price offer and helped the assignor and the assignee reach a more reasonable price for the assignment, thereby reducing costs and legal risks for our client to purchase and exploit the technologies.