Interview with:

Julian Clarke, Chambers Manager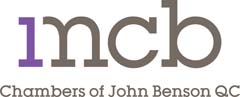 Julie Clarke, 1MCB Chambers, explains how an individual, multi-disciplinary and efficient service is central to what chambers does
What do you see as the main points that differentiate 1MCB Chambers from your competitors?
Our professional and lay clients benefit from the fact that we are a close and genuinely multi-disciplinary team, and a team that is strongly committed to representing all sectors of the community.  That means that a particular barrister's advice and representation has often been informed by discussion with, and input from, barristers across our practice areas.  That leads to a breadth of knowledge and innovative thinking, and it is particularly advantageous when clients' difficulties intersect different practice areas.
We also value our members' individualism. We have an extraordinarily diverse team, and this weaves through all that we do. It particularly helps us to understand clients' particular circumstances and to tailor legal arguments in the best way. We support all those in society by offering both private and legally aided funding. We also have reach into the wider community through voluntary legal support in the UK and overseas, and through our own membership's diverse backgrounds.
Which practices do you see growing in the next 12 months? What are the drivers behind that?
We envisage that we will continue to develop in crime, immigration, housing, family, employment and other general civil work. We enjoy an excellent reputation in areas of work that were traditionally publicly funded.
What's the main change you've made in the firm that will benefit clients?
We continue to focus on responsiveness, always answering queries quickly and efficiently and ensuring that we see through more complicated questions to conclusion. Recently, we have invested in a few areas of our business. Firstly, in our staff, so that we now have an even more highly experienced, well-trained and extremely helpful clerking team. Secondly, in our technology. We now have the ability to exchange documents via a GDPR compliant platform that can be shared with solicitors. As for those enquiring about direct access, they can now complete an enquiry form online and we will respond promptly setting out how we can help and providing transparency on our fees.
Is technology changing the way you interact with your clients, and the services you can provide them?
Our dedicated clerking team finds that clients require a mixture of email and phone communications. For larger cases, we can also offer a platform to exchange documents. Additionally, we seek to provide fee notes promptly to solicitors so that the whole process is completed efficiently.
Can you give us a practical example of how you have helped a client to add value to their business?
The best thing that we can do is communicate well and be efficient. If a barrister is briefed on a case, then we understand that, as well as the pre-requisite of good client relations and solid legal advice, solicitors want to know the outcome of the court hearing and a follow up backsheet and fee note quickly. It is through the competence of our clerks and our use of technologies that we efficiently support solicitors in this way.
Are clients looking for stability and strategic direction from their law firms – where do you see the firm in three year's time?
Although we have been offering legal advice and representation for over forty years and will continue to do so in three years' time, I can foresee that focus will continue to be on technological advances. We would expect to see the courts  adopting their own efficiencies, which will in turn change the practices of barristers. For us it is important that whilst embracing these technological innovations, we hold onto the value of individualism and offer a bespoke individual service to our own clients.