Interview with:

Bader Sad Alotaibi, Founder and Director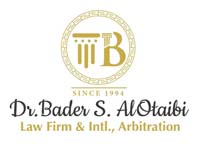 Dr. Bader S. Alotaibi Law Firm & International Arbitration (Sinc | View firm profile
Bader Sad Alotaibi is the Founder and Director of Dr. Bader S. Alotaibi Law Firm & International Arbitration
When did you start practising law?
We started practising the law since 1995, and the Firm has proudly given nearly twenty-five years of tested legal experience to the clients.
What kind of services are provided by your firm?
Our firm is unique in providing comprehensive legal protection to its clients. Whether in terms of the timing of its performance or terms of its nature.
In terms of timing: We provide the client with Preparatory protection before embarking on the planned activity through deliberate legal advice to avoid future conflicts.
In addition, we provide the client with Operational protection while pursuing the activity, performing work or executing the contract, by reviewing contracts, representing the client before all kind of courts and degrees, and before all the various governmental and private bodies.
Regarding the Follow-up protections to our clients, we offer to settle their disputes and conflicts through the execution of judgments, collection of monies, arranging the payments of any debts to the client, and rescinding any implemented courts decisions executed on our client, as well as taking the necessary legal measures for requests for amnesty, reconciliation, release, suspension, combining penalties and restitution.
There are many law firms in Kuwait in the Arabian Gulf region, so what distinguishes your firm from others?
Our firm portrays comprehensiveness, which includes saving time, effort, and money for the client, in a way that ensures keeping the client's secrets in the narrowest scope.
Meaning that the client will not need to deal with any other law firm, as they will find all the legal services in all areas of law by specialists in each department with comprehensive efficiency, accuracy, and at a fair and reasonable service cost.
Our firm acknowledges its discipline in such a way that it is not likely that the client finds their interests at risk just because the lawyer, consultant, or employee has extraordinary circumstances, health issues or something else. It is a matter of great importance to us due to its connection with the inevitable procedural dates related to public order, and it is not permissible to violate it, whether in the dates of appeal, dates for attending sessions, or all other procedural dates.
What are the main business developments that fitted in the centre?
The main developments we made to the firm are:
Establishing a mechanism for continuous training for all employees of the firm through training courses, providing references, legal programs, and domestic or international scholarships.
Set up of the firm bylaws to organise work in a precise manner.
Archiving and documentation the working papers circulation.
The use up of both automatic and manual systems for the archiving process of the papers, to avoid any surprises or errors and to ensure the storage of data on several computers.
Implementing a stable accounting system conferring the technical principles to work accurately on recording and settling accounts with clients. Also assisting in cases referred to accounting experience, whether concerning corporate cases, banking cases or others, which requires the assistance of specialised technical expertise.
What is the impact of modern technology and development in means of communication on your interaction with your customers?
This question is of great importance, as it is not possible for any establishment seeking to develop its business to remain isolated from the use of modern means of communication and advanced technology in interaction with customers, or in dealing with official authorities from another aspect. A recent legislative amendment in Kuwait decided to adopt mail Electronic as a legal means considered in the declaration of judicial papers.
Also, the fact that clients are seeking to invest their time optimally. Clients would be wasting their time coming to the centre to deliver papers if they can send and receive the documents via e-mail without moving from their place.
Besides, the means of modern technology are now making it easier for workers in the legal field to access information and the latest legislation, once it is issued, which we cannot overlook.
How would your firm be an added value to the client endeavours and contribute to the development of his business?
We believe according to all approved scientific research methods, the way to solve any problem begins first with understanding this problem and explaining its causes.
Therefore, helping the client begins with us through listening to the client's legal and realistic problems with legal reasons, and then adapt them to the law. Then we present to the client with legal solutions proposal and help them choose the most appropriate solution that corresponds to the nature of the problem and the nature of the client's activity. That is the hardest part about helping the client is what we care just about.
What businesses do you think will grow in the next 12 months?
During the last period, our centre has developed in serving its clients by providing legal advice and representing them in arbitration disputes, commercial disputes, institutions and companies disputes, investment and financing disputes, money markets, banks, financial institutions, customs and taxes.
Also, protecting the clients' interests in intellectual property, trademarks, commercial agencies and franchises.
Besides, the rise of disputes related to oil and gas contracts, compensation, insurance issues, labour disputes, issues of associations and unions, public employment and social insurance disputes, administrative lawsuits, public tenders issues, sports disputes, money collection and execution of judgments. In addition to a specialised department dealing with Criminal cases.
We believe that those disputes related to rents, supply, land, sea, and air transport contracts, as well as banking and finance disputes, and forward contracts, are predicted to develop significantly for businesses during the next twelve months.
The main reason for the increase in those business sectors is what was left behind by the emerging coronavirus crisis, coved 19, with negative repercussions and effects on all activities and all economic sectors in all countries of the world.
Where do you see your firm within three years?
Our firm has developed significantly over the past years and has become one of the emerging centres in the field of advocacy, legal advice, and international arbitration.
We believe that within the next three years the pace of growth and success of our business will continue, and even multiply due to the firm scientific methodology that we follow in our centre and facilitate its work. That is reflected positively and directly in increasing the confidence of existing customers in us, as well as obtaining the trust of new customers through the respectable reputation we have strived for through years of hard and diligent work in providing the best legal services to our clients.