Interview with:

Daniel Voicu, Managing partner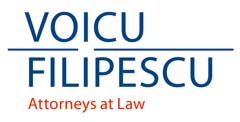 What do you see as the main points that differentiate Voicu & Filipescu from your competitors?
We are proud to have gathered first class competencies on the legal market, complemented by open-minded, creative, flexible and solution-oriented spirits. We are a full-service law firm that covers the entire spectrum of specialized business law also integrating legal and tax services, as well as input from insolvency specialists, and offers advice to international and local clients in connection with their business? in Romania.
Our team currently consists of lawyers, tax and accountancy consultants, insolvency practitioners and support staff currently having seven partners running the practice groups set up in order to meet the various legal and fiscal needs of the clients. Voicu & Filipescu's team members are selected following a rigorous process, featuring both distinguished professional knowledge and expertise and also a remarkable personality profile that leads to a constructive approach, helping to deliver positive outcomes, acting as real catalyst to clients' businesses.
Due to our steady portfolio of multinational clients, we have developed one of the most diverse practices on the market. Also, the constant exposure to complex projects has allowed our lawyers to become experts in specialized areas such as banking, corporate, M&A, real estate, insurance, public procurement, litigation, employment, data protection, insolvency and reorganization, among others. The professional experience of our lawyers is further enhanced by a thorough understanding of relevant industries giving our services a competitive advantage highly appreciated by our clients.
We have also developed solid relationships with international law firms relying on trust, professional respect and mutual esteem providing Voicu & Filipescu with the added competitive advantage of having access to international expertise, due to the worldwide coverage, while preserving the financial and professional independence of the local law firm.
Which practises do you see growing in the next 12 months? What are the drivers behind that?
In the coming year we anticipate a further specialization of our lawyers and, although the areas of practice guidance is determined by the dynamics of the demand of legal services, we shall be focusing on covering the full spectrum of practice areas.
Considering the actual economic and political context in Romania, fields such as infrastructure, public procurement, banking and financial advice are probably more likely to significantly grow. We have many years of experience in assisting a large number of market players thus reaching a high level of familiarity with the activity and dynamics of such companies.
Data protection and privacy is also a field which is very active within our law firm following the GDPR entering into force last year, which provided us with lots of working hours in providing full-service legal assistance to our clients, together with our partners for cybersecurity and IT services.
I have to also mention the corporate and commercial field, as being in the heart of our practice, our specialized lawyers handling any legal issue occurring during the life-cycle of private or public companies, from business incorporation, corporate governance, to capital structure modifications and reorganizations.
In this regard, we are permanently looking for talented and flexible lawyers, having a good understanding of the business environment and sharing our core values – creativity, constructive spirit and long-term relationships.
What's the main change you've made in the firm that will benefit clients?
In time we have adapted our services and our business approach to meet our clients' various business needs by constantly developing the spectrum of practice areas covered, by increasing the specialization of our attorneys and by integrating additional services, tangential to our legal practice, such as tax, accounting and insolvency.
Serving our steady portfolio of multinational clients also involves cross-border projects for which we have teamed up with experts from international law firms in order to offer our clients international expertise in specialized areas such as banking and M&A, among others. Our expertise is proven by a considerable portfolio of already – famous projects in the Romanian market in various industries: communications, construction & infrastructure, financial services, insurance, media, pharmaceuticals, wood, chemicals, energy, tobacco, utilities, consumer goods, agriculture & food.
Is technology changing the way you interact with your clients, and the services you can provide them?
Technology is definitely an important part on how our firm interacts with other professionals and clients. All our clients are internet-connected entities therefore our interactions exceed the traditional face-to-face meetings which is no longer the sole way of doing business. We are using modern communication technology in video conferencing, online portals as well as a dedicated internal legal practice software which is also a very efficient way of improving our productivity as well as ensuring swift response times and effective advice.
We are also using technology in advising clients by developing, together with our IT and cybersecurity services partners, dedicated software to be used in large volume projects as well as in specific compliance and audit services. Due to a thorough web-based database purposefully designed to be used in handling large volume projects for our clients, we can ensure efficient monitoring and smooth progress of each individual case.
Our approach of using technology in projects that have called for a great level of resources has been rewarded with the "Technology and data analytics" award by the prestigious Financial Times Innovative Lawyers publication.
Can you give us a practical example of how you have helped a client to add value to their business?
Understanding the business needs of our clients doubled by a thorough approach to their industry is one of our main concerns. We are always focusing on the particularities of the clients and are constantly trying to identify the best development opportunities for our clients' business including searching for investment opportunities, financial advice for cost efficiency purposes provided by our tax specialists, insolvency and reorganization advice provided by our team of insolvency practitioners and economists. Some of our lawyers are also graduates in economics, in addition to their law degree, which translates to a multidisciplinary approach to our clients' projects, also envisaging the commercial and business consequences of the client's legal actions.
We have many examples in this regard ranging from assisting clients in identifying investment opportunities in Romania in developing power plants to advising on legal actions in connection with termination of unprofitable contracts.
Are clients looking for stability and strategic direction from their law firms? – where do you see the firm in three years time?
We are permanently interested in identifying the best development opportunities available on the market and aiming to further strengthen our firm's top position by creating long term relationships and ensuring professional and personal development for our lawyers. Being constantly connected to the changes of the market, we shall increase diversification and specialization of our law fields in order to cover the entire spectrum of practice areas relevant to clients' business needs.
I would mention the fact that we will always observe the core ideas that are driving our activity, namely becoming more and more business-oriented, client-focused, innovative and providing real value to our clients.
More efficiency, coupled with an entrepreneurial spirit, in order to find new approaches and business models to better serve our clients are key to our firm for preserving our market position.