Interview with:

Alexander Varnavas, Partner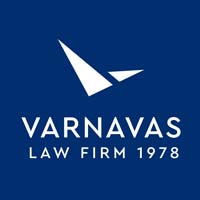 Alexander Varnavas, a second-generation partner at Varnavas Law Firm, is setting the pace and vision for the fifth decade of the company's operation.
What do you see as the main points that differentiate Varnavas Law Firm 1978 from your competitors?
If I had to sum up what sets us apart from the competition in one sentence, it would be that we have been trained in working with non-Greek clients, which may sound odd, but it isn't. Varnavas Law Firm has always been a company with an outward-looking potential and value-added legal services. Our aim has never been to provide dry legal opinions to our clients just to bill them, but to offer them efficient guidance and all the prospects available to them, through the provision of well-rounded legal services. With over 40 years of experience in serving international clients who operate in Greece, we have realised that a lawyer has to be proactive and offer strategic choices and alternatives that will protect clients from making the wrong decision. We want our clients to know that they have a respectable and trustworthy partner in Greece.
Which practices do you see growing in the next 12 months? What are the drivers behind that?
In the last few months, humanity has been experiencing an unprecedented crisis with the spread of COVID-19. The solution of social distancing and generalised stagnation was imposed to manage the problem, creating insurmountable problems in the global economy. Consequently, all the businesses, from large multinationals to sole proprietorships, are facing liquidity problems. Multiple facets of the legal profession will be applied within this environment, to cater for business consolidation, loan restructuring, potential bankruptcies, mergers and acquisitions. In the meantime, as soon as the crisis comes to an end, there will be a rise in global mobility, i.e. our area of operations, with people in search of alternatives, including residency and citizenship planning.
What's the main change you've made in the firm that will benefit clients?
We are using technological applications extensively to support our daily activities. Technology leads to streamlined processes, which translates into speed, transparency and quality control in the provision of services. It was a pleasant surprise for us that we didn't have to do almost anything during the lockdown, as our people and our equipment were already set up for teleworking. We also proceeded with new recruitments of lawyers with international expertise, who offer added value to the provision of our services.
Is technology changing the way you interact with your clients, and the services you can provide them?
As already mentioned, technology has completely changed our everyday lives. It is telling that we have reduced our phone contacts by 60%, since written language (emails, messages, etc.) now makes up 85% of our contact with clients. At the same time, many meetings now take place via video-conferencing, given that, anyhow, our clients are literally located in every corner of the globe.
Can you give us a practical example of how you have helped a client to add value to their business?
We believe that the provision of legal services cannot be restricted to bare application of laws and rules, and simple case handling, especially when we have to deal with overseas clients. Above all, we are their consultants, who will explain all about what is happening in the country. This well-rounded approach has helped many of our clients avoid traps, with a most recent example being the advice we gave to a client who was ready to buy an overvalued property with uncommon legal issues. Our expert legal opinion and local expertise protected the client, who saved millions of euros.
Are clients looking for stability and strategic direction from their law firms – where do you see the firm in three years' time?
Clients are always looking for stability and long-term relationships with law firms, especially in the area of overseas investments. Naturally, trust is something that needs to be gained and is on the line daily. Therefore, a legal firm that respects its clients does not grow complacent and honours their trust daily, leading to solid, long-term partnerships. In three years from now, we are hoping to continue to grow at the same pace and to remain among the top tier law firms in residency and citizenship planning by investment.