Green Hub:
Sustainable conversations: Michelle Beckers, general counsel, Sphera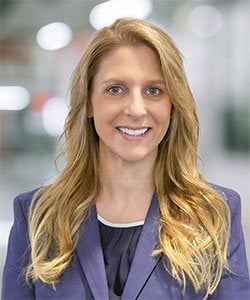 Your original degree was a Bachelor of Science in Natural Resources Management & Biology. Did that influence your opinion on environmental matters and sustainability even before you studied law? Have environmental matters always been close to your heart?
The short answer is yes – I've long been interested in and cared about the environment and the preservation of the world's natural resources. It's rare that we get to marry the work we love doing with the causes we're most passionate about, and I couldn't be more excited to finally do that with Sphera. It's the perfect opportunity to put all of my legal skills to use in service of a much greater good. It's a natural career progression in that regard.
You've held in-house roles for over a decade now. When did you first note the growth of what have more recently come to be known as ESG issues? Can you characterize the developments you've witnessed?
The conversation around sustainability and companies taking a greater role in it has been growing louder over the last decade, but it's gained particular steam in the past 12 months. Between the increasing urgency of the periodic IPCC reports – highlighting that our window for averting the worst of climate change is rapidly closing – and more and more investors demanding accountability from the businesses they invest in, it's practically impossible for companies to not feel pressure to do something.
I think those calls to action are really powerful and can catalyze meaningful change. For example, prior to my role at Sphera, I was in-house counsel for a marketing execution firm. There, I saw firsthand the demand from customers to find sustainable solutions and how sustainable practices impact the entire supply chain – from determining the carbon footprint of printed marketing materials to the ecological impact of technology offerings. It was eye-opening watching the organization navigate the nuances and uncover all the different levers that can be pulled to become more sustainable and environmentally responsible.
Now we're seeing some real momentum for regulatory change, too. If the SEC's climate disclosure rules go into effect, I believe we'll see ESG play an even more central role in companies' business practices and strategies.
Has your arrival at Sphera – a company focused specifically on risk management and ESG concerns – involved any additional shifts in perspective on your part?
I think the biggest shift in my perspective has been developing a greater understanding of the scale of the issue at hand: Companies are receiving pressure from all directions to step up their ESG reporting and disclosures, but they don't have all the necessary tools to rise to the occasion. And not only that – they don't always know where to start.
I found myself in that very position in a previous role. I was tasked with helping the company compile sustainability and climate disclosure information, and it was tough for us to know where to begin – from which data was the most important to collect, then how to aggregate, analyze and validate the data once we had it. Now that I'm at Sphera, I'm getting an even greater picture of just how many companies – many of which have far more complicated supply chains and many more stakeholders to please – are struggling with this. There's a very real need for the types of solutions Sphera delivers, and not very many companies can do it at the scale and level we do. And that's because Sphera has been in this business for a much longer time than the organizations that are just now starting to get into the game.
With regard to the uptake of ESG-related services, software, etc. in the post-pandemic period, do you think this is primarily driven by regulatory requirements? Or has there been a shift in perception/thinking at board room level?
I think it's driven by both. You also can't underestimate the power of the customer. Whether it's a consumer or an investor, people want the businesses they buy from or invest in to be accountable for their environmental impact. Boards of directors are absolutely feeling that pressure, and it's influencing their decision-making.
Regulatory pressures will always be a powerful incentive towards change as well, but I think much of the progress we've seen on ESG disclosure and reporting has been driven by demands for change from investors, customers and other stakeholders. The U.S. has been a bit of a laggard when it comes to highly prescriptive climate disclosure and reporting regulations, so I'd argue it's played a relatively small role to date – but I do believe that's changing with the SEC's proposed rules.
How is the evolving importance of ESG – and by extension, 'human rights in relation to business and corporate law' – changing your role as an in-house practitioner? And given Sphera's area of business activity, is there any additional pressure in terms of your legal function with regard to compliance (in the sense that the company needs to be seen to "walk the walk" as well as "talk the talk")?
Legal and compliance teams are definitely being called on to support their companies' ESG goals and reporting more than ever before. In years past, the responsibility for managing environmental output primarily fell to operational teams and personnel; as the ones closest to the actual execution of environmental risk mitigation, it was seen as their area to "own."
Now, however, boards have a much closer eye on ESG; they understand that the buck stops with them when it comes to a company's behaviour. They're very focused on ESG as a governance issue, which means the legal team must be involved to ensure proper oversight and compliance with all applicable regulations and laws. Is it an added layer of responsibility we've had to adapt to? Yes, but I think it is mission critical and I'm excited to be part of the team ensuring that Sphera is living up to the very standards we help our clients live up to.
---