Editor's welcome

Welcome to the Global Green Guide, the first and only single platform dedicated entirely to exploring the legal sectors' contribution to a green transition. From ESG and sustainability to climate action and net-zero, here you will find private practice and in-house perspectives on the move towards a greener economy. Our Green Guide series features key firms advising on issues around climate change and sustainability, while also highlighting their internal green initiatives. The guides are organised into distinct regional editions but ultimately give a global overview for a truly universal topic. Check out our recently launched inaugural EMEA Green Guide. Research for the Latin America, US and Canada Green Guides are currently ongoing. On the hub page, you will additionally find our Green Guide blog and a range of other ESG content, including our Sustainable Conversations video series, and past and upcoming webinars and events.
Anna Baubock, Editor, Global Green Guide
Submit for the Global Green Guide
Podcast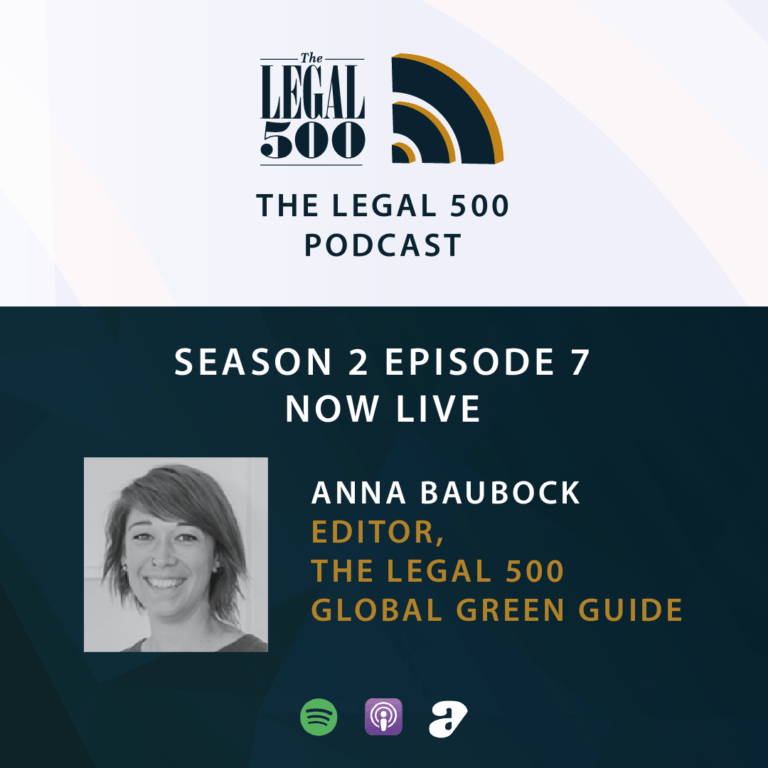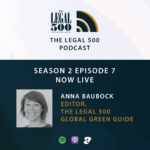 With the launch of the EMEA edition of The Legal 500 Global Green Guide, Barnaby Merrill chats to Anna Baubock, editor of the Green Guide and The Legal 500 US about how the Green Guide came about, the findings from the inaugural edition, and how firms and in-house counsel can get involved, as well as plans for the Guide moving forward.
Sustainable Conversations
Sustainable Conversations is a new video series that explores the legal sector's perspectives on finding a balance between business practices and the health of our planet. In short and to-the-point interviews, legal professionals share their crucial thoughts on net-zero, ESG and sustainability.
Michelle Becker – General counsel – Sphera Technologies
The Global Green Guide met Michelle Becker to discuss the evolving importance of ESG and the power of customers.
Katie Smart – General counsel and company secretary – Tarmac
Anna Bauböck speaks to Katie Smart about opportunity in corporations doing the right thing.
Kenny Robertson – Head of Outsourcing, Technology & IP Legal – RBS (Natwest Group)
Anna Bauböck speaks to Kenny Robertson about role modelling a learning culture around climate transition.
Alberto Ninio – General Counsel – Asian Infrastructure Investment Bank
Anna Bauböck speaks to Alberto Ninio about finding the fortitude to implement ESG policies.
More ESG Content