Doing Business in...
Bangladesh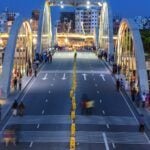 Formal name: The People's Republic of Bangladesh Population: Approximately 168.2 million (2021) Average annual population growth: 1.37% in 2021 Capital city: Dhaka Major cities and districts: Dhaka, Chattogram, Khulna, Barishal, Sylhet, Rajshahi, Cumilla, Mymensingh, Rangpur, Narayanganj, Gazipur, Cox's Bazar, Moulvibazar, Sunamganj, Gopalganj, Chandpur, Dinajpur Official language: Bangla Currency: The Bangladeshi Taka (BDT) Per Capita Income: …
Contributed by Rahman & Rabbi Legal
Read More...
Legal Market Overview
One of the fastest growing economies in the Asia Pacific region, according to The Asian Development Bank, the Bangladeshi market is booming; since 2009, the nation's economy has grown 188% and it is on track to post record high annual GDP growth of 8.1% by the end of 2019. Meanwhile, HSBC has predicted the country will become the world's 26th-largest economy by 2030. The primary reasons for such remarkable growth? Foreign investment and infrastructure modernisation.
Foreign investment is pouring into the country, primarily from the UK, China, Japan, and India, with investors seeing lucrative investment opportunities in power and infrastructure (Saudi Arabia's energy giant, ACWA power, recently agreed to build a gas-powered, 3,600MW plant in Bangladesh – an agreed total investment of $3bn in the nation's energy sector) as well as considerable opportunities in the retail sector and aircraft leasing/financing. In addition, the government has ambitious plans including major infrastructure projects, such as the construction of a new bridge over the Ganges river.
As a result of this surge in international investment and the government's development plans, domestic firms now have considerable skill at acting in major international transactions and litigation and have enhanced their projects, construction, and infrastructure expertise to handle substantial project and project financing work. Many major global law firms are partnering with their local counterparts to service international clients' needs within the jurisdiction.
Other legal market trends include lawyers increasingly being asked to review labour law handbooks, following improvements in employment law compliance in recent years mean, as well as advice being sought on local anti-corruption laws. Also of note, law firms report a greater number of syndicated loan financings, while modes of Islamic financing are coming to the fore, and while there has been a surge in disputes others forms of alternative dispute resolution are now more popular than ever.