Meet the team
Luther Rechtsanwaltsgesellschaft mbH
Cologne, Germany
+9 other locations
Hamburg, Germany
Hannover, Germany
Essen, Germany
Leipzig, Germany
Dusseldorf, Germany
Stuttgart, Germany
Munich, Germany
Berlin, Germany
Frankfurt, Germany
View firm profile
Organigram
Team Services
Restrictions on competition agreed by companies are not tolerated in most parts of the world and are often sanctioned draconically. This is why the antitrust strategy for a company should be chosen with foresight in order to carefully achieve maximum success in business within the framework defined by antitrust and competition law. Luther provides excellent advice when it comes to identifying risks at an early stage, identifying and benefitting from room to manoeuvre in the of the full range of antitrust: distribution and in the cooperation of companies, successfully handling mergers and cartel notifications, as well as developing action plans and defence strategies, in particular when monetary fines or damages are imminent. Luther combines multidisciplinary expertise and experience, both in the traditional industries as well as in the digital economy.
Because of our in-depth industry knowledge, in particular in the areas of Energy, Health Care & Life Science, Information Tech & Telecommunications, Mobility & Logistics, and Real Estate & Infrastructure, in addition to our team's many years of antitrust expertise, we are the ideal partner for your antitrust and competition law issues. This is underlined by the fact that as a full service law firm we can always involve colleagues specialising in other areas of law, such as public subsidies/state aid law, international trade law or litigation.
Awards and Recognition
Ranked in Legal 500 Deutschland 2022
Ranked for Antitrust
Ranked in Chambers Europe 2022
Ranked for Competition/European Law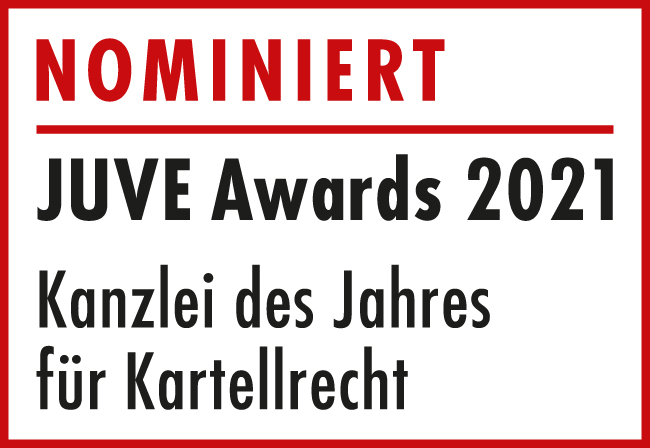 Nominated for JUVE Award "Law Firm of the Year 2021 Antitrust Law"
Luther was one of only five law firms nominated by the specialist publishing house JUVE for the award "Law Firm of the Year 2021 Antitrust Law". The JUVE Awards are considered to be the most important award within the law firm's industry in Germany.
Meet other
Luther Rechtsanwaltsgesellschaft mbH

teams