Interview with:

Shirley Fu, Principal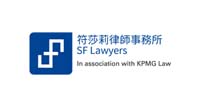 SF Lawyers, in association with KPMG Law | View firm profile
What do you see as the main points that differentiate SF Lawyers from your competitors?
SF Lawyers' main point of difference lies in its ability to deliver a 'one stop shop' solution to clients, through our lawyers working seamlessly with KPMG professionals. That is, in leveraging the client base, reputation and experience of the KPMG network and its over 200,000 professionals worldwide.
SF Lawyers, as a member of the KPMG Global Legal Services network, can also harness the skills and experience of over 2,300 lawyers across 76 jurisdictions. This enables us to deliver not only on the needs of local Chinese clients operating domestically, but also assisting those clients as they go outbound, as well as multinational clients as they enter or transact in the Chinese market.
We differentiate ourselves in the market with a multidisciplinary, pragmatic, client centric approach paired with deep technical skills. There is a strong overlap between our core practice areas and KPMG's existing business functions; our approach of teaming lawyers with advisors is very attractive to clients seeking integrated business solutions. We can offer clients a complete offering which cannot be matched by the traditional law firms.
Finally, we differentiate ourselves in our commitment to deploying technologies, whether it's to improve service quality and to aid efficiency, or to deliver value and insights to clients. Again, our enviable position as a member firm of the KPMG Global Legal Services network gives us access to many leading technology experts in the market, together with the scale necessary to develop technology solutions.
Which practices do you see growing in the next 12 months? What are the drivers behind that?
The practices which we see growing most over the next 12 months are our M&A practice, and our Infrastructure practice. The main drivers behind this are China's "Belt and Road" and "Greater Bay Area" initiatives. Both of these initiatives leverage aspects of the "one-country, two-systems" advantage which sees Hong Kong enjoying super-connectivity and unique role as an international business and financial center.   It is expected that Hong Kong will continue to be a preferred venue for foreign and mainland investors.
Most of our team are trilingual (English, Mandarin and Cantonese) and have experience in working with Chinese clients. Many of the team also have multi-jurisdictional legal qualifications and are therefore well placed to assist Chinese clients as they increasingly go outbound to pursue transactions.
What's the main change you've made in the firm that will benefit clients?
We are still new to the market, having just launched in January 2019. However, we are constantly evaluating new ways of benefiting clients, such as alternative fee arrangements, appropriate use of technology, and finding new ways to work with and harness the skills, experience, reputation and size of KPMG's global network.
Is technology changing the way you interact with your clients, and the services you can provide them?
We are committed to deploying leading edge technology in the delivery of legal services, including through the provision of managed legal services. We are fortunate to be able leverage KPMG's significant investments in robotics, artificial intelligence and other technologies. In China alone, KPMG is expected to employ over 300 software engineers, architects, and similar technology experts during 2019 in its KPMG Digital Ignition Centre in Nanjing, and these resources can be deployed in developing and delivering legal technology tools and solutions. We are actively exploring new ways to deliver greater value and efficiencies to the client experience.
Can you give us a practical example of how you have helped a client to add value to their business?
We were recently engaged on a deal with a very short turnaround time. This was a deal we worked on conjunction with KPMG China's Advisory practice. The client needed an on-the-ground M&A legal team to support their transaction taking place the next working day. We were able to pull together a team, and provide the client with an end-to-end seamless Advisory and Legal experience, getting the deal signed within time. This deal is symptomatic of what can be achieved by leveraging the KPMG network.
Are clients looking for stability and strategic direction from their law firms – where do you see the firm in three years' time?
We aim to build SF Lawyers over the next 3 years with a reputation for excellence in all areas of legal services which are complementary to KPMG's business and client base. This is the global platform from which we can provide clients with an end-to-end experience, delivering integrated business solutions.   We will continue to build on our core practice areas of M&A, corporate/commercial, technology & intellectual property, data privacy & protection, and employment law, and also plan to add infrastructure capability in the second half of 2019.
KPMG will also expand its legal services network globally with a new Shanghai law firm expected to open in the second half of 2019.