Interview with:

Dr. Ardeshir Atai, Partner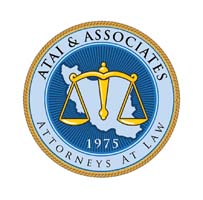 ATAI & ASSOCIATES Attorneys at Law | View firm profile
What do you see as the main points that differentiate Atai & Associates Law Firm from your competitors?
We have more than 40 years' experience in delivering legal services to multinational companies in particular European, Asian and American enterprises.
We have built trust and confidence in our clients through provision of high quality services and accommodate business and legal requirements of our clients.
Our practice focuses on international trade and investment law and cross-border transaction involving multi- jurisdictional and multi-disciplinary areas of laws.
We play a pivotal role in ensuring our international clients are afforded measure of protection when dealing with their local partner. We achieve this by advising clients on international and local law standards applicable to the transaction and assisting with the drafting of the joint venture and partnership agreements.
We have a difficult task of ensuring compliance with international sanctions regulations and managing non-commercial and political risks involved in cross-border transactions concerning industrial and developmental projects.
The goal is to devise a suitable strategy for clients to cope with sanctions or other restrictions in doing business in local market and ensure the underlying transaction is compliant with international rules and standards.
Which practices do you see growing in the next 12 months? What are the drivers behind that?
In the age of sanctions, there has been a growing trend in dissolution and liquidation practice.
For example, we are assisting and advising a German petrochemical company to make its local branch office dormant and inactive.
We are also acting as liquidators of a Belgian manufacturer of construction materials. There are other cases of dissolution of European multinational firms in which we advise the client as to the exit strategy and provide assistance on the post-termination procedures.
Our practice is shifted to mainly food and beverage and medicine and other economic sectors exempted and relieved from the sanctions regime.
As to the growing business in the next twelve months, we have been engaged in legal matters concerning clean energy projects and construction of solar power plant and provide assistance and advice on transactions with local contractors for development of the site, importing equipment and agreements concluded with local banks and relevant authorities.
The projects are work in progress and many European, Japanese and Chinese firms are following suit and exhibit interest in procuring similar projects and therefore they have been liaising with us to receiving information and advice in connection with launching similar projects.
There are also other similar projects not covered by the sanction regime as well as food and medicine to which our services have been engaged to accommodate the legal requirements of our clients.
What's the main change you've made in the firm that will benefit clients?
Major international companies have internal compliance department that assist them with checking transactions.
Based on our experience in international transaction we have built a pool of knowledge on issue of sanctions and restrictions and we have established sanctions control department. Our expert advisory services complement the compliance department of international clients and help them to determine risk of transactions and adopting suitable strategy.
This has been a major achievement for our firm and benefits our clients in term of risk assessment when doing business.
Is technology changing the way you interact with your clients, and the services you can provide them?
Generally we rely on technology to deliver legal products and services.
For example, following the signing of the Comprehensive Joint Plan of Action (CJPA), we acted for many European firms involved in cross-border mergers and acquisitions.
We conducted due diligence on the target company thorough research in various platforms such as online database or business guilds for collection of information and data required for preparation of legal opinion on the target company.
In other areas such as company registration and lodging claims in judicial forums we have access to online platforms.
Can you give us a practical example of how you have helped a client to add value to their business?
We provided assistance and advice to a European automotive manufacturer in relation to a case concerning the registration of the dealership and the subsequent importation and distribution of the vehicles by a local distributor without the authority of our client.
The case was complex and required an in depth analysis of legal and contractual issues to determine suitable solution for stopping the unauthorized dealer selling the imported goods in the local market.
Our firm diligently studied the case and researched the factual and legal matrix surrounding the case in order to pursue the claim against the local agent in a suitable judicial forum.
We legally challenged the validity of the licenses and other authorizations that were fabricated by the local agent through corroboration of third party exporters of the products based in another country, by taking action in the local courts and managed to successfully defend the rights of our client.
The court carefully examined the evidences and documents presented by us and accepted the claim of unauthorized dealership and ordered for the revocation of the fabricated licenses and deregistration of the name of the unauthorized dealer of the European car maker from the official registry.
The scale and volume of the claim demonstrated our ability to adopt appropriate litigation tactics and using the force of law to prevent damage to our client's business reputation and deter unauthorized importation and distribution of its products which in itself as a major achievement for the client.
Are clients looking for stability and strategic direction from their law firms – where do you see the firm in three years' time?
We take into consideration the scope of operations by the client, and advise on the implications of the doing business in local market.
For example in case of assignment of technology our expert lawyers assists with the issue of joint ventures and evaluate the non-commercial risks involving the transaction and devise suitable solution for securing the client rights in case of occurrence of extraordinary events that may lead to force majeure/hardship or changed circumstances.
This requires special handling of the case and ensuring the contract meets compliance issues both under international law and domestic law.
A case in point is an Asian client active in mining activities and we reviewed the operations from the perspective of US secondary sanctions and advised accordingly. Thereby informing the client on the risks associated with particular business transaction or economic sector and advised on the potential remedy or relief.