Doing Business In:
Ecuador
Tobar ZVS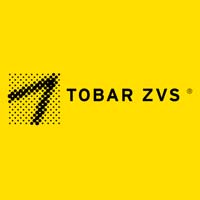 View Firm Profile
I. GENERAL OVERVIEW
The World has changed dramatically during the last decade. Politically it has deteriorated almost everywhere, and symptoms of mounting social unrest, institutional weakness, economic uncertainty, governments struggling to keep themselves in office, let alone fulfilling their mission in any degree, are no longer the exclusive traits of undeveloped economies, but can increasingly be seen in jurisdictions that were considered until recently the examples of mature democracies, economic welfare and the overarching prevalence of civil liberties and the rule of law. Indicators used just a few years ago in assessing the general business environment of a jurisdiction should be adjusted to the new realities.
Notwithstanding this global climate, aggravated by the global covid pandemic, the last decade has also witnessed many exponential technologies reaching the market and evolving from a concept into unicorn companies. Innovation has been unprecedented along with the many benefits it is bringing about in health, education, sustainability, social mobility and other global challenges. Political institutions are marching backwards or in circles, at best, while entrepreneurship and market forces are creating a world of abundant opportunities.
Since Ecuador adopted the US dollar as official currency two decades ago, the economy has remained to some extent dissociated from political changes, particularly those that could have otherwise unleashed inflationary forces. After the 2015 collapse of oil prices, which fed much of the public treasury, an economy that was impacted significantly by government spending has come to rely again on private sector growth and market forces, and in the last few years, Ecuador has adopted more investor-friendly policies and laws. In any case, and spite of political noise, for the last 20 years Ecuador has maintained with minor variations certain key elements relevant to the cost and opportunity of doing business, including an economy that is market driven for its most part, with State intervention and regulatory pressures in strategic economic sectors, and a relative stability of the essential components of corporate taxes, labor regimes, and a dollarized economy that depends increasingly on the need to promote foreign investment and international trade.
Ecuador has developed its infrastructure -energy generation, road, ports, airports, telecom, oil pipelines- significantly over the last two decades, to the point where energy and oil transportation excess capacity have been sold to neighboring countries; nonetheless, the Country needs to continue investing in order to keep up to speed with increasing demand. In terms of business opportunities, Ecuador has become the next mining exploration frontier and many major companies have set up local operations. Due to its geographical position and rich biodiversity, it is also a hot spot for green energy projects and power plants. The Country is also home to many companies working in the digital space, and applications for financials, fintech and logistics produced in Ecuador can be found throughout the Americas and other parts of the World, so there is an emerging tech sector adding and diversifying an international trade basket. The current economic downturn and Pandemic related pressures have increased the pace of acquisition of distressed businesses and assets.
When it comes to investing in large infrastructure projects or highly regulated sectors, political risk should be assessed -as when investing in similar projects in other jurisdictions-, and a strategy should be carefully designed and implemented. We believe that these kinds of projects can be successfully developed in Ecuador with the proper strategy, genuine corporate social responsibility practices, and a sound and transparent stakeholder engagement philosophy.
II. GENERAL INFORMATION OF ECUADOR
Official Name: Republic of Ecuador
Capital: Quito, Metropolitan District
Geography: The Republic of Ecuador is located on the Northwest Coast of South America and lies on both the Northern and the Southern Hemispheres, divided by the Parallel 0, or the Equator line. Colombia to the North, Peru to the South & East, and the Pacific Ocean to the West border Ecuador's continental territory. Despite its small size, Ecuador is one of the most geographically, biologically, ethnically and culturally diverse countries in the world.
Currency: US Dollars
Official Language: Spanish is the official language. Native languages –such as Quechua- are spoken by specific groups of the population. English is commonly used for international business relations.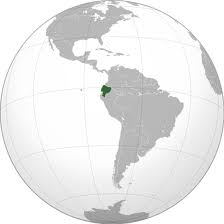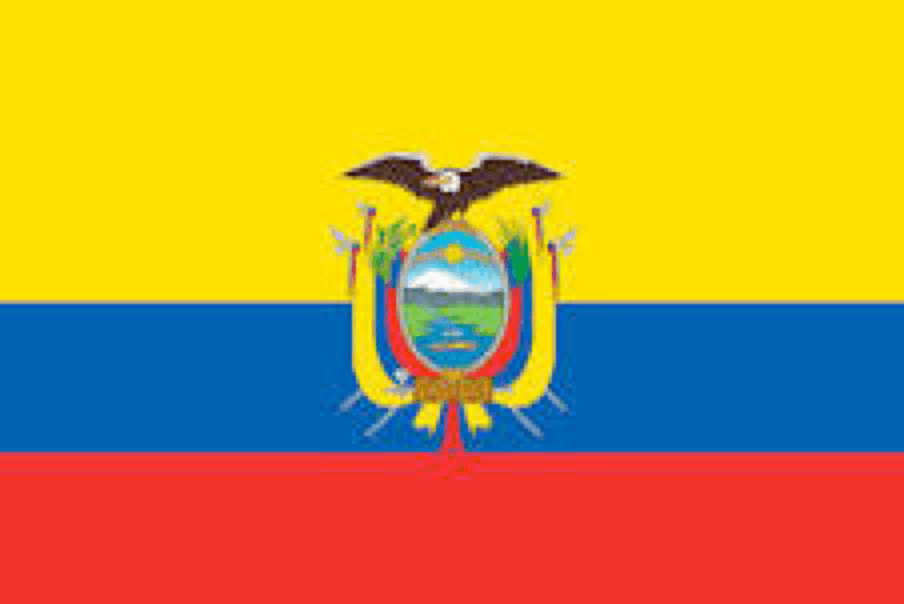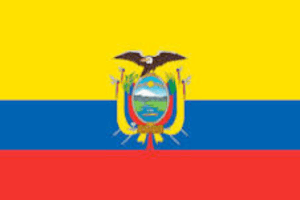 III. INVESTMENTS
III.I. PRIVATE SECTOR
In general terms, private equity investments, whether from local or foreign sources, are allowed in any industry sector, with the exception of investments in the so-called strategic sectors, where State participation and control are subject to special rules, as discussed in section III.II. Ownership of local media companies has some specific limitations as well.
As the Ecuadorian economy is dollarized, there are no foreign exchange controls or any restrictions or limitations regarding the free flow of funds, whether in connection with debt or equity contributions coming into the system, or debt payments, import payments and dividends flowing out of it. There are certain regulatory registrations that should be affected, particularly for availing of applicable tax exemptions in the service of qualified foreign debt related operations, including typical credit facilities, factoring, project finance, securitization, and net smelter return agreements, increasingly used in the resource sector to finance mine development.
There are certain tax incentives designed to attract investment in certain industry sectors; in particular, the Organic Law for the Promotion of Production and Investment ("LPP") provides an income tax exemption of 12-years from the date in which income is generated for investments made in economic priority areas, including agriculture, fresh frozen and industrialized produce; pharmaceutical; petrochemical; tourism; film production; renewable energies; biotechnology; software, amongst others. If such investments are made within the cities of Quito and Guayaquil, the income tax exemption is reduced to 8-years. Payments made abroad by companies covered by investment protection agreements are exempted from the currency outflow tax ("COT", currently at a rate of 5%), provided that they are made for the import of goods and raw materials for the development of the investment project and dividends distributed by local companies (after payment of income tax) to shareholders that are natural persons, whether they are domiciled in Ecuador or abroad. Dividends distributed abroad to non-Ecuadorian tax residents are exempted from COT, regardless of whether there is an investment agreement in place.
On the other hand, the LPP provides an income tax exemption of 15-years from the date in which income is generated for investments that are made in the following economic areas considered as basic sectors: smelting and refining of copper and aluminum, iron and steel foundry for the production of flat steel, oil refining, petrochemical industry, pulp industry, and construction and repair of naval vessels. The exemption shall be extended for an additional period of 5-years when the investment is made in border cantons.
As new technologies are disrupting the financial markets, enabling cross border payments, remittances and digital accounts and transactions outside the traditional banking infrastructure, it should be mentioned that there are regulations applicable to some of the Fintech operations, particularly payment processing companies and other digital service providers considered ancillary to the financial system. These types of companies require special operating licenses and are subject to specific regulatory obligations, and a number of these are already operating in the jurisdiction. Recent reforms also referred specifically to crowdfunding and other technology enabled financings, but the limits on the project amounts make it hardly practical beyond very small ventures.
III.II. PUBLIC SECTOR
Strategic sectors -non-renewable natural resources, energy, telecom, oil refining and transportation, biodiversity, water, radioelectric spectrum-, should be managed by the State- or State-owned companies. Private investment and operation are allowed by the laws governing each specific strategic sector, subject to the net benefits of the State being no less than those of the investor. The State share is calculated by adding taxes, royalties when applicable, and other fiscal payments.
In an effort to promote public-private partnerships ("PPP") in areas of general interest and strategic economic impact (infrastructure, urban development, real estate, roads, ports and airports), the Organic Law for Public-Private Partnerships ("PPP Law") was enacted in 2015, which establishes some legal and tax incentives including the legal stability on the regulatory aspects that were declared as essential in the contract and certain tax exemptions (income tax, foreign currency tax, foreign trade taxes, among others). In practice, this PPP Law has been of little application, due to the cumbersome requirements, lengthy process and the political risks that come from partnering with State-owned entities.
IV. LEGAL SYSTEM AT A GLANCE
Ecuador has a civil law system, inherited from continental Europe, particularly Spain and France. The Political Constitution is the highest-ranking body of law. International human rights agreements ratified by Ecuador enjoy the same legal ranking as the Constitution, and treaty provisions on human rights that provide for greater or improved protection can take precedence over the constitutional provisions. Public authority and Government powers can only be sourced in the Constitution and primary legislation -that is laws passed by the National Assembly-, as opposed to secondary and implementing regulations. So far the theory, as in practice Ecuador is not an exception to the global trend of governments extending its powers through implementing regulations, which has come to blur the limits established by the rule of law. That said, there are many legal resources to challenge the validity and effectiveness of Government decisions that are inconsistent with the Constitution or the laws.
Arbitration, whether local or international, is specifically recognized by constitutional rule as a valid dispute resolution mechanism, and usually it is provided in investment protection agreements with the State. While it is true that the State has lost some arbitration proceedings initiated by investors, it is also fair to mention that the State has honored international arbitration awards without enforcement in most of the cases.
Civil and commercial contracts are subject to party autonomy and to the pacta sunt servanda principle. In general, contracts can be submitted to foreign law as well as foreign jurisdiction. The enforcement of foreign judgements and international arbitration awards is specifically recognized and regulated, with the caveat that contractual provisions, judgements or awards that violate public order laws cannot be enforced. Such public order laws are very rare in the context of commercial contracts, but less so in the case of labor laws, family laws and other non-commercial matters.
IV. I. BUSINESS ENTITIES
Investors starting up a business in Ecuador most frequently establish local corporations or local branches of offshore entities. The business entity types most frequently used are the Stock Corporation -sociedad anonima-, and increasingly the Simplified Shares Corporation -SCC- for the reasons explained below. There are other alternatives that are less suitable for business purposes, such as the limited liability company, the mixed economy company (where the State or State-owned entities have participation) and other types of legal vehicles contemplated in the Companies Law. All types of companies, except financial companies, are registered with and controlled by the Superintendence of Companies, Securities & Insurance ("SC") and governed by the Companies Law regarding the life and structure of the legal vehicle, as there will be other laws impacting the company's business activities depending on the industry sector. Local branches of offshore entities also need to obtain authorization by the SC to start operations in Ecuador.
As a general rule, foreign companies may hold equity interests in any Ecuadorian company or industry sector; exceptions apply to foreign companies the equity of which is represented in bearer shares. There are also certain ownership thresholds applicable in a few industry sectors, such as mass media companies and businesses operated by a mixed economy company.
In 2020, a reform was passed modernizing the Companies Law. Key reforms include the validity of on-line AGMs, corporations surviving with one shareholder, management and board members fiduciary duties, and the recognition of the business judgement rule as a presumption that management has acted correctly provided that the decision was made in good faith, without conflict of interest, with sufficient information, and following adequate corporate approvals.
a) Corporations
These are labeled as sociedades anonimas. Shares issued by a sociedad anonima are freely negotiable as a general rule, and the transfer of shares is perfected upon the execution of rather simple forms and registration of the share transfer in the company's books. Shareholder agreements are valid and can be enforced against the company if notified and registered. Only corporations are allowed to list its shares in the stock exchange, following a closely regulated and controlled public offering procedure. Any person, either natural or legal, local or foreign, may become a shareholder of a corporation.
The Corporation figure offers the same major advantages to investors as does this corporate entity in other jurisdictions, including (1) limitation of shareholders' liability; (2) shareholders are free to negotiate their shares without restrictions; (3) corporations are represented by managers who may be freely removed; and (4) continuity of the business as an ongoing concern is assured, regardless of changes in management or ownership.
One of the important recent legal reforms introduced the concept of share subscription at a premium price, which is common and widely used in other jurisdictions. The premium over the nominal price -that is the price that would reflect the nominal capital contributions of the existing shareholders- is registered as a voluntary reserve account of the company and not as a patrimony account of the subscribing shareholder. This allows for private equity transactions at a premium over the share price without exposure to capital gains taxes.
b) Simplified Shares Corporation
This corporate form ("SSC") was introduced in 2020 and has accounted for 48% of all new companies formed in Ecuador in 2020 . This type of corporation aims to promote entrepreneurship by facilitating and expediting the incorporation process. SSC do not need to comply with certain incorporation formalities applicable to other type of corporate forms. The incorporation of a SSC can be done by one shareholder and requires only a private agreement setting out the by-laws. Currently, the expected timeframe for the incorporation of SSC is about seven to ten days.
The SSC shares with Corporations the advantages mentioned above and there are also other relevant additional features regarding the operation of a SSC, most notably the introduction of convertible notes -a convenient tool to structure venture capital investments-, the validity and enforceability of shareholder agreements -now also recognized with respect to the sociedad anonima, the procedures for capital increases, modification of statutes, among others, are simpler and do not require notarial acts or the payment of registration fees.
c) Branch Office
A branch office is an extension of its offshore parent company and for legal purposes, it is not considered as a separate and independent legal entity; consequently, the liabilities assumed by a branch extends to its parent company without restriction. However, branches are considered independent entities for tax and accounting purposes only, and hence they shall keep separate accounting records, have their own local tax ID number, and comply with local financial and tax regulations based on the branch office financials.
Branches authorized to operate in Ecuador are subject in general to all the regulatory and compliance obligations applicable to legal entities doing business in Ecuador.
While branch offices may offer certain advantages in terms of the point evaluation system of most public bidding processes, and hence may be an alternative to be considered by investors interested primarily in securing contracts with the public sector, it is not otherwise an advisable choice, due to the exposure of the parent entity to liabilities incurred by its branch office.
d) Limited Liability Companies
This type of corporate form ("LLC") is a closed partnership in which the identity of the shareholders is key. The capital contributions made in LLCs are represented by participation certificates, subject to burdensome transfer requirements and approvals, and not by shares. An LLC is characterized by (1) having a minimum of two and up to 15 members; (2) members have limited liability; (3) financial organizations and insurance companies cannot be members of a limited liability company; and (4) any transfer of participation certificates must have the unanimous approval of all the shareholders. While the label is the same as the US LLC, the Ecuadorian LLC is not a pass-through company, and offers no particular tax or operational advantage compared to any other type of company. The governance rules of an LLC are less flexible than those applicable to a Corporation or an SSC, so there are exceptional circumstances under which the use of an LLC would be advisable.
The procedure for incorporating a limited liability company is the same followed for a corporation.
e) Mixed Economy Company
Public entities may incorporate mixed economy companies when they partner with a private investor. According to Ecuadorian law, the State's participation in this type of companies must be at least 51%. This corporate form is not extremely popular as many investors prefer other forms of association with public entities, such as strategic alliances, PPPs and other legal forms that do not give rise to an incorporated joint venture.
These types of companies are not a convenient alternative for investors, and in reality, they are of little use. Besides, Government controls on public funding and resources place this type of entities under cumbersome regulatory requirements and audits and exposes the private sector investors to unnecessary economic and political risk.
IV. II. PRINCIPAL DIFFERENCES AMONGST BUSINESS ENTITIES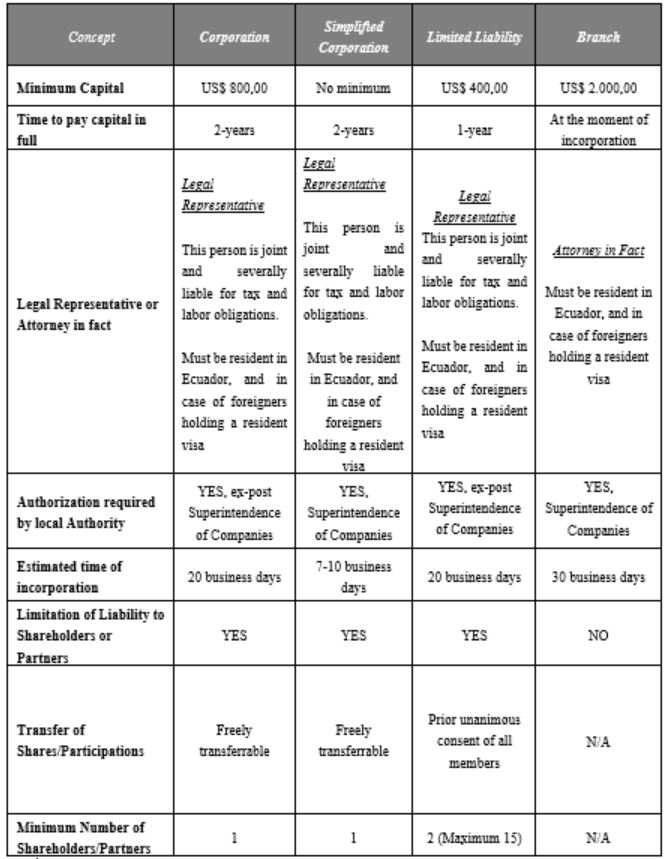 IV. III. GENERAL OBLIGATIONS FOR ALL LEGAL ENTITIES UNDER LOCAL LEGISLATION
1. Get a Tax ID number (RUC) and maintain accounting records according to the International Financial Reporting Standards (IFRS).
2. Annual filings with the SC, containing financial statements and other relevant information required by the Companies Law.
3. Annual General Shareholder's Meeting within the first 3-months of each year to approve inter alia financial statements, management and audit reports, profit distributions.
4. If the shareholder of a local company is a foreign entity, the following information must be provided and updated annually:
a) Certificate of Existence, duly legalized or apostilled.
b) A list of the company's shareholders, together with a detail of their full name, address, nationality and, if the shareholder is an individual, his/her marital status, or if the shareholder is a company listed in a stock exchange, a sworn declaration regarding the listing.
c) A Power of Attorney ("POA"), legalized and apostilled, granted to an, Ecuadorean resident for the purposes of representing the Shareholders regarding the regulatory filings.
d) Certified copy of the appointment of the legal representative of the foreign shareholder, duly legalized or apostilled.
5. Payment of annual contribution to the SC equivalent to 0.1% (1 per thousand) of the real assets of the company.
6. The transfer of shares should be notified to the SC. This regulatory obligation has ex-post informative purposes but does not affect the perfection of the share transfer.
IV.IV. CONTRACTING WITH THE ECUADORIAN STATE
The procurement of civil works, goods and services –including consulting services- carried out by public entities is performed pursuant to the Organic Law of the National Public Procurement System ("LNPP"), its General Regulations, and the relevant Rules of Procedure issued by the National Public Procurement Service ("SERCOP"), which is the entity responsible for the overall supervision of public procurement processes.
Contracts regulated by the LNPP should include mandatory legal provisions in favor of the Public Entity dealing inter alia with fines and remedies upon breach, performance guarantees, unilateral termination rights, limits on change orders, dispute resolution by Ecuadorian courts and application of Ecuadorian laws. Contractors should give careful consideration to the qualification of events of default, the definition of force majeure, political risk provisions, caps on fines, limitation of liability provisions, termination and indemnity provisions, and the form and substance of performance guarantees.
V. TAX REGIME
V.I. MAIN TAXES IN ECUADOR
All companies operating in Ecuador shall be subject to the following main taxes:
a) Corporate Income Tax
Ecuadorean and foreign companies with local branches in Ecuador are subject to income tax. This tax is applied to the company's profits (calculated after deducting from the annual earnings 15% of labor profit sharing that is distributed to the employees). The current income tax rate for corporations is 25%. The rate is increased by 3 points when (1) the company fails to disclose its share structure up to its ultimate beneficial owner; or (2) when the company has a person domiciled in a tax haven within its ownership structure.
Dividends distributed to foreign shareholders are subject to a 10% income tax withholding, except if the dividend is distributed to shareholder with fiscal residency in tax haven jurisdiction, in which case the withholding rate is 14%. The use of a tax haven at any layer of the corporate structure is highly penalized.
b) Value Added Tax
VAT on the sales of goods and services and import payments is generally subject to a 12% rate. Exports of goods or services is VAT exempt. The purchase of medicines, raw materials, basic products, food in the natural state and veterinary products are subject to VAT at a 0% rate.
The taxable base amount for VAT is the value of the goods transferred or the services rendered. In the case of imports, the taxable base amount is the sum of the CIF (cost, freight and insurance) amount, taxes, customs tariffs, fees, charges, surcharges and other expenses appearing on the importation documents.
As a general rule, VAT paid in the process of aggregating products that will be exported is subject to reimbursement.
c) Tax on Special Consumptions (ICE)
It is levied on the consumption of cigarettes, soft drinks, alcoholic beverages, perfumes and toilette waters, video games, firearms, sports weapons and ammunition, motor vehicles and hybrid or electric vehicles, paid television services, shares or subscriptions to social clubs and luxury goods, according to the rates determined by the Tax Administration.
d) Currency Outflow Tax (ISD)
Any transaction or operation that involves the transfer of funds outside of Ecuador pays a 5% tax over the amount transferred abroad. Transfers made by Governmental financial institutions, special economic development zones (ZEDE's), and the distribution of dividends, are exempted from the Currency Outflow Tax. Also, payment of principal and interest under qualified loan operations are exempt from the currency outflow tax provided that some conditions are met, namely that the loan has been duly registered in the Ecuadorean Central Bank, the lender has been qualified by the Superintendence of Banks, the loan term is at least 180 days, and that the interest rate does not exceed the referential interest rate published by the Central Bank from time to time.
Other remittances sent abroad (i.e., foreign transfers, payments, royalties) that constitute income to the beneficiaries are subject to the regular Corporate Income Tax rate.
e) Municipal Taxes
e.1) Patents (Commercial Business Authorization)
All individuals executing commercial or industrial activities or any other activity of economic nature in each jurisdiction must obtain on a mandatory basis a patent and make the corresponding payment.
The Municipal Council through an Ordinance shall determine an annual tax rate based on the operating capital of the taxpayers within the specific jurisdiction. The minimum rate shall be ten dollars of the United States of America and the maximum twenty-five thousand dollars of the United States of America.
e.2) 1.5‰ over Total Assets Tax
Shall mean the tax payable by all individuals, legal entities, sole proprietorships, either national or foreign– resident in Ecuador and performing economic, financial or industrial activities. Their taxable basis shall be the difference between current assets and current liabilities.
V.II. AGREEMENTS TO AVOID DOUBLE TAXATION ("DTA")
Ecuador has DTAs in place with the following countries:
Argentina
Belgium
Belarus
Brazil
Canada
Chile
China
South Korea
France
Germany
Italy
Mexico
Rumania
Spain
Switzerland
Uruguay
Japan
Qatar
Russia
Singapore
Colombia
Perú
Bolivia
V.III. INVESTMENT PROTECTION TREATIES
Currently Ecuador terminated all bilateral investment protection treaties ("BIT"). However, foreign investments may be protected under the survival periods of the applicable BIT.
Notwithstanding the aforementioned, the COPCI provides that investors with investment exceeding US$ 250,000 in the first year of investment, can execute an investment agreement with the Government. Investment agreements can set forth and develop investor rights and provide for international arbitration.
V.IV. SPECIAL TAX & CUSTOM REGIMES
There are special customs regimes (Temporary Admission for Active Improvement, or Transformation under Customs Control) that provide for exemptions on custom duties for imports destined to the manufacturing of products to be exported. These regimes apply even if such operation is not developed under a ZEDE.
Likewise, exporters are entitled to refunds for the Income Tax paid for imports of goods or services used in the elaboration of products to be exported.
These incentives may also apply if the investor qualifies as an operator within a ZEDE zone. The main difference is that in a ZEDE, there is a permanent 5% income tax reduction.
Special Economic Development Zones ("ZEDE") due to its Spanish acronym), grant tax breaks to administrators or operators within such zones. These zones are aimed to promote investments in exports of high value-added goods and services. Tax benefits include: i) a 5% reduction in income tax; ii) imports are exempt from customs duties and VAT; iii). VAT refund in local purchases; iv) and no Currency Outflow Tax is payable on any payments made abroad by such administrators or operators, for imports as well as for payments of credit facilities under certain conditions.
VI. EMPLOYMENT LAWS IN ECUADOR
The employment legislation in Ecuador is quite regulated and operates under the general principle that the employee should be protected. Thus, the employee cannot waive any of its rights under the employment relationship, and in case of doubt on the application of a labor provision, an in dubio pro employee applies.
There are several types of employment contracts in Ecuador. The most usual form is the indefinite employment contract, which operates by default unless the parties agree otherwise. Nevertheless, the parties may agree on other type of employment contracts. In general terms, employment contract per hour is not permitted, but partial working hours are permitted under some conditions. Also, outsourcing of activities that are within the line of business of the employer are not permitted; nevertheless, the employer may contract specific services from third parties (such as accounting, legal, technical, etc).
Considering that employment law is highly regulated, the law establishes a maximum daily shift of 8 hours, for a maximum of 40 hours a week. If an employee works in addition to such limit, the employer has to pay the labor wages plus a premium; likewise, if the employee works on a night shift, or during weekends, the employer must pay the labor wages plus a premium. In addition, employees are entitled to a share of the profits of the employer. The law provides that 15% of the profit generated by the employer shall be distributed amongst all employees.
Another important feature of employment law is that it intends to provide stability for the employee. This is a principle that underlies the entire labor legislation. Thus, employment contracts can be terminated by mutual consent or for specific causes provided in the law, following an authorization by the labor authority. If the employer terminates an employment contract without cause, the employer is liable and has to indemnify the employee for damages. The significant portion of the indemnification formula comprises one monthly salary for each year of employment after the third year (if the contract is terminated before the third year, the indemnification is equivalent to three monthly salaries). There are some exceptions to this general rule, and the law also permits a trial period of 90 days.
Finally, the employer has the obligation to affiliate all its employees in the Social Security. The employee must contribute with 9.45% of its monthly salary to the Social Security, and the employer must contribute with a sum equal to the 11.15% of the employee salary to the Social Security.