 Data-driven research since 1987
Quality of Work
*Drum roll* And the law firm with the best associates is…
Freshfields, Slaughter and May and Irwin Mitchell score highly in client rankings
Tuesday June 1, 2021
Law firms spend big money making sure they have the best junior lawyers. A newly qualified lawyer at a magic circle firm can expect to take home over £100k a year. But what do clients really think of those highly paid associates?
Legalease Research Services contacts over 150,000 clients in the UK annually to provide assessments of law firm service. According to its research, clients rate the associates at Freshfields Bruckhaus Deringer, Slaughter and May and Irwin Mitchell as the best of all those at the UK's top-25 firms.
As you can see from the list below, the magic circle do pretty well in our research, with two of the top five spots taken by these storied firms – all scoring well above our benchmark. But Taylor Wessing and Herbert Smith Freehills also make an appearance.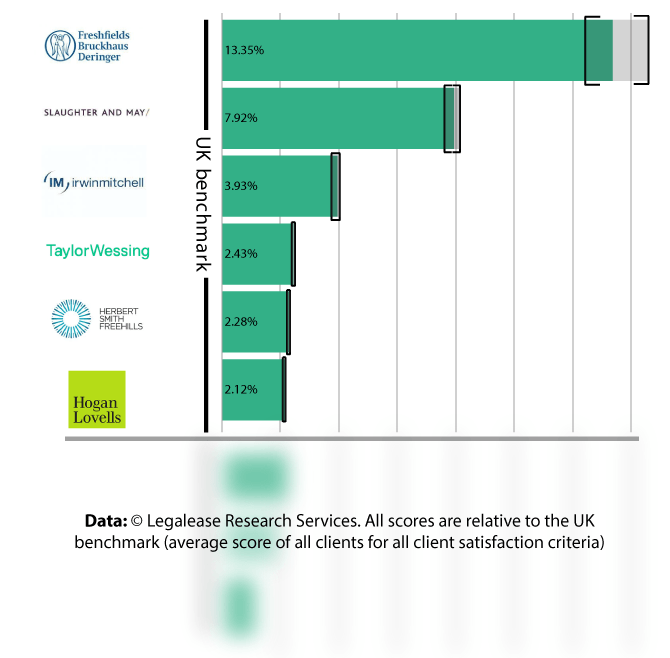 The results may be finely balanced but they are statistically significant, with bands of uncertainty marked within square brackets and all scores relative to an overall average client satisfaction score.
So are the top paid associates necessarily the ones that clients think are the best? Not necessarily. When we look at associate pay at those firms, we can see a wide range in salaries – from £50,000 for a newly qualified to solicitor at Irwin Mitchell to over double that at £105,000 at Herbert Smith Freehills. So pay may help predict quality, but not always.
Similarly, when we look at the firms that are ranked as below average for associate quality (we will spare them their blushes by not publishing their names) there are a number of silver circle firms that pay pretty well but still don't score particularly well on this metric.
When we delve in to the client comments an interesting pattern emerges. A lot of the time, clients don't have a clue what associates actually do, because they deal solely with their relationship partner.
"The visibility and control exercised by the partner makes it hard to comment on the quality of associates as they were not visible" said one client of a top-25 firm.
"I didn't deal with any associates directly, but I assume that they were supporting the partner behind the scenes?" said the client of another top-25 firm.
It is understandable that partners like to exercise a certain degree of caution in exposing junior employees to their valued clients. But what is interesting is that when clients do get to deal with associates, they generally think they are great.
"We have worked with a variety of associates in different areas of expertise and have been impressed by their thoroughness, diligence and confidence" said one client.
"Really impressive mid-level associates. I would be happy to have more associate-led work on this basis" said another.
"Always there when you wanted them, nothing too much trouble. Lovely people to work with", said a third.
And Legalease Research Services' data also shows that firms that are rated highly for the quality of their associates are also rated more highly for how well they communicate with their clients and manage cases. Freshfields, Slaughter and May and Irwin Mitchell are all ranked as some of the best in the top-25 on this metric as well.
It is food for thought. If the associates are good, clients don't mind dealing with them and it actually increases their satisfaction with overall service levels.
---
Data: Legalease Research Services surveys 300,000 commercial law firm clients each year. All scores are statistically validated (Bands of Uncertainty are marked within square brackets). Scores are Relative (not Absolute) and are Benchmarked against the average score of all clients for all client service criteria. For definitions and methodology see www.legaleasedata.com/faqs/. For scores of individual law firms (drilled-down into multiple work areas, and multiple jurisdictions), contact enquiries@legaleasedata.com