Doing Business in...United Arab Emirates (UAE)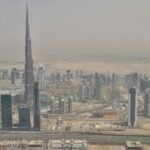 The UAE and the middle-east has always been a fascinating place for the outside world; some still imagine it as a land of flying carpets and magic lamps, while others know it as a modern sophisticated country exemplified by the engineering marvel the Burj Khalifa. Doing business in the UAE is a topic that has …
Contributed by Mahmood Hussain Law Firm
Read More...
Legal Market Overview
Political events in the Middle East created interesting times for the UAE, its undisputed hub, with projects work across the region featuring heavily in the market. Political intrigue concerning Saudi Arabia has slowed down investment into the UAE's ally and larger neighbour; Saudi work was and still is a key source of legal work in the UAE for a number of reasons – various projects that are ongoing in Saudi Arabia, several connected to "Vision 2030", are being successfully serviced out of Dubai. The same cannot be said of Qatar, which continues to be subjected to a boycott by many other states in the region, the UAE included; much Qatar-related work that was previously serviced out of Dubai is now handled outside the Middle East. Likewise, the Trump administration's re-imposition of sanctions on Iran has quashed this nascent stream of work.
The insolvency of private equity house Abraaj, following allegations of (at best) a failure to draw a clear segregation of the manager's and the funds' capital, is expected to further impact the sector in the region. Optimists would point out that fresh managers may be created by dealmakers who cut their teeth at Abraaj, and that there are not known to be real defects with the portfolio companies themselves (many of which were financially successful and socially effective), as distinct from the governance of the private equity house. Realistically, most firms with a strong disputes capability will handle some work touching on this, however due to the fund structuring the real heavy lifting on this dispute will be done in the Cayman Islands. Also, there have been a few difficult questions raised regarding the local economy, with more sceptical observers noting falling real estate rents in what has been identified as a property-driven economy, as well as S&P downgrading the credit ratings of DEWA and DIFC Investments (two of many state-backed entities) to BBB and BBB- respectively.
Within the UAE itself, the clichéd comparison of the Dubai-Abu Dhabi relationship with the dynamic between New York and Washington remains a reasonable observation – Dubai is a larger commercial hub, with Abu Dhabi an important centre for government work, including the energy sectors and work for sovereign wealth funds. These are two of the nation's seven Emirates – the other five, collectively known as the Northern Emirates, are smaller and certainly have some degree of economic activity.
A key feature of the landscape in the UAE is a system of free zones, in particular the Dubai International Financial Centre (DIFC) and Abu Dhabi Global Market (ADGM). As federal free zones, these two have the latitude to operate their own, common law, systems, other than criminal law and the UAE constitution. Both operate an English-based common law system, with English legal talent in evidence both on the bench and before the courts. The DIFC is the more tested system, with the ADGM newer on the market, however ADGM structures are increasingly popular, both in terms of ease of creating ADGM SPVs and promising noises coming out of the ADGM courts. Emirate free zones also exist but do not have their own legal systems; there are too many of these to list but they frequently appear in corporate structures in the region.
Major English and, to a lesser extent, US firms have a strong presence in the UAE. Firms such as Al Tamimi & Company (a firm with operations across the Arab world from Cairo to Baghdad but with its origins in the UAE) and Hadef & Partners LLC are also sophisticated operations that have no difficulty recruiting talented expatriate lawyers to sit alongside locally-qualified experts in UAE law, but have a focus on advising on "onshore" UAE law. Notable exits from the market include Pillsbury Winthrop Shaw Pittman, LLP, which closed down its presence after only a few years, and offshore firm Conyers.