Doing Business in...Qatar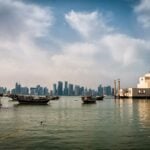 Economy Qatar is one of the wealthiest and most prosperous country in the Gulf Cooperation Council (GCC).  With one of the strongest GDPs in the world, Qatar also has the fastest growing economy in the GCC. The economy of Qatar is largely dominated by oil and natural gas revenues, such that it has the world's …
Contributed by Sharq Law Firm
Read More...
Firms in the Spotlight...

Al Sulaiti Law Firm

Al Sulaiti law firm is a full service renowned Qatari law firm, providing cutting edge legal services and solutions to local, national and International clients. Al Sulaiti law firm's main specialty is Middle East and North African laws; it is operating through its qualified lawyers from different legal systems to ensure that it provides clients …
View Profile...
Firms in the Spotlight...

Al-Khalifa Law Firm
Established in 1999, Al-Khalifa Law Firm is one of the leading law firm in Qatar managed my Hamezh Abdelhady. Litigation, Construction disputes, Arbitration have been a mainstay of Al-Khalifa Law Firm. On the global level they have collaboration with Andersen Tax & Legal which had presence in more than 129 countries. Through the collaboration Al-Khalifa …
View Profile...
Legal Market Overview
Qatar has historically had extensive business ties with its regional neighbours, which is precisely why the blockade imposed by Bahrain, Saudi Arabia and the United Arab Emirates has had such a profound effect on the Qatari economy and thus on the nation's legal market. While trade relations with countries including Turkey have increased, this has almost been born of necessity, as trade flows from some of Qatar's most stable economic allies have been significantly disrupted by the blockade. The inevitable uncertainties for international investors have triggered several restructuring efforts, especially in industry sectors such as shipping, which has been among the hardest hit. Looking at the market's legal demands specifically, the blockade has thrown up a number of regulatory hurdles, which has resulted in an increased need for cross-border regulatory expertise, as clients with a significant presence in other GCC nations have sought to mitigate commercial disruptions to their Qatar-facing activities. The blockade has also led to a consistent flow of disputes especially in the construction sector, where projects with certain international parties have been stalled or have been abandoned entirely.
Despite the current uncertainties, many investors have chosen to stay the course. The Qatari market offers significant investment opportunities, especially in the oil and gas, real estate and construction sectors, which has recently been spearheaded by the Qatari government initiating and otherwise encouraging heavy investments in the transport infrastructure space. Further, the FIFA World Cup 2022 is expected to significantly boost the economic prospects of Qatar.