Doing Business in...
Lebanon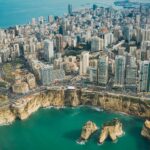 Contributed by Abou Jaoude & Associates Law Firm
Read More...
Legal Market Overview
Political unrest has dominated the Lebanese political landcape over the past year, with the introduction of a tax on the messaging app Whatsapp sparking the largest protests in the country in 14 years. However, the protests were not simply about the tax but addressed wider issues such as government corruption, unemployment and poverty. Consultations for a new government began at the close of 2019 with the hopes of ensuring political reform and greater stability.
Oil and gas is a key sector for the economy with further drilling expected on its Mediterranean coast in 2020. The agriculture sector is also important, as is tourism which has stagnated due to the political tensions.
Lebanon's legal system is reflective of the country's rich history. The country adopted Islamic law principals during its time under the Ottoman Empire, and civil law elements from its time as a French Colony. A combination of the two is what stands today.
The legal market is concentrated in Beirut and dominated by local law firms, with the exception of Chedid Law Offices, which works in association with Dentons. Key independent firms include Abou Jaoude & Associates Law Firm, Alem & Associates, Badri and Salim El Meouchi LLP, El-Aref International Law Office, Obeid Law Firm and El-Khoury & Partners Legal Counsel (EKP).