Firms in the spotlight:
Ernesto Tzirulnik Advocacia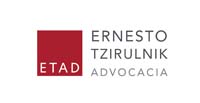 Founded in 1984, Ernesto Tzirulnik Advocacia (ETAD) is internationally recognized as one of the most important law firms specializing in insurance and reinsurance law. ETAD advises clients on loss adjustment procedures, legal and regulatory issues; it sponsors complex insurance, reinsurance and brokerage lawsuits; and operates in contractual law cases, civil liability, and corporate conflicts.
Throughout history, ETAD has operated in cases of national and international repercussion involving electrical, chemical, mechanical, hydraulic, geological claims, many different contract, and corporate disputes, the suchlike. ETAD promotes scientific research and public policies alongside the Brazilian Institute of Insurance Law – IBDS, and encourages cultural growth through the Ceará 202 Project.
During its nearly 40 years in practice the firm has established an excellent reputation in the market, particularly for its representation of policyholders on contentious and non-contentious issues. Most of the firm's lawyers work out of the São Paulo office, although there is also a team in Brasília.
View firm profile