Firms in the spotlight:
Karamanolis & Karamanolis LLC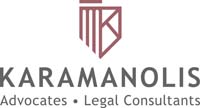 Karamanolis & Karamanolis LLC is a boutique firm specialized in Commercial and Corporate Litigation and Arbitration.
The founders of the firm are experienced and passionate professionals who have been at the forefront of many significant commercial cases of the past years.
We have significant experience in a wide range of contentious matters such as, commercial fraud and cross border asset recovery, management and corporate control disputes, derivative claims, breach of fiduciary duties, M&A litigation, Trust disputes, winding-up applications, enforcement of foreign judgments and arbitral awards, breach of contract, product liability, construction disputes and employment law claims.
Our practice also covers unlawful termination of distribution franchise and licensing agreements and contentious aspects of intellectual property law.
The firm regularly represents clients in multijurisdictional cases which require the issuance of interim freezing injunctions, disclosure and search orders.
Unlike most firms in Cyprus, Karamanolis & Karamanolis LLC only takes on a very limited number of cases, for which we are confident our expertise will add significant value.
Our strict specialization policy allows our directors to have substantial and continuous involvement in all projects. This approach guarantees delivery of outstanding, partner-level advice which is practical, pragmatic and has business sense for every client and in every single case of our firm.
We keep an open line of communication with our clients and make sure that they are always involved in the decision-making process regarding their case.
We don't fear to admit that we take our clients' problems personally and go to great lengths to assist them, at the same time, we keep an open line of communication with them and make sure that they are always involved and updated.
Although we have acquired a reputation for being resourceful and relentless in Court, we remain every bit as creative and determined in seeking opportunities for mutually beneficial and practical solutions to pending disputes.
In terms of pricing, we are committed to provide transparent fee structures with timely invoicing of any services rendered and expenditure incurred. Even in the most complex international commercial disputes, our aim is to provide the best quality of advice and advocacy with the least possible lawyer hours charged, and thus creating more value for our clients.
View firm profile