KPMG Abogados, Spain > Madrid, Spain > Firm Profile
KPMG Abogados, Spain
Offices
KPMG Abogados, Spain
EDIFICIO TORRE CRISTAL
PASEO DE LA CASTELLANA 259C
28046 MADRID
Spain
KPMG Abogados, Spain > The Legal 500
Rankings
Alberto Estrelles
 heads the Spanish tax department at
KPMG Abogados, Spain
, which is particularly known for its dexterity handling tax audits, litigation and controversy projects. 
Víctor Mendoza
, who heads the financial services tax practice in Spain, and skilled tax litigator 
Julio Cesar García
, who has a solid track record acting in tax disputes before EU and national courts, are other names to note. Recent work highlights include representing the Spanish Banking Association in an appeal submitted against the Autonomous Community of Catalonia's Tax on Empty Dwellings.
Key clients
Asociación Española de Banca
Macquarie Funds
Imperial Brands PLC
Globalvia Group
Blue Yonder
Amitra Capital
Iberostar Group
EUROLOG CANOLA SOCIMI, S.A. (Patrizia)
Aleatica
Work highlights
Acting on behalf of the Spanish Banking Association in Supreme Court proceedings challenging a judgment issued on 17 December 2019 rejecting the appeal submitted against the Autonomous Community of Catalonia's Tax on Empty Dwellings.
Advised Macquaire on the tax and accounting issues associated with the purchase of a 40% stake in Spanish utility company Viesgo from Wren House (Kuwait SWF).
Advised Imperial Brands on tax issues arising from the $1.12bn sale of Premium Cigar RoW to Allied Cigar Corporation.
KPMG Abogados, Spain
's employment group has acted in a number of collective redundancies since the pandemic hit, and assists clients with all related labour and human resources issues, as well as restructurings and M&A.
Francisco Fernández Díez
and
Francisco Javier Hervas Martinez
co-lead the team, while
Beatriz Ruiz Vela
and
Eduardo Martinez Perez
are experienced figures in the court room on labour matters.
Practice head(s):
Francisco Javier Hervas Martínez; Francisco Fernández Díez
Testimonials
'Trust and reliability.'
'Knowledge, availability and results – Beatriz Ruiz Vela, Cristina Jurado.'
'The KPMG team we work with is highly qualified and is involved from the beginning in the process.'
'Empathy, knowledge of the case and collaboration It is worth highlighting Eduardo Martinez and Cristina Jurado.'
'Good professionals, empathic, know how to manage the different actors in the process. Knowledge of the subject. Productivity, go the extra mile.'
'Human quality of the team. Knowing how to be in the different forums. Management of the different actors, speed of response. Francisco Fernández and Ramón Mouriño.'
Key clients
Ferrovial Servicios
Coca-Cola European Partners Iberia (CCEP Iberia)
Acerinox
ICCS – Integrated Call Centre Services
Econocom Group
Vocento
Telefonica de España
Segurcaixa Adeslas y Adeslas Salud
Grupo Gonzalez-Byass
Santander
Work highlights
Advised Acerinox on trade union negotiations for the implementation of a large-scale collective redundancy involving the dismissal of more than 200 employees.
Assisting Coca-Cola European Partners Iberia with the design of a strategy to respond to the pandemic, and the definition of a strategic model of labour relationships.
Assisting Ferrovial on the full range of employment law matters arising from M&A transactions.
KPMG Abogados, Spain
 has a multi-disciplinary insurance practice, which allows it to handle a range of tax, regulatory, corporate and commercial matters. With traditional strength in financial services regulation, the firm counts major financial institutions among its clients. Financial regulation expert 
Pilar Galán Gavilá
 has taken a leading role on many of the department's recent mandates;
Francisco Uría Fernández
 and
Víctor Mendoza-Aguado
 are also key contacts.
Practice head(s):
Francisco Uría Fernández; Beatriz Rúa; Víctor Mendoza-Aguado; Javier Bau Cabestany
Other key lawyers:
Pilar Galán Gavilá; Irene Cao Ruiz; Bartolomé Martín; Pablo Alonso Montes; Anna Bayarri Ruiz; Manuel Rodríguez Ortega
Testimonials
'I'd highlight its knowledge of the client and subject, and transversality with other areas of law'
'KPMG provides specific knowledge of the insurance sector.'
'They are very flexible teams that adapt very well to needs and understand them very well. I would highlight Irene Cao Ruiz and Víctor Mendoza.'
Key clients
SANTANDER MEDIACIÓN OPERADOR DE BANCA-SEGUROS VINCULADO, S.A
ASISTÈNCIA SANITÀRIA COLEGIAL, SA DE SEGUROS
SANTANDER CONSUMER MEDIACIÓN OPERADOR DE BANCA SEGUROS VINCULADO, S.L.
Work highlights
Advised Santander Mediación on all regulatory and legal issues arising from its activity, including the implementation of the Insurance Distribution Directive and other relevant regulations.
Assisting health insurance company Asisténcia Sanitária with the implementation of the EU's Insurance Distribution Directive following its transposition into Spanish law.
Advising Santander Consumer on the implementation of the EU's Insurance Distribution Directive.
KPMG Abogados, Spain
covers public procurement as well as administrative and contentious-administrative proceedings. The department has good expertise in the infrastructure, energy, transport and telecoms sectors. However, in a significant development in December 2021, key lawyers 
Borja Carvajal
and
Pedro Soto
left the firm.
Testimonials
'In depth knowledge of Spanish public law issues facing corporates. Great knowledge of concessions and regulations. Great response time to client requests.'
'KPMG's global team is highly functional both internally and in its organic relationship with the client.'
Key clients
PRESTIGE & LIMOUSINE
CABIFY (MAXI MOBILITY SAPIN)
MOVO
REAL MADRID CLUB DE FÚTBOL
TEATROS LUCHANA
ALANTRA
ASOCIACIÓN DE CLUBES DE BALONCESTO (ACB)
XUNTA DE GALICIA
VIVENIO RESIDENCIAL SOCIMI
KPMG Abogados, Spain
has a '
technically brilliant
' restructuring and insolvency team, which is regarded as '
very proactive and with continuous innovative solutions to complex situations
'. The real estate, industrial, retail and financial sectors are where the team is most experienced, and its practitioners are regularly appointed by the court as insolvency counsel in major domestic cases. Insolvency expert
Beatriz Rua
heads the practice.
Other key lawyers:
Javier Zuloaga; Cruz Amado; Vicente Giner; Pedro Suarez
Testimonials
'Very balanced team with great technical solvency, very proactive and with continuous innovative solutions to complex situations. Additionally, a lot of client service with continuous feedback on the various situations of the processes.'
'For us Vicente Giner is the one who makes the difference in this technically brilliant team, with an outstanding command of the law, very multidisciplinary and with a great deal of ingenuity to find solutions that are not obvious for complex situations such as those that are we have commissioned in recent years. The rest of the team, led by member Beatriz Rua, complements the practice very well and they are frankly good as a team.'
'Deep knowledge of the subject. Empathy and closeness.'
Key clients
Kast International Spain
Bimeda Holdings
Eurona Wireless Telecom
Copisa Constructora Pirenaica
Sacyr Fluor
Sacyr Industrial
Concesiones Hércules
Sociedad Alavesa de Inversiones
Martinsa-Fadesa
Hanjin Spain
Santander Investment
Grupo MRF Cartuja
Niza Cars
Aditel
Urbem
Fundición y Siderurgia
Promotora Vascoasturiana do Para
Work highlights
Acting as court appointed insolvency trustee of Eurona Wireless Telecom.
Assisting clothing retailer Kast International with insolvency proceedings.
Advising construction and infrastructure company Copisa on bankruptcy proceedings filed in Romania for its subsidiary Copisa Constructii.
Often active in cross-border deals,
KPMG Abogados, Spain
supports its clients through an array of disposals, acquisitions, joint ventures, corporate governance matters and share capital increase transactions.
Eneko Belausteguigoitia Mateache
 leads the team, which possesses a notable track record in several different industries, such as media, retail, industrial and infrastructure.
Practice head(s):
Eneko Belausteguigoitia Mateache
Other key lawyers:
Rafael Aguilar; Luis Gómez; Javier Bau
Testimonials
'Flexibility and dedication.'
'Javier Bau. Dedication, perseverance, service and knowledge'
'Great team, very solid and reliable, with extensive knowledge of the subject and relevant experience that allows us to offer clients solutions to the different challenges that arise.'
'Rafael Aguilar, always ready to serve the client at any time and situation offering comfort and imaginative solutions.'
Key clients
COMSA Corporación de Infraestructuras, S.L.
Luarmia, S.L.
Healthcare Activos Yield Growth, S.L.U.
Telefónica Cybersecurity Tech, S.L.
Wasserman Group
Kuwait Petroleum Spain, S.L.
Repsol Nuevas Energías, S.A,
Mabena & Business, S.L.
Terrats Group, S.L.
Hitachi High-Tech Corporation
Work highlights
Assisted leading infrastructure firm COMSA Corporación de Infraestructuras with the sale of 100% of its subsidiary ADASA Sistemas to German investment fund SKion.
Acted on behalf of Luarmia, a leader in IVF services with 40 clinics across Europe and Latin America, on the €430m sale of a majority stake Eugin Group, of which Luarmia is part.
Acted as the sole legal advisor of Healthcare Activos Yield Growth in its acquisition of the entire share capital of Maquavit Inmuebles and, indirectly, a 50% stake in Maquavit's subsidiary Provitae Servicios Asistenciales.
KPMG Abogados, Spain
is praised for its '
magnificent knowledge of regulation'
, one of the specialist areas for its banking and finance practice, along with asset finance in the shipping and aviation sectors. Practice head
Francisco Uría Fernández
 is a regulatory expert in banking, capital markets and insurance, while
Pilar Galán Gavilá
and
Alfonso González Espejo
are also key names for financial regulation.
Luis Fernández Santos
is the team's foremost specialist in structured asset and infrastructure finance.
Testimonials
'Great knowledge of the sector.'
'In my opinion, Francisco Uría stands out, for his global knowledge, Pilar Galán, for her technical rigor and knowledge, but above all, for her listening skills and respectful and prudent attitude (in the sense of pointing out all the possible pros and cons of what analyzed, not saying what she thinks the client wants to hear or the fixed idea that the firm may have); with Pilar, her entire team, who have a similar attitude.'
'It is a well-coordinated team that, in general, knows how to listen. When doubts arise that may be the domain of other partners, they are quickly transferred and they offer answers or coordinate meetings.'
'Knowledge of regulation in financial and banking matters and also the practical sense for its application.'
'In my opinion Francisco Uría has the best legal knowledge of the financial sector as a whole.'
'Ease of access to them, practical sense of their analysis and deep knowledge of the subject. In our case we work with Alfonso González Espejo and Francisco Uría.'
'It is an office that is always up to date with regard to the latest regulations in banking and financial matters and we use them to set criteria, with respect to internal opinion, in the projects for the implementation of regulations in our organization.'
'Magnificent knowledge of regulation and a practical vision for its application in organizations as large as ours can be.'
Key clients
Santander Consumer Finance
Banco Santander
FCE Bank
Lloyd's Insurance Company
Cecabank
Equifax Ibérica
CaixaBank
Credit Suisse
Banco Cooperativo Español
United Europhil, Entidad de Pagos
Patrizia Eurolog
Work highlights
Acting for Santander Consumer Finance in the renegotiation and repapering of the derivative agreements and collaterals of the entity and subsidiaries.
Advised investment manager Patrizia Eurolog on a syndicated loan of €402.6m financing its acquisition of a portfolio of real estate assets in Spain and other jurisdictions.
Assisting CaixaBank and other financial entities with group restructurings necessary due to Brexit and providing assessments of the latter's regulatory implications.
KPMG Abogados, Spain
 specialises in advising real estate clients in the residential, hospitality and logistics sectors.
KPMG Abogados, Spain
 advises international investors, shipowners, shipyards and banks on a broad range of shipping finance transactions.
KPMG Abogados, Spain >
Firm Profile
The firm
Founded in 1987, KPMG Abogados is one of the most prestigious law firms in Spain, and its legal and tax departments employ over 700 professionals in 13 offices throughout Spain, offering quality legal and tax advisory services within a multi-disciplinary framework.
Our professionals have the experience and technical knowledge necessary to offer the advice that customers require, with the highest quality. Our priority is to respond to your needs, addressing those issues of a legal nature that may affect you, with agility and technical precision
Areas of practice
KPMG Abogados is known for its profound knowledge of each of the areas of law related to the corporate world and to business in general. This allows it to offer clients the efficient, independent and rigorous assistance which they require, KPMG Abogados' main legal areas are:
Banking, Finance & Regulatory Services:
KPMG Abogados offers clients (leading financial organisations) integrated and well-known teams who have the precise blend of skill and experience for the largest and most innovative projects in the sector. This includes public and private M&A, joint ventures and restructurings, regulatory compliance, investigations and disputes, debt and equity capital markets, structured finance and securitisation.
Mercantile & Corporate:
The KPMG Abogados mercantile department offers clients extensive experience and knowledge regarding the incorporation and establishment of all kinds of Spanish entities, as well as all types of corporate issues and transactions, including joint-ventures, mergers and acquisitions (legal due diligence, drafting and negotiation of sale and purchase of shares agreements, shareholders agreements and other transactional documents). The firm also provides legal services in connection with all kinds of commercial contracts and have specific teams with broad experience and track records in real estate law, maritime, transport and logistics law and intellectual and technology law. KPMG Abogados also offers its clients, banks and other credit and insurance complex and structured finance transactions (including, amongst others, rendering legal advice in numerous finance projects, assets structured finance and shipping finance transactions).
M&A & Corporate:
We provide assistance on all aspects of company mergers and acquisitions in any activity sector.
We provide sectorial and multidisciplinary advisory services, efficiently organizing the services required through coordination with the other KPMG teams involved, including financial, accounting, tax, labor or procedural law advisors taking part in the process.
The Mergers and Acquisitions team comprises highly qualified lawyers, with ample experience in the legal services needed at the various stages of a transaction. They have the unique ability to blend all the requirements of each and every one of our clients into a single service.
Our lawyers combine their legal skills with extensive knowledge of our clients' industrial sectors. Some of the more important sectors are: Banking, Insurance, Real Estate, Telecommunications, Construction, Engineering, Advertising and Media, Energy, Food, Transport, Pharmaceutical Products, Biotechnology and Commerce.
Labour:
The labour practice covers all aspects of labour and social security in the management of human resources. The firm could highlight the specialised services in corporate reorganisations and restructuring advice, as well as services related to negotiation during labour conflicts, both individual and collective, through mediation, arbitration and conciliation. KPMG can also highlight its specialised services in labour and social security audits.
Litigation & Bankruptcy:
The department defends clients in proceedings including debt recovery, insolvency, and contractual litigations as well as all kinds of services connected to bankruptcy through KPMG Concursal.
Legal Compliance:
The firm offers clients (leading quoted organizations) a well-known team who have the precise blend of skill and experience for the largest and most innovative Compliance projects in the sector and the involvement of its members in Compliance international processes to draft and discuss standards related to this field.
These projects include the implementation of Crime Prevention and Compliance Programs according to the most updated national (UNE 19601, to be approved) and international standards (ISO 19600, ISO 37001) covering these areas as well as the provision of technical support so our clients are able to develop compliance-related policies and controls to fulfill legal and regulatory obligations .
Regulatory, Administrative and Competition:
In addition to offering comprehensive counselling in Administrative Law in general, administrative proceedings and urban planning, the department has extensive experience in providing legal support to both private and public entities, belonging to the different regulated sectors (energy, infrastructures, audio-visual, telecommunications, postal services, gaming, transport, roads, ports, health, etc.). Moreover, it is comprised of first-class specialists in the fields of Competition Law and European Union Law.
Intellectual Property &  New Technology
KPMG Abogados  has in place an experienced IP and technology practice offering advice in a wide range of matters connected to the intellectual property domain (designing strategies for the protection of all types of intangible assets: software, media and contents, trademarks, designs and inventions) as well as comprehensive counselling in all types of digital transformation, new technology or cybersecurity projects.
In addition, it also has a team specialized in data protection with experts that have spent more than a decade advising national and international clients in all kind of projects (from GDPR readiness exercises, audits or DPO support services to representation of its clients in both the administrative and civil courts).
Main Contacts
| Department | Name | Email | Telephone |
| --- | --- | --- | --- |
| KPMG Abogados | Alberto Estrelles (Managing Partner) | | |
| Legal Financial Services | Francisco Uría (Global Head of Banking & Capital Markets at KPMG) | | |
| Legal Financial Services | Pilar Galán (Director) | | |
| Regulatory, Administrative & Competition | Ana López Carrascal (Director) | | |
| Regulatory, Administrative & Competition | Borja Martínez (Director) | | |
| Regulatory, Administrative & Competition | Carmen Mulet (Director) | | |
| Legal Compliance | Alain Casanovas (Partner) | | |
| Labour | Javier Hervás (Partner) | | |
| Labour | Francisco Fernández (Director) | | |
| Commercial Law | Luis Mingo (Partner) | | |
| Commercial Law | Rafael Aguilar (Partner) | | |
| Commercial Law | Luis Fernández (Partner) | | |
| Commercial Law | Eneko Belausteguigoitia Mateache (Partner) | | |
| Commercial Law | Luis Gomez Angelats (Partner) | | |
| Commercial Law | Carlos Rey (Director) | | |
| Commercial Law | José Marí Olano (Director) | | |
| Commercial Law | Javier Bau Cabestany (Partner) | | |
| Commercial Law | Jon Armendariz (Director) | | |
| Procedure Law | Javier Zuloaga (Partner) | | |
| Procedure Law | José Marí Olano (Director) | | |
| Data Protection, Intellectual Property& Technology, LOTS | Noemí Brito (Director) | | |
Languages
English Spanish French
Interviews
Francisco Uria, Global Head of Banking & Capital Markets at KPMG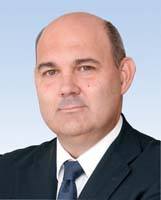 KPMG abogados is on the threshold of a new era in which our professionals will form part of multidisciplinary teams offering our clients solutions to complex problems, sharing tools and platforms with them in order to make our communications easier and more secure. Being multidisciplinary, global and IT-evolved is our key strategy.
What do you see as the main points that differentiate kpmg abogados from your competitors?
"KPMG-abogados" is different from other law firms as we are part of a global, multidisciplinary services firm such as KPMG. This gives us the possibility to work with many other advisory and audit professionals who contribute relevant expertise in different fields, and the capability to use the most advanced technology.
As a legal firm within the "Big Four" we have brought on board many highly-ranked professionals from the different and most prestigious lawyers´ rankings (Chambers, Legal500, Best Lawyers, IFRL1000, etc.). This combination of quality, multidisciplinary approach and being highly IT-based is quite unique.
Which practices do you see growing in the next 12 months? What are the drivers behind that?
The Spanish economy is recovering quite rapidly from the last crisis, with growth and employment showing a very positive trend in recent years. This has attracted additional interest in our economy from global investors. Areas related to M&A and transactions (including real estate) are the beneficiaries of this drive. I would also add that legal activity concerning regulatory implementation, especially in the financial sector (MIFID II, GDPR, PSD2 or PRIIPS), remains strong.
The activity surrounding Brexit has also been growing in recent months, with UK-based companies seeking different location alternatives, and Spanish companies established or with relevant activity in the UK wanting to gain a better understanding of the potential situations they are going to face in the coming years.
What's the main change you've made in the firm that will benefit clients?
One of the effects of the last crisis has been clients' sensitivity to costs. This is something that it is not going to change (at least dramatically) in the near future, so we have to adapt to a situation in which prices are going to be low compared with traditional standards.
We need to be more efficient in order to be able to provide high quality legal services at a moderate cost while also protecting our profitability and ensuring proper remuneration for our professionals. There is no doubt that technology is the only way to make this happen.
Is technology changing the way you interact with your clients, and the services you can provide them?
The change is already here. We are working to offer our clients shared tools and platforms in order to make our combined work more efficient and more secure. We are investing heavily in making this a reality for our clients.
Can you give us a practical example of how you have helped a client to add value to their business?
We prefer not to talk about individual clients or proposals but, generally speaking, I think that in the main regulatory implementation projects in which we have being participating over the last two years (MIFID II, GDPR, PSD2, PRIIPS or IDD) we have been able to help our clients in their strategic reflection, providing legal advice on the interpretation of new rules and helping them to effectively change their internal governance, systems and processes using a multidisciplinary team of lawyers and advisors.
I think those projects are a good illustration of the kind of complex projects we are equipped to deal with.
Are clients looking for stability and strategic direction from their law firms – where do you see the firm in three years' time?
In nearly all kinds of legal work there is a prior need for strategic reflection on the new regulatory aspects that are going to affect your business model, your profitability, the way in which clients will perceive you, the position you will occupy in the marketplace and your ability to compete with new entities (i.e. fintech or bigtech).
Data & analytics will be crucial to being in a position to provide sophisticated analysis and predictability to our clients, both in terms of customer behavior or future judicial decisions. I see KPMG as a multidisciplinary, global firm able to provide solutions to our clients by combining different perspectives, including tax and legal, and supported by technological capabilities we are only beginning to know.