Livingstone Brown > Glasgow, Scotland > Firm Profile
Livingstone Brown
Offices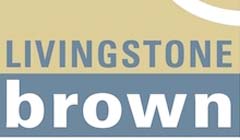 Livingstone Brown
84 CARLTON PLACE
GLASGOW
G5 9TD
Scotland
Livingstone Brown > The Legal 500
Rankings
Livingstone Brown >
Firm Profile
Livingstone Brown is a leading firm of Scottish solicitors. Based in Glasgow, but dealing with cases around the country, the firm has been at the forefront of legal service provision for over thirty years. Led by former senior partner Gerard Brown CBE, who continues as a consultant, the firm has built up an enviable reputation for quality of service and client care.
In the 2021 edition of the prestigious Legal 500 rankings, Livingstone Brown is recommended for general criminal work and fraud cases. Managing Director Stuart Munro and Gerard Brown are named as 'Recommended Lawyers.' In the Chambers directory the firm has a Band 1 ranking for criminal work, and Stuart Munro is a ranked financial crime lawyer. The firm was named Criminal Defence Firm of the Year and Family Law Team of the Year at the Scottish Legal Awards 2019, and is a finalist in the Criminal Defence Team of the Year and Lawyer of the Year (Stuart Munro) in this year's Scottish Legal Awards, with winners to be announced in September 2021. Livingstone Brown is listed in The Times as one of the Best Law Firms 2021, and is commended for financial crime and fraud and regulatory.
Livingstone Brown is committed to using technology to improve its service to clients. The firm has pioneered the use of videoconferencing, allowing clients to meet their solicitor without having to travel. FaceTime and Skype meetings can be arranged on request.
Stuart Munro is a member of the Law Society of Scotland's Criminal Law and Technology Committees, and has worked to develop the use of electronic evidence in the courts. He is also a member of a number of working parties tasked with considering how courts can cope with maintaining the criminal justice system during the COVID-19 pandemic. As a member of the Lord Justice Clerk Working Group on Restarting Solemn Trials, Stuart was instrumental in the idea of hosting remote juries in cinemas which had the dramatic effect of getting Scotland to the point of running more jury trials than before the pandemic. For the next three years, Stuart will be a solicitor representative appointed to the Criminal Court Rules Council.
Staff Figures
Number of UK partners : 6 Number of other UK fee-earners : 18
Languages
English (fluent)
Client testimonials
CLIENT: Mr D, July 2021
COMPANY/FIRM:
TESTIMONIAL: It's been almost one week since my Employment Tribunal finished and I would like to take this opportunity to thank you for the legal representation and guidance I received from you, but more importantly on a personal level I would like to say thank you for the care/support and understanding you showed me whilst going through such a difficult period over the last year, and it is greatly appreciated. I know and accept the outcome of the ET is not certain and I would not hesitate to recommend you and your professional abilities to anyone who may require legal support and advice. So thank you once again.
---
CLIENT: Anonymous, May 2021
COMPANY/FIRM:
TESTIMONIAL: Many thanks for all your hard work in dealing with the [redacted] issue. Throughout the whole process you were very reassuring.  It was a stroke of genius to get a report from [redacted]. At the outset both [redacted] and l were fairly pessimistic about [redacted] chances of coming through this without further psychological deterioration and we are very grateful for the painless course you steered. The outcome has greatly exceeded our expectations. We are also grateful for the assistance given by Mairead.
---
CLIENT:  Valerie Joyce, April 2021
COMPANY/FIRM:
TESTIMONIAL: I would like to offer my thanks and gratitude to Livingston Brown and especially to my appointed lawyer Lucy Neil on how my case was handled throughout and presented in court with relation to a works tribunal. The professionalism and dedication given was remarkable, especially because Covid had presented problems on physical meetings, despite having these issues I was amazed with my lawyer being able to take my version of accounts so accurately and presenting it the way she did in court … I would most definitely recommend this organisation to anybody that needed legal representation.
---
CLIENT: A solicitor who faced a fraud allegation, February 2021
COMPANY/FIRM:
TESTIMONIAL: Stuart Munro assisted me during the most difficult time in my career. His support, knowledge and expertise during this period was critical and provided me with the reassurance I needed and the confidence that I had the best possible representation. I would not hesitate to recommend Stuart and Livingstone Brown to anyone in need of such representation.
---
CLIENT: A solicitor facing professional disciplinary proceedings, February 2021
COMPANY/FIRM:
TESTIMONIAL: I think you are all so far ahead of everything else I have seen in Scotland.  A different class altogether.
---
CLIENT: Anonymous, August 2020
COMPANY/FIRM:
TESTIMONIAL:   The service provided by Julia Donnelly and Danielle Evans, has been very prompt and professional. At what was a difficult time for all of Mum's children, there were never any unexpected holdups or miscommunications between myself and Livingstone Brown. This made the entire process of dealing with Mum's will that much easier and painless. This is in spite of any delays which may have resulted from the COVID 19 lockdown. Overall, therefore, I am very satisfied with the quality of service received from Livingstone Brown and would not hesitate to use them again when needed. I am glad things are largely taken care of now and that is largely down to their sterling efforts.
Diversity
At Livingstone Brown, diversity and inclusion are integral parts of our history, culture and identity. We have a global, multicultural client base and we want to reflect that inside of our walls. Livingstone Brown provides equal opportunities to all employees and applicants for employment without regard to age, gender identity, race, sexual orientation, physical or mental ability or ethnicity. Companies that are diverse are proven to be better companies. More importantly, creating an environment where everyone, from any background, can do their best work is the right thing to do. Together we continue to build an inclusive culture that encourages, supports and celebrates the diverse voices of our employees which, in turn, connects us closer to our clients and the communities that we serve.