Green Hub:
Finance and net zero – the GCs view: The in-house legal perspective on how finance can help deliver rapid climate action
COP26 presented an opportunity for the finance industry to be part of the climate solution. On finance day in the Green Zone at COP26, we not only asked three prominent GCs at financial institutions about their views on finance and net zero but also presented the results of a survey as part of a webinar in partnership with Lawyers for Net Zero.
All registered webinar attendees were asked to answer eight short questions exploring in-house lawyers' perspectives on finance and net-zero targets. For our survey results, we took into account approximately 250 responses.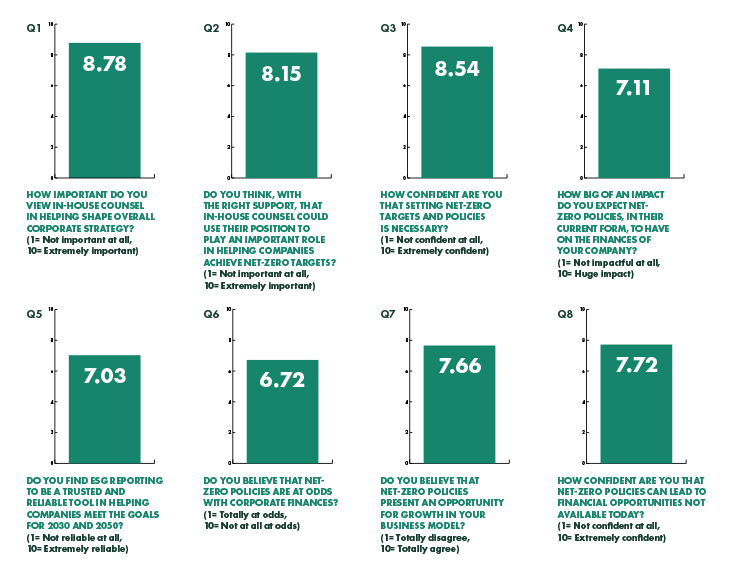 GCs role in helping companies achieve net zero
The most positive responses with average scores of 8.75 and 8.54 were received when asked about the importance of in-house counsel in helping shape overall corporate strategy, and confidence in the necessity of setting net-zero targets and policies. In view of GCs' unique position to influence corporate strategy and a general acknowledgement that companies need to set net-zero goals, GCs' role in helping companies achieve net zero becomes apparent. Indeed an average score of 8.15 confirms the view that with the right support in-house counsel could use their position for this purpose.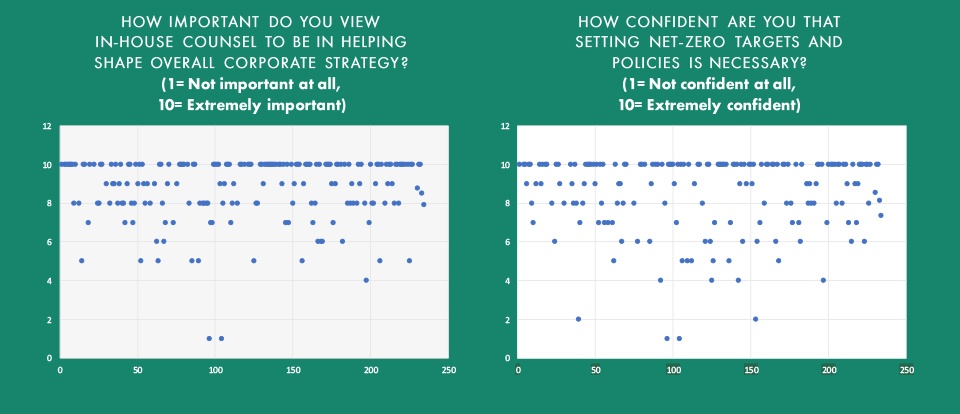 Our panellists' views:
Associate general counsel Belinda Ellington, who has been providing legal support regarding the ESG impact and initiatives across Citi since 2019, recognises that while GCs can play an important role, it is critical for legal departments to work hand-in-hand with other teams in order to understand all facets of a move towards net zero.
Timo Spitzer, Head of Legal Santander Corporate & Investment Banking Germany, Austria, Switzerland and Nordics at Banco Santander, has spoken and written extensively about the elevation of the GC function to serve part of a company's moral compass. In his opinion, in order to influence corporate strategy, one has to earn one's role as a partner to the business.
Andrew Dixon-Smith, head, legal, client coverage at Standard Chartered Bank, who is based in Singapore, agrees that it is fundamental not only in-house lawyers but all lawyers use their position to help accelerate the financial industry's move from commitment to action.
ESG reporting – a reliable tool?
When asked if ESG reporting is considered a trusted and reliable tool in helping companies meet goals for 2030 and 2050, our resulting data showed that respondents were not consistently confident. While responses were more in favour of ESG reporting as trusted tool than not, responses were nevertheless divergent, pointing towards mixed opinions on its reliability.
Our panellists' views:
Timo notes that ESG reporting is now becoming a legal obligation and companies will be held accountable. He therefore recognises ESG reporting as a step in the right direction but emphasises the need for CEOs with integrity who set the tone to establish a culture of compliance within the organisation, in contrast to ESG as a mere tick-box exercise.
Andrew believes in a need for ESG reporting but also a need for the manner of reporting and requirements for reporting to develop. He points out that it is not the only tool in helping companies move towards net-zero goals, but there are other factors that go hand-in-hand, such as credit risk model changes, internal climate impact risk weightings, long-term forward looking stress testing, climate risk assessments, and transition risk measurement tools, among other elements.
Belinda agrees that ESG reporting is in its infancy and points towards the need to consider what is being reported, to who and why. In her opinion, transparency in reporting will enable financial change, and in order for ESG reporting to become reliable, standardisation is critical, both of carbon accounting measures and in the taxonomies to avoid the risk of greenwashing.
Net zero – opportunity for growth?
Our survey also addressed the question whether net-zero policies can present an opportunity for growth and if they can lead to financial opportunities not available today. Do companies approach net zero in damage limitation mode or see new potential? Again, while responses were clustered in the latter camp, they were nevertheless varied with some respondents much more confident about financial possibilities arising from net-zero policies than others.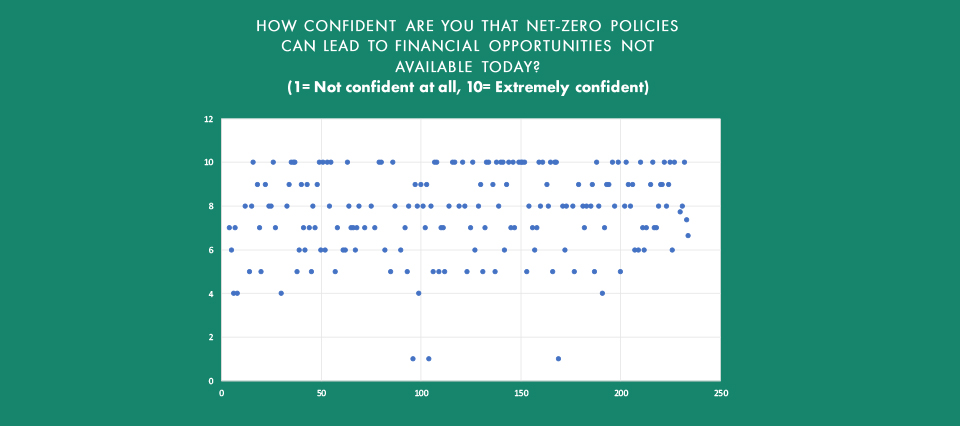 Our panellists' views:
Andrew believes net-zero policies will lead to enhanced business models as they will become the way of doing business. In his opinion, it is not a nice-to-have but a requirement, and growth opportunities will emerge as the industry and clients evolve to a new business model.
Belinda points out a need to be aware of the "net" part of the net zero; it is critical that we abate emissions first, then net off the remainder by off-setting. She elaborates that the transition requires financing for all methods of capturing and abating carbon which presents huge opportunities in tech, R&D and financing. In her view, our society needs to be run on a new paradigm and that comes with opportunity.
Timo agrees that there are boundless opportunities. He proposes the notion that people want to cling on their comfortable life styles but want to do so in a clean way. In his opinion, it follows that players which can enable people to maintain a status quo while saving the environment will be clear winners of the climate change problem. He, however, also emphasises that the latter is a global problem which requires a global solution with uniform rules; although this may be a utopian view of international law, it is necessary to create a level playing field on a larger scale.
Net zero and corporate finances
We also received divergent results from our survey question about how big of an impact net-zero policies were expected to have on company finances. The scattered data points towards a varying relationship between net zero and corporate finance, where the impact of policies are something each GC has to research independently. The question whether net-zero policies are believed to be at odds with corporate finances received the most low scores, indicating that a number of people indeed believe the two to be totally at odds.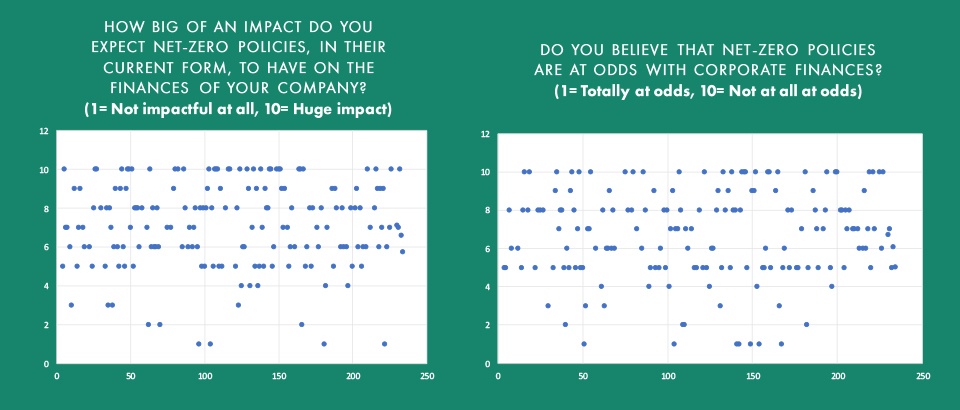 Our panellists' views:
Belinda does not believe net-zero policies to be at odds with corporate finances. She stresses the importance of assessing the impact so we can adapt, mitigate and be resilient to the effects of climate change while facilitating the transition by putting finance into the right places. She also points out that clients are at the core of financial institutions and therefore net-zero policies have to reflect what the clients want. This includes looking at the future, seeing what clients will need and providing that as a service, as well as working in tandem with clients' own net-zero policies.
Andrew agrees that net-zero policies are not at odds with corporate finances but fit very well with the purpose of financial institutions: Banks have a duty to nudge clients and governments in their markets towards achieving this goal and these very stretching targets. He believes the private sector has a huge role to play and the key to net-zero is finance, and finance at scale.
Timo also agrees that it is chance for financial institutions in particular to step up and help their global client base towards a green transition. In his opinion, banks can show they are not part of the problem but part of the solution.
Interview with Adam Woodhall, CEO of Lawyers for Net Zero
What inspired you to set up Lawyers for Net Zero?
Businesses must take significant action on climate and even those that have taken leadership must accelerate their transition to net zero if we are to keep a liveable planet for all. We recognised that many influential people, including in-house lawyers, are very concerned about the future, especially for their children, but they don't know how they can become part of the climate solution. Our mission therefore is to support in-house lawyers to champion net zero and help their organisation deliver rapid practical action.
Why are in-house counsel taking climate action?
Counsel know it's vital for their organisation to guard against greenwashing and deliver legitimate net zero; they also want to do something about climate change on a personal level. There are multiple risks and opportunities that the journey toward net zero opens up. Examples are how over-reliance on carbon offsetting is being increasingly frowned on, and reputational risks from accusations of greenwashing with some businesses now being taken to court by activist organisations.
Why is Lawyers for Net Zero focused on in-house counsel?
In-house lawyers are always 'in the room' when big decisions are made, particularly when regulations, new projects, risks and compliance are considered. All business and organisational relationships rely on legal contracts, and therefore in-house counsel help provide the legal licence to operate for all organisations. It goes beyond this though, with in-house counsel often the go-to advisors on a broad range of issues far beyond pure legal matters.
What steps are counsel taking to help deliver climate action?
Counsel have two key roles to play. The first is to influence their colleagues and suppliers using their unique position at the centre of their organisation. They ask questions about the decisions and investments that are being made, focusing on the potential risks and opportunities that are inherent in the drive to net zero. Secondly, they can help deliver the transition as they have numerous touch points in the business and can ensure climate and ESG conditions are embedded in areas such as due diligence, tenders, policies and contract clauses.
How is Lawyers for Net Zero supporting in-house counsel?
We are creating a community of climate conscious in-house counsel – our 'Champions' – with now over 100 lawyers, from organisations such as Rolls Royce, Sky, GSK, Nestle, Amazon, Danone, Standard Chartered and Deutsche Bank. We offer our Champions our Net Zero Action Principles, which are a guidance tool, and our Action Learning Groups. These groups are a peer-to-peer learning process where counsel get to meet regularly in small, facilitated groups to discuss their journey and help them build and maintain momentum.
---