Survey Results - Trainee feedback on
K&L Gates LLP
The lowdown - Trainees (in their own words) on K&L Gates LLP
Why did you choose this firm over any others? 'Work/life balance; international reach', 'a small trainee intake and a synergy with the areas of law I find interesting', 'general whispers about a good culture, which have happily turned out to be true', 'I wanted to work in the planning and environment department', 'small trainee intake, friendly teams' 
What is the best thing about the firm? 'Quality of work', 'supervisors are always happy to answer your questions and are generally very approachable. The office is also pretty swish', 'work/life balance', 'friendly colleagues', 'partner approachability', 'lovely office' 
What is the worst thing about the firm? 'Technology', 'there isn't much of a work social scene, past impromptu beers on a Thursday and playing for the firm's football team', 'not all departments have a seat available to trainees', 'the canteen', 'occasional lack of approachability regarding stress' 
What has been the best moment of your training to date? 'Being left to my own devices with work and a client in a seat I was struggling with when my supervisor went on holiday, and coming out the other side with some praise, 'taking a leading role in a 2.5-week arbitration', 'observing and working on an international arbitration', 'going on client visits from the outset of my training contract' 
What has been the worst moment of your training to date? 'Making any kind of mistake and having to own up to it. That is always embarrassing but not usually as bad as you expect it to be', 'being thrown in at the deep end – steep learning curve!', 'consistent late nights working when it felt like others in the team weren't required to' 
The Legal 500 Future Lawyers verdict on K&L Gates LLP
A 'US firm with a UK firm feel', K&L Gates boasts work which is 'international, really varied and very interesting'. Trainees 'wanted to go somewhere with a small intake so you have greater responsibility from the outset'. Recruits 'definitely get more client contact' than some of their counterparts training elsewhere; in fact, 'some of the work we do is at the level of solicitors who are one to two years' PQE at other firms'. It definitely helps that trainees 'are able to sit in an office with a partner, which means we get greater first-hand experience'. The work/life balance is 'quite good' too. The worst things about K&L Gates are that 'not all departments have a seat available for trainees' and that 'there isn't much of a work social scene, past impromptu beers on a Thursday and playing for the firm's football team'. On the plus side, respondents 'always feel able to ask a silly question – it doesn't feel like there is a hierarchy' and 'the office (in London's One New Change) is pretty swish'. The firm is also a Future Lawyers Winner for its vacation scheme. As is to be expected, K&L Gates trainees have experienced their fair share of highs and lows during their training contracts. On the one hand, recruits did not enjoy having 'last minute deadlines dropped in my lap at 5pm' nor 'working with an unresponsive supervisor'. On the other hand, respondents waxed lyrical about 'playing a role in a two-and-a-half-week-long arbitration', 'sitting in on a virtual employment tribunal hearing for the full two weeks it ran for – I had great exposure to the work and client interactions' and 'going round the building site for a matter I was working on'. For 'hands-on experience with a lot of responsibility and client contact' under 'supervisors who are generally very approachable', take a closer look at K&L Gates. 
A day in the life of... James Jago, trainee solicitor, K&L Gates LLP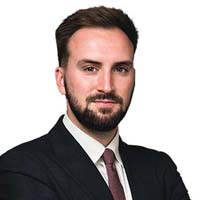 Departments to date: Real estate; Investment management; White-collar crime; Energy, infrastructure and resources
University: University of Bristol
Degree: LLB Law, 2(1)
7.30am: Working at a law firm with offices located all over the globe means that a lot of the work you are involved in as a trainee is multi-jurisdictional. Therefore, I start the day by quickly checking through any emails that I have received from other jurisdictions overnight. I find this a useful task before commuting as I have a clearer idea of what I'll need to do once I get in to the office.
8.00am: With the lifting of Covid-19 restrictions, we are once again allowed to work in the office. I aim to be at my desk around 9am.
9.00am: My final seat is in the energy, infrastructure and resources department, with the focus of my work being energy-related. I am currently working on a large arbitration involving a North Sea drilling contractor and a Singaporean shipyard. There is a pressing disclosure deadline approaching, and so I quickly take stock of what I need to complete throughout the day, and check with the team whether I can assist with anything else.
10.30am: On Wednesdays, we have an energy team meeting in the office. Everyone in the team joins to catch up and to discuss the work that we have been doing that week. In addition to this, every month we have an energy, infrastructure and resources team meeting, at which a different member will give a presentation on a matter they have been involved in, or on an area of law which is of particular interest to them.
11.00am: I exchange emails with a senior associate regarding a data room I am managing in relation to an upcoming case being heard in the Central London County Court. I receive further instructions regarding the documents that need to be made available to the relevant parties, and begin to prepare a bundle for the case with our team's paralegal.
1.00pm: I break for lunch at 1pm. Each day a fantastic variety of dishes are prepared by the firm's chef, Quentin. Trainees and associates sit together at lunchtime in the office canteen or outside on the terrace. I'll usually eat and then take myself for a quick walk to clear my head.
2.00pm: I turn back to my to-do list and work my way through the tasks listed. This includes a research task on enforcing indemnities, assisting a partner in preparing a bid for sector-specific legal work, and drafting an engagement letter for an expert the team wishes to appoint. I check my inbox regularly and respond to several emails.
4.00pm: Having cleared some of my to-do list, I again turn my focus to the urgent disclosure deadline. I assist in drafting requests for documents, locating documents requested by the other side, and responding to any objections to our document requests.
7.00pm: I check with my supervisor and other team members that there is nothing urgent I will need to work on this evening. I then get changed and walk towards Shoreditch, where the firm's football team compete in a seven-a-side league. Once finished, we usually have a drink at the pub before heading home.
About the firm
The firm: K&L Gates is one of the largest law firms in the world with more than 40 offices located in key capital cities and world commercial and financial centres across five continents. At K&L Gates, we foster an inclusive and collaborative environment across our fully integrated global platform that enables us to diligently combine the knowledge and expertise of our lawyers and policy professionals to create teams that provide exceptional client solutions. We marry process with vision, success with dedication, and method with passion.
Managing partner: Antony Griffiths (managing partner, London, Brussels, Dubai and Doha offices and managing partner, Europe and Middle East).
Other offices: Austin, Beijing, Berlin, Boston, Brisbane, Brussels, Charleston, Charlotte, Chicago, Dallas, Doha, Dubai, Fort Worth, Frankfurt, Harrisburg, Hong Kong, Houston, Kansas City, Los Angeles, Luxembourg, Melbourne, Miami, Milan, Munich, Nashville, Newark, New York, Orange County, Palo Alto, Paris, Perth, Pittsburgh, Portland, Raleigh, Research Triangle Park, San Francisco, São Paulo, Seattle, Seoul, Shanghai, Singapore, Sydney, Taipei, Tokyo, Washington DC, Wilmington.
Who we are: K&L Gates fosters an inclusive and collaborative environment across its fully integrated global platform.
What we do: K&L Gates is active in the areas of corporate/M&A, capital markets, private equity, restructuring and insolvency, banking and asset finance, structured finance, derivatives, aviation, debt capital markets, Islamic finance, funds, financial services regulation, antitrust, competition and trade regulation, public policy, real estate, planning and environment, intellectual property, technology transactions, construction, energy, infrastructure and resources, insurance coverage, regulatory, tax, employment, litigation, international arbitration, investigations, enforcement and white-collar crime, plus other forms of dispute resolution.
What we're looking for in a trainee: We are looking for highly motivated, intellectually curious individuals with an interest in commercial law, looking for comprehensive training.
What you'll do: A thorough induction scheme: emphasis is placed on early responsibility and client contact. Pro bono and CSR activities are encouraged.
Perks: Life assurance scheme, group income protection, gym membership, group pension plan, season ticket loan, medicentre, employee assistance program, cycle to work and eye test.
Sponsorship details: SQE sponsorship amount: TBD.
Diversity and inclusion
Our commitment to diversity goes far beyond rhetoric and initiatives. We strongly believe we build better teams, forge better client relationships and provide better customer service because of our diverse team of professionals.
We seek and welcome the talents of those from different age groups, genders, identities, races or cultural backgrounds. These are the threads that make up the fabric of our firm.
We pledge to listen, be educated, take action, and work together to help in the fight to end inequality and foster a more inclusive society.
Awarded a 100 % Score in the 2022 Corporate Equality Index: For the 12th consecutive year, the Human Rights Campaign awarded K&L Gates a 100% score in the organisation's 2022 Corporate Equality Index (CEI), and named the firm a 'Top Law Firm for Equality'.
Recognised as a Top Performer: We have frequently been named a 'Top Performer' by the Leadership Council on Legal Diversity (LCLD). The designation recognises active LCLD member corporations and law firms who have dedicated the most time and energy to participating in LCLD programmes and supported its mission of creating a more inclusive legal profession.
Awarded Gold Standard Certification by the Women in Law Empowerment Forum: Our firm has also been awarded a United States Gold Standard Certification by the Women in Law Empowerment Forum (WILEF) for a tenth time, recognising the high levels of success by the firm's women as partners and leaders.
K&L Gates LLP, along with long-time firm client Amazon, also received a 2020 Corporate Pro Bono Partner Award from the Pro Bono Institute's (PBI) Corporate Pro Bono project for their joint contributions in support of Mary's Place, an organisation providing shelter and services to women, children, and families in their journey out of homelessness.
One of K&L Gates' core values as a law firm is to create and sustain a diverse workforce and an inclusive culture that encourages satisfaction, productivity and open communication. By way of example we have a diversity and inclusion committee in London, who meet frequently to plan events, and share and communicate ideas and office initiatives. Everyone in the committee, from junior employees to partners, has a voice at the table. We also have a global Women in the Profession committee that regularly shares ideas and initiatives to promote gender equality within our firm. Our newly rebranded Multicultural Society has delivered important changes in recent years, including a reverse mentoring initiative to help educate colleagues on the issues experienced by Multicultural Society colleagues. This also includes collaborating with RARE, a tracking system for social mobility which provides contextualised data for consideration as part of the recruitment process and Pirical, a third party company that undertakes independent benchmarking of the firm's performance on diverse recruitment, retention and promotion compared to other London law firms.
Our global D&I Committee and LGBTQ+ Committee have used Pride Month this year to focus on gender identity and expression, and have worked with firm management to roll out a policy and FAQs on the use of gender pronouns, and how colleagues can support transgender, gender non-conforming and gender diverse colleagues, clients and others in their life.
The firm takes very seriously its role in the mental wellbeing of employees, and has, through both our HR and D&I functions, introduced a raft of measures and run a number of events aimed at opening up the conversation on mental health, providing active support to colleagues (particularly in a post-Covid world), and addressing specific issues such as eating disorders and having broader discussions around mental health and wellbeing.
The firm also has various employee resource groups at the firmwide and local office levels, including groups for Lesbian, gay, bisexual, and transgender (LGBTQ+) employees and allies; Multicultural Society; New Parents Group; Women in the Profession; veterans; and lawyers with disabilities. All these groups work with firm management to drive change at all levels and to ensure that diversity, inclusivity, and gender equity, in line with our values, remains top of mind for our firm. These committees help to advance initiatives across our entire platform.
In 2020, our firm started a series of firmwide initiatives, Conversations about Race, to continue to reject racism and social injustice and reaffirm our unwavering commitment to equity, diversity and inclusion. This series of initiatives acknowledges the impact institutional racism plays in our society and on ways we can systemically change and address the needs of our black and other diverse colleagues, allies, and supporters. This includes an educational toolkit, an ongoing speaker series, a firmwide pro bono effort focused on securing and protecting civil rights, civil liberties, and public rights.