Survey Results - Trainee feedback on
Farrer & Co LLP
The lowdown - Trainees (in their own words) on Farrer & Co LLP
Why did you choose this firm over any others? 'Nice-sized firm – not too big, friendly people, interesting work and clients', 'the unique variety of work the firm does, the work/life balance and the small trainee intake', 'the reputation and quality of work/clients', 'calibre of clients and diversity of work', 'I worked here as a paralegal already. I knew it was a firm with fantastic all-round balance', 'opportunity to get real client exposure', 'six seats, small cohort', 'it has a growing commercial arm'
Best thing about the firm? 'How approachable the partners are and the high retention rate. Many of the partners trained here', 'the supportive atmosphere', 'trainees are really made to feel part of the firm and encouraged to get involved', 'the unique variety of work the firm does', 'the culture – collaborative environment with interesting and approachable lawyers', 'the balance the firm strikes between a great client base/work and a good work/life balance'
Worst thing about the firm? 'Although the firm is making an effort to improve, it is not very diverse', 'the salary could be more competitive', 'the portions of soup at lunch are smaller than I would like', 'the hours tend to be a bit longer when you're working from home', 'how quickly the four-month seats pass, you just start to get settled into the work and it's time to move'
Best moment? 'Helping to settle a big tribunal claim', 'interacting with clients', 'running my own project', 'being able to go back into the office and interact with people', 'assisting with a High Court injunction application', 'attending an in-person interview with an expert. It was so interesting to see the techniques used and hear the evidence being given first hand', 'one-on-one meeting with a client', 'meeting celebrity clients'
Worst moment? 'One highly-pressured deadline which was moved forward', 'some quiet periods where there has not been enough to do', 'thinking I had made a major mistake on an important task', 'realising I made mistakes on a big banking matter. It felt like I had let people down massively. This was all self-inflicted though – no-one treated me as if I had done so', 'working on a bank holiday weekend last summer'
The Legal 500 Future Lawyers verdict on Farrer & Co LLP
At Farrer & Co, 'the client base is unparalleled – at how many other firms can you be working for a charity and a university in the morning and a royal family and a sports governing body in the afternoon?'. Trainees at Farrer undertake a six-seat training contract and 'receive high levels of responsibility' on work which is 'genuinely interesting and academic' and 'very stimulating'. The culture at the London firm is 'very people first' and staff are 'treated as humans with lives outside work'. In the same vein, 'sensible hours are encouraged and we are not routinely required to work late'. Colleagues are 'not only experts in what they do but rounded, passionate and genuine people' and supervisors are very approachable and 'give lots of time and attention to each trainee'. All things considered, Farrer is a deserving winner of six Future Lawyers Winners medals, with job satisfaction, quality of work and living up to expectations among them. Downsides include the 'limited showering facilities for cyclists', that trainees don't have work phones and a feeling that the 'seat choices can be somewhat inflexible'. Low points for recruits were 'working with a fee earner who needs to improve their communication and delegation skills' and 'quiet periods with not much work to do'. On a more positive note, 'taking an attendance note in a meeting with a client that I had, by total coincidence, just read a book about' and 'getting a brilliant outcome for a client at a final hearing for financial remedy in the family court' made trainees feel very accomplished. To enjoy a combination of 'a great client base, interesting work and a real respect for work/life balance', research Farrer & Co.
A day in the life of... Amen Alonge, trainee, Farrer & Co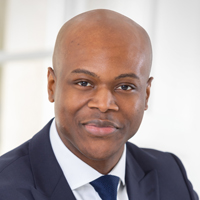 Departments to date: Financial services; Corporate; Private client – immigration (current)
University: London South Bank University
Degree: Petroleum Engineering
9.15am: When I don't have an early meeting, I usually arrive in the office around 9.15am and log on at 9.20am. Farrer currently has an agile working policy of at least 40% of your working hours in the office, so on the days I work from home, I log on to my work laptop at 9.20am. I check my emails, review and update my to-do list, and prepare for my daily catch-up with the associate in charge of a large corporate client matter.
9.30am: As the only trainee in the immigration team, I work on a broad range of immigration matters, and I'm responsible for running my own skilled worker applications and managing the tracker of all applicants for the large corporate client. I update the associate in charge of the corporate client matter on whatever progress was made in the past day (usually more than you'll imagine). Based on the update and the associate's conversation with the corporate client earlier in the morning, we prioritise my to-do list.
10.00am: I catch up with my supervisor to discuss my workload and how I'm settling into the team, and then discuss an application I'm assisting with. The submission is urgent, so we agree that I prioritise the first draft of the client's legal representations and aim to submit the application before the close of business.
11.40am: I have a call with a client to give them access to their online immigration status and talk them through sharing their right-to-work code with their employer.
12.15pm: I have another scheduled call with a client to help submit their biometrics and answer any questions the client has about the application process.
1.00pm: This is the first week of our first summer vacation scheme, so I go to the Peacock Room, the grandest of our meeting rooms, for lunch with the vacation schemers and other members of the firm – from other trainees to partners.
2.15pm: I call my supervisor to review my draft of the legal representation. I then edit the draft accordingly and submit the application.
3.30pm: I have a call with each immigration team member working on the corporate client matter and update the tracker and my to-do list accordingly.
4.30pm: The immigration team meets for a legal update, primarily focusing on the practicalities of UK schemes recently introduced for Ukrainians to migrate to the UK.
6.00pm: I typically log off at 6.00pm when I'm in the office and 6.30pm when working from home. I log off my laptop, but on my way out, I receive a call on my work phone from a client seeking an update on his application. I assure the client that we intend to submit tomorrow, and I will update the client as soon as we do.
About the firm
The firm: Farrer & Co is synonymous with the highest quality legal advice and service. Clients present the firm with complex and varied challenges. Whether that's a complicated family trust issue, a multinational corporate transaction, or an emerging threat to their reputation, they need clear thinkers who can advise on the best solutions, fast thinkers when speed is of the essence and agile thinkers who can produce a fresh approach to get the job done.
The clients: Natural History Museum; The Prince's Trust; PGA European Tour; Warwick University; Metro Bank; The Football Association; Motability; St Paul's Girls' School; BMJ Publishing Group; Great Ormond Street Hospital Charity.
The deals: Completed on a significant development financing for Shinfield Studios Limited, resulting in construction of the main phase of the Shinfield Studios development near Reading officially getting underway, a major piece of international investment into the UK TV and film industry with the studios themselves expected to generate between £500-600m of inward investment annually; successfully represented the British Airline Pilots Association in appeals against it from a successful High Court judicial review decision; advised Sweaty Betty Foundation on the establishment and operation of a number of high-profile corporate foundations (charities established by commercial companies), successfully registering the charity, Sweaty Betty Foundation, ahead of International Women's Day 2021 to empower a generation of young girls to get active in schools, communities and online and help improve the confidence of young women; regularly advise the Lawn Tennis Association on matters arising from the LTA's complex relationships with clubs, counties, coaches and players, in particular in relation to complex safeguarding matters and the management of live cases, involving regulatory, criminal, DBS compliance and data protection issues; longstanding advisers to The Economist on both pre- and post- publication matters, including advising the weekly on pre-publication content issues across its print editions, as well as in connection with Economist Radio and Economist Films, including IP and reputational management advice on front covers, as well as on PRS/music licensing globally for podcasts, and defamation/licensing/fair dealing advice for print, radio and film content.
Senior partner: Anne-Marie Piper
Who we are: Farrer & Co is a leading modern law firm with a distinguished history of providing expert legal advice to a diverse range of clients, both UK and international.
What we do: We advise individuals, families, businesses, financial services, educational and not-for-profit organisations on every aspect of the law, wherever the need arises. From our offices in London we work with trusted professionals around the world to deliver a seamless international service.
What we're looking for: A keen analytical mind, initiative, good communication skills, commercial awareness, teamwork, leadership skills, drive and ambition, a sense of humour.
What you'll do: The trainee will experience six seats across the firm, handling 'real' work with early responsibility, and an excellent legal and skills-based training programme.
Perks: Flexible benefits scheme, sporting teams/clubs, season ticket loan, 25 days' holiday, group income protection, group life assurance, company doctor, subsidised yoga/pilates, subsidised gym membership, pension scheme, private medical insurance after one year, wellwoman/wellman checks.
Sponsorship: We pay all SQE fees, plus a maintenance grant of £8,000 per year of study.
Diversity and inclusion