Survey Results - Trainee feedback on
Bryan Cave Leighton Paisner LLP
The lowdown - Trainees (in their own words) on Bryan Cave Leighton Paisner LLP
Why did you choose this firm over any others? 'Mixture of the quality of work, culture, and diversity and inclusion schemes', 'the culture and people', 'the dedication to diversity and inclusion', 'I had a strong interest in real estate law and working at a Legal 500 top-tier ranked firm in this area was a priority of mine', 'location and specialties', 'seemed like a kind and helpful environment', 'quality of work, good work/life balance', 'excellent culture' 
What is the best thing about the firm? 'Everyone is also very approachable and supportive', 'friendly colleagues and shiny new office', 'supportive culture', 'its people', 'the opportunity to be involved in high-quality work for key clients', 'everybody I met on my insight scheme was really friendly and I could see myself fitting in', 'reputation', 'culture and people, also the variety of work and quality of work/service', 'client contact and trust on matters' 
What is the worst thing about the firm? 'Trainees must attend the office at least four days a week', 'more can always be done in terms of diversity at the higher levels', 'remuneration and perks could be improved', 'larger deals involve a fair amount of admin work', 'not a flashy firm – no flash parties or cool perks', 'it is heavily skewed towards real estate', 'the remuneration in comparison to the hours I work', 'the work/life balance' 
What has been the best moment of your training to date? 'Working directly under great minds who truly want you to achieve the most out of the training contract', 'the intensive induction programme, covering everything from personal goals to understanding finance in its entirety as a sector', 'completing a large cross-border financing', 'working on a £550m deal', 'going on client secondment', 'drafting and negotiating a licence independently' 
What has been the worst moment of your training to date? 'Admin tasks at 4am', 'delaying completion by forgetting a document', 'being left to run matters by myself with minimal support due to the team's high rate of turnover', 'thinking I had completed a task incorrectly for a partner', '3am finish on a Friday', 'working on a late-night completion without any contactable supervision available and under pressure from the client to answer questions I was not qualified to answer' 
The Legal 500 Future Lawyers verdict on Bryan Cave Leighton Paisner LLP
Bryan Cave Leighton Paisner 'fosters a genuinely diverse and inclusive environment and doesn't just pretend to'. In fact, the international firm's commitment to diversity has been recognised with a Future Lawyers Winner medal. 'High-quality work, a range of practice areas and seat choices, and a fantastic culture' also make it a good place to train. Many trainees applied to property-focused BCLP because they 'had a strong interest in real estate law'. For others, the opportunity to do an international secondment – another category in which the firm has snapped up a Future Lawyers Winner medal – was too good to turn down. 'Being fully supported by the firm while I was away on secondment' was also greatly appreciated.  Another trainee enthused that 'everyone is highly approachable, down to earth and happy to help you; this makes for a great environment to learn and grow'. What's more, senior members of the team are 'willing to give you responsibility at an early level' which ensures that trainees get 'intellectually-challenging work' to keep them busy. Some recruits feel that the 'remuneration could be improved, especially in relation to the hours we are expected to work'. 'More perks' would also be appreciated. 'Unpredictable hours' are an annoyance, although 'these are 'to be expected of a corporate firm'. Best moments include 'being given the responsibility to run a signing completion call in my first seat' and 'working on the biggest office deal in London in 2020'.  Worst moments were 'working until 5am on a real estate finance deal to ensure we were able to complete the next day' and 'my first pre-Christmas deal rush – it was a big learning curve in terms of external demand'. For 'friendly colleagues' and 'some of the best property work in the City', all in a 'shiny new office', research BCLP. 
A day in the life of... Adeoluwa Adesina, trainee, Bryan Cave Leighton Paisner LLP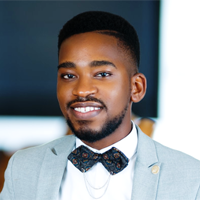 Departments to date: Real estate finance; Commercial construction
University: University of Hertfordshire
Degree: Law, 1st
8.30am: I get off the train at Farringdon and do the circa 23-minute walk to the office. I like to use the walk to and from the office every day to catch up on the podcasts I listen to. I am also taking part in the Move for Papyrus challenge, which the firm is organising to raise funds for Papyrus (a charity for the prevention of young suicide in the UK), and so the walk counts towards my goal of moving a total distance of 200km in the month of May.
9.00am: I get on a call with a client and other members of the team on a transaction I am working on. On the call I have to give the client an update on the status of some appointments we are drafting and negotiating for the engagement of a few consultants on the client's construction project. To aid with giving this update, I keep a tracker of all the construction documents, which I updated the night before, ahead of the call. After the call, I follow up with the client via email on certain commercial points which we require the client's input on. I also quickly update the tracker to reflect the fact that the mail was sent, and to remind myself to send a chaser if I haven't had a response in a couple of days.
 9.45am: I spend the rest of the morning drafting collateral warranties on another project I'm on. These warranties essentially give rights to third parties such as tenants, financiers and property managers who our client has agreements with, to enforce certain obligations of contractors, consultants and sub-contractors who have been engaged to provide construction services to our client.
11.30am: I have a call with my reading buddy on a reading scheme that the firm runs in partnership with Tutormate. It was my reading buddy's birthday the day before so we spend most of the 30-minute session talking about how it feels to be 7, the new basketball he got for his birthday and his chocolate cake, so we were only able to read four pages of the book we chose to read on the Tutormate platform.
12.00pm: I return to my desk and complete the drafts of a couple of collateral warranties in favour of some of the tenants who will be leasing floors in our client's building.
1.00pm: I go down for lunch with some of the other trainees. We take advantage of the good weather and sit in the courtyard in the office for lunch.
1.45pm: During lunch, I received some comments on the drafts of some appointments I had sent out the week before from the solicitor who represents the consultant on another project I am working on. I go through the comments, and prepare an email to my supervisor summarising each point and my proposed response. The lawyer has also sent evidence of the consultant's professional indemnity insurance cover, so I review this, and update the tracker I maintain in relation to the PI certificates on this project.
3.00pm: I have a meeting with the senior associate on a project I am working on to discuss my comments on the sale and purchase agreement for a property our client intends to purchase. One of the conditions for completion of the sale of the property is the seller completing some cladding works on the property, and so I had to review the agreement and mark it up to ensure that our client's interest is protected, and that the construction works being carried out are executed with the expected level of care and skill.
3.55pm: After my discussions with the senior associate, I spend the rest of the afternoon further marking up the sale and purchase agreement from a construction perspective, and preparing a list of the items we would need to get instructions from our client on. I send the list to the senior associate who reviews it and sends it back to me to send to the client, with an email proposing a call to talk through the list.
6.00pm: I receive an email from a client confirming that they are happy to sign a number of project documents via DocuSign. Given that these documents have already been agreed, I prepare execution versions of the documents and issue them for execution on the DocuSign platform.
6.45pm: I complete and submit my time entries for the day and draw up an indicative to-do list for the next day. I am attending a gig at Alexandra Palace this evening, so I leave the office at 7.10pm to give me enough time to get there for 8.00pm when the doors open.
About the firm
The firm: The world is changing, and we need bold and inquisitive minds to help us build the future of our firm. If you're ready to challenge the status quo, you'll have the freedom to explore new ideas and the space to grow while being part of a supportive, globally connected team from day one.
Join BCLP, a firm to be proud of, a place to belong.
BCLP – Build. Be Bold. Belong.
The clients: The level of client contact is high for our trainees, and trainees are exposed to a high calibre of clients including Deliveroo, Nike, EBay and Tesco. Working in partner-led teams, you'll be exposed to a client base that includes over 50 Global Fortune 500 and FTSE 100 companies, and over half of the world's top 20 banks.
Co-chairs: Lisa Mayhew and Steve Baumer
Partner in charge, London: Segun Osuntokun
UK offices: London, Manchester, Southampton
US offices: Atlanta, Boulder, Charlotte, Chicago, Colorado Springs, Dallas, Denver, Irvine, Jefferson City, Kansas City, Los Angeles, Miami, New York, Phoenix, San Francisco, St. Louis, Washington
Europe offices: Berlin, Brussels, Frankfurt, Hamburg, Paris
Asia offices: Hong Kong, Singapore
Middle East offices: Abu Dhabi, Dubai, Tel Aviv
Who we are: Bryan Cave Leighton Paisner is a market leader formed by one of the biggest transatlantic mergers in recent times; we now have over 1,400 lawyers in 30 offices around the globe. Join us as a trainee and you'll be at the heart of it all, working with industry-leading teams and award-winning technology, allowing you to focus on more exciting work.
What we do: The firm is structured into three large departments: real estate, corporate and financial transactions, and litigation and investigations. We deliver legal solutions to a wide range of major companies, financial institutions, prominent public sector bodies and private clients. As part of our team, you will be exposed to how they work, the problems they face and the opportunities they have to grow. As their adviser, they will rely on your guidance, skill and thought leadership to help them achieve their commercial objectives.
What we're looking for: We are looking for you to demonstrate that you have the skills and behaviours which would expect from our trainees: hardworking and well-rounded individuals; willingness to learn and be curious; ability to demonstrate commercial awareness; creative with problem solving; ability to see the wider context of the work that we do for our clients; intellectual ability; strong written and oral communication skills; relationship building and strong interpersonal skills; commitment to a career in law; resilience; research and analytical skills; someone who takes ownership of self development; teamwork and collaboration skills; and time management and organisation skills.
What you'll do: A core part of our firm's vision is to provide a better place to work than our competitors; this is not limited to the firm's culture, but also includes the best work, client, career opportunities and development. Central to that is the quality of our training and commitment to continuous learning.
The emerging talent team, alongside your supervisors, will provide guidance and input into your seat allocations. Before each seat change, trainees will meet with their partner mentor and a member of the emerging talent team, to discuss their future ambitions and which seat options best meet those goals. We work hard to match seat preferences with the needs of the business.
Our trainees benefit from receiving in-depth department training at the beginning and during each seat, which will give them the legal know-how to succeed in their department. Support from a dedicated training team means you can expect to receive 232 hours of training by the time you are a qualified lawyer.
Trainees work on challenging projects from the outset and are given a high level of responsibility. Trainees rotate through four six-month seats in different parts of the business and are encouraged to gain contentious and non-contentious experience during their two-year training contract. We encourage all of our trainees to undertake a secondment; we have a range of secondment opportunities, including onsite with clients or internationally to one of our overseas offices.
When approaching qualification, we will meet with trainees several times during the qualification process to talk through the direction that they want to go in, the options open to them and to understand what they are looking for from their career. We work hard at ensuring that trainees stay within the firm, placing them in areas of work in which the trainee wishes to pursue a career. Our intention is to be open with you, and to try to ensure, ultimately, that you stay with us beyond the training contract.
Perks: Private medical insurance; health screening; life assurance; pension plan; employee assistance programme; season ticket loan; flexible benefits scheme including gym membership, Apple products and travel insurance; plus many more.
Sponsorship: We will cover your course fees for both the PGCL and LPC/SQE courses. We will also give you a £10,000 maintenance grant per year if you choose to study in London, and £8,000 if you choose to study at a regional BPP Institution.
Diversity and inclusion
Bryan Cave Leighton Paisner has a deep commitment to inclusion and diversity, supported by well-established goals, programmes, campaigns and leadership engagement. We believe that diversity enriches the quality and fabric of our culture and makes us a stronger, better firm. At BCLP, we are dedicated to fostering an environment where everyone feels celebrated for their difference, is able to be themselves and can contribute meaningfully to our firm's success.
We believe that no one should be held back because of their age, disability, genetic information, parental or family status, religion or belief, race, ethnicity, nationality, sex, sexual orientation, gender identity (or expression), veteran status, or indeed any other aspect of who they are. We focus not only on the diversity of the people we bring to the firm, but in nurturing an inclusive, supportive and meritocratic environment, designed to inspire, develop and promote the trainees, associates and partners of tomorrow.
At BCLP, we work with our colleagues and our clients to bring diversity and inclusivity into every aspect of our work and culture. While we recognise that we are on a journey and the work is not done, we are proud of the progress we have made so far and we are steadfast in our commitment to promote and sustain an open, inclusive and supportive working environment.
BCLP's global inclusion and diversity action board is responsible for shaping the strategic direction of diversity across the firm. The board comprises partners and leaders from Germany, Hong Kong, UAE, the US and the UK. Reporting directly to BCLP's board and co-chairs, the global inclusion and diversity action board's remit is mapped across four pillars: inclusive culture; leadership accountability; talent pipeline; and community engagement.
We have a number of active diversity networks, for disability, family, gender representation, LGBTQ*, mental health, and social inclusion and ethnicity. Our diversity networks ensure those from marginalised groups have a voice – raising awareness and understanding across our firm of what it can feel like if you are in the minority. Our networks actively inform and shape our approach to diversity, empowering members with an opportunity to develop new skills and to create connections with senior figures or those in different parts of our business.