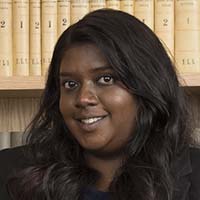 Shanika Varga is a qualified solicitor specialising in divorce, finance and private children work. After completing her Legal Practice Course (LPC) she worked as a legal secretary before getting a training contract at Stowe Family Law. Now working in the Wetherby office, Shanika is one of thousands of lawyers across the UK who graduated with an LPC from The University of Law (ULaw). We sat down with her to find out what she thinks it takes to make a successful lawyer.
My role is extremely varied and no day is the same. Clients might come to me for initial advice right at the start of a matter seeking help in considering their options, or they could come to me halfway through a case. Some matters progress to litigation and final hearings while others require only a few letters, not to mention everything in between, from mediation to solicitor-led negotiation.
Due to legal aid cuts we're seeing a much higher number of litigants in person. This is making it more common for clients to come to us at a later stage in their case, which involves getting up to speed with what's happened so far then helping them to overcome those last hurdles.
After my LPC I decided to apply for paralegal and legal secretary positions while sending out training contract applications. I secured a legal secretary position with a local legal aid firm which was a way into the industry, and I knew I could progress within the firm. By easing in with a legal secretary position, I could learn how things were done at the firm without the pressure of having to fee earn. This experience really helped later on when I undertook a trial period at Stowe. The majority of the tasks I had to complete on the trial were second nature to me by then.
What's really motivated me is the inherent desire to make the most of the opportunities I've been given. I was adopted from Sri Lanka when I was a baby and I've always felt a sense of responsibility to not take what I've got for granted. It's always at the back of my mind that I could have lived a very different life. I've also always felt a need to try and give back because of the chances I've been given. I want to make sure that I pay it forward by having a career that allows me to help people every day. That's what really inspires me to keep going.
I've learned that legal knowledge will only get you so far in family law. I think that to really succeed as a family law solicitor you need to have excellent people skills. It requires a real personal touch; after all, we're dealing with people's lives rather than carrying out commercial transactions. We could be helping someone transition into a completely new life, whether that's through a divorce, as a single parent or forming a new family. Stowe Family Law certainly prides itself on giving excellent client care, so being patient and understanding goes a long way.
I left ULaw with a CV that was 100 times stronger than when I started. The support I received from the university's Employability Service was second to none, from helping with my CV to talking through what kind of firm I wanted to apply to. The careers and employability team is an asset that should definitely be utilised as much as possible; I really think that if it wasn't for their guidance, I wouldn't have got my training contract. I was encouraged to do as much pro bono work as I could, I signed up as a student ambassador and tried to attend as many events as possible. To think that I managed fit all that into nine months; it wouldn't have been possible if it weren't for ULaw presenting so many opportunities to its students.
Find out how you, too, can set yourself up for success with a law qualification from The University of Law.
2020 update
Following a tough year in 2018, I wanted to broaden my horizons. I have always enjoyed trying new things, but I had spent the first few years of my career just trying to survive and mastering being the best solicitor I possibly could be. I didn't feel I could take anything else on, as I wanted my focus to be on my clients and knowing family law inside out. After my difficult period, I realised I had a platform that I wasn't using properly. I could be both a great solicitor (still a work in progress) and I could have a voice in the Leeds legal sector and help shape its evolution. Leeds is one of the largest legal communities outside London; its growing presence in the legal sector is something I am extremely proud of.
Family solicitors often have to refer clients to other solicitors for expert advice, so we have connections everywhere. Through colleagues at Stowe, I was introduced to the president of the Leeds Law Society; we met for coffee to talk about what the role as director of the society would entail, to make sure I was the right fit and understood the commitment. I attended a board meeting to get a feel of how everything worked and a few months later became a director. I have made some great friends and have been involved in really exciting projects, including liaising with the judiciary, the courts and family solicitors in Leeds to try and ensure that we are all working cohesively and effectively. I am also part of our new diversity and inclusion committee, which has some great events underway.
It will be a year in August since I joined the board and I have loved every minute of it.
I practise all areas of family law. Most of my cases are divorces, child issues and domestic abuse. Family law is one of the most personal areas of law, so I am involved in the most intimate parts of my clients' lives. I have to balance giving professional advice and providing emotional support to people. It's natural that sometimes I draw on my own experience when providing that emotional support. As I grew more confident in my practice, I realised there were parts of my personal life that could be applied more at work.
Stowe Family Law hasn't always taken on adoption cases; I broached the subject with our senior partner and my managing partner and was given their support to research whether this was something we could offer. I felt my personal experience could help people with their journey. That is not to say I understand exactly how my clients going through this journey feel; everyone's experience is different. However, having been adopted, I can empathise with how important it is because my life would be entirely different if it weren't for my adoption. I have first-hand experience of what is at stake. I have also had many discussions throughout my life with my parents about what support they would have liked during the process. Times have moved on but the adoption process isn't any easier for potential adoptees. I try to apply that experience to my cases.
My husband was in the army for a significant part of our relationship. We went to school together, he joined at 16 and we have been together since we were 18. He stayed in the army until we got married at the age of 25. I am not so naïve as to say I understand every military family's experience, but I do have more of an understanding than most. The language used and the lifestyle are completely unique. For most it is hard to understand that the norm is spending months away from each other with little notice, moving every few years, living at opposite ends of the country, not owning a house because you live in military housing and knowing that making plans ahead can be futile.
Divorce and separation are difficult enough without having to explain your lifestyle. My clients from a military background find it comforting and reassuring when I use the same terminology as them, and I understand the nuances of being part of a military family. All of the above presents an entirely different set of issues when a family is separating; the asset base is different and figuring out how the children are going to spend quality time with each parent can be harder. However, it is slightly easier when you have first-hand experience.
I try to write articles regularly on topics that interest me or that I feel are important. I have been contributing to the Stowe Family Law blog since I was a trainee. I have written pieces that have been published in books, magazines and online. Stowe has a significant output of legal commentary, so adding my voice to the legal community has been something I have done from the outset.
When Covid-19 first hit, I had a multitude of concerns personally and professionally. Like most lawyers, I can't switch the work part of my brain off. My husband jokes that I see everything through the eyes of a solicitor now. After the initial panic about the health of my loved ones, I started thinking about the impact this could have on my work. I knew there were going to be more issues with parents seeing their children. I then thought about the increase in divorces resulting from so many people being locked down together. But then my stomach sank. I have a few clients I worry about due to their abusive relationships. I then thought of all the people still in their abusive relationships and how lockdown is going to amplify their experience. Abusive relationships come in many forms; they can involve children or siblings or housemates as well as romantic partners.
I wanted to put something out on our website as soon as possible; I can protect the people who seek my help, but there would be a lot of people out there who were still in abusive relationships. Those people should have easy access to the information they need. I contacted some of the domestic abuse charities in Leeds to check what support they were offering, I quickly put something together for our website, and Marie Claire picked it up. I think this was partly due to the firm's voice in the legal sector but also how quickly we made sure the advice was available to those who might need it.