Set Profile > Chambers of John Elvidge QC > York, England
Chambers of John Elvidge QC
Offices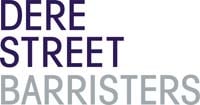 Chambers of John Elvidge QC
Dere Street Barristers
14 TOFT GREEN
YORK
YO1 6JT
England
Chambers of John Elvidge QC > The Legal 500
Rankings
Stephen Fletcher is the key name to note for chancery work at Dere Street Barristers, also maintaining a more general commercial litigation practice. Notably, Fletcher defended a company director in Manolete Partners plc v Mercury Tax Group (in liquidation), which involved a £1m breach of duty claim. 
At Dere Street Barristers, members prosecute and defend in a wide range of criminal cases. Recent highlights include John Elvidge QC's representation of a defendant financial consultant in a five-month multi-defendant SFO prosecution and Peter Makepeace QC securing an acquittal for a defendant in a joint enterprise murder case, in which several of the co-accused were convicted of murder or manslaughter.
Ranked: Tier 1
Ranked: Tier 2
Ranked: Tier 1
Ranked: Tier 2
Ranked: Tier 2
Dere Street Barristers ' employment team is home to several strong practitioners, and recently provided juniors on both sides of Court of Appeal case City of York Council v Grosset, which concerned the definition of disability discrimination law set down in the Equality Act 2010, and saw Samuel Healy acting for the council while Angharad Davies represented the former teacher. Other notable cases include Healy's successful representation of a respondent school following an allegation of sexual orientation discrimination brought by a heterosexual man who had been dismissed.
Ranked: Tier 1
Ranked: Tier 2
Dere Street Barristers is active across the spectrum of family law matters, though it is most notable for members' particular experience in public law children proceedings, often involving non-accidental injury. The set is recommended by clients for its 'considerable strength in depth' and its 'welcoming and friendly approach'.
Dere Street Barristers 'offers considerable strength-in-depth for family law work', counsel 'always willing to go the extra mile' in personal injury and clinical negligence work including 'juniors who understand the costs constraints on solicitors and senior counsel able to undertake the most complex and valuable cases'. The clerks are 'professional, responsive, and hardworking', with notable names under head clerk Kevin Beaumont including senior family clerk Neil Gibson (who heads a team that includes the 'approachable and friendly' Liam Branch), 'standout' senior civil clerk Andy Gray and senior criminal clerk Craig Mead. Offices in: Newcastle and York
Chambers of John Elvidge QC >
Firm Profile
This is one of the largest home-grown sets on the North Eastern circuit, with acknowledged expertise in family, crime, civil and employment law. Specialist sectors range from chancery and commercial law, civil motor insurance fraud, costs, wills and probate, housing, personal injury and clinical negligence, court of protection, regulatory, arbitration, and mediation.
The set: Chambers was formed in December 2011 through the merger of York Chambers and Broad Chare Chambers in Newcastle. York Chambers was originally linked to 2 Harcourt Buildings and became independent in 1990, while Broad Chare was one of the longest established sets outside the capital. Dere Street Barristers comprises over 90 barristers with a growing portfolio of regional and national clients. Since the merger it has expanded successfully by recruiting across its disciplines.
Chambers is committed to providing the highest quality of services in a friendly, approachable and results-focused manner. To achieve this, it operates a system of specialist practice groups which aids the exchange of knowledge, ideas and experience, and ensures that clients receive the best advice and robust advocacy from their chosen barrister. Its barristers are supported by a first-rate clerking team headed by Kevin Beaumont.
At 33 Broad Chare, Newcastle upon Tyne, and at the 14 Toft Green premises, York it provides first-class facilities for conferences and consultations, lectures and seminars, arbitration and mediation and video-conferencing so that it can cater for clients' bespoke requirements.
The aim of Dere Street is to make the process of instructing the barristers as simple as possible with a straightforward, user-friendly approach designed to ensure that clients receive the standard of service they require. The specialist clerks and staff, assisted by the latest in technology, are able to provide a comprehensive service.
Types of work undertaken: Dere Street Barristers expertise extends across all the main areas of law in the United Kingdom. Chancery and commercial law experience includes all aspects of company law, insolvency (personal and corporate), Inheritance Act matters, land law, landlord and tenant law, planning and compulsory purchase, as well as tax (personal and corporate, inheritance tax and VAT), trusts (including co-ownership and trusts of land), wills, probate and succession, commercial contractual disputes, and construction and engineering disputes. A dedicated team of property barristers is experienced in issues ranging from security of tenure, unlawful eviction, homelessness, anti-social behaviour, and allocation of social housing, to disrepair and housing benefit.
Comprehensive civil law expertise includes a focus on regulatory and licensing issues, Court of Protection cases and immigration. Civil motor insurance fraud expertise for insurers and claimants includes staged accidents, organised fraud rings, fictitious accidents, phantom passenger claims and grossly exaggerated injuries.
Criminal work ranges from murders and gangland shootings, modern day slavery, sexual exploitation, serious fraud to animal & food safety cases.  Recent cases include R -v- Rafael & others,   the most complex modern day slavery seen to date in the North East, Complex Crime operations Shelter & Wren, serious sexual exploitation and Operation Woodrow, R -v Kemp, £8 million pound international investment fraud.
All aspects of employment law are handled for employers and employees, including TUPE and equal pay issues; Powell v OMV Exploration Ltd [2014] IRLR 80 (Langstaff P): this case represented the cutting edge of employment law and concerned the jurisdiction of British Employment Tribunals over claims brought by peripatetic oil workers.  City of York Council v PJ Grosset, [2018] EWCA Civ 1105,
is the first time that the Court of Appeal have been asked to consider the meaning of section 15(1) Equality Act 2010, O'Brien v Bolton St Catherine's Academy [2017] IRLR 547, CA : A complex case concerning the interplay between disability discrimination ('discrimination arising') and unfair dismissal in the context of a very lengthy period of ill health absence. Human Rights Challenge to Male Primogeniture: instructed by Daughters' Rights, a pressure group seeking to challenge the centuries old convention of male primogeniture.
Wide-ranging services are provided in family and matrimonial issues, including finance and mental health matters, and appearing in the high-profile Supreme Court Case of Re J (Children) [2012] on behalf of the mother and in an appeal by the LA, this being one of a string of high-profile cases addressing the fundamentals of how family cases are to be conducted by the courts.
Personal injury expertise includes catastrophic injury claims, including clinical negligence and product liability cases.  Dalus –v- (1) Lear Corporation (Nottingham) Ltd (3) ATV Automotive & Industrial Components (UK) Ltd judgment – this has significant ramifications for Claimants who serve with their particulars of claim reports from Audiological Measurement and Reporting Plc ("AMR") signed by Professor Mark Lutman.
Regulatory Law within Chambers has grown and amongst the team are appointed assistant coroners serving North West Durham, Northumberland, South West Yorkshire and Manchester City and panel members for Sport Resolution and Nursing and Midwifery Council.  Regular instructions are received from varying Local Authorities and Solicitors in respect of inquests, education and disciplinary matters to name a few.
Dere Street Barristers are proud of their reputation and success.  In 2018, Diane Campbell was appointed to the Circuit Bench and Nathan Adams, District Judge at Teesside County Court. Crime and Family recruited new members to their teams, three pupils embarked upon their second six and the Autumn welcomes the commencement of four common law pupillages.  Continued growth to strengthen its already diverse team, enabling chambers to achieve their goals individually and collectively and respond successfully to the challenges that lie ahead for the referral Bar.
Main Contacts
| Department | Name | Email | Telephone |
| --- | --- | --- | --- |
| Members of Chambers | ELVIDGE QC, John (1988) | | |
| Members of Chambers | NOLAN QC, Ben (1971) | | |
| Members of Chambers | MAKEPEACE QC, Peter (1988) | | |
| Members of Chambers | DENNY, Robin (1969) | | |
| Members of Chambers | TWIST, Stephen (1979) | | |
| Members of Chambers | HUNTER, Geoffrey (1979) | | |
| Members of Chambers | BOSOMWORTH, Michael (1979) | | |
| Members of Chambers | HUNT, Roderick (1981) | | |
| Members of Chambers | FINCH, Thomas (1981) | | |
| Members of Chambers | MOULDER, Pauline (1983) | | |
| Members of Chambers | MASON, David (1984) | | |
| Members of Chambers | RICHARDSON, Anne (1986) | | |
| Members of Chambers | DAVIS, Anthony (1986) | | |
| Members of Chambers | FLETCHER, Stephen (1987) | | |
| Members of Chambers | LAMB, David (1987) | | |
| Members of Chambers | BOOTHROYD, Susan (1990) | | |
| Members of Chambers | STYLES, Mark (1988) | | |
| Members of Chambers | ROWLANDS, David (1988) | | |
| Members of Chambers | OLIVER, Crispin (1990) | | |
| Members of Chambers | CORDEY, Daniel (1990) | | |
| Members of Chambers | CARR, Jonathan (1990) | | |
| Members of Chambers | CHOUDHURY, Nafeesa (1990) | | |
| Members of Chambers | MIDDLETON, Claire (1991) | | |
| Members of Chambers | ROBINSON, James (1992) | | |
| Members of Chambers | CONSTANTINE, Stephen (1992) | | |
| Members of Chambers | EDWARDS, Daniel (1993) | | |
| Members of Chambers | FAGAN, Catherine (1993) | | |
| Members of Chambers | WALKER-KANE, Jonathan (1994) | | |
| Members of Chambers | LUGG, Elizabeth (1994) | | |
| Members of Chambers | WADOODI, Aisha (1994) | | |
| Members of Chambers | WOOLRICH, Sarah (1994) | | |
| Members of Chambers | RANDHAWA, Ravinder (1995) | | |
| Members of Chambers | NEWCOMBE, Robert (1996) | | |
| Members of Chambers | SMITH, Jennie (2002) | | |
| Members of Chambers | JAMES-STADDEN, Jodie (1996) | | |
| Members of Chambers | WALKER, Andrew (1998) | | |
| Members of Chambers | CALLAGHAN, Elizabeth (1998) | | |
| Members of Chambers | MUIR, Elizabeth (1998) | | |
| Members of Chambers | BUCKLEY, Sophie (1999) | | |
| Members of Chambers | HEALY, Sam (1999) | | |
| Members of Chambers | MUSTARD, Lorraine (1999) | | |
| Members of Chambers | ROBINSON-YOUNG, David (19990 | | |
| Members of Chambers | HOLMES-WILLIS, Sarah (1999) | | |
| Members of Chambers | GRAY, Ruth (2000) | | |
| Members of Chambers | WILKINSON, Paul (2001) | | |
| Members of Chambers | AINSLEY, Stephen (2001) | | |
| Members of Chambers | SENIOR, Anthony (2002) | | |
| Members of Chambers | SMITH Jennie (2002) | | |
| Members of Chambers | MCCAIN, Charles (2002) | | |
| Members of Chambers | HENLEY, Carly (2003) | | |
| Members of Chambers | DONNELLY, Timothy (2003) | | |
| Members of Chambers | SCOTT, Laurie (2003) | | |
| Members of Chambers | LENNON, Karen (2003) | | |
| Members of Chambers | THORNTON, Stephen (2003) | | |
| Members of Chambers | TRORY, Henry (2003) | | |
| Members of Chambers | MCDERMOTT, Frazer (2004) | | |
| Members of Chambers | HERRMANN, richard (2004) | | |
| Members of Chambers | RAINEY, Kieran (2004) | | |
| Members of Chambers | DAVIES, Angharad (2006) | | |
| Members of Chambers | MURRAY, Harvey (2004) | | |
| Members of Chambers | GOUGH, Emma (2004) | | |
| Members of Chambers | MILLER, Amanda (2005) | | |
| Members of Chambers | WEBSTER, Lindsay (2005) | | |
| Members of Chambers | WILLOUGHBY, James (2005) | | |
| Members of Chambers | DAWSON, Beatrice (2006) | | |
| Members of Chambers | GIBSON, Claire (2004) | | |
| Member of Chambers | ROOK, Stuart (2006) | | |
| Members of Chambers | WIGGLESWORTH, Timnothy (2007) | | |
| Members of Chambers | UPTON, Shona (2007) | | |
| Members of Chambers | O'BRIEN, Liam (2007) | | |
| Members of Chambers | MUGLISTON, Adam (2008) | | |
| Members of Chambers | LANDIN, Rachael (2008) | | |
| Members of Chambers | ARMSTRONG, Kate (2009) | | |
| Members of Chambers | MORGAN, Philip (2010) | | |
| Members of Chambers | TAYLOR, Angus (2011) | | |
| Members of Chambers | COLLINS, Matthew (2010) | | |
| Members of Chambers | CAHILL, Michael (2012) | | |
| Members of Chambers | ROOKE, Nicholas (2010) | | |
| Members of Chambers | HAJBA, Victoria (2011) | | |
| Members of Chambers | HOOD, Victoria (2011) | | |
| Members of Chambers | McKEE, Christopher (2012) | | |
| Members of Chambers | PIKE, Andrew (2013) | | |
| Members of Chambers | HEY, Georgina (2014) | | |
| Members of Chambers | ROBINSON-YOUNG, David (1999) | | |
| Members of Chambers | RECKITT, James (2016) | | |
| Members of Chambers | JOHNSTON, Jamie (2016) | | |
| Members of Chambers | COOK, Graeme (2016) | | |
| Members of Chambers | HALL, Penny (2017) | | |
| Members of Chambers | GARLICK, Simon (2017) | | |
| Member of Chambers | KITSON Seth (2017) | | |
| Member of Chambers | MORRISON Brooke (2016) | | |
| Member of Chambers | TOWERS Helen (2016) | | |
| Member of Chambers | JACKSON Edmund | | |
| Member of Chambers | BROADBENT Rebecca | | |
| Member of Chambers | HOWARD James | | |
| Member of Chambers | HAWKESWORTH Henry | | |
| Members of Chambers | *Door tenants | | |
| Members of Chambers | SCRIVEN QC, Pamela (1970)* | | |
| Members of Chambers | UPWARD QC, Patrick (1972)* | | |
| Members of Chambers | STOREY QC, Paul (1982)* | | |
| Members of Chambers | BAZLEY QC, Janet (1984)* | | |
| Members of Chambers | IRVING QC, Giilian (1984)* | | |
| Members of Chambers | SPENCE QC, Simon (1985)* | | |
| Members of Chambers | VERDAN QC, Alex (1987)* | | |
| Members of Chambers | ADCOCK, Deborah (2005)* | | |
Staff Figures
Kevin Beaumont : Head Clerk Joanne Brown : Business Development Clerk Craig Mead : Senior Criminal Clerk Neil Gisbon : Senior Family Clerk Andy Gray : Senior Civil Clerk Marie Faxon : Employment Clerk Joanne Watling : Head of Finance