Set Profile > Trinity Chambers > Middlesbrough, England
Trinity Chambers
Offices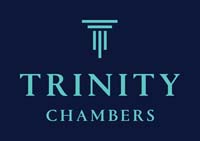 Chambers of Toby Hedworth QC
Trinity Chambers
VICTORIA HOUSE, ALBERT ROAD
MIDDLESBROUGH
TS1 2PX
England
Trinity Chambers > The Legal 500
Rankings
Trinity Chambers >
Set Profile
Trinity Chambers, operating from premises in Newcastle upon Tyne,  Middlesbrough,  and Leeds is an established yet progressive set covering a wide range of practice areas supported by an experienced and approachable clerking team.
The set: Trinity Chambers, established in 1954, is one of the leading sets of barristers chambers in the North of England. This reputation has been built on a strategic programme of rolling investment in technology, staff and facilities. Trinity€™s sites are each located close to the court centres. The premises in Newcastle, at the historic Custom House, provide state of the art facilities, including video link, extensive conferencing rooms and seminar facilities. The barristers provide an ongoing rolling programme of CPD training events. Many of Trinitys members sit as deputy district judges and Crown Court recorders. Trinity barristers deal with instructions and hearings across the UK, acting for a wide range of clients including solicitors' firms, in-house counsel, insurers, blue chip companies, local authorities, police authorities and NHS trusts.
Types of work undertaken: Administrative and public: complex judicial review, including public procurement, regulatory, immigration, planning, prison law, education, housing and licensing.
Agriculture: wide range of agricultural-related cases including tenancies, common agricultural policy issues, livestock, conservation, trusts.
Business: insolvency, company, partnership and commercial disputes, directors' duties, disqualifications, consumer credit, civil fraud, construction, financial mis-selling, sale of goods and services.
Chancery: contentious probate, Inheritance Act claims, trusts of land, property disputes, boundary disputes, housing, restrictive covenants, injunctive relief, Land Registry issues, landlord and tenant.
Costs: several members of the group sit as deputy district judges dealing with CCMCs, costs budgeting, relief from sanction, proportionality, conduct issues and appeals.
Crime: high-profile cases; instructed by the prosecution and defence in cases involving homicide, murder, manslaughter, sexual offences, serious fraud, motor offences, drugs, conspiracies, proceeds of crime, prison law appeals and courts martial.
Employment: national reputation for equal pay, discrimination, whistleblowing, redundancy, TUPE, dismissals, working time regulations and holiday pay.
Family and matrimonial finance: child care, adoption, honour violence, forced marriage, high-value matrimonial finance disputes and trusts of land.
Immigration: points-based system, entry clearance, UK Border Agency, asylum and human rights issues.
Licensing: committee hearings through to judicial review covering alcohol, taxis, premises, firearms, the sex industry, gaming and betting.
Mental health and Adult Care: Care Act, community care, deprivation of liberty, capacity, inherent jurisdiction, vulnerable adults, welfare decisions, powers of attorney and financial abuse.
Personal injury and clinical negligence: claimant and defendant clients across the UK, dealing with portal claims, small claims, fast-track and multi-track matters, expertise in credit hire. Several of the barristers dealing with clinical negligence, dental negligence and coroners inquests.
Planning and environment: complex planning inquiries, appeals, enforcement proceedings, village greens, renewable energy, injunctions, rights of way, gypsies and travellers, environmental protection.
Regulatory: fitness to practise hearings, including NMC, HCPC, GMC and GDC. Animal welfare, marine regulation, inquests and disclosure. The team work closely with local authorities in areas such as trading standards, health and safety, RIPA, courts martial and police discipline.
Alternative dispute resolution: including qualified mediators and chartered arbitrators.
Inquests: Trinity's Inquest barristers are instructed by both bereaved families and other interested persons such as NHS trusts, the Police and local authorities, in addition to private companies, trade unions and insurers.
Social Housing: The team regularly appear in courts and tribunals at all levels and are often at the forefront of key legal developments in this ever-evolving and technically challenging area.
Civil Liberties & Human Rights: The balance in the team is reflected in its broad spread of instructions received from both Claimant and Defendants
Trinity Chambers abides by its equality and diversity policies, copies of which are available on request.
Main Contacts
| Department | Name | Email | Telephone |
| --- | --- | --- | --- |
| Chambers Director | Tim Harris | tim.harris@trinitychambers.co.uk | 01912321927 |
| Business Development manager | Chris Lucarelli | chris.lucarelli@trinitychambers.co.uk | 0191 232 1927 |
| Lead Civil Clerk | Steve Walker | stevew@trinitychambers.co.uk | 0191 232 1927 |
| Teesside clerk | Chris Gibbin | chrisg@trinitychambers.co.uk | 01642 247569 |
| Lead Criminal and regulatory clerks | Liam Gorman | liam@trinitychambers.co.uk | 0191 232 1927 |
| family clerks | Ken McLafferty | ken@trinitychambers.co.uk | 0191 232 1927 |
| Leed family clerk | Steven Preen | steve@trinitychambers.co.uk | 0191 232 1927 |
| Criminal and regulatory Clerks | Alyson Hailes | alyson@trinitychambers.co.uk | 0191 232 1927 |
| Civil/family clerks | Fiona Bullock | fiona@trinitychambers.co.uk | 01642 247569 |
| family clerks | Paula McClure | paula@trinitychambers.co.uk | 0191 232 1927 |
| family clerks | Roseanna Smith | roseanna@trinitychambers.co.uk | 0191 232 1927 |
| Members of Chambers | HEDWORTH QC, Toby (1975) | | |
| Member of Chambers | CORBETT QC, James (1975)* | | |
| Members of Chambers | STAFFORD QC, Andrew (1980)* | | |
| Members of Chambers | CAMPBELL QC, John (1981) | | |
| Member of chambers | REED, Paul (1975) | | |
| Member of Chambers | ADAMS, Jamie (1978) | | |
| Members of Chambers | FITZGIBBON QC, Francis (1986)* | | |
| Member of Chambers | RUTLEDGE QC, Kelvin (1989)* | | |
| Members of Chambers | GOODWIN QC, Caroline (1988) | | |
| Members of Chambers | STONOR QC, Nicholas (1993) | | |
| Members of Chambers | DUFFIELD, Stephen (1969) | | |
| Members of Chambers | GATLAND, Glenn (1972) | | |
| Members of Chambers | KNOX, Christopher (1974) | | |
| Members of Chambers | HAWKS, Anthony (1975) | | |
| Members of Chambers | CALLAN, David (1979) | | |
| Members of Chambers | ENGELMAN, Philip (1979)* | | |
| Members of Chambers | WILKINSON, John (1979) | | |
| Member of Chambers | FRANCIS, Andrew (1977) | | |
| Members of Chambers | CROSS, Paul (1981) | | |
| Members of Chambers | SMART, Jacqueline (1981) | | |
| Members of Chambers | McKENZIE, Lesley (1983) | | |
| Members of Chambers | SPAIN, Timothy (1983) | | |
| Members of Chambers | O'SULLIVAN, John (1984) | | |
| Members of Chambers | TAYLOR, Susan (1987) | | |
| Members of Chambers | ROUTLEDGE, Shaun (1988) | | |
| Members of Chambers | RUTTER, Andrew (1990) | | |
| Members of Chambers | SCOTT BELL, Ros (1993) * | | |
| Members of Chambers | DUNN, Katherine (1993) | | |
| Members of Chambers | GRAY, Justin (1993) | | |
| Members of Chambers | HOLLAND, Charles (1994) | | |
| Members of Chambers | CALLAN, Jane (1995) | | |
| Members of Chambers | TYSON, Tom (1995) | | |
| Members of Chambers | KIDD, Jo (1995) | | |
| Members of Chambers | MITCHELL, Tom (1995) | | |
| Members of Chambers | CAPPS, Deveral (1995)* | | |
| Members of Chambers | SWEETING, Margaret (1996) | | |
| Member of Chambers | CAULFIELD, Paul (1996) | | |
| Members of Chambers | GREATOREX, Helen (1997) | | |
| Members of Chambers | TAYLOR, Yvonne (1998) | | |
| Members of Chambers | WALKER, Fiona (1998) | | |
| Member of Chambers | CRAWLEY, Kevin (1998)* | | |
| Members of Chambers | ALLAN, Nicola (1999) | | |
| Members of Chambers | GOLDBERG, Simon (1999) | | |
| Members of Chambers | HEDWORTH, Rachel (1999) | | |
| Members of Chambers | KEMP, James (1999) | | |
| Members of Chambers | KITCHING, Kossar (1999) | | |
| Member of Chambers | RODGER, Jonathan (1999) | | |
| Members of Chambers | MENDOZA, Elizabeth (1999) | | |
| Member of Chambers | CURRER, Paul (2000) | | |
| Member of Chambers | HIRST, Sue (2001) | | |
| Member of Chambers | PHILLIPS, Ruth (2001) | | |
| Member of Chambers | MATHER, Brian (2002) | | |
| Member of Chambers | HEDWORTH, Joe (2002) | | |
| Member of Chambers | STEVENS, Henry (2002) | | |
| Members of Chambers | VODANOVIC, Vilma (2002) | | |
| Member of Chambers | WOOD, Katherine (2002) | | |
| Member of Chambers | ANDREWS, Natasha (2002) | | |
| Member of Chambers | CORNBERG, Tony (2003) | | |
| Member of Chambers | FOLEY, Jane (2003) | | |
| Member of Chambers | ANDERSON, Jamie (2004) | | |
| Member of Chambers | BRISSENDEN, Claire (2004) | | |
| | MARCUS, Peter (2004) | | |
| Member of Chambers | TINNION, Antoine (2004) | | |
| Member of Chambers | COMBE, David (2005) | | |
| Member of Chambers | STUBBS, Richard (2005) | | |
| Member of Chambers | HOLT, Kim (2005) | | |
| Member of Chambers | BYRNE, William (2006) | | |
| Member of Chambers | HOGBEN, Helen (2006) | | |
| Member of Chambers | MORGAN, Jamie (2006) | | |
| Member of Chambers | STOKES-HERBST, Rebecca (2006) | | |
| Member of Chambers | CLEGHORN, Marian (2007) | | |
| Member of Chambers | CRAMMOND, Andrew (2008) | | |
| Member of Chambers | MARWICK, James (2008)* | | |
| Member of Chambers | SEHAT, Amanda (2009) | | |
| Member of Chambers | BRIEN, Morgan (2010) | | |
| Member of Chambers | MCHUGH, James (2010) | | |
| Member of Chambers | GOODINGS, Patrick (2010) | | |
| Member of Chambers | NAGEL, Laura (2012) | | |
| Members of Chambers | BOWKER, Nicola (2012) | | |
| Member of Chambers | SUTTLE, Rebecca (2012) | | |
| Member of Chambers | CROWE, Matthew (2013) | | |
| Member of Chambers | DUFFY, Stephen (2013) | | |
| Member of Chambers | FENWICK, Kate (2013) | | |
| Member of Chambers | RICHARDSON, Alice (2013) | | |
| Member of Chambers | ADAMS, Verity (2013) | | |
| Member of Chambers | MORTON, Grace (2014) | | |
| Member of Chambers | KIDWELL, Nigel (2015) | | |
| Members of Chambers | MILLER, Laura Jane (2015) | | |
| Members of Chambers | CRAWFORD, John (2016) | | |
| Members of Chambers | WRIGHT, Ellen (2017) | | |
| Member of Chambers | O'NEILL, Kieran (2017) | | |
| Member of Chambers | MARSHALL, Helen (2017) | | |
| Member of Chambers | LITTLEFAIR, Alex (2017) | | |
| Member of Chambers | REED, Stephen (2017) | | |
| Member of Chambers | NAJAH, Parissa (2017) | | |
| Members of Chambers | PERCY-RAINE, Henry (2017) | | |
| Members of Chambers | SHARP, Lewis (2017) | | |
| Members of Chambers | HEGARTY, Chris (2018) | | |
| Members of Chambers | MELLOR, Shada (2017) | | |
| Members of Chambers | COTTRELL. Jack (2018) | | |
| Member of Chambers | KERFOOT, Paul (2018) | | |
| Members of Chambers | BAILEY, Julian (2019) | | |
| Member of Chambers | ABALADEY, Patience (2018) | | |
| Member of Chambers | HOPKINS, Matthew (2019) | | |
| Members of Chambers | CHEETHAM, Abigail (2019) | | |
Barrister Profiles
| Photo | Name | Position | Profile |
| --- | --- | --- | --- |
| | Helen Hogben | | View Profile |
| | James Kemp | James is an experienced traditional Chancery practitioner known in particular for dealing… | View Profile |
| | Jo Kidd | Crime Jo has practised criminal law exclusively for the last 25 years… | View Profile |
| | Kossar Kitching | Public Law Private Law Financial Remedy Removal from the Jurisdiction Adoption (including… | View Profile |
| | Tom Mitchell | | View Profile |
| | Ruth Phillips | Having previously enjoyed practising in both criminal and family law, Ruth now… | View Profile |
| | Rebecca Stokes-Herbst | Family & Child Care Rebecca undertakes work in all aspects of Children… | View Profile |
Top Tier Set Rankings
Set Rankings