Set Profile > Chambers of Susan Hunter > Bristol, England
Chambers of Susan Hunter
Offices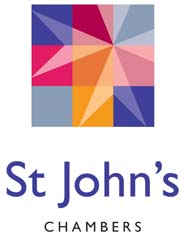 Chambers of Susan Hunter
St John's Chambers
101 VICTORIA STREET
BRISTOL
BS1 6PU
England
Chambers of Susan Hunter > The Legal 500
Rankings
St John's Chambers is home to one of the preeminent clinical negligence teams in the region, with its members acting for both claimants and defendants across a wide range of complex cases. Key areas of work include delayed or mis-diagnoses, negligently performed surgery, and dental negligence, an area in which Robert Mills recently secured a record £160,000 damages for a claimant.
Ranked: Tier 1
Ranked: Tier 1
Ranked: Tier 1
Ranked: Tier 1
Ranked: Tier 2
Ranked: Tier 2
Ranked: Tier 2
St John's Chambers is home to a large team of commercial practitioners who are instructed in a wide range of cases including professional negligence and breach of contract claims. The set also reports a substantial increase in the number of wills and trusts-related instructions received in the past year, with the set being praised by solicitors as 'the go-to chambers outside London' for this area of work. In one representative instruction of note, Leslie Blohm QC and Natasha Dzameh recently acted for the parents of a millionaire who died intestate, and where his wife was alleged to have forfeited her claim by unlawfully killing the deceased.
Ranked: Tier 1
Ranked: Tier 1
Ranked: Tier 1
Ranked: Tier 2
Ranked: Tier 2
Ranked: Tier 2
Ranked: Tier 2
Ranked: Tier 2
Ranked: Tier 2
Ranked: Tier 3
Ranked: Tier 3
Ranked: Tier 3
St John's Chambers is particularly strong on large scale construction disputes, including adjudications, breach of contract claims, and high-value international arbitrations, where Andrew Kearney is a highly regarded practitioner. In a recent highlight, James Pearce-Smith represented the defendant developer in a dispute against a construction company; the claim settled following a  counterclaim against the contractor for failure to supply appropriate heating systems.
James Marwick and Darren Lewis at are the key members for costs work at St John's Chambers and are particularly experienced in costs arising from personal injury or clinical negligence claims. Marwick recently acted for the paying party in a case involving fixed recoverable costs in which the judge had allowed for significant counsel's fees over and above the fixed costs threshold.
Ranked: Tier 1
Ranked: Tier 1
Members of St John's Chambers frequently appear in the Court of Protection in cases concerning capacity to consent, deputy disputes, health and welfare proceedings, along with property and affairs.
Ranked: Tier 1
Ranked: Tier 1
St John's Chambers is home to a large contingent of specialist family barristers, who provide 'great depth' across public and private children law cases, as well as all aspects of divorce and financial remedy work. Areas of specialism include international assets in finance cases, non-accidental injury matters involving complex causation evidence, and child maintenance, where Jody Atkinson is the key name to note.
Ranked: Tier 1
Ranked: Tier 1
Ranked: Tier 1
Ranked: Tier 1
Ranked: Tier 2
Ranked: Tier 2
Ranked: Tier 2
Ranked: Tier 3
Ranked: Tier 3
Ranked: Tier 3
Ranked: Tier 4
Ranked: Tier 1
Ranked: Tier 1
St John's Chambers is the preeminent set for inquest work in the South West, with specialist areas including deaths in custody, care deaths, and fatal accidents. Notable recent instructions include self-inflicted custody death Re: Jeffery Griffiths, and Re: Christopher Clarke, which concerned a fatal workplace accident.
The personal injury team at St John's Chambers reports an increase in defendant work, with members acting for government departments, insurers, and employers, in addition to claimant work. Key areas of work include catastrophic injury, road traffic accidents, and cases involving allegations of fundamental dishonesty, as well as more niche areas such as Animals Act claims, where Richard Stead is the key practitioner. Industrial disease and workplace injury specialist Andrew McLaughlin successfully defended the Ministry of Defence in a £1.5m stress at work claim brought by a former RAF sergeant.
Ranked: Tier 1
Ranked: Tier 1
Ranked: Tier 1
Ranked: Tier 2
Ranked: Tier 2
Ranked: Tier 2
Ranked: Tier 3
St John's Chambers property group is home to a large number of specialist members, who are experienced in commercial, agricultural, and residential property cases. In a recent highlight, Leslie Blohm QC and John Sharples recently acted for the respondent in the easements case of Haddock v Churston Golf Club.
Ranked: Tier 1
Ranked: Tier 1
Ranked: Tier 1
Ranked: Tier 2
Ranked: Tier 2
Ranked: Tier 2
St John's Chambers regulatory team are predominantly focused on health and safety and licensing matters. On the latter, Roy Light is particularly experienced on taxi and adult establishment licensing, acting for all parties in such cases as well as taking instructions for alcohol licensing work. On the health and safety front, Simon Morgan prosecuted Bridgend County Borough Council following a fatal accident involving a 15-year-old student at a school overseen by the local authority; the manner in which the parking area had been constructed some years earlier exposed pupils to significant risks.
Roy Light
-
St John's Chambers
'
Very approachable. He is able to present issues to clients in an easy to understand and pragmatic way. Clients warm to his style. He is a very convincing advocate.
'
Ranked: Tier 1
Ranked: Tier 1
For some, St John's Chambers is 'unquestionably the go-to set for private client litigation in the South West', while others say it is 'a must instruct for personal injury and clinical negligence', as well as covering the gamut of other practice areas including commercial, construction, and property law. In recent chambers news, dual-qualified Ryan Morgan, formerly of Queen Square Chambers, joined the family and divorce team. The 'excellent' clerks are 'always helpful and approachable, they are a main cog in the process of the great communication between instructing solicitor and barrister – they just get it'; chief executive Derek Jenkins heads the team that 'makes the lives of instructing solicitors so much easer, making the set feel like an extension of the solicitors' own departments and not a standalone body'. Practice managers Rob Bocock, Luke Hodgson, and Annette Bushell manage the commercial, family, and personal injury teams respectively. Offices in: Bristol
Chambers of Susan Hunter >
Firm Profile
St John's Chambers is one of the largest and most prestigious barristers' sets in the South West, with 9 silks and 76 juniors attracting high-quality work in all major areas of civil law. We were voted 'Regional Set of the Year 2018' by Legal 500 and 'Chambers of the Year 2018' by Bristol Law Society, these awards endorse our position as a stand-out national set. Chambers has recently been shortlisted 'Regional Set of the Year' by Chambers UK Bar Awards 2019.
We demonstrate excellence and innovation in the provision of legal services having been involved in a number of landmark decisions in the High Court and Court of Appeal. As one of the go-to chambers for legal advice outside London, we receive high level complex instructions from law firms across the UK, multi-national businesses, high net-worth individuals and people from all walks of life. The leading directories describe us as a 'Western Circuit Powerhouse' (Legal 500) and 'Like having London-quality barristers on your doorstep.' (Chambers UK).
Our commitment
Whether you are a law firm, a business, a public sector organisation or a private individual, you can be sure you will receive legal expertise and client care of the very highest standards from St John's. Our barristers are described by peers as easy to work with and committed to delivering quality advice on time. They will prepare the strongest possible case and keep all parties informed at every stage. As part of our commitment to our clients, we make sure all communications are timely, clear and concise.
Our clients
Our client base includes regional and national law firms, representing and advising prominent businesses and private individuals. We also provide advice and representation under the public access scheme to members of the public and individual professionals and executives such as planning consultants, managing directors and doctors.
Areas of work
We have top tier expertise in: agriculture and rural affairs, clinical negligence, commercial, construction and engineering, Court of Protection, employment, family and divorce, health & safety, inquests and public inquiries, international arbitration, licensing, personal injury, planning, professional negligence, public and administrative law, real estate, tax, wills and trusts. Chambers UK consistently ranks us in Band 1 for our main practice areas. Each core practice area has a dedicated clerking team to advise clients on the most suitable barrister for their case. Read more
Mediation
For cases where mediation is appropriate, we have a team of 26 qualified mediators available to assist in the capacity of adviser, advocate or mediator. Our modern, purpose-built office premises include rooms that are designed specifically for mediations.
Seminars and events
We are committed to providing first class CPD courses in all major areas of law. Clients have described our seminars as
"an excellent day and one of the best I have ever been on."
St John's Chambers provides full, half-day and evening events, short tailored talks, bespoke courses and seminars in conjunction with law firms, charities and insurance companies. We offer outstanding hospitality at venues selected for their comfort, convenience and excellent catering.
History
St John's Chambers opened in 1978 in Broad Street, Bristol with five members; the life expectancy of the business was six months. Forty years on, the business is one of the leading sets in the South West, with over 85 members and recognised as top tier in all major areas of law.
Our offices
Our modern purpose-built offices in the centre of Bristol are easily accessible, close to the City's historic harbour and major road links and just a short walk from Bristol Temple Meads train station.
Our recent charitable commitments include:
Raised £5,400 for the Spinal Injuries Association from its spinal injuries conference and drinks reception.
Participated in the annual Taunton Dragon Boat Festival in support of Headway Somerset, raising over £2,000 for this worthy cause.
Raised £930 for The Coroners' Courts Support Service.
Hosted and organised the AvMA 35th anniversary dinner in the autumn which brought together all the major clinical negligence firms and Chambers in the South West, and raised £3,600.
Main Contacts
| Department | Name | Email | Telephone |
| --- | --- | --- | --- |
| Chief executive | Derek Jenkins | | |
| Head of Marketing & Events | Sarah Sands | | |
| Office manager | Isabelle Mills | | |
| Key clerking contacts | Rob Bocock (commercial and Chancery) | | |
| Key clerking contacts | Luke Hodgson (family) | | |
| Key clerking contacts | Annette Bushell (personal injury and clinical negligence) | | |
| Members of Chambers | SHARP QC, Christopher (1975) | | |
| Members of Chambers | BLOHM QC, Leslie (1982) | | |
| Members of Chambers | SKELLORN QC, Kathryn (1993) | | |
| Members of Chambers | WILSON-SMITH QC, Christopher (1965)* | | |
| Members of Chambers | ORNSBY QC, Suzanne (1986)* | | |
| Members of Chambers | PHILLIPS QC, Matthew (1993) | | |
| Members of Chambers | GODWIN QC, William (1986)* | | |
| Members of Chambers | O'SULLIVAN QC, Derek (1990)* | | |
| Members of Chambers | BULLOCK, Ian (1975) | | |
| Members of Chambers | GRICE, Timothy (1975) | | |
| Members of Chambers | BLACKMORE, John (1983) | | |
| Members of Chambers | STEAD, Richard (1979) | | |
| Members of Chambers | NEILL, Robin (1979) | | |
| Members of Chambers | AULD, Charles (1980) | | |
| Members of Chambers | WADSLEY, Peter (1984) | | |
| Members of Chambers | DUTHIE, Catriona (1981) | | |
| Members of Chambers | HUNTER, Susan (1985) | | |
| Members of Chambers | MILLER, Nick (1994) | | |
| Members of Chambers | MORGAN, Simon (1988) | | |
| Members of Chambers | DAS, Kamala (1975) | | |
| Members of Chambers | LEEPER, Tom (1991) | | |
| Members of Chambers | SHARPLES, John (1992) | | |
| Members of Chambers | KEARNEY, Andrew (2007) | | |
| Members of Chambers | MARTIN, Dianne (1992) | | |
| Members of Chambers | LIGHT, Prof Roy (1992) | | |
| Members of Chambers | McLAUGHLIN, Andrew (1993) | | |
| Members of Chambers | MAXWELL, Adrian (1993) | | |
| Members of Chambers | PHILLIMORE, Sarah (1994) | | |
| Members of Chambers | REGAN, David (1994) | | |
| Members of Chambers | PEARCE-SMITH, James (2002) | | |
| Members of Chambers | DICKINSON, John (1995) | | |
| Members of Chambers | EVANS, Judi (1996) | | |
| Members of Chambers | WHITE, Matthew (1997) | | |
| Members of Chambers | O'REGAN, Matthew (2015) | | |
| Members of Chambers | HARRISON, Graeme (1997) | | |
| Members of Chambers | ZEB, Emma (1998) | | |
| Members of Chambers | HORNE, Julian (1998) | | |
| Members of Chambers | TROUP, Alex (1998) | | |
| Members of Chambers | BOND, Abigail (1999) | | |
| Members of Chambers | VALENTINE, Justin (1999) | | |
| Members of Chambers | THORNTON, Delia (1999} | | |
| Members of Chambers | MCKINLAY, Vanessa (2000) | | |
| Members of Chambers | HUSSAIN, Zahid (2001) | | |
| Members of Chambers | RUSSELL, Rachel (2001) | | |
| Members of Chambers | REED, Lucy (2002) | | |
| Members of Chambers | ELFORD, Caroline (2002) | | |
| Members of Chambers | BELYAVIN, Julia (2003) | | |
| Members of Chambers | SAUNDERS, Zoe (2003) | | |
| Members of Chambers | TAYLOR, Rebecca (2003) | | |
| Members of Chambers | JONES, Christopher (2004) | | |
| Members of Chambers | LEWIS, Darren (2004) | | |
| Members of Chambers | COMMINS, Andrew (2004) | | |
| Members of Chambers | ATKINSON, Jody (2005) | | |
| Members of Chambers | GOLD, Richard (2006) | | |
| Members of Chambers | WEST, Patrick (2007) | | |
| Members of Chambers | HANDY, Ben (2008) | | |
| Members of Chambers | PIKE, Olivia (2008) | | |
| Members of Chambers | BARBER, Jimmy (2008) | | |
| Members of Chambers | MARWICK, James (2008) | | |
| Members of Chambers | CLARKE, Michael (2009) | | |
| Members of Chambers | WOODING, Oliver (2009) | | |
| Members of Chambers | NORMAN, Richard (2009) | | |
| Members of Chambers | POINTON, Nick (2010) | | |
| Members of Chambers | DZAMEH, Natasha (2010) | | |
| Members of Chambers | NEWINGTON-BRIDGES, Charlie (2011) | | |
| Members of Chambers | HUGHES, James (2011) | | |
| Members of Chambers | BOYLE, Adam (2012) | | |
| Members of Chambers | HARRIS, Jack (2012) | | |
| Members of Chambers | COATES-WALKER, Marcus (2013) | | |
| Members of Chambers | GROVES, Asha (2013) | | |
| Members of Chambers | SEGAL, Rachel (2013) | | |
| Members of Chambers | MILLS, Robert (2014) | | |
| Members of Chambers | KNIGHT, Joss (2014) | | |
| Members of Chambers | PRICE, Emma (2014) | | |
| Members of Chambers | LARGE, Iain (2016) | | |
| Members of Chambers | Scarsbrook, Bethany (2014) | | |
| Members of Chambers | RILEY, Oliver (2013) | | |
| Members of Chambers | Smith-Holland, SOPHIE (2015) | | |
| Members of Chambers | Dudbridge, HARRIET (2015) | | |
| Members of Chambers | Lindfield, JONATHAN (2017) | | |
| Members of Chambers | Sampson, ANNIE (2017) | | |
Top Tier Set Rankings
Set Rankings