Set Profile > Chambers of Susan Hunter > Bristol, England
Chambers of Susan Hunter
Offices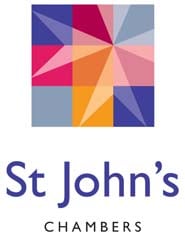 Chambers of Susan Hunter
St John's Chambers
101 VICTORIA STREET
BRISTOL
BS1 6PU
England
Chambers of Susan Hunter > The Legal 500
Rankings
Chambers of Susan Hunter >
Firm Profile
St John's Chambers is one of the largest and most prestigious barristers' sets in the South West, with 9 silks and 82 juniors attracting high-quality work in all major areas of civil law. We were voted 'Regional Set of the Year 2018' by Legal 500 and 'Chambers of the Year 2018' by Bristol Law Society, these awards endorse our position as a stand-out national set. Chambers has recently been shortlisted 'Regional Set of the Year' by Chambers UK Bar Awards 2019.
We demonstrate excellence and innovation in the provision of legal services having been involved in a number of landmark decisions in the High Court and Court of Appeal. As one of the go-to chambers for legal advice outside London, we receive high level complex instructions from law firms across the UK, multi-national businesses, high net-worth individuals and people from all walks of life. The leading directories describe us as a 'Western Circuit Powerhouse' (Legal 500) and 'Like having London-quality barristers on your doorstep.' (Chambers UK).
Our commitment
Whether you are a law firm, a business, a public sector organisation or a private individual, you can be sure you will receive legal expertise and client care of the very highest standards from St John's. Our barristers are described by peers as easy to work with and committed to delivering quality advice on time. They will prepare the strongest possible case and keep all parties informed at every stage. As part of our commitment to our clients, we make sure all communications are timely, clear and concise.
Our clients
Our client base includes regional and national law firms, representing and advising prominent businesses and private individuals. We also provide advice and representation under the public access scheme to members of the public and individual professionals and executives such as planning consultants, managing directors and doctors.
Areas of work
We have top tier expertise in: agriculture and rural affairs, clinical negligence, commercial, construction and engineering, Court of Protection, employment, family and divorce, health & safety, inquests and public inquiries, international arbitration, licensing, personal injury, planning, professional negligence, public and administrative law, real estate, tax, wills and trusts. Chambers UK consistently ranks us in Band 1 for our main practice areas. Each core practice area has a dedicated clerking team to advise clients on the most suitable barrister for their case. Read more
Mediation
For cases where mediation is appropriate, we have a team of 23 qualified mediators available to assist in the capacity of adviser, advocate or mediator. Our modern, purpose-built office premises include rooms that are designed specifically for mediations.
Seminars and events
We are committed to providing first class CPD courses in all major areas of law. Clients have described our seminars as
"an excellent day and one of the best I have ever been on."
St John's Chambers provides full, half-day and evening events, short tailored talks, bespoke courses and seminars in conjunction with law firms, charities and insurance companies. We offer outstanding hospitality at venues selected for their comfort, convenience and excellent catering.
Due to the pandemic having an effect on how we conduct seminars, we have been busy putting on a number of 30 minute – 1 hour long webinars from all areas of law. We have made it a priority to maintain professional relationships with solicitors in this way and have been overwhelmed with excellent feedback.
History
St John's Chambers opened in 1978 in Broad Street, Bristol with five members; the life expectancy of the business was six months. Forty years on, the business is one of the leading sets in the South West, with over 85 members and recognised as top tier in all major areas of law.
Our offices
Our modern purpose-built offices in the centre of Bristol are easily accessible, close to the City's historic harbour and major road links and just a short walk from Bristol Temple Meads train station.
Our recent charitable commitments include:
Raised £3,200 for Headway UK at the 2020 Brain Injury Conference
Main Contacts
| Department | Name | Email | Telephone |
| --- | --- | --- | --- |
| Chief executive | Derek Jenkins | | |
| Head of Marketing & Events | Emily Dalton | | |
| Office manager | Isabelle Mills | | |
| Key clerking contacts | Rob Bocock (commercial and Chancery) | | |
| Key clerking contacts | Luke Hodgson (family) | | |
| Key clerking contacts | Annette Bushell (personal injury and clinical negligence) | | |
| Members of Chambers | SHARP QC, Christopher (1975) | | |
| Members of Chambers | BLOHM QC, Leslie (1982) | | |
| Members of Chambers | SKELLORN QC, Kathryn (1993) | | |
| Members of Chambers | WILSON-SMITH QC, Christopher (1965)* | | |
| Members of Chambers | ORNSBY QC, Suzanne (1986)* | | |
| Members of Chambers | PHILLIPS QC, Matthew (1993) | | |
| Members of Chambers | GODWIN QC, William (1986)* | | |
| Members of Chambers | O'SULLIVAN QC, Derek (1990)* | | |
| Members of Chambers | GRICE, Timothy (1975) | | |
| Members of Chambers | BLACKMORE, John (1983) | | |
| Members of Chambers | STEAD, Richard (1979) | | |
| Members of Chambers | NEILL, Robin (1979) | | |
| Members of Chambers | AULD, Charles (1980) | | |
| Members of Chambers | WADSLEY, Peter (1984) | | |
| Members of Chambers | DUTHIE, Catriona (1981) | | |
| Members of Chambers | HUNTER, Susan (1985) | | |
| Members of Chambers | MILLER, Nick (1994) | | |
| Members of Chambers | MORGAN, Simon (1988) | | |
| Members of Chambers | DAS, Kamala (1975) | | |
| Members of Chambers | LEEPER, Tom (1991) | | |
| Members of Chambers | SHARPLES, John (1992) | | |
| Members of Chambers | KEARNEY, Andrew (2007) | | |
| Members of Chambers | MARTIN, Dianne (1992) | | |
| Members of Chambers | LIGHT, Prof Roy (1992) | | |
| Members of Chambers | McLAUGHLIN, Andrew (1993) | | |
| Members of Chambers | MAXWELL, Adrian (1993) | | |
| Members of Chambers | PHILLIMORE, Sarah (1994) | | |
| Members of Chambers | REGAN, David (1994) | | |
| Members of Chambers | PEARCE-SMITH, James (2002) | | |
| Members of Chambers | DICKINSON, John (1995) | | |
| Members of Chambers | EVANS, Judi (1996) | | |
| Members of Chambers | WHITE, Matthew (1997) | | |
| Members of Chambers | O'REGAN, Matthew (2015) | | |
| Members of Chambers | HARRISON, Graeme (1997) | | |
| Members of Chambers | ZEB, Emma (1998) | | |
| Members of Chambers | HORNE, Julian (1998) | | |
| Members of Chambers | TROUP, Alex (1998) | | |
| Members of Chambers | BOND, Abigail (1999) | | |
| Members of Chambers | VALENTINE, Justin (1999) | | |
| Members of Chambers | THORNTON, Delia (1999} | | |
| Members of Chambers | MCKINLAY, Vanessa (2000) | | |
| Members of Chambers | HUSSAIN, Zahid (2001) | | |
| Members of Chambers | RUSSELL, Rachel (2001) | | |
| Members of Chambers | REED, Lucy (2002) | | |
| Members of Chambers | ELFORD, Caroline (2002) | | |
| Members of Chambers | BELYAVIN, Julia (2003) | | |
| Members of Chambers | SAUNDERS, Zoe (2003) | | |
| Members of Chambers | TAYLOR, Rebecca (2003) | | |
| Members of Chambers | JONES, Christopher (2004) | | |
| Members of Chambers | LEWIS, Darren (2004) | | |
| Members of Chambers | COMMINS, Andrew (2004) | | |
| Members of Chambers | ATKINSON, Jody (2005) | | |
| Members of Chambers | GOLD, Richard (2006) | | |
| Members of Chambers | WEST, Patrick (2007) | | |
| Members of Chambers | HANDY, Ben (2008) | | |
| Members of Chambers | PIKE, Olivia (2008) | | |
| Members of Chambers | BARBER, Jimmy (2008) | | |
| Members of Chambers | MARWICK, James (2008) | | |
| Members of Chambers | CLARKE, Michael (2009) | | |
| Members of Chambers | WOODING, Oliver (2009) | | |
| Members of Chambers | NORMAN, Richard (2009) | | |
| Members of Chambers | POINTON, Nick (2010) | | |
| Members of Chambers | DZAMEH, Natasha (2010) | | |
| Members of Chambers | NEWINGTON-BRIDGES, Charlie (2011) | | |
| Members of Chambers | HUGHES, James (2011) | | |
| Members of Chambers | BOYLE, Adam (2012) | | |
| Members of Chambers | HARRIS, Jack (2012) | | |
| Members of Chambers | COATES-WALKER, Marcus (2013) | | |
| Members of Chambers | GROVES, Asha (2013) | | |
| Members of Chambers | SEGAL, Rachel (2013) | | |
| Members of Chambers | MILLS, Robert (2014) | | |
| Members of Chambers | KNIGHT, Joss (2014) | | |
| Members of Chambers | LARGE, Iain (2016) | | |
| Members of Chambers | Scarsbrook, Bethany (2014) | | |
| Members of Chambers | RILEY, Oliver (2013) | | |
| Members of Chambers | Smith-Holland, SOPHIE (2015) | | |
| Members of Chambers | Dudbridge, HARRIET (2015) | | |
| Members of Chambers | Sampson, ANNIE (2017) | | |
| Members of Chambers | Lindfield, JONATHAN (2017) | | |
| Members of Chambers | Thompson, GEORGINA (2017) | | |
| Members of Chambers | Jones, RHODRI (2017) | | |
| Members of Chambers | Forster, DAVID (2018) | | |
Lawyer Profiles
| Photo | Name | Position | Profile |
| --- | --- | --- | --- |
| | Jody Atkinson | Specialises in family, financial disputes (including divorce, cohabitation and child support), court… | View Profile |
| | Charles Auld | Charles specialises in chancery and commercial work. The chancery work comprises real… | View Profile |
| | Jimmy Barber | | View Profile |
| | Julia Belyavin | Julia specialises in family law and her practice encompasses all areas within… | View Profile |
| | John Blackmore | Barrister specialising in all areas of commercial litigation. Boasts particular expertise and… | View Profile |
| | Leslie Blohm QC | Chancery and commercial practitioner with a strong emphasis on property and landlord… | View Profile |
| | Abigail Bond | Family law barrister with a particular interest in care proceedings. | View Profile |
| | Adam Boyle | Adam is a specialist Commercial and Chancery barrister. His practice covers a… | View Profile |
| | Michael Clarke | Michael has a commercial and chancery practice. His particular areas of expertise… | View Profile |
| | Marcus Coates-Walker | | View Profile |
| | Andrew Commins | Andrew is a family law barrister specialising in all matters of family… | View Profile |
| | Kamala Das | Barrister specialising in family and local government, planning and environment work; experience… | View Profile |
| | John Dickinson | John specialises in chancery and commercial litigation. John's chancery practice includes contentious… | View Profile |
| | Catriona Duthie | In October 2015 she moved to Cumbria where she is instructed predominantly… | View Profile |
| | Natasha Dzameh | Specialist commercial and chancery barrister. Accredited mediator. | View Profile |
| | Caroline Elford | | View Profile |
| | Judi Evans | Barrister specialising in planning, local government, environment and licensing law, as well… | View Profile |
| | Richard Gold | Barrister with a general commercial and chancery practice; also qualified to undertake… | View Profile |
| | Timothy Grice | Highly respected, heavyweight practitioner with a predominantly claimant practice involving high-value catastrophic… | View Profile |
| | Asha Groves | | View Profile |
| | Ben Handy | Called to the Bar in 2008, Ben is a personal injury and… | View Profile |
| | Bethany Hardwick | | View Profile |
| | Jack Harris | Jack is recognised in Chambers & Partners as a specialist family barrister.… | View Profile |
| | Graeme Harrison | | View Profile |
| | Julian Horne | Barrister specialising in personal injury, product liability, property damage, insurance, commercial and… | View Profile |
| | Susan Hunter | Susan has over 20 years' experience working in family law at all… | View Profile |
| | Zahid Hussain | Specialist family law practitioner; undertakes all aspects of private and public Children's… | View Profile |
| | Christopher Jones | Chancery specialist, with particular expertise in property, landlord and tenant, wills and… | View Profile |
| | Joss Knight | | View Profile |
| | Iain Large | | View Profile |
| | Tim Leader | | View Profile |
| | Tom Leeper | Practises on the western circuit exclusively in clinical negligence, inquests and personal… | View Profile |
| | Darren Lewis | Specialist multi-track and fast-track personal injury practice focusing on disease litigation, employers'… | View Profile |
| | Prof Roy Light | Extensive experience in all areas of licensing and related criminal matters, including… | View Profile |
| | Dianne Martin | Specialist family practitioner: Dianne practises across the spectrum of family work with… | View Profile |
| | James Marwick | | View Profile |
| | Adrian Maxwell | Defends and prosecutes in heavy crime on all circuits. Specialises in fraud… | View Profile |
| | Vanessa Mckinlay | Vanessa has an extensive practice in claimant and defendant work. She deals with… | View Profile |
| | Andrew Mclaughlin | Talented and popular practitioner. Known for his ability to provide swift and… | View Profile |
| | Nick Miller | Formerly a solicitor, Nick has specialised in family law, exclusively financial cases,… | View Profile |
| | Robert Mills | The core of Robert's practice is clinical negligence. He acts for both… | View Profile |
| | Simon Morgan | Senior member of chambers specialising in regulatory matters and serious crime. Significant… | View Profile |
| | Robin Neill | Robin is a highly experienced lawyer, bringing with him the twin benefits… | View Profile |
| | Charlie Newington-bridges | General chancery and commercial practice. Particular specialisms include: commercial/contractual disputes; banking and… | View Profile |
| | Richard Norman | Richard practises in family law and is a member of the family… | View Profile |
| | Mr Matthew O'Regan | Competition, regulatory and EU law specialist. Practice covers all aspects of UK… | View Profile |
| | James Pearce-smith | Barrister specialising in commercial and chancery litigation. Areas of practice: commercial contract… | View Profile |
| | Sarah Phillimore | Undertakes all aspects of family work including cohabitation claims. Sarah is registered… | View Profile |
| | Nicholas Pointon | Commercial and chancery law barrister, with a particular specialism in private international… | View Profile |
| | Lucy Reed | Lucy is a family law specialist and has practiced in family law throughout… | View Profile |
| | David Regan | Specialises in personal injury, clinical and other professional negligence and employment law.… | View Profile |
| | Oliver Riley | Oliver is a family barrister and accepts instructions in all areas of… | View Profile |
| | Rachel Russell | Specialist personal injury practitioner. Busy practice acting for both claimants (on a… | View Profile |
| | Zoe Saunders | Zoë was called to the bar in 2003, completed her pupillage with… | View Profile |
| | Rachel Segal | | View Profile |
| | Christopher Sharp QC | A personal injury and family law specialist with many years experience, who… | View Profile |
| | John Sharples | Barrister specialising in all areas of real property and landlord and tenant… | View Profile |
| | Kathryn Skellorn QC | Specialist Children Act practitioner experienced in all aspects of public and private… | View Profile |
| | Richard Stead | One of Chambers most senior practitioners, Richard Stead has an extensive practice… | View Profile |
| | Rebecca Taylor | Experienced civil practitioner, with specialisms in civil fraud, construction, and personal injury. | View Profile |
| | Delia Thornton | Specialises in family law and deals with a wide range of public… | View Profile |
| | Alexander Troup | Practises in the chancery field with a particularly strong expertise in property… | View Profile |
| | Justin Valentine | Justin specialises in clinical negligence and personal injury litigation. He undertakes all… | View Profile |
| | Peter Wadsley | Barrister specialising in planning and local government law, environment law and licensing.… | View Profile |
| | Patrick West | Practises in all areas of personal injury work for both claimants and… | View Profile |
| | Matthew White | Matthew routinely deals with all aspects of personal injury litigation for both… | View Profile |
| | Oliver Wooding | Chancery practitioner and mediator focussing on contentious and non-contentious probate and inheritance… | View Profile |
| | Emma Zeb | Emma joined St John's Chambers from a specialist personal injury and clinical… | View Profile |
Top Tier Set Rankings
Set Rankings