Set Profile > Chambers of Sally Harrison QC > Manchester, England
Chambers of Sally Harrison QC
Offices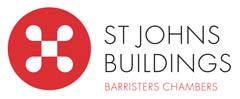 Chambers of Sally Harrison QC
St John's Buildings
24A-28 ST JOHN STREET
MANCHESTER
M3 4DJ
England
Chambers of Sally Harrison QC > The Legal 500
Rankings
Chambers of Sally Harrison QC >
Firm Profile
St John's Buildings has a proven reputation for providing expert barristers and delivering a complete legal solution. We build long-term partnerships with clients by providing exceptional counsel backed by professional, reliable and consistently high quality standards of service.
Chambers is an early and enthusiastic adopter of new technology and AI to facilitate better and more cost effective service delivery. Innovations include, electronic booking, cloud storage, online diaries, remote access and automated billing. We invest heavily in our IT infrastructure and surrounding technologies.
Two years ago, Chambers developed unique electronic case collaboration software, in partnership with Advanced Legal. This innovation continues to receive national media attention for enabling the dramatic reduction of both our costs and our environmental footprint.
Already one of the largest Chambers in the country, St John's Buildings is following a strategy for growth to enhance the ability to service clients' needs by providing advocacy and advisory services nationally. This strategy is underpinned and enabled by our values of Service Excellence, Approachability, Community and Agility. The values define how we behave collectively and individually, to clients and to colleagues.
Chambers is managed by a Board of Directors and audited to ISO 9001 standards. Corporate governance and information security are taken very seriously; all members and staff have been trained on GDPR regulations.
As well as market-leading facilities including video conferencing, mediation suites, private meeting rooms and conference facilities, clients can take advantage of a wide programme of CPD seminars, and members offer bespoke in-house training on request. Regular client surveys are undertaken, feedback is acted upon immediately and improvements built into the Quality Manual.
SJB clients are spread nationally and range from the full spectrum of legal firms, insurance firms, local authorities and high-net-worth individuals through to commercial enterprises and SMEs. Members of Chambers also accept instructions from members of the public under the direct access rules.
Other addresses:
21 White Friars, Chester CH1 1NZ, Phone 01244 323070, Fax 01244 342930
38 Vernon Street, Liverpool L2 2AY, Phone 0151 243 6000, Fax 0151 243 6040
7 Leopold Street, Sheffield S1 2GY, Phone 0114 273 8951, Fax 0114 276 0848
Main Contacts
| Department | Name | Email | Telephone |
| --- | --- | --- | --- |
| Chief Executive | Chris Ronan | clerk@stjohnsbuildings.co.uk | 0161 214 1500 |
| Head of Corporate Services | David Anderson | clerk@stjohnsbuildings.co.uk | 0161 214 1500 |
| Practice Manager, Liverpool | Lisa Kemp | clerk@stjohnsbuildings.co.uk | 0151 243 6000 |
| Senior Clerk, Sheffield | Tim Booth | sheffield.clerk@stjohnsbuildings.co.uk | 0114 273 8951 |
| Senior Clerk, Chester | Mark Robinson | clerk@stjohnsbuildings.co.uk | 01244 323070 |
| Senior Civil Clerk | Chris Shaw | clerk@stjohnsbuildings.co.uk | 0161 214 1500 |
| Senior Criminal Clerk | Mark Heald | clerk@stjohnsbuildings.co.uk | 0161 214 1500 |
| Senior Family Clerk | Paul Laverty | clerk@stjohnsbuildings.co.uk | 0161 214 1500 |
| Head of Chambers | NORTON, Richard (1992) | | |
| Members of Chambers | REDFERN QC, Michael (1970) | | |
| Members of Chambers | CROWLEY QC, Jane (1976) | | |
| Members of Chambers | O'BYRNE QC, Andrew (1978) | | |
| Members of Chambers | BERKLEY QC, David (1979) | | |
| Members of Chambers | HILL QC, Jamie (1984) | | |
| Members of Chambers | HEATON QC, Frances (1985) | | |
| Members of Chambers | HARRISON QC, Sally (1992) | | |
| Members of Chambers | KELLY QC, Brendan (1988) | | |
| Members of Chambers | COLBORNE QC, Michelle (1993) | | |
| Members of Chambers | ROWLEY QC, Karl (1994) | | |
| Members of Chambers | CAVANAGH QC, Lorraine (2000) | | |
| Members of Chambers | VATER QC, John (1995) | | |
| Members of Chambers | WOOD, Graeme (1968) | | |
| Members of Chambers | HEDGECOE, John (1972) | | |
| Members of Chambers | SHANNON, Eric (1974) | | |
| Members of Chambers | LOWE, Geoffrey (1975) | | |
| Members of Chambers | LONGWORTH, Antony (1978) | | |
| Members of Chambers | GRUNDY, Philip (1980) | | |
| Members of Chambers | LONG, Andrew (1981) | | |
| Members of Chambers | BRUCE, David (1982) | | |
| Members of Chambers | GAL, Sonia (1982) | | |
| Members of Chambers | HARRISON, Peter (1983) | | |
| Members of Chambers | McKENNA, Brian (1983) | | |
| Members of Chambers | HARRISON, Keith (1983) | | |
| Members of Chambers | SHAW, Julian (1984) | | |
| Members of Chambers | LLOYD, Julian (1985) | | |
| Members of Chambers | DICKINSON, Jonathan (1986) | | |
| Members of Chambers | TAYLOR, Julian (1986) | | |
| Members of Chambers | KLOSS, Diana MBE (1986) | | |
| Members of Chambers | WALKER, Jane (1987) | | |
| Members of Chambers | DAGNALL, Jane (1987) | | |
| Members of Chambers | OATES, John (1987) | | |
| Members of Chambers | PRICE, Nicholas (1987) | | |
| Members of Chambers | BATRA, Bunty (1988) | | |
| Members of Chambers | EASTWOOD, Charles (1988) | | |
| Members of Chambers | CRABTREE, Simon (1988) | | |
| Members of Chambers | DAVITT, Paula (1988) | | |
| Members of Chambers | SANDERS, Damian (1988) | | |
| Members of Chambers | GRUNDY, Clare (1989) | | |
| Members of Chambers | PARTINGTON, Lisa (1989) | | |
| Members of Chambers | BRITCLIFFE, Anne (1989) | | |
| Members of Chambers | O'BRIEN Joseph (1989) | | |
| Members of Chambers | CARTER, Richard (1990) | | |
| Members of Chambers | THOMPSON, Jonathan (1990) | | |
| Members of Chambers | WATSON, David (1990) | | |
| Members of Chambers | SIMPSON, Raquel (1990) | | |
| Members of Chambers | REEVELL, Simon (1990) | | |
| Members of Chambers | WRIGHT, Alastair (1991) | | |
| Members of Chambers | MAWDSLEY, Matthew (1991) | | |
| Members of Chambers | ROBERTS, Mark (1991) | | |
| Members of Chambers | TAYLOR, Jonathan (1991) | | |
| Members of Chambers | PRATT, Patricia (1991) | | |
| Members of Chambers | SAVAGE, Tim (1991) | | |
| Members of Chambers | GREEN, Andrew (1992) | | |
| Members of Chambers | McNERNEY, Kevin (1992) | | |
| Members of Chambers | ASHMOLE, Timothy (1992) | | |
| Members of Chambers | WALKER, Fiona (1992) | | |
| Members of Chambers | KLOSS, Alex (1993) | | |
| Members of Chambers | POLGLASE, David (1993) | | |
| Members of Chambers | FITZHARRIS, Ginnette (1993) | | |
| Members of Chambers | BANKS, Rachael (1993) | | |
| Members of Chambers | HUGHES, Dermot (1993) | | |
| Members of Chambers | STANISTREET, Penelope (1993) | | |
| Members of Chambers | SEARLE, Jason (1993) | | |
| Members of Chambers | HARRISON, Leona (1993) | | |
| Members of Chambers | FORD, Caroline (1993) | | |
| Members of Chambers | WILSON, Myles (1993) | | |
| Members of Chambers | JONES, Benjamin (1993) | | |
| Members of Chambers | ORME, Richard (1993) | | |
| Members of Chambers | FLOOD, David (1993) | | |
| Members of Chambers | RODIKIS, Joanna (1993) | | |
| Members of Chambers | RHYS, Megan (1994) | | |
| Members of Chambers | WILD, Steven (1994) | | |
| Members of Chambers | GATENBY, James (1994) | | |
| Members of Chambers | CHUKWUEMEKA, John (1994) | | |
| Members of Chambers | CONNOR, Mark (1994) | | |
| Members of Chambers | TREBLE, Paul (1994) | | |
| Members of Chambers | COLE, Justine (1994) | | |
| Members of Chambers | WRENN, Helen (1994) | | |
| Members of Chambers | LOWE, Craig (1994) | | |
| Members of Chambers | BOOTH, Nigel (1994) | | |
| Members of Chambers | HOUGHTON, Lisa (1994) | | |
| Members of Chambers | MANN, Sara (1994) | | |
| Members of Chambers | DOUGLAS, Stephen (1994) | | |
| Members of Chambers | GUMBS, Annette (1994) | | |
| Members of Chambers | FRIEZE, Daniel (1994) | | |
| Members of Chambers | STABLES, Gordon (1995) | | |
| Members of Chambers | HICKEY, Julian (1995) | | |
| Members of Chambers | WEIR, Olivia (1995) | | |
| Members of Chambers | LAWSON, Andrew (1995) | | |
| Members of Chambers | McHUGH, Pauline (1995) | | |
| Members of Chambers | HILLAS, Samantha (1996) | | |
| Members of Chambers | ASLETT, Pépin (1996) | | |
| Members of Chambers | GOLDSACK, Ian (1997) | | |
| Members of Chambers | BAILEY, Andrew (1997) | | |
| Members of Chambers | WILLIAMS, Zillah (1997) | | |
| Members of Chambers | DENTON, Douglas (1997) | | |
| Members of Chambers | MAHMOOD, Ghazan (1997) | | |
| Members of Chambers | EVANS, Simeon (1997) | | |
| Members of Chambers | PARRY, Simon (1997) | | |
| Members of Chambers | SWAIN, Jacqueline (1998) | | |
| Members of Chambers | ROBERTS, Dafydd (1998) | | |
| Members of Chambers | ROWLEY-FOX, Rachael (1998) | | |
| Members of Chambers | THOMAS, Clare (1998) | | |
| Members of Chambers | BURNELL, Kate (1998) | | |
| Members of Chambers | TAYLOR, David (1998) | | |
| Members of Chambers | JAMES, David (1998) | | |
| Members of Chambers | MURDIN, Liam (1998) | | |
| Members of Chambers | SIMMONDS, Alexandra (1998) | | |
| Members of Chambers | EDWARDS, Susan (1998) | | |
| Members of Chambers | HAMMOND, Fayaz (1999) | | |
| Members of Chambers | KAUSER, Yasmin (1999) | | |
| Members of Chambers | BYRNE, Philip (1999) | | |
| Members of Chambers | RANA, Sufiyan (1999) | | |
| Members of Chambers | LORD, Andrew (1999) | | |
| Members of Chambers | HOLSGROVE, Lara (1999) | | |
| Members of Chambers | ASTBURY, Philip (1999) | | |
| Members of Chambers | LIVESLEY, Rhian (2000) | | |
| Members of Chambers | BEEVER, Prudence (2000) | | |
| Members of Chambers | WHALLEY, Alison (2000) | | |
| Members of Chambers | VAN DER HAER, Audrey (2000) | | |
| Members of Chambers | HAYES, Kathryn (2000) | | |
| Members of Chambers | KING, Oliver (2001) | | |
| Members of Chambers | MARSHALL, Laura (2001) | | |
| Members of Chambers | QUINNEY, Nicola (2001) | | |
| Members of Chambers | WYNNE, Andrew (2001) | | |
| Members of Chambers | POJUR, David (2001) | | |
| Members of Chambers | PORTER-PHILLIPS, Clare (2001) | | |
| Members of Chambers | BRIDGMAN, Andrew (2000) | | |
| Members of Chambers | VIR SINGH, Sylvia (2001) | | |
| Members of Chambers | REEVELL, Louise (2001) | | |
| Members of Chambers | CLINE, Robert (2002) | | |
| Members of Chambers | THYNE, Richard (2002) | | |
| Members of Chambers | SENIOR, Mark (2002) | | |
| Members of Chambers | SMITH, Paul (2002) | | |
| Members of Chambers | MOSS, Christopher (2002) | | |
| Members of Chambers | SMITH, Rebecca (2002) | | |
| Members of Chambers | McCLOSKEY, Louise (2002) | | |
| Members of Chambers | MOTTRAM, Cheryl (2002) | | |
| Members of Chambers | MONTALDO, Neil (2002) | | |
| Members of Chambers | SEMPLE, Gordon (2003) | | |
| Members of Chambers | HUDSON, Abigail (2003) | | |
| Members of Chambers | PALLO, Simon (2003) | | |
| Members of Chambers | MAGUIRE, Clodagh (2003) | | |
| Members of Chambers | ALI, Kashif (2003) | | |
| Members of Chambers | AKERS, Robert (2003) | | |
| Members of Chambers | LAWRENCE, Benjamin (2003) | | |
| Members of Chambers | BROWN, Stephen (2003) | | |
| Members of Chambers | ABRAHAM, Jade (2004) | | |
| Members of Chambers | WADDELL, Philippa (2004) | | |
| Members of Chambers | RIMMER, Catherine (2004) | | |
| Members of Chambers | CONNOLLY, Timothy (2004) | | |
| Members of Chambers | POOLE, William (2004) | | |
| Members of Chambers | STANBURY, Louise (2004) | | |
| Members of Chambers | HARRISON, Peta (2004) | | |
| Members of Chambers | SUTTON, Rebecca (2004) | | |
| Members of Chambers | WILSON, Helen (2004) | | |
| Members of Chambers | CHARLES, Simon (2004) | | |
| Members of Chambers | McGARRY, Steven (2005) | | |
| Members of Chambers | OPENSHAW, Samantha (2005) | | |
| Members of Chambers | WHITE, Debra (2005) | | |
| Members of Chambers | THOMPSON, Gareth (2005) | | |
| Members of Chambers | SPENCER, Shaun (2005) | | |
| Members of Chambers | MARSHALL, Lucy (2005) | | |
| Members of Chambers | CHRISTIAN, Neil (2005) | | |
| Members of Chambers | DE NAVARRO, Frances (2005) | | |
| Members of Chambers | KELLY, Ben (2006) | | |
| Members of Chambers | MORLEY, Kate (2006) | | |
| Members of Chambers | DAVEY, Helen (2006) | | |
| Members of Chambers | PARE, Christopher (2006) | | |
| Members of Chambers | BUNTING, Diarmuid (2006) | | |
| Members of Chambers | WHEATLEY, Jane (2007) | | |
| Members of Chambers | VANDERPUMP, Henry (2007) | | |
| Members of Chambers | OWEN-CASEY, Neil (2007) | | |
| Members of Chambers | CLEMO, Philip (2007) | | |
| Members of Chambers | GILMOUR, Peter (2007) | | |
| Members of Chambers | HAGGIS, Andrew (2007) | | |
| Members of Chambers | WOOD, Hannah (2007) | | |
| Members of Chambers | WILLIAMS, Cerys (2008) | | |
| Members of Chambers | METCALFE, Daniel (2008) | | |
| Members of Chambers | COOPER, Elisabeth (2008) | | |
| Members of Chambers | MURRAY, Simon (2008) | | |
| Members of Chambers | WALKER, Hannah (2008) | | |
| Members of Chambers | CAREY, Matthew (2008) | | |
| Members of Chambers | BELLAMY, Jonathan (2008) | | |
| Members of Chambers | MADDISON, Simon (2008) | | |
| Members of Chambers | JENKINS, Jamie (2008) | | |
| Members of Chambers | GOMER, Elis (2008) | | |
| Members of Chambers | LLOYD, Douglas (2008) | | |
| Members of Chambers | FRANCE-HAYHURST, Lucinda (2009) | | |
| Members of Chambers | HOLT, Kerry (2009) | | |
| Members of Chambers | NASH, Laura (2009) | | |
| Members of Chambers | BAINES, David (2009) | | |
| Members of Chambers | SINGH, Ashley (2009) | | |
| Members of Chambers | ROBERTS, Elliw (2009) | | |
| Members of Chambers | ASHKAR, Natalie (2008) | | |
| Members of Chambers | WHITELEY, Ginny (2010) | | |
| Members of Chambers | BAQRI, Zahra (2010) | | |
| Members of Chambers | SOUTHCOTE-WANT, Jessica (2010) | | |
| Members of Chambers | CHENG, Zoe (2011) | | |
| Members of Chambers | WILSON-THEAKER, Jessica (2012) | | |
| Members of Chambers | BURLEY, Michelle (2012) | | |
| Members of Chambers | KEEHAN, Eleanor (2013) | | |
| Members of Chambers | JOHNSON, Charlotte (2013) | | |
| Members of Chambers | SPENCE, Kate (2013) | | |
| Members of Chambers | GIHAIR, Navpreeth (2013) | | |
| Members of Chambers | MAXWELL, Gemma (2014) | | |
| Members of Chambers | AHARI, Tarlun (2014) | | |
| Members of Chambers | HUTCHINSON, Kelly (2014) | | |
| Members of Chambers | GRAY, Hunter (2015) | | |
| Members of Chambers | SHERRINGTON, Thomas (2015) | | |
| Members of Chambers | ZAFAR, Fatima (2015) | | |
| Members of Chambers | GORDON, Jemma (2015) | | |
| Members of Chambers | PARIS, William (2015) | | |
| Members of Chambers | EDWARDS, Robert (2016) | | |
| Members of Chambers | JONES, Kevin (2016) | | |
| Members of Chambers | BURDON, Matthew (2016) | | |
| Members of Chambers | RIEKSTINA, Kate (2016) | | |
| Members of Chambers | ROSS, Niamh (2016) | | |
| Members of Chambers | BATTERTON, Sean (2016) | | |
| Members of Chambers | WALSH, Martyn (2017) | | |
| Members of Chambers | HEANEY, Simon (2017) | | |
| Members of Chambers | HUGHES, Thomas (2017) | | |
| Members of Chambers | DAVIES, Richard (2017) | | |
| Members of Chambers | BRANNAN, Maria (2017) | | |
| Members of Chambers | RICHARDSON, Julie (2017) | | |
| Members of Chambers | POWELL, Natalie (2017) | | |
| Members of Chambers | TITUS-COBB, Rebecca (2017) | | |
| Members of Chambers | WOOD, Thomas (2017) | | |
| Members of Chambers | McKENNA, John (2018) | | |
| Members of Chambers | JONES, David (2019) | | |
Lawyer Profiles
| Photo | Name | Position | Profile |
| --- | --- | --- | --- |
| | Tarlun Ahari | | View Profile |
| | Robert Akers | | View Profile |
| | Kashif Ali | Kashif is an experienced Employment Law and Personal Injury Barrister. He regularly… | View Profile |
| | Timothy Ashmole | Tim has a strong Criminal practice based, predominantly, in the Midlands and… | View Profile |
| | Pépin Aslett | Pépin has an established reputation as a Senior Junior specialising in commercial… | View Profile |
| | Zahra Baqri | | View Profile |
| | Bunty Batra | | View Profile |
| | Prudence Beever | | View Profile |
| | David Berkley QC | General Commercial Litigation is the primary area of practice with an emphasis… | View Profile |
| | Nigel Booth | | View Profile |
| | Maria Brannan | | View Profile |
| | Andrew Bridgman | Andrew has developed a busy clinical negligence practice covering all areas of… | View Profile |
| | David Bruce | | View Profile |
| | Diarmuid Bunting | | View Profile |
| | Matthew Burdon | | View Profile |
| | Philip Byrne | Philip practises in all areas of real property (both residential and commercial)… | View Profile |
| | Matthew Carey | | View Profile |
| | Richard Carter | Richard practises in Chancery, Commercial and Employment Law, with a particular interest… | View Profile |
| | Lorraine Cavanagh QC | Lorraine practises in all areas of children law, in the health and… | View Profile |
| | Simon Charles | | View Profile |
| | Zoe Cheng | | View Profile |
| | Neil Christian | | View Profile |
| | Robert Cline | | View Profile |
| | Timothy Connolly | | View Profile |
| | Elisabeth Cooper | Elisabeth practises in Family-Finance and Family – Children Law. She is regularly… | View Profile |
| | Simon Crabtree | Simon practises in all areas of child and adult protection/safeguarding including care… | View Profile |
| | Jane Dagnall | | View Profile |
| | Paula Davitt | | View Profile |
| | Frances De Navarro | Frances is a family law specialist. She has a particular interest in… | View Profile |
| | Jonathan Dickinson | | View Profile |
| | Stephen Douglas | | View Profile |
| | Charles Eastwood | Charles practises exclusively in financial areas within family law. Particular interest: Primarily… | View Profile |
| | Simeon Evans | | View Profile |
| | Daniel Frieze | Daniel is Head of the Personal Injury Team at St John's Buildings.… | View Profile |
| | Sonia Gal | Sonia Sonia practises in all areas of Family Law with emphasis on… | View Profile |
| | Hunter Gray | | View Profile |
| | Philip Grundy | Philip practises in all areas of Personal Injury, Clinical Negligence and Employment… | View Profile |
| | Clare Grundy | Clare practises in all areas of family law with a specialist interest… | View Profile |
| | Annette Gumbs | Annette is a specialist Employment Law barrister and former Head of the… | View Profile |
| | Fayaz Hammond | | View Profile |
| | Keith Harrison | Keith specialises in all areas of criminal work and acts for both… | View Profile |
| | Peter Harrison | Peter is a personal injury specialist covering all of the normal and… | View Profile |
| | Sally Harrison QC | Head of Chambers | View Profile |
| | Frances Heaton QC | Frances practises in all aspects of family law concerning children, and sits… | View Profile |
| | Lisa Houghton | | View Profile |
| | Abigail Hudson | Abigail has a significant regulatory practice. She has undertaken a broad spectrum… | View Profile |
| | David James | | View Profile |
| | Charlotte Johnson | | View Profile |
| | David Jones | | View Profile |
| | Yasmin Kauser | Yasmin is a Family Law specialist, and practices exclusively in all areas… | View Profile |
| | Eleanor Keehan | | View Profile |
| | Alexander Kloss | Alex represents clients of high net worth. The cases that he undertakes… | View Profile |
| | Ben Lawrence | Ben's main area of specialism is crime. He both defends and prosecutes.… | View Profile |
| | Andrew Lawson | | View Profile |
| | Douglas Lloyd | | View Profile |
| | Andrew Long | | View Profile |
| | Antony Longworth | | View Profile |
| | Clodagh Maguire | | View Profile |
| | Ghazan Mahmood | Ghazan is an Employment Law specialist. He has a particular interest in… | View Profile |
| | Lucy Marshall | | View Profile |
| | Matthew Mawdsley | Matthew practises in all areas of Civil Law but with a particular… | View Profile |
| | Gemma Maxwell | | View Profile |
| | Steven McGarry | Steven specialises in banking and finance disputes. He has built up a… | View Profile |
| | Pauline McHugh | Pauline is a Family Law specialist dealing with both Public and Private… | View Profile |
| | Brian McKenna | | View Profile |
| | Kevin McNerney | Kevin is an established senior member of the St John's Employment Group… | View Profile |
| | Daniel Metcalfe | | View Profile |
| | Neil Montaldo | Neil Montaldo is a specialist in Matrimonial Finance and receives instructions in… | View Profile |
| | Liam Murdin | | View Profile |
| | Simon Murray | Simon practices in Personal Injury and Clinical Negligence, Inquests, Accidents Abroad, and… | View Profile |
| | Laura Nash | | View Profile |
| | Richard Norton - Head of Chambers | Richard is an expert in clinical negligence and complex personal injury. Richard… | View Profile |
| | Andrew O'Byrne QC | Andrew O'Byrne QC is a leading Silk who practises throughout the country… | View Profile |
| | Samantha Openshaw | | View Profile |
| | Richard Orme | | View Profile |
| | William Paris | | View Profile |
| | Lisa Partington | Lisa practises in all areas of family law including Care proceedings, Adoption,… | View Profile |
| | David Pojur | David specialises in Regulatory law covering the areas of Healthcare & Professional Discipline, Inquests, Health… | View Profile |
| | William Poole | | View Profile |
| | Nicholas Price | Nicholas joined St John's Buildings in 2013, bringing with him in excess… | View Profile |
| | Sufiyan Rana | Sufiyan specialises in Personal Injury, focussing particularly on catastrophic injuries, clinical negligence,… | View Profile |
| | Michael Redfern QC | Michael specialises in clinical negligence (cerebral palsy in particular), personal injury (catastrophic… | View Profile |
| | Elliw Roberts | | View Profile |
| | Joanna Rodikis | | View Profile |
| | Niamh Ross | | View Profile |
| | Karl Rowley QC | Karl represents local authorities, parents and extended families, and children (whether directly… | View Profile |
| | Rachael Rowley-Fox | | View Profile |
| | Jason Searle | Jason is a specialist employment and equality law barrister, representing employers and… | View Profile |
| | Gordon Semple | | View Profile |
| | Eric Shannon | | View Profile |
| | Thomas Sherrington | | View Profile |
| | Alexandra Simmonds | | View Profile |
| | Raquel Simpson | | View Profile |
| | Ashley Singh | | View Profile |
| | Shaun Spencer | | View Profile |
| | Jacqueline Swain | | View Profile |
| | Jonathan Taylor | | View Profile |
| | Julian Taylor | Julian undertakes a wide variety of cases from being led in murder… | View Profile |
| | Clare Thomas | | View Profile |
| | Gareth Thompson | | View Profile |
| | Jonathan Thompson | | View Profile |
| | Rebecca Titus-Cobb | | View Profile |
| | Henry Vanderpump | | View Profile |
| | Philippa Waddell | Philippa is a family law specialist with significant experience in public and… | View Profile |
| | Jane Walker | Jane is an experienced practitioner in public and private law proceedings, used… | View Profile |
| | David Watson | | View Profile |
| | Alison Whalley | | View Profile |
| | Steven Wild | | View Profile |
| | Zillah Williams | | View Profile |
| | Myles Wilson | | View Profile |
| | Jessica Wilson-Theaker | | View Profile |
| | Hannah Wood | | View Profile |
| | Graeme Wood | | View Profile |
| | Thomas Wood | | View Profile |
| | Alastair Wright | Alastair acts for both Claimants and Defendants in Personal Injury and Professional… | View Profile |
Top Tier Set Rankings
Set Rankings