Set Profile > St Ives Chambers > Birmingham, England
St Ives Chambers
Offices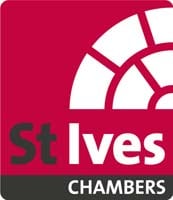 Chambers of Jeremy Weston QC
St Ives Chambers
1-3 WHITTALL STREET
BIRMINGHAM
B4 6DH
England
St Ives Chambers > The Legal 500
Rankings
St Ives Chambers >
Set Profile
Introduction
St Ives is a multidisciplinary set with particular expertise in family law, housing, business and property, regulatory and criminal law. Recognised as one of the leading sets of chambers on the Midland Circuit. It is also unparalleled in the region for its extensive provision of dispute resolution (within family law), ranging from early neutral evaluations, private FDRs, and arbitration.
The set
Chambers works in partnership with all clients including professional and lay clients, local government, companies, and housing associations, in order to ensure consistent excellence in the delivery of services, from initial instruction until case completion. The set prides itself on its attention to detail, approachability and efficiency. This ethos is underpinned by a professional and friendly clerking service that works hard to ensure smooth delivery of services.
St Ives is pleased to enjoy a national profile, accepting instructions from all regions and regularly being instructed in high profile cases across the country.
Chambers is proud of its reputation for outstanding service and excellence in all areas of advocacy and advisory work and boasts some of the most renowned and experienced practitioners in the Midlands, past and present. With over 80 tenants and a dozen silks available for instruction through chambers, St Ives is able to offer clients expertise at all levels.
St Ives is routinely listed in national legal directories as a leading set, with many barristers regularly contributing to legal publications and being published authors of seminal legal texts. Many members of chambers also hold part-time judicial appointments, including Deputy High Court Judges, Recorders, and deputy district judges (both civil and criminal).
Former members include a Lady Justice of Appeal, High Court Judge, and numerous circuit and district judges.
Main Contacts
| Department | Name | Email | Telephone |
| --- | --- | --- | --- |
| Head of chambers | Jeremy Weston | | |
| Members of Chambers | WESTON QC, Jeremy (1991) | | |
| Members of Chambers | ISAACS QC MCIArb, Elizabeth (1998) | | |
| Members of Chambers | GIRET QC, Joseph (1985) | | |
| Members of Chambers | CROWLEY QC- SILK, Jane (1976) (1998)* | | |
| Members of Chambers | TILLYARD QC- SILK, James (1978) (2002)* | | |
| Members of Chambers | GEEKIE QC- SILK, Charles (1985) (2006)* | | |
| Members of Chambers | ENOCH QC- SILK, Dafydd (1985) (2008)* | | |
| Members of Chambers | ALI QC- SILK, Zafar (1994) (2012)* | | |
| Members of Chambers | ALLEN QC- SILK, Nicholas (1995) (2018)* | | |
| Members of Chambers | DOUGLAS-JONES QC- SILK, Ben (1998) (2018)* | | |
| Members of Chambers | THOMAS QC- SILK, Owen (1994) (2018)* | | |
| Members of Chambers | HUGHES QC- SILK, Kate (1992) (2021)* | | |
| Members of Chambers | CHAVASSE, Ann (1971)* | | |
| Members of Chambers | ANTHONY, Peter (1981)* | | |
| Members of Chambers | POWIS, Samantha (1984) | | |
| Members of Chambers | JACKSON, David (1986) | | |
| Members of Chambers | THORNHILL, Teresa (1986)* | | |
| Members of Chambers | CLARKSON, Stuart (1987) | | |
| Members of Chambers | SINGLETON, Michael (1987) | | |
| Members of Chambers | PREEN, Catherine (1988) | | |
| Members of Chambers | SLATER. Julie (1988) | | |
| Members of Chambers | MULLEN, Jayne (1989) | | |
| Members of Chambers | STARKS, Nicholas (1989) | | |
| Members of Chambers | HAYNES, Matthew (1991) | | |
| Members of Chambers | ROGERS, Gregory (1991) | | |
| Members of Chambers | BROWN, Michelle (1992) | | |
| Members of Chambers | LATTIMER, Justine (1992) | | |
| Members of Chambers | LAKIN, Tracy (1993) | | |
| Members of Chambers | HAWKINS, Lucy (1994) | | |
| Members of Chambers | SIMPSON, Graeme (1994) | | |
| Members of Chambers | COOPER, Peter (1996) | | |
| Members of Chambers | TRUSTMAN, Judith (1996)* | | |
| Members of Chambers | HUSSAIN, Basharat (1997) | | |
| Members of Chambers | PRITCHARD, Sarah (1997)* | | |
| Members of Chambers | WATKIN, Tony (1998) | | |
| Members of Chambers | DANTON, Kirstie (1999) | | |
| Members of Chambers | COUGHTRIE MBE, Scott (2000) | | |
| Members of Chambers | JONES, Mark (2000) | | |
| Members of Chambers | SINGH, Karamjit (2000) | | |
| Members of Chambers | BACHE, Nina (2001) | | |
| Members of Chambers | THOMAS, Roger (2001) | | |
| Members of Chambers | BAKER, Claire (2001) | | |
| Members of Chambers | ROGERS, Simon (2002)* | | |
| Members of Chambers | DAY, Andrew (2003) | | |
| Members of Chambers | BOWE, Timothy (2003) | | |
| Members of Chambers | MAYNARD, Matthew (2003) | | |
| Members of Chambers | WADE, Rebecca (2003) | | |
| Members of Chambers | PAYNE, David (2003) | | |
| Members of Chambers | CANEY, Michelle (2004) | | |
| Members of Chambers | PICKEN, James (2004) | | |
| Members of Chambers | TANNEY, Michael (2004) | | |
| Members of Chambers | MALLOY, Andrew (2004)* | | |
| Members of Chambers | LOHMUS, Michael (2005) | | |
| Members of Chambers | BRIGGS, Claire (2005) | | |
| Members of Chambers | CHEETHAM, Gareth (2005) | | |
| Members of Chambers | JACOBS, Amy (2005)* | | |
| Members of Chambers | NEWMAN, Anya (2007) | | |
| Members of Chambers | JACKSON, Charmian (2007) | | |
| Members of Chambers | BURCH, Simon (2007) | | |
| Members of Chambers | LAWAL, TOM (2008) | | |
| Members of Chambers | HARRY, Marcus (2008) | | |
| Members of Chambers | HOWELLS, Dympna (2009) | | |
| Members of Chambers | FAHY, Sarah (2009) | | |
| Members of Chambers | HAMILTON, Annabel (2009) | | |
| Members of Chambers | COOPER, Mark (2009) | | |
| Members of Chambers | JARMOLA, Justin (2009) | | |
| Members of Chambers | CROSS, Natalie (2009) | | |
| Members of Chambers | JACKSON, Amy (2009) | | |
| Members of Chambers | BOND, Julia (2010) | | |
| Members of Chambers | BINNION, Carol (2010) | | |
| Members of Chambers | NUTTALL, David (2010) | | |
| Members of Chambers | HADDEN, Jason (2011) | | |
| Members of Chambers | FIDDY, Matthew (2011) | | |
| Members of Chambers | DOUGLAS-JONES, William (2011) | | |
| Members of Chambers | HARRILL, Tom (2013) | | |
| Members of Chambers | HOWARD, Alyssa (2014) | | |
| Members of Chambers | WILMOTT-LASCELLES, Lucinda (2014) | | |
| Members of Chambers | WINDRIDGE, Ian (2015) | | |
| Members of Chambers | ANBAHAN, Aadhithya (2015) | | |
| Members of Chambers | PRITCHARD-JONES, Alexander (2015) | | |
| Members of Chambers | LANGSTON, Martin (2015) | | |
| Members of Chambers | CROSS, Rebecca (2015) | | |
| Members of Chambers | RICHARDS, Elisabeth (2016) | | |
| Members of Chambers | TALBOT, Jane (2016) | | |
| Members of Chambers | MARSH, Eleanor (2016) | | |
| Members of Chambers | DOBSON, Lawren (2016) | | |
| Members of Chambers | HOUSTON, Angela (2017) | | |
| Members of Chambers | JAGANMOHAN, Malvika (2017) | | |
| Members of Chambers | TROMANS, Priya (2018) | | |
| Members of Chambers | BASHIR, Hasnat (2018) | | |
| Members of Chambers | HILBOURNE-GOLLOP, Holly (2018) | | |
| Members of Chambers | MARRIOTT, Harry (2018) | | |
| Members of Chambers | SMITH, George (2018) | | |
| Members of Chambers | CHURCH, Callum (2018) | | |
| Members of Chambers | MAHMOOD, Zara (2018) | | |
| Members of Chambers | MASON, Terri (2019) | | |
| Members of Chambers | DUGGAN, Thomas (2019) | | |
| Members of Chambers | STEWART, Lachlan (2019) | | |
| Members of Chambers | MARRIOTT, Eloise (2020)† | | |
| Members of Chambers | DJAN, Queenie (2020)† | | |
| Members of Chambers | CAMPBELL, Feargus (2020)† | | |
| | * Door Tenant | | |
| | † Pupil | | |
Barrister Profiles
| Photo | Name | Position | Profile |
| --- | --- | --- | --- |
| | Ms Aadhithya Anabahan | Aadhithya Anabahan is a Barrister specialising in Regulatory and Housing law. Aadhithya's… | View Profile |
| | Ms Nina Bache | Nina is a specialist family law (children) practitioner. In public law matters… | View Profile |
| | Mrs Claire Baker | Claire specialises in Children's Law, primarily care proceedings. She has a broad… | View Profile |
| | Mr Hasnat Bashir | During his long practice as a Solicitor, he regularly appeared for applicants,… | View Profile |
| | Ms Carol Binnion | Carol was a solicitor for 25 years prior to being called to… | View Profile |
| | Ms Julia Bond | Julia Bond has been a specialist Family law practitioner since 1995. She… | View Profile |
| | Mr Timothy Bowe | Timothy is a specialist family law practitioner who has extensive experience in… | View Profile |
| | Ms Claire Briggs | Claire Briggs specialises in all forms of Family law both public and… | View Profile |
| | Ms Michelle Brown | Michelle Brown is a Barrister specialising in Family law. Michelle represents local… | View Profile |
| | Mr Simon Burch | Mr Burch joined Chambers in 2017 having originally practiced at a leading… | View Profile |
| | Mr James Byrne | As a Family law specialist practitioner, James regularly appears in the family… | View Profile |
| | Ms Michelle Caney | Michelle Caney was called to the Bar in 2004 and joined St… | View Profile |
| | Mr Anthony Cartin | Anthony is a specialist criminal barrister with experience of handling the full… | View Profile |
| | Mr Gareth Cheetham | Year of Call: 2005 Gareth represents and advises applicants and respondents in… | View Profile |
| | Mr Stuart Clarkson | Stuart Clarkson has wide-ranging experience in all types of criminal work for… | View Profile |
| | Mr Peter Cooper | Peter deals with heavyweight Criminal work, both defending and prosecuting. He regularly… | View Profile |
| | Mr Mark Cooper | Mark practises exclusively in family law and specialises in matters relating to… | View Profile |
| | Mr Scott Coughtrie MBE | Scott Coughtrie MBE both prosecutes and defends offences of the most serious… | View Profile |
| | Ms Natalie Cross | Natalie is Public Access trained which enables her to accept instructions direct… | View Profile |
| | Ms Rebecca Cross | Rebecca is a Family law specialist with an established practice in family… | View Profile |
| | Ms Kirstie Danton | For private law, Kirstie is regularly instructed by parents, grandparents and guardians… | View Profile |
| | Mr Andrew Day | Andrew Day is a Barrister specialising in Arbitration and Family (finance). He… | View Profile |
| | Mr William Douglas-Jones | Will has a busy criminal practice. His practice includes, inter alia, matters… | View Profile |
| | Ms Sarah Fahy | Sarah is a specialist family law practitioner with a diverse public and… | View Profile |
| | Mr Matthew Fiddy | Matthew has an established practice in public and private children's cases. | View Profile |
| | Mr Joseph Giret | Joseph Giret QC has a successful practice and enjoys a formidable reputation… | View Profile |
| | Mr Jason Hadden MBE | Jason appears on a daily basis in courts all over the country… | View Profile |
| | Ms Annabel Hamilton | Annabel Hamilton is a Barrister specialising in Family law (both public and… | View Profile |
| | Mr Tom Harrill | Tom practises exclusively in Family law and specialises in matters related to… | View Profile |
| | Mr Marcus Harry | Marcus is a well-established criminal barrister with extensive Crown Court experience. He… | View Profile |
| | Ms Lucy Hawkins | She has over 18 years' experience in cases relating to children, and… | View Profile |
| | Mr Matthew Haynes | Matthew Haynes's work includes contentious probate work, including issues relating to the… | View Profile |
| | Ms Angela Houston | Angela qualified as a solicitor in 1992 and has 25 years of… | View Profile |
| | Ms Alyssa Howard | Alyssa has a particular interest in difficult and complex private children cases… | View Profile |
| | Mr Dympna Howells | A former solicitor and partner in a large regional practice, Dympna has… | View Profile |
| | Mr Basharat Hussain | Year of Call: 1997 With his wealth of knowledge and understanding of… | View Profile |
| | Ms Elizabeth Isaacs | Elizabeth is highly regarded and has an established national reputation for her… | View Profile |
| | Ms Amy Jackson | Amy is Level 3 on the CPS Advocates Panel, and Serious Organised… | View Profile |
| | Mr David Jackson | David is a Barrister specialising in Criminal Law. He has defended in… | View Profile |
| | Ms Charmian Jackson | Charmian is an experienced and tenacious advocate who regularly appears for applicants,… | View Profile |
| | Mr Justin Jarmola | Justin is regularly instructed in cases alleging Homicide, Drug Importation and Supply,… | View Profile |
| | Mr Mark Jones | Mark's Housing law area of expertise lies where human rights and public… | View Profile |
| | Ms Eleanor Lake | Prior to joining the bar, Eleanor had a successful career within Warwickshire… | View Profile |
| | Ms Tracy Lakin | Tracy practises in Public Law Children, Private Law Children applications. She is… | View Profile |
| | Mr Martin Langston | He has developed a busy and varied litigation practice routinely appearing at… | View Profile |
| | Ms Justine Lattimer | Justine Lattimer specialises in child protection. She is highly experienced in serious… | View Profile |
| | Mr Tom Lawal | Year of Call: 2008 Tom accepts instructions in all areas of housing… | View Profile |
| | Mr Michael Lohmus | Michael acts for parents and children with disabilities including those with severe… | View Profile |
| | Ms Eleanor Marsh | Eleanor has a busy family practice and is regularly instructed to represent… | View Profile |
| | Mr Matthew Maynard | Matthew is a specialist family practitioner with a wide children law practice,… | View Profile |
| | Ms Jayne Mullen | Jayne is Head of the Matrimonial Finance Group and a Pupil Supervisor.… | View Profile |
| | Ms Anya Newman | Anya Newman specialises in Property and Business with an emphasis on real… | View Profile |
| | Mr David Nuttall | David would describe himself primarily as a property practitioner and has a… | View Profile |
| | Mr David Payne | David is a family law specialist with who is regularly instructed in… | View Profile |
| | Mr Jason Pegg | Jason Pegg is an experienced and well regarded criminal barrister with wide-ranging… | View Profile |
| | Mr James Picken | James Picken is a Barrister specialising in private family law and financial… | View Profile |
| | Ms Samantha Powis | She is experienced in dealing with all types of crime including homicide and other… | View Profile |
| | Miss Catherine Preen | Cathy has practised exclusively in Family law since 1990. She represents parents… | View Profile |
| | Mr Alexander Pritchard-Jones | Prior to joining the Bar, Alexander gained several years of commercial legal… | View Profile |
| | Ms Elisabeth Richards | Elisabeth was a solicitor for 15 years prior to her call to… | View Profile |
| | Mr Gregory Rogers | Greg is a specialist family lawyer who practices exclusively in cases concerning… | View Profile |
| | Mr Kevin Saunders | Kevin Saunders is a well-regarded advocate with a good manner in court.… | View Profile |
| | Mr Graeme Simpson | Graeme has wide-ranging experience in all types of criminal work for both… | View Profile |
| | Mr Karamjit Singh | Karamjit Singh is specialist civil litigator predominantly working in the fields of… | View Profile |
| | Mr Michael Singleton | As Head of the Housing Practice Group, he has pioneered the development… | View Profile |
| | Ms Julie Slater | Since being called to the bar in 1988, Julie practices exclusively in… | View Profile |
| | Mr Nicholas Starks | Nicholas is a senior junior counsel with over 25 years' experience, specialising… | View Profile |
| | Ms Jane Talbot | Jane has a high profile for Housing work and has been at… | View Profile |
| | Mr Roger Thomas | Roger enjoys a thriving family finance practice, representing litigants under the Matrimonial… | View Profile |
| | Ms Priya Tromans | Priya has practised litigation for over seven years, with experience in a… | View Profile |
| | Ms Rebecca Wade | Rebecca Wade was called to be the Bar in 2003, and is… | View Profile |
| | Mr Tony Watkin | Tony developed a strong practice in Business and Property litigation. He has… | View Profile |
| | Mr Jeremy Weston | Jeremy is the Head of St Ives Chambers, Head of Family Team… | View Profile |
| | Ms Lucinda Wilmott-Lascelles | Year of Call: 2014 | View Profile |
| | Mr Ian Windridge | Ian qualified as a Solicitor in 1998 (Higher Rights Criminal in 2008).… | View Profile |
Top Tier Set Rankings
Set Rankings