Ayesha Smart > 33 Bedford Row > London, England > Lawyer Profile
33 Bedford Row
Offices
33 Bedford Row
LONDON
WC1R 4JH
England
Ayesha Smart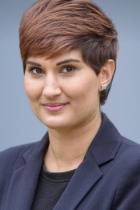 Work Department
Position
Introduction
Ayesha enjoys a mixed practice of crime, regulatory, civil and commercial.
Ayesha prosecutes and defends a variety of offences, however, her speciality is in serious crime.
She accepts instructions across a broad range of civil and commercial litigation including contract disputes, property disputes, personal injury and negligence. With a medico-legal background Ayesha has particular strength in healthcare and regulatory matters.
Career
Crime
Ayesha both prosecutes and defends in all areas of criminal law. She is instructed in the full range of criminal cases from homicide, drug trafficking, serious violence, sexual offences and fraud, often requiring a level of expertise and skill normally associated with somebody of much more senior call.
Ayesha has specific expertise in drug conspiracies, modern slavery and serious crime where there are medical issues. She is adept at dealing with expert evidence both in relation to presentation before juries and cross-examination.
Ayesha has a particular passion for Animal Law and is a renowned RSPCA prosecutor. She also regularly advises and represents those who are charged with offences contrary to the Dangerous Dog Act 1991, Animal Welfare Act 2006 and Wildlife and Countryside Act 1981.
Panels
CPS RASSO Panel
General CPS Panel Advocate Grade 3
CPS Specialist Panel Advocate for Serious Crime Grade 3
Cases
R v Fare [2021] – defended as sole counsel in a murder trial at Preston Crown Court. The Defendant was deemed to unfit to plead and a fact finding trial was undertaken to determine whether the act had been committed. Ayesha was successful in excluding both the Defendant's confessions and bad character evidence. Nevertheless, there was overwhelming blood spatter and DNA evidence, but Ayesha ensured that the Defendant received a fair trial in the circumstances. The Defendant was sentenced to a s37 hospital order with s41 restrictions.
R v Langton [2021] – defended in a rape trial at Durham Crown Court where the Defendant was alleged to have raped the complainant once she had passed out on the sofa. The complainant allegedly woke up during the act of the rape and immediately reported the matter to her housemate. Ayesha secured a unanimous acquittal.
R v Cross [2021] – defended in a rape case at Burnley Crown Court involving multiple counts of rape and one of attempted rape. Successfully opposed the admission of bad character for a sexual offence. Defendant was unanimously acquitted of all counts.
R v Musgrave [2020] – led junior for the defence in an allegation of joint enterprise murder at Teesside Crown Court. Defendant was unanimously acquitted of murder and manslaughter
R v Smith [2020] – defended at Leeds Crown Court in a section 28, child kidnapping case. Defendant was unanimously acquitted.
R v Haegar [2019]– defended at York Crown Court against multiple allegations of sexual assault each involving differing issues. Defendant was unanimously acquitted.
R v Lowther [2019] – prosecution junior for a complex, circumstantial case of attempted murder tried at Bradford Crown Court. Successful at the Court of Appeal in overturning a terminatory ruling.
R v Saeed [2019] – defending at Bradford Crown Court in a case involving an aggravated robbery committed by a paranoid schizophrenic. Eventually a s37 MHA order was made with s41 restrictions.
R v Skop [2018] – defending in a long running multi-handed modern slavery case at Sheffield Crown Court. Led by Nigel Edwards QC. Was successful in reducing a 10-count indictment involving multiple offences contrary to the Modern Slavery Act down to a few simple fraud offences after legal arguments.
Operation Satin [2018] – defending in a county lines drug trafficking and money laundering conspiracy at Manchester Crown Court. The Defendant was left facing offences relating to firearms with intent to endanger life. The Defendant's DNA was alleged to be on the firearm by the Prosecutions forensic expert​. Defendant was unanimously acquitted.
Operation Shinbone [2018] – prosecution junior in one of HMRC's top 3 prosecutions of 2018 at Teesside Crown Court. The largest haul was discovered on the back of a lorry in Middlesbrough where officers found 2,204,620 non-UK duty paid cigarettes hidden among a shipment of fridge freezers. Successfully prosecution of 7 Defendants.
R v Chec [2018] – defending in a long running multi-handed modern slavery case at Teesside Crown Court. Led by Nigel Edwards QC.
Personal Injury
Ayesha has a wide knowledge of personal injury claims regularly acting for both Claimants and Defendants conducting multi-track trials, fast track trials, disposal hearings, CCMCs, interlocutory hearings stage 3 hearings and small claims. She regularly appears in the County Court and the High Court.
Ayesha also provides advice on liability, quantum, Part 36 offer and drafts pleadings and schedules of loss.
Ayesha's prior career within the NHS and training in medical science has provided her with heightened insight when it comes to personal injury, industrial disease and clinical negligence matters. Ayesha has a strong working knowledge in anatomy, physiology and pathology. She is also proficient in peripheral specialities such as microbiology, pharmacology, genetics, chemotherapy and virology.
Accordingly, Ayesha has a particular interest in:
– Fatal accidents
– Catastrophic injuries
– Clinical negligence
– Inquests
Regulatory
Health Care Regulation
Ayesha has considerable experience advising and representing a wide range of medical and healthcare practitioners including doctors, dentists, nurses and opticians in respect of disciplinary proceedings. She has experience in appearing before fitness to practice committees dealing with final fitness to practice hearings, sanctions and interim suspensions.
Ayesha also has expertise in criminal defence cases, where she has represented professionals charged with criminal offences, ranging from teachers to clinical practitioners. Ayesha is particularly well placed to deal with professional discipline matters involving quasi-criminal allegations and has represented Registrants in conviction cases and those involving serious dishonesty charges.
Ayesha has also been involved in training investigators at the Health and Safety Executive and training expert witnesses, including drug experts, road traffic collision experts and forensic experts.
Claims Management/FCA
Ayesha has advised and represented professionals on collective Investment Schemes, fit and proper person rules for scheme members and advice regarding unregulated investments. She also provides l advice regarding PPI fees in respect of Conduct of Authorised Persons Rules 2013 and has defended in criminal prosecutions of companies and their directors for breach of the regulations.Counsel in the First Tier Tribunal Regulatory Chamber Appeal in Help Your Claim v MOJ involving an investigation under Compensation (Claims Management Services) Regulations 2006.
Private Prosecutions
Ayesha regularly advices and appears on behalf of the Trading Standards regarding food safety, product safety and the provision of services. Ayesha regularly advises in Food Crime cases, both for the Prosecution and the Defence involving the selling food which is damaging to health, not of the quality that consumers expect or mistakes in the way in which the food is labelled, advertised, packaged and presented, which result in allegations that the labelling is false or misleading. The majority of cases turn on whether or not the Defendant company has a defence that they took all reasonable steps in 'due diligence'.
Ayesha has experience prosecuting in respect of private prosecutions lead by the Security Industry Authority, Royal Mail, the Local Authority and the RSPCA.
Ayesha also has experience with prosecuting and defending in confiscation, taxi licencing, alcohol licensing and HMO licensing.
Inquests
Ayesha has experience in the Coroner's Court (coroner and jury) representing interested parties in inquests involving deaths in custody, neglect, medical malpractice, mental health, substance abuse and road traffic accidents. She has a particular interest in cases involving medical malpractice and vulnerable parties. The majority of cases in which she is instructed are Article 2 and jury inquests.
Professional Negligence
Ayesha regularly advises on professional negligence or misconduct matters and settles pleadings in respect of the same. Her experience includes cases relating to lawyers, accountants, construction professionals, engineers, surveyors, brokers and financial advisors.
Ayesha also has extensive experience of claims against the police. She is regularly instructed in cases concerning serious police failings, including those leading to serious injury, and has experience of claims under the HRA, the Equality Act, the Data Protection Act and for misfeasance and malicious prosecution.
Property
Ayesha has built up a successful practice in residential and commercial property disputes. She has experience acting on behalf of public landlords, private landlords, freeholders and tenants.
Her practice consists of possession claims, unlawful evictions, dilapidation claims, easements, boundary disputes, nuisance and breaches of covenant. She often deals with claims under the Occupiers Liability Acts, the Defective Premises Act and the Trusts of Land and Appointment of Trustees Act and regularly settles pleadings or advises in respect of such matters.
Ayesha regularly appears in the Business and Property Court and the Queens Bench Division.
Commercial
Ayesha's commercial practice spans across commercial contract disputes, sales of goods, bankruptcy proceedings and intellectual property disputes.
Memberships
Criminal Bar Association
Personal Injuries Bar Association
UK Centre for Animal Law
Education
LLM in Medical Law and Ethics – University of Edinburgh
LLB (hons) – BPP University
BSc (hons) in Medical Science – University of Leeds
Awards & Prizes
Gray's Inn Ann Ebsworth Award
Gray's Inn Mooting Competition 2014 – first runner up
Outstanding Contribution to Pro Bono Award 2014
Outstanding Contribution to Pro Bono Award 2013
KBW Mooting Competition 2012 – winner
Lawyer Rankings
(Leading Juniors)
Ranked: Tier 3
Ayesha Smart  – 33 Bedford Row North 'Ayesha is confident and has a steadfast approach to court advocacy, with fierce determination and tenacity exhibited in equal measure. She remains unflappable in even the most difficult cases.'
Top Tier Firm Rankings
Firm Rankings