Set Profile > 7 King's Bench Walk > London, England
7 King's Bench Walk
Offices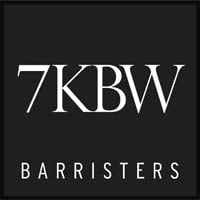 Chambers of Gavin Kealey QC
7 King's Bench Walk
TEMPLE
LONDON
EC4Y 7DS
England
7 King's Bench Walk > The Legal 500
Rankings
7 King's Bench Walk >
Set Profile
THE CHAMBERS
7 King's Bench Walk (7KBW) has a pre-eminent reputation for excellence and intellectual rigour in all areas of commercial law. Chambers is at the cutting edge of developments in commercial law. 7KBW is known as one of the friendliest commercial chambers. As advocates, members of 7KBW accept instructions to appear in any court, tribunal or board of enquiry in England and Wales. 7KBW specialises in cases before the Commercial Court and in commercial arbitrations in London. With their commercial expertise, members also appear in other jurisdictions, including Hong Kong, Singapore, Bermuda, Cayman Islands, the Bahamas, the British Virgin Islands and Gibraltar, and before inter-national arbitration tribunals in numerous jurisdictions.  Members undertake advisory work and the creation of written submissions and legal documents for litigation and non-contentious matters. Members regularly sit as arbitrators and/or mediators and also as court-appointed  examiners for the purpose of conducting deposition hearings. Several members have written or contributed to leading legal textbooks, articles in the press and journals, and contributed to academic research.
WORK UNDERTAKEN
7KBW's practice areas are exclusively commercial. Members have a respected expertise in the full breadth of commercial law: 7KBW has maintained an enviable reputation and experience in all aspects of insurance and reinsurance; shipping and transport; professional negligence; international trade and commodities; energy, oil and gas; international arbitration; injunctions and arrests; shipbuilding; banking and financial services; product liability; futures and derivatives; aviation; media and communications; construction; conflicts of law; state immunity; international investment and a growing reputation in civil fraud. Recent high profile cases include Financial Conduct Authority v MS Amlin & Ors, Enka Insaat  v Chubb,  Financial Reporting Council v Autonomy, MV Atlantik Confidence, Simetra Global Assets Ltd v Ikon Finance, Brillante Virtuoso, Libyan Investment Authority v JP Morgan, Equitas Insurance Ltd v Municipal Mutual, OW Bunkers, Ocean Victory, Republic of Djibouti v Boreh, Yukos Finance v Lynch, Manchester Building Society v Grant Thornton, Cattles v PwC, Sebry v Companies House, Rathbone Bros v Novae Corp and Excalibur Ventures v Texas Keystone. A large proportion of 7KBW's practice is of an international flavour and members regularly work with overseas clients and foreign lawyers. In appropriate circumstances members are delighted to accept instructions directly from overseas clients and foreign lawyers.
RECRUITMENT
7KBW attracts pupils of only the highest quality, and pursues a policy of only taking tenants of such quality either from those starting their careers in law or from those in mid-career who have elected to change from another part of the profession. The emphasis on quality has meant a steady but selective growth in the overall number of tenants over the past years.
Chambers and Partners has named 7KBW "Chambers of the year" for Insurance (2019,2017,2016,2014,2013,2011,2010,2009,2008,2007 & 2006) and  Shipping (2017 & 2016). Legal 500 has named 7KBW "Chambers of the year" for Shipping (2018 & 2017) and Commercial Litigation (2017).
For further information about 7 King's Bench Walk and the range of work carried out by its members, please visit the chambers' website at  www.7kbw.co.uk.
Main Contacts
| Department | Name | Email | Telephone |
| --- | --- | --- | --- |
| Clerks | Bernie Hyatt | | |
| Clerks | Greg Leyden | | |
| Clerks | Eddie Johns | | |
| Clerks | Gary Rose | | |
| Clerks | Joe Clayton | | |
| Barrister | KEALEY QC, Gavin (1977) | | |
| Barrister | SALOMAN QC, Timothy (1975) | | |
| Barrister | GAISMAN QC, Jonathan (1979) | | |
| Barrister | KENDRICK QC, Dominic (1981) | | |
| Barrister | SCHAFF QC, Alistair (1983) | | |
| Barrister | HOFMEYR QC, Stephen (1982) | | |
| Barrister | FENTON QC, Adam (1984) | | |
| Barrister | KENNY QC, Stephen (1987) | | |
| Barrister | SOUTHERN QC, Richard (1987) | | |
| Barrister | BRIGHT QC, Robert (1987) | | |
| Barrister | BAILEY QC, David (1989) | | |
| Barrister | EDWARDS QC, David (1989) | | |
| Barrister | DIAS QC, Julia (1982) | | |
| Barrister | ALLEN QC, David (1990) | | |
| Barrister | PHILLIPS QC, SJ (1993) | | |
| Barrister | HEALY QC, Siobán (1993) | | |
| Barrister | DRAKE QC, James (1998) | | |
| Barrister | MacDONALD EGGERS QC, Peter (1999) | | |
| Barrister | WALES QC, Andrew (1992) | | |
| Barrister | SABBEN-CLARE QC, Rebecca (1993) | | |
| Barrister | WALLER QC, Richard (1994) | | |
| Barrister | KHURSHID QC, Jawdat (1994) | | |
| Barrister | BROCKLEBANK QC, James (1999) | | |
| Barrister | PRIDAY, Charles (1982) | | |
| Barrister | GEARY, Gavin (1989) | | |
| Barrister | KENEFICK, Timothy (1996) | | |
| Barrister | BIGNALL, John (1996) | | |
| Barrister | HOLROYD, Charles (1997) | | |
| Barrister | KERR, Simon (1997) | | |
| Barrister | HOLMES, Michael (1999) | | |
| Barrister | PARKER, Benjamin (2000) | | |
| Barrister | GOTTS, Anna (2001) | | |
| Barrister | MacDONALD, Alexander (2001) | | |
| Barrister | HIGGS, Josephine (2000) | | |
| Barrister | SUTHERLAND, Jessica (2003) | | |
| Barrister | MANDER, Marcus (2005) | | |
| Barrister | CASEY, Noel (2005) | | |
| Barrister | SARLL, Richard (2005) | | |
| Barrister | HILLIARD, Emma (2006) | | |
| Barrister | COWEY, Sarah (2006) | | |
| Barrister | ANANDA, Sushma (2007) | | |
| Barrister | MARTIN, Sarah (2008) | | |
| Barrister | HEALY, Sandra (2007) | | |
| Barrister | TURNER, Adam (2008) | | |
| Barrister | LINDESAY, Elizabeth (2009) | | |
| Barrister | JENNS, Tim (2009) | | |
| Barrister | GALE, Jocelin (2009) | | |
| Barrister | HOWIE, Keir (2010) | | |
| Barrister | RYAN, Michael (2011) | | |
| Barrister | WRIGHT, Harry (2012) | | |
| Barrister | DU, Stephen (2012) | | |
| Barrister | ROBINSON, Jason (2012) | | |
| Barrister | BENN, Clara (2012) | | |
| Barrister | PEARSON, Andrew (2013) | | |
| Barrister | GOUDKAMP, James (2014) | | |
| Barrister | ASPIN, Philip (2014) | | |
| Barrister | ALLIOTT, Frederick (2015) | | |
| Barrister | MORLEY, Ralph (2016) | | |
| Barrister | MOORE, Henry (2016) | | |
| Barrister | CORTEVILLE, Daniel (2016) | | |
| Barrister | ASHWELL, Henry (2017) | | |
| Barrister | GRANT, Douglas (2018) | | |
| Barrister | JACOBS, Rebecca (2018) | | |
| Barrister | PAYNE, Charlotte (2019) | | |
| Barrister | GIBBON, Julia (2019) | | |
| Full Time Arbitrator | MANCE, Lord Jonathan | | |
| Full Time Arbitrator | TOMLINSON, Sir Stephen | | |
| Full Time Arbitrator | COOKE, Sir Jeremy | | |
Barrister Profiles
| Photo | Name | Position | Profile |
| --- | --- | --- | --- |
| | David Allen QC | Barrister specialising in all aspects of commercial law, including insurance, reinsurance, sale… | View Profile |
| | Frederick Alliott | | View Profile |
| | Sushma Ananda | Sushma has a broad commercial practice with a particular emphasis on insurance… | View Profile |
| | Henry Ashwell | | View Profile |
| | Philip Aspin | | View Profile |
| | David Bailey QC | Barrister specialising in general commercial law including conflicts of laws, shipping, insurance,… | View Profile |
| | Clara Benn | Clara specialises in all aspects of commercial law, with a particular emphasis… | View Profile |
| | John Bignall | John specialises in commercial law, in particular in the following areas: General… | View Profile |
| | Robert Bright QC | Robert Bright practises primarily as an advocate and case-leader with experience in… | View Profile |
| | James Brocklebank QC | James has a broad practice encompassing all areas of commercial litigation, including… | View Profile |
| | Noel Casey | Barrister specialising in all aspects of commercial law including insurance and reinsurance;… | View Profile |
| | Sir Jeremy Cooke | | View Profile |
| | Daniel Corteville | | View Profile |
| | Sarah Cowey | Barrister specialising in all areas of commercial law, including insurance, reinsurance, carriage… | View Profile |
| | Julia Dias QC | Barrister, Deputy High Court Judge, commercial arbitrator and accredited mediator (CIArb). Specialisms… | View Profile |
| | James Drake QC | Barrister specialising in commercial litigation and international commercial arbitration; arbitrator. | View Profile |
| | Stephen Du | Commercial litigation, insurance and reinsurance and shipping. | View Profile |
| | David Edwards QC | Barrister specialising in commercial law predominantly insurance and reinsurance, shipping, banking and… | View Profile |
| | Adam Fenton QC | Barrister specialising in marine and non-marine insurance (including Lloyd's matters), reinsurance, banking,… | View Profile |
| | Jonathan Gaisman QC | Barrister and arbitrator specialising in all fields of commercial law, particularly insurance,… | View Profile |
| | Jocelin Gale | Barrister specialising in all aspects of commercial litigation and arbitration, with particular… | View Profile |
| | Gavin Geary | Barrister specialising in international trade, shipping, carriage of goods, arbitration, and insurance… | View Profile |
| | Julia Gibbon | | View Profile |
| | Anna Gotts | Barrister specialising in all areas of commercial law including carriage of goods,… | View Profile |
| | James Goudkamp | James practises in all areas of commercial law although he has a… | View Profile |
| | Douglas Grant | | View Profile |
| | Sandra Healy | Sandra has a broad commercial practice with particular focus on shipping, international… | View Profile |
| | Siobán Healy QC | Barrister and Arbitrator specialising in general commercial law disputes, including insurance; reinsurance;… | View Profile |
| | Josephine Higgs | Jo's practice encompasses all areas of commercial law with a particular emphasis… | View Profile |
| | Emma Hilliard | Barrister specialising in all areas of commercial law, including insurance and reinsurance,… | View Profile |
| | Stephen Hofmeyr QC | Barrister specialising in insurance, reinsurance, banking, international trade, shipping, professional malpractice; cases:… | View Profile |
| | Michael Holmes | Barrister specialising in insurance/reinsurance, shipping disputes, commercial fraud and general commercial litigation,… | View Profile |
| | Charles Holroyd | Barristers specialising in commercial law; shipping, insurance/reinsurance, international carriage of goods by… | View Profile |
| | Keir Howie | Barrister specialising in all aspects of commercial litigation and arbitration, with an… | View Profile |
| | Rebecca Jacobs | Rebecca is developing a practice across all areas of commercial law, with… | View Profile |
| | Tim Jenns | Tim has a broad commercial practice with a particular focus on insurance… | View Profile |
| | Gavin Kealey QC | Barrister and arbitrator specialising in all aspects of commercial law, in particular… | View Profile |
| | Dominic Kendrick QC | Barrister specialising in commercial law, particularly insurance shipping (including shipbuilding), commodities and… | View Profile |
| | Timothy Kenefick | Tim specialises in all aspects of commercial law, with particular emphasis on… | View Profile |
| | Stephen Kenny QC | Barrister specialising in shipping, insurance and reinsurance. Shipping work includes bill of… | View Profile |
| | Simon Kerr | Simon is a barrister specialising in commercial law and all aspects of… | View Profile |
| | Jawdat Khurshid QC | As part of a broad commercial litigation and arbitration practice, Jawdat Khurshid… | View Profile |
| | Elizabeth Lindesay | Barrister practising across a wide range of areas of commercial law, with… | View Profile |
| | Alexander MacDonald | Barrister specialising in all areas of commercial law, including insurance and reinsurance,… | View Profile |
| | Peter MacDonald Eggers QC | Barrister specialising in insurance/reinsurance, commodities, shipping, international investment contracts and international arbitration. | View Profile |
| | Lord Jonathan Mance | | View Profile |
| | Marcus Mander | Barrister specialising in all areas of commercial law, including shipping, general commercial… | View Profile |
| | Sarah Martin | Barrister specialising in all aspects of commercial law, including insurance and reinsurance;… | View Profile |
| | Henry Moore | Henry became a tenant of 7KBW in September 2017 upon completion of… | View Profile |
| | Ralph Morley | Ralph joined Chambers in September 2017 upon successful completion of his pupillage… | View Profile |
| | Benjamin Parker | Barrister specialising in all aspects of commercial law, particularly insurance and reinsurance,… | View Profile |
| | Charlotte Payne | | View Profile |
| | Andrew Pearson | Barrister | View Profile |
| | SJ Phillips QC | Barrister specialising in general commercial law, including insurance and reinsurance, international trade… | View Profile |
| | Charles Priday | Barrister specialising in general commercial law, particularly shipping, insurance and reinsurance, banking,… | View Profile |
| | Jason Robinson | Barrister specialising in all aspects of commercial litigation and arbitration. Recent work… | View Profile |
| | Michael Ryan | Michael Ryan is a commercial barrister whose practice encompasses cross-border disputes, contentious… | View Profile |
| | Rebecca Sabben-Clare QC | Commercial law, including professional negligence, shipping, insurance and international arbitration. Current cases… | View Profile |
| | Timothy Saloman QC | Barrister specialising in general commercial law, including shipping, sale of goods, insurance… | View Profile |
| | Richard Sarll | Richard Sarll is a barrister specialising in commercial and admiralty law, with… | View Profile |
| | Alistair Schaff QC | Barrister and Arbitrator specialising in all aspects of international commercial law, including… | View Profile |
| | Richard Southern QC | Barrister specialising in commercial litigation and arbitration, including shipping, international trade, energy,… | View Profile |
| | Jessica Sutherland | Barrister specialising in all areas of commercial law including insurance, reinsurance, carriage… | View Profile |
| | Sir Stephen Tomlinson | | View Profile |
| | Adam Turner | Barrister practising commercial law and corporate litigation. He has particular expertise in… | View Profile |
| | Andrew Wales QC | Barrister specialising in general commercial law, particularly all aspects of insurance and… | View Profile |
| | Richard Waller QC | Barrister specialising in general commercial law, including insurance and reinsurance, shipping, civil… | View Profile |
| | Harry Wright | Insurance and reinsurance: as pupil to Rebecca Sabben-Clare QC, assisted with preparation… | View Profile |
Top Tier Set Rankings
Set Rankings