Set Profile > Chambers of Jonathan Laidlaw QC > London, England
Chambers of Jonathan Laidlaw QC
Offices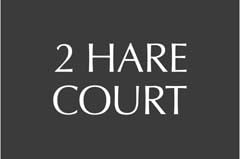 Chambers of Jonathan Laidlaw QC
2 Hare Court
TEMPLE
LONDON
EC4Y 7BH
England
Chambers of Jonathan Laidlaw QC > The Legal 500
Rankings
Chambers of Jonathan Laidlaw QC >
Firm Profile
Described by The Legal 500 as "€first class' crime set"€™ that "will not let you down" and by Chambers UK as a set which is "€˜outstanding" and "highly impressive"€™ with "very strong advocates" €™that "offers a complete service", 2 Hare Court has been recognised consistently as one of the UK's leading chambers specialising in crime, business crime, private prosecution, financial services, tax, professional discipline, health & safety, regulatory law, inquests and inquiries and sports law and other related fields.
The set: Chambers comprises 66 tenants including 21 Queen's Counsel and 12 members who sit as recorders. Many former members of chambers have become High Court and District Judges. Chambers provides counsel of first choice to leading defence firms as well as principal prosecuting authorities in London, nationwide and abroad. It has a proven track record of delivering the highest standards of service to clients, together with excellence in advocacy and trial management in cases of the utmost gravity and complexity.
2 Hare Court is consistently recognised as one of the UK'€™s leading sets of expert barristers in their specialised practice areas with members and the set alike being shortlisted for numerous awards in both the Legal 500 and Chambers UK awards. The set'€™s barristers provide early and strategic analysis and advice, as well as advocacy of the highest quality where cases cannot be resolved at an early stage and need to progress to trial.
2 Hare Court was recognised as one of the top sets in the country for client service at the Bar in Chambers UK 2017 and were quoted as "very approachable, organised, contactable even late into the night, and always clear about what they can achieve and offer".
"The clerks are outstanding. They bend over backwards to help and have an incisive understanding of specialist areas of law which enables them to tailor their assistance accordingly."
More information on its barristers and work can be found at www.2harecourt.com.
Types of work undertaken:
Crime: the strength and depth of experience among 2 Hare Court's specialist advocates sees them advising, defending and prosecuting in all forms of criminal work, particularly in serious and complex cases of terrorism (including special advocate work), murder, honour killings, international drug and human trafficking, serious organised crime and sexual offences (especially historic). Recent cases include: Paddy Jackson trial, Finsbury Park Attacker Darren Osbourne, the French nanny Sophie Lionnet murder trial, The Adam Johnson trial, Operation Tabernula, Operation Yew Tree, Operation Elveden (phone hacking), Huhne and Pryce, Lee Rigby and others.
Business crime and financial services: members of chambers are routinely instructed in the largest and most complex financial crime cases. Its experience includes all forms of fraud, MTIC/VAT tribunal hearings, market abuse (insider dealing, LIBOR and manipulation of other benchmark rates), asset recovery/forfeiture and restraint/confiscation proceedings. Recent cases include: Cambridge Analytica, Operation Amazon, SFO v Rolls Royce,  FOREX, '€˜Blue Index'€™, BA price fixing case, Operation Tabernula, SFO v Tchenguiz, lnnospec, and MP/Lords'€™ expenses.
Private Prosecution: 2 Hare Court is a pioneering set in the area of private prosecution and their private prosecution team have considerable experience of advising and representing clients on both sides of private prosecutions. Numerous members are senior former and current prosecutors, including those who have acted as First Senior, Senior and Junior Treasury Counsel. Recent cases: Swiss oil company Allseas Group  (largest privately prosecuted fraud to have ever been brought), R v K (private prosecution brought following long running civil fraud proceedings, R v G, H & A (defence of a privately prosecuted fraud).
Professional Discipline: members have extensive expertise in this field, appearing, in particular, before all healthcare regulators, primarily defending members of all the major MDOs as well as other professionals. The set also appears in proceedings involving the police, accountants and actuaries, tax advisers, solicitors, sports professionals, telecommunications and others.
Regulatory crime: Members of 2 Hare Court advise and represent corporate and individual clients facing proceedings brought by regulators including the Health & Safety Executive, Environment Agency, Trading Standards and local authorities. The team advises at every stage of an investigation pre-charge on issues such as the approach to take in interview, evidence gathering and legal privilege. Recent cases: Grenfell, Chevron, Topcon, Monovan, Hillsborough, Essar Oil, Princes Sporting Club, Lion Steel, Cavendish Masonry and Hugo Boss.
Inquests: 2 Hare Court has a team of specialists with extensive experience of advocacy. Members of the Inquest & Public Inquiry team have acted in the most complex and high profile cases of recent times, including; Hillsborough, the Independent Inquiry into Child Sexual Abuse, the Independent Jersey Care Inquiry into Child Sexual Abuse, the death of Alexander Litvinenko, the In Amenas hostage crisis, the London 7/7 bombings and the Bloody Sunday Inquiry.
Tax: With a long established background in tax litigation, the team at 2 Hare Court have established a formidable reputation in cases involving disputes in direct and indirect tax appeals. The disputes span the full spectrum of tax litigation before the First-tier Tribunal (Tax Chamber), Upper Tribunal (Tax and Chancery Chamber) and Court of Appeal, where members are instructed both by Taxpayers and by the Commissioners for HM Revenue and Customs.
Sports law: Members of 2 Hare Court are instructed in cases involving gambling regulation, corruption, inquests and public inquiries, anti-doping, licensing, On-field and off-field violence, disorder by athletes. Members of the sports team regularly appear before the Football Association, the British Horse Racing Authority, International Association of Athletics Federations, National Anti-Doping Panel, to the Court of Arbitration for Sport. Recent cases: FA v Tony Henry, BHA v Jim & Suzie Best, BHA v Jim Best, FA v Joey Barton, IAAF v Valentin Balakhnichev & Ors and Hillsborough.
Main Contacts
| Department | Name | Email | Telephone |
| --- | --- | --- | --- |
| Director of clerking | Julian Campbell | | |
| Members of Chambers | LAIDLAW QC, Jonathan (1982) | | |
| Members of Chambers | POWNALL QC, Orlando (1975) | | |
| Members of Chambers | HESLOP QC, Martin (1972) | | |
| Members of Chambers | WRIGHT QC, Peter (1981) | | |
| Members of Chambers | RADCLIFFE QC, Andrew (1975) | | |
| Members of Chambers | PICKUP QC, James (1976) | | |
| Members of Chambers | HICKS QC, Martin (1977) | | |
| Members of Chambers | BENNETT-JENKINS QC, Sallie (1984) | | |
| Members of Chambers | LEVITT QC, Alison (1988) | | |
| Members of Chambers | KELLY QC, Brendan (1988) | | |
| Members of Chambers | REES QC, Jonathan (1987) | | |
| Members of Chambers | O'NEILL QC, Brian (1987) | | |
| Members of Chambers | HAYTON QC, Michael (1993) | | |
| Members of Chambers | COLTART QC, Christopher (1998) | | |
| Members of Chambers | GLASGOW QC, Oliver (1995) | | |
| Members of Chambers | KINNEAR QC, Jonathan (1994) | | |
| Members of Chambers | MIAN QC, Naeem (2002) | | |
| Members of Chambers | COLMAN, Andrew (1980) | | |
| Members of Chambers | BELGER, Tyrone (1984) | | |
| Members of Chambers | DAWSON, James (1984) | | |
| Members of Chambers | WHITTAKER, David (1986) | | |
| Members of Chambers | LAMBIS, Marios (1989) | | |
| Members of Chambers | GRAFFIUS, Mark (1990) | | |
| Members of Chambers | GILLESPIE, Christopher (1991) | | |
| Members of Chambers | FERGUSON, Craig (1992) | | |
| Members of Chambers | GRAY QC (Scotland), Peter (1992) | | |
| Members of Chambers | HURST, Andrew (1992) | | |
| Members of Chambers | BUCHANAN, James (1993) | | |
| Members of Chambers | FOULKES, Christopher (1994) | | |
| Members of Chambers | BRASSINGTON, Stephen (1994) | | |
| Members of Chambers | AHMAD, Zubair (1995) | | |
| Members of Chambers | IRWIN, Gavin (1996) | | |
| Members of Chambers | BAHRA, Narita (1997) | | |
| Members of Chambers | IVILL, Scott (1997) | | |
| Members of Chambers | LOWNDS, Peter (1998) | | |
| Members of Chambers | HAWKINS, Quinn (1999) | | |
| Members of Chambers | BUNYAN, Angus (1999) | | |
| Members of Chambers | KAZAKOS, Leon (1999) | | |
| Members of Chambers | RINDER, Robert (2001) | | |
| Members of Chambers | RAWLINSON, Michael (2002) | | |
| Members of Chambers | YOUNG, Gudrun (2001) | | |
| Members of Chambers | HUMMERSTONE, Rebekah (2002) | | |
| Members of Chambers | FAURE WALKER, Julia (2004) | | |
| Members of Chambers | TANCHEL, Vivienne (2005) | | |
| Members of Chambers | PRZYBYLSKA, Sarah (2006) | | |
| Members of Chambers | DUMMETT, Emily (2006) | | |
| Members of Chambers | WATKINSON, Howard (2006) | | |
| Members of Chambers | TAMPAKOPOULOS, Alexandra (2007) | | |
| Members of Chambers | WARE, Christopher (2007) | | |
| Members of Chambers | BENTLEY, Harry (2007) | | |
| Members of Chambers | DAY, Tom (2008) | | |
| Members of Chambers | ROBERTSON, Fiona (2008) | | |
| Members of Chambers | GEERING, Christopher (2009) | | |
| Members of Chambers | RICH, Ben (2010) | | |
| Members of Chambers | MARTIN, Will (2010) | | |
| Members of Chambers | MCNEILL, Narita (2010) | | |
| Members of Chambers | STEPHENSON, Laura (2012) | | |
| Members of Chambers | WATTS, Charlotte (2012) | | |
| Members of Chambers | RENTEURS, Paul (2013) | | |
| Members of Chambers | DACRE, Robert (2013) | | |
| Members of Chambers | DOWER, Sophia (2013) | | |
| Members of Chambers | MACDONALD, Lewis (2014) | | |
| Members of Chambers | CAREY, Joshua (2015) | | |
| Members of Chambers | FORBES, Grace (2015) | | |
Lawyer Profiles
| Photo | Name | Position | Profile |
| --- | --- | --- | --- |
| | Zubair Ahmad | Zubair is widely recognised as a leading advocate in serious and complex… | View Profile |
| | Narita Bahra | Narita Bahra is one of the most sought after and capable defence… | View Profile |
| | Tyrone Belger | Tyrone has been a specialist crime and fraud practitioner for most of… | View Profile |
| | Sallie Bennett-Jenkins QC | Sallie Bennett-Jenkins QC was appointed Queen's Counsel in October 2006 following a… | View Profile |
| | Harry Bentley | Harry is a criminal defence specialist known for his excellent client care… | View Profile |
| | Stephen Brassington | Stephen Brassington is rightly regarded as one of the leading juniors in… | View Profile |
| | James Buchanan | James Buchanan is recognised as a leading criminal regulatory practitioner and is… | View Profile |
| | Angus Bunyan | An established criminal advocate, he defends and prosecutes the most serious and… | View Profile |
| | Joshua Carey | Joshua specialises in indirect tax litigation on behalf of HM Revenue and… | View Profile |
| | Andrew Colman | Andrew Colman is a leading junior of great intellect and experience, held… | View Profile |
| | Christopher Coltart QC | Christopher Coltart QC took silk in 2014 following a highly successful junior… | View Profile |
| | Robert Dacre | Robert specialises in defence and prosecution, as well as professional discipline, extradition,… | View Profile |
| | James Dawson | A senior and well respected practitioner of 30 years' experience in all… | View Profile |
| | Tom Day | Tom is a well-regarded junior with considerable experience before a wide range… | View Profile |
| | Emily Dummett | Emily has significant experience and expertise in providing advice and advocacy in… | View Profile |
| | Julia Faure Walker | Prosecutes and defences in serious and organised crime, including highly complex cases… | View Profile |
| | Craig Ferguson | Craig Ferguson is an excellent defence advocate with a reputation for a… | View Profile |
| | Grace Forbes | Grace specialises in criminal defence and professional discipline. She has a busy… | View Profile |
| | Christopher Foulkes | The principal focus of Christopher's practice has always been fraud and white… | View Profile |
| | Christopher Geering | Christopher is a well-respected junior with experience dealing with a wide range… | View Profile |
| | Christopher Gillespie | Chris was called to the Bar in 1991 and has been instructed… | View Profile |
| | Oliver Glasgow QC | Oliver Glasgow QC was appointed Senior Treasury Counsel in 2015 and Queen's… | View Profile |
| | Quinn Hawkins | Quinn Hawkins is a leading criminal junior who specialises in substantial cases… | View Profile |
| | Martin Heslop QC | Martin Heslop QC is a fine Silk, his excellent skills as a… | View Profile |
| | Martin Hicks QC | Martin Hicks QC is a leading Silk who is consistently recommended by… | View Profile |
| | Rebekah Hummerstone | Rebekah is instructed as a sole or led junior to prosecute and… | View Profile |
| | Scott Ivill | Scott Ivill is a very highly regarded and sought-after practitioner in all… | View Profile |
| | Brendan Kelly QC | Brendan Kelly QC is a highly sought after, and well respected Silk… | View Profile |
| | Jonathan Laidlaw QC | Jonathan Laidlaw QC's practice is predominantly in business and financial crime, in… | View Profile |
| | Marios Lambis | Marios advises and represents clients from a wide variety of industry sectors… | View Profile |
| | Peter Lownds | Peter Lownds specialises in complex and serious criminal cases. He has a… | View Profile |
| | Lewis MacDonald | Lewis has a busy practice covering criminal, regulatory, professional discipline and public… | View Profile |
| | Nikita McNeill | Nikita combines an established criminal and regulatory practice with a particular expertise… | View Profile |
| | Brian O'Neill | Consistently recommended in the principal industry guides, Brian provides advice and advocacy… | View Profile |
| | Orlando Pownall QC | Orlando Pownall QC is a well-respected and highly sought after Silk with… | View Profile |
| | Sarah Przybylska | Sarah Przybylska's work encompasses advice and advocacy across professional discipline, fraud, crime,… | View Profile |
| | Andrew Radcliffe QC | A white collar crime fraud specialist, most of his recent work in… | View Profile |
| | Jonathan Rees QC | Over the last 15 years, Jonathan has developed a substantial criminal practice,… | View Profile |
| | Paul Renteurs | Paul is experienced in representing defendants and the prosecution in criminal matters,… | View Profile |
| | Ben Rich | Ben appears in the Court of Appeal, High Court, Crown Court and… | View Profile |
| | Robert Rinder | Instructed in some of the most high-profile trials of the past several… | View Profile |
| | Fiona Robertson | Fiona Robertson is an experienced junior with a diverse practice spanning the… | View Profile |
| | Laura Stephenson | Laura Stephenson enjoys a diverse practice, specialising in crime, professional discipline, extradition… | View Profile |
| | Alexandra Tampakopoulos | Alexandra Tampakopoulos is an established criminal and regulatory practitioner. She has cultivated… | View Profile |
| | Vivienne Tanchel | Vivienne Tanchel is a specialist defence advocate who has a reputation for… | View Profile |
| | Christopher Ware | Christopher Ware principally defends in serious and complex fraud; corporate, regulatory and… | View Profile |
| | David Whittaker | David Whittaker has considerable experience in most forms of serious crime. He… | View Profile |
| | Peter Wright QC | Peter Wright is a highly respected and extremely experienced advocate who has… | View Profile |
| | Gudrun Young | Gudrun Young is a highly specialized criminal advocate. She has extensive experience… | View Profile |
Staff Figures
Senior Clerk : 1 :
Languages
English Spanish Italian Punjabi Hindi French Urdu Gujarathi
Top Tier Set Rankings
Set Rankings