Set Profile > Chambers of Mark Anderson QC > Leicester , East Midlands
Chambers of Mark Anderson QC
Offices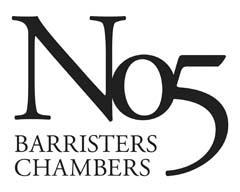 Chambers of Mark Anderson QC
No5 Barristers Chambers
PROVINCIAL HOUSE, 37 NEW WALK
LEICESTER
LE1 6TU
East Midlands
Chambers of Mark Anderson QC > The Legal 500
Rankings
No5 Barristers Chambers 'is one of the best immigration sets', according to its instructing solicitors. In QR (Pakistan) v Secretary of State for the Home Department, Manjit Singh Gill QC  was involved in an important test case that looked at the efficacy of video-link evidence from abroad. Abid Mahmoud acts for the claimant in PF (Nigeria) v Secretary of State for the Home Department, which concerns the question of whether a 40-year-old father, who has been in the UK with lawful leave to remain since his teenage years, should be deported for class A drugs offences, despite the fact that life-saving treatment is not available in his country of nationality.
Leading Juniors
Ranked: Tier 1
Ranked: Tier 2
Ranked: Tier 2
Ranked: Tier 3
Ranked: Tier 3
Ranked: Tier 3
Ranked: Tier 4
Ranked: Tier 4
Ranked: Tier 4
Leading Silks
Ranked: Tier 1
One of the largest sets at the English Bar, the 'impressive' No5 Barristers Chambers is 'an efficient, well-run set' that is 'able to offer a wide selection of counsel, with strength and depth in a variety of legal areas'. With its origins in Birmingham and strong presences in Bristol and London, it 'consistently produces remarkable and talented barristers nationwide'. The set has members active across a wide range of areas: 'a go-to set for many specialist clinical negligence firms with a huge selection of specialists, many of whom with a fantastic reputation' and 'a highly experienced serious personal injury group with great strength in depth'; it also has 'an excellent offering of family law barristers'; is 'a first choice for Court of Protection work'; offers 'a wealth of expertise in employment law'; has an 'outstanding' commercial and Chancery team, and is 'still one of the main sets for regulatory law in the Midlands'; has 'a wide range of experienced and enthusiastic barristers at all levels' of its crime team; and, for some, is considered 'one of the best immigration sets in London'. In recent news, family specialist James Snelus arrived from St Mary's Chambers; Steven Fisher joined the personal injury group from Kew Chambers; Keri Tayler joined the public law group from 42 Bedford Row; Jonathan Shaw joined the commercial and Chancery group from Fenwick Elliott LLP; and Samantha Crabb has been appointed a circuit judge; while Alex Cisneros moved to Outer Temple Chambers. Birmingham-based CEO and director of clerking Tony McDaid 'always comes up with the goods'. Business and property group practice director Danny Griffiths ('he makes great recommendations of counsel – part of the glue that makes it a great set of chambers'), regulatory and criminal heads Chris Norman and Andrew Trotter (both 'always accommodating'), 'helpful' personal injury and clinical negligence leaders Clare Radburn and Zoe Tinnion and employment practice director Martin Ellis, who is 'always available to deal with queries and does so efficiently'. Geoff Carr is director of clerking in London. Direct access instructions are sought under the NoVate Direct Legal Solutions banner, which is headed by senior practice manager Russell Hobbs. Solicitors praise the set's 'second-to-none' facilities for being 'always clean and presentable, with admin staff able to offer assistance and biscuits always offered with tea and coffee'. Tony McDaid is the set's CEO. Offices in: Birmingham, London, Bristol, and Leicester
Chambers of Mark Anderson QC >
Firm Profile
No5 Barristers'  Chambers offers a comprehensive, across-the-board service throughout the UK and further afield.
The set: During its 100-year history, No5 has developed a reputation for breaking new ground and continues to be regarded as a forward-thinking set. No5 maintains its success in traditional sectors of law while offering specialist advice and representation at the cutting edge of newly evolving areas.
Having grown to over 250 barristers, including 31 silks, No5 provides a nationwide service from its offices in Birmingham, Bristol, Leicester and London, with the London office housing more than 60 tenants. Chambers continues to attract high-quality work in all disciplines, combining excellent service standards with a progressive, modern and flexible approach to clients' needs.
No5 prides itself on forming partnerships with solicitor clients and other professionals. Chambers has associate tenants in Dubai, Spain, Cayman, Hong Kong, Singapore and British Virgin Islands and is keen to develop further links, particularly in the fields of planning and environmental, international arbitration and commercial work.
Dedicated specialist clerking teams based throughout the country have detailed knowledge of the individuals and groups they manage and support, and are available to advise clients on the most suitable counsel for a particular case. Chambers organises a structured training and induction programme for clerks and members alike.
A highly-respected set, No5 remains a well-reputed provider of informative and topical seminars, allowing the latest issues and developments to be discussed with highly qualified speakers and sector experts. Many members of chambers write or contribute to legal textbooks and specialist journals.
No5 has a wide-ranging practice and prides itself on being able to assist clients across the broad spectrum of law both at home and internationally, utilising the expertise it has in its multitude of practice groups.
Types of work undertaken: The planning and environmental law group has a strong national presence and has been involved in some of the largest and most controversial proposals considered at public inquiries and subsequently in the Appeal Courts, including proposals for wind farms, new ports, new settlements and major retail and business developments.
The clinical negligence group is widely recognised for its exceptional combination of legal and clinical expertise with several members having studied and worked in the clinical world. Members of the group have been involved in high-profile and substantial cases including brain, spinal and catastrophic medical injuries. Working on behalf of a wide range of clients, the group specialises in multi-party claims and those arising from the use of medical products and equipment, human rights, mental health issues and medical ethics.
The personal injury group provides reliable, sound advice and effective representation at all levels of litigation, receiving instructions from leading claimant and defendant firms. The group's workload includes complex cases involving brain, spinal, orthopaedic and psychological injuries, representing private individuals, trade unions and insurers.
The sports law group continues to flourish with members representing clubs, associations, managers and individuals at both professional and amateur level on a wide range of issues.
Primarily led by European influences, employment is also an area of constant change and new legislation that has a direct impact on businesses and employees. The employment group has a strong reputation for providing advice and representation to both employers and employees, and fields a strong presence from all four locations throughout the UK.
Combining the experience of members in No5's practice groups, chambers' regulatory group provides advice and advocacy expertise in relation to regulatory criminal work, all types of enforcement proceedings and matters involving the regulation of professional bodies. Members appear both for professionals and regulators before fitness to practise panels and in the High Court on judicial review claims and statutory appeals. Members specialise in health and safety, food and drugs, licensing, trading standards and consumer protection.
Similarly, chambers' industrial disease group has developed expertise across the spectrum of industrial work. The strong industrial heritage in the West Midlands has allowed specialists to gain a keen understanding of relevant issues through their handling of litigation concerning asbestos-related claims, asthma, deafness and occupational stress, among others.
The commercial and Chancery group is proud of its strong reputation and continues to build a significant national presence, particularly in relation to banking and financial services. The group provides advice and advocacy expertise across traditional Chancery areas and general commercial litigation and is highly regarded for its expertise in areas including construction, property, insolvency and professional negligence.
The public law group provides leading expertise nationally on all aspects of the complex web of legal duties involving NHS bodies and local and national government. Areas covered include (but are not limited to) health and social care law, mental health, consent to medical treatment, medical regulation and inquests.
The family group, housing two QCs, is committed, highly regarded and specialist. The group provides skilled legal expertise with the highest levels of service, support and client care. Members offer advice and representation in all aspects of family law including financial provision, TOLATA, child arrangements, public law children and Court of Protection in all family courts from magistrates level to the House of Lords. Acutely aware of the cost implications to clients, and that family cases are often highly complicated and emotional, the group aims to conduct cases in a manner designed to achieve the best possible result while reflecting individuals needs. Whether through careful negotiation, or contested hearing, members provide meticulous preparation and excellent advocacy with a friendly, approachable manner.
The criminal law group offers experience in all traditional areas of practice, with particular expertise in homicides, corporate manslaughter, complex conspiracy, and deal with all types of economic, regulatory and corporate crime. In recent years, the set has gained recognition in large commercial fraud cases and has also witnessed significant growth in regulatory instructions, especially HSE work and Proceeds of Crime Act (POCA) instructions.
The immigration group advises and appears before the First-Tier Tribunal and the Upper Tribunal (Immigration and Asylum Chamber), the Administrative Court, Court of Appeal and the Supreme Court. Members appear frequently at the Court of Justice of the European Union and the European Court of Human Rights and several advocates sit as part-time immigration judges. The team offers expertise and high-quality service provision at the advisory and pre- and post-litigation stages to address the requirements of business immigration clients. Clients have included various national and multi-national companies and human resource managers.
Further details on No5 and its members can be found on www.No5.com.
Other offices:
Greenwood House, 4-7 Salisbury Court, London EC4Y 8AA DX 449 London Chancery Lane
38 Queen Square, Bristol BS1 4QS DX 7838 Bristol
Provincial House, 37 New Walk, Leicester LE1 6TU DX 141225 Leicester 19
Main Contacts
| Department | Name | Email | Telephone |
| --- | --- | --- | --- |
| Chief executive and director of clerking | Tony McDaid | | |
| Members of Chambers | ANDERSON QC, Mark (1983) | | |
| Members of Chambers | MASON QC, David (1986) | | |
| Members of Chambers | KEELING QC, Adrian (1990) | | |
| Members of Chambers | JONES QC, Jonathan (1994) | | |
| Members of Chambers | TEDD QC, Rex (1970) | | |
| Members of Chambers | KINGSTON QC, Martin (1972) | | |
| Members of Chambers | HENDERSON QC (Hon), Alex (1970)* | | |
| Members of Chambers | NEWBERRY QC, Clive (1978) | | |
| Members of Chambers | JONES QC, Richard (1972) | | |
| Members of Chambers | GILL QC, Manjit (1982) | | |
| Members of Chambers | BLEASDALE QC, Paul (1978) | | |
| Members of Chambers | ARMSTRONG QC, Douglas (1999)* | | |
| Members of Chambers | MEYER QC, Lorna (1986) | | |
| Members of Chambers | HUMPHREYS QC, Richard (1986) | | |
| Members of Chambers | BURROWS QC, Michael (1979) | | |
| Members of Chambers | BRIGHT QC, Chris (1985) | | |
| Members of Chambers | ZAMAN QC, Mohammed (1985) | | |
| Members of Chambers | DUCK QC, Michael (1988) | | |
| Members of Chambers | HEYWOOD QC, Mark (1986) | | |
| Members of Chambers | BELL QC, Gary (1989) | | |
| Members of Chambers | SIDHU QC, Jo (1993)* | | |
| Members of Chambers | HANKIN QC, Jonas (1994) | | |
| Members of Chambers | BUTTERFIELD QC, John (1995) | | |
| Members of Chambers | WRIGHT QC MP, The Rt Hon Jeremy (1996)* | | |
| Members of Chambers | CAIRNES QC, Paul (1980) | | |
| Members of Chambers | KIMBLIN QC, Richard (1998) | | |
| Members of Chambers | BRADLEY QC, Phil (1993) | | |
| w | NUVOLONI QC, Stefano (1994) | | |
| Members of Chambers | HEELEY QC, Michelle (2001) | | |
| Members of Chambers | YOUNG QC, Christopher (1997) | | |
| Members of Chambers | ADAMS, Richard (1999) | | |
| Members of Chambers | ALOMO, Richard (1990) | | |
| Members of Chambers | AMIN, Samir (2015) | | |
| Members of Chambers | ANNING, Michael (1990) | | |
| Members of Chambers | ALLEN, Sarah (2005) | | |
| Members of Chambers | ARNOLD, Peter (1972) | | |
| Members of Chambers | ARTHUR, Helen (2003) | | |
| Members of Chambers | ASHIQ, Rizwan (2001) | | |
| Members of Chambers | ASHLEY, Chloe (2016) | | |
| Members of Chambers | BAGRAL, Ravinder (1996) | | |
| Members of Chambers | BAHIA, Sharon (2000) | | |
| Members of Chambers | BAILEY, Russell (1985) | | |
| Members of Chambers | BAILEY, Steven (1992) | | |
| Members of Chambers | BAINS, Param K (1993) | | |
| Members of Chambers | BAKER, Andrew (1990) | | |
| Members of Chambers | BANHAM, Colin (1999) | | |
| Members of Chambers | BARNEY, Helen (1999) | | |
| Members of Chambers | BAZINI, Danny (1992) | | |
| Members of Chambers | BEDFORD, Becket (1989) | | |
| Members of Chambers | BELL, Anthony (1985) | | |
| Members of Chambers | BERMINGHAM, Gerald (1967) | | |
| Members of Chambers | BIRK, Dewinder (1988) | | |
| Members of Chambers | BLAIR, Jennifer (2013)* | | |
| Members of Chambers | BRADSHAW, Mark (2002) | | |
| Members of Chambers | BRIDGE, Ian (1988) | | |
| Members of Chambers | BROCKLEY, Nigel (1992) | | |
| Members of Chambers | BROOK, Matthew (1999) | | |
| Members of Chambers | BROWN, Kristina (1998) | | |
| Members of Chambers | BROWN, Stephanie (1982) | | |
| Members of Chambers | BROWNHILL, Ian (2009) | | |
| Members of Chambers | BRUNNING, Matthew (1997) | | |
| Members of Chambers | BUCKLEY-THOMSON, Leanne (2009) | | |
| Members of Chambers | BURCHER, James Corbet (2011) | | |
| Members of Chambers | BURDEN, Angus (1994) | | |
| Members of Chambers | BUTT, Nassera (1999) | | |
| Members of Chambers | CHADWICK, Joanna (1988) | | |
| Members of Chambers | CHAFFIN-LAIRD, Olivia (2001) | | |
| Members of Chambers | CHATTERJEE, Adreeja (1997) | | |
| Members of Chambers | CHAWLA, Neil (2000) | | |
| Members of Chambers | CHELVAN, DR (1999) | | |
| Members of Chambers | CHOONGH, Satnam (1994) | | |
| Members of Chambers | CLIFFORD, Victoria (2002) | | |
| Members of Chambers | COBILL, Nicholas (2003) | | |
| Members of Chambers | COLQUHOUN, Celina (1990) | | |
| Members of Chambers | COMPTON, Gareth (1997) | | |
| Members of Chambers | COOKE, Richard (2005) | | |
| Members of Chambers | CORFIELD, Louise (2008) | | |
| Members of Chambers | COUGHLAN, John (1999) | | |
| Members of Chambers | CROW, Charles (1999) | | |
| Members of Chambers | DAVIDSON, Laura (1996) | | |
| Members of Chambers | DAYLE, Philip (2012) | | |
| Members of Chambers | DE MELLO, Ramby (1983) | | |
| Members of Chambers | DEAN, Brian (1994) | | |
| Members of Chambers | DEAN, Paul J (2001) | | |
| Members of Chambers | DEAN, Peter (1987) | | |
| Members of Chambers | DENNING, Louisa (1999) | | |
| Members of Chambers | DERRINGTON, Jonathan (1998) | | |
| Members of Chambers | DIXON, James (2001) | | |
| Members of Chambers | DOOLEY, Allan (1970) | | |
| Members of Chambers | DOYLE, James (1985) | | |
| Members of Chambers | DUTHIE, Malcolm (1989) | | |
| Members of Chambers | DUTTA, Nandini (1993) | | |
| Members of Chambers | EDHEM, Emma (1993) | | |
| Members of Chambers | ENONCHONG, Prof Nelson (2006)* | | |
| Members of Chambers | ENSAFF, Omar (2000) | | |
| Members of Chambers | ETIENNE, Michael (2012) | | |
| Members of Chambers | EVANS, Paul (2001) | | |
| Members of Chambers | FARRER, Adam (1992) | | |
| Members of Chambers | FEENEY, Katie (2005) | | |
| Members of Chambers | FEENY, Jack (2005) | | |
| Members of Chambers | FERNANDES MP, Suella (2005)* | | |
| Members of Chambers | FERRARI, Nicholas (2005) | | |
| Members of Chambers | FISHER, Steven (2000) | | |
| Members of Chambers | FORSYTH, Samantha (1988) | | |
| Members of Chambers | FRIEL, Michele (1991) | | |
| Members of Chambers | GALLACHER, Kirsty (2006) | | |
| Members of Chambers | GAMBLE, Esther (2001) | | |
| Members of Chambers | GAMBLE, Jamie (1999) | | |
| Members of Chambers | GARDNER, David (2006) | | |
| Members of Chambers | GILES, Roger S (1976) | | |
| Members of Chambers | GOATLEY, Peter (1992) | | |
| Members of Chambers | GOODFELLOW, Stephen (1997) | | |
| Members of Chambers | GRANT, Edward (1991)* | | |
| Members of Chambers | GRANT, Orla (2005) | | |
| Members of Chambers | GRIMSHAW, Richard (2010) | | |
| Members of Chambers | GUPTA, Mamta (2004) | | |
| Members of Chambers | HADLEY, Richard (1997) | | |
| Members of Chambers | HALSTEAD, Imogen (2014) | | |
| Members of Chambers | HAMILTON-EDDY, Lukas (2015) | | |
| Members of Chambers | HANSON, Tim (1989)* | | |
| Members of Chambers | HARGREAVES, Teresa (1999) | | |
| Members of Chambers | HARRINGTON, Tim (1997) | | |
| Members of Chambers | HARVEY, Alison (1995) | | |
| Members of Chambers | HAWLEY, Christian (2013) | | |
| Members of Chambers | HENSON, Graham (1976) | | |
| Member of Chambers | HEYLIN, Alexander (2000) | | |
| Members of Chambers | HIGGINS, Louise (2003) | | |
| Members of Chambers | HIGNETT, Richard (1995) | | |
| Members of Chambers | HIRST, Karl (1997) | | |
| Members of Chambers | HOLLAND, Russell (2008) | | |
| Members of Chambers | HOPKINS, Christopher (2003) | | |
| Members of Chambers | HUNKA, Simon (2007) | | |
| Members of Chambers | HURLEY-FLYNN, Eamonn (2013) | | |
| Members of Chambers | ILES, David (1977) | | |
| Members of Chambers | ISLAM-CHOUDHURY, Mugni (1996) | | |
| Members of Chambers | JAGADESHAM, Varsha (2014) | | |
| Members of Chambers | JENNINGS, Caroline (2010) | | |
| Members of Chambers | JONES, Catherine (2010) | | |
| Members of Chambers | JONES, Timothy (1975) | | |
| Members of Chambers | JOSEPH, Paul (1992) | | |
| Members of Chambers | KELLY, Mark (1985) | | |
| Members of Chambers | KEMBERY, Jodie (2013) | | |
| Members of Chambers | KNOTTS, Carol (1996) | | |
| Members of Chambers | KORN, Anthony (1978) | | |
| Members of Chambers | LANGDON, Katie (2007) | | |
| Members of Chambers | LEITHEAD, Howard (2014) | | |
| Members of Chambers | LESLIE, James (2004) | | |
| Members of Chambers | LIDDIARD, Martin (1989) | | |
| Members of Chambers | LIVESEY, Rebecca (2016) | | |
| Members of Chambers | MACCABE, Irvine (1983) | | |
| Members of Chambers | MAHMOOD, Abid (1992) | | |
| Members of Chambers | MAHMOOD, Saleema (1999) | | |
| Members of Chambers | MALLICK, Nabila (1992) | | |
| Members of Chambers | MANN, Jasvir (1990) | | |
| Members of Chambers | MANTLE, Philip (2002) | | |
| Members of Chambers | MARTIN, Francesca (2010) | | |
| Members of Chambers | McCLEMENT, Lynette (2002) | | |
| Members of Chambers | McGRATH, Andrew (1983) | | |
| Members of Chambers | McINTOSH, Nicola (2007) | | |
| Members of Chambers | McLOUGHLIN, Richard (2012) | | |
| Members of Chambers | MEAGER, Rowena (2007) | | |
| Members of Chambers | MELLIS, Alexander (2013) | | |
| Members of Chambers | MILLER, Katie (2010) | | |
| Members of Chambers | MITCHELL, David (1995) | | |
| Members of Chambers | MOAT, Richard (1985) | | |
| Members of Chambers | MOHAMED, Hashi (2010) | | |
| Members of Chambers | MOLES, Jennifer (2015) | | |
| Members of Chambers | MONAGHAN, Susan (1995) | | |
| Members of Chambers | MONTGOMERY *, James (1989) | | |
| Members of Chambers | MULLA, Maria (2005) | | |
| Members of Chambers | MULLER, Antonie (1990) | | |
| Members of Chambers | MURRAY, Sophie (2007) | | |
| Members of Chambers | NAGESH, Ramya (2008) | | |
| Members of Chambers | NAJIB, Shakil (1999) | | |
| Members of Chambers | NEWMAN, Tim (1981) | | |
| Members of Chambers | NICHOLSON, Edward (1993) | | |
| Members of Chambers | NOURI, Arrin (2014) | | |
| Members of Chambers | O'BRIEN, Michael (1987) | | |
| Members of Chambers | O'HIGGINS, John (1990) | | |
| Members of Chambers | O'MALLEY, Laura (2007) | | |
| Members of Chambers | OAKES, Richard (2007) | | |
| Members of Chambers | ORCHARD, Cathlyn (1999) | | |
| Members of Chambers | OSCROFT, Daniel (2003) | | |
| Members of Chambers | OSMUND-SMITH, Thea (2010) | | |
| Members of Chambers | OWEN, Denise (2003) | | |
| Members of Chambers | OWEN, Naomi (2008) | | |
| Members of Chambers | PERRIN, Jason (2015) | | |
| Members of Chambers | PERRY, Christopher (2002) | | |
| Members of Chambers | PERRY, Tom (2016) | | |
| Members of Chambers | PINDHAM, Nina (2012) | | |
| Members of Chambers | PINNOCK, Earl (2003) | | |
| Members of Chambers | PITCHERS, Henry (1996) | | |
| Members of Chambers | POLE, Tim (2001) | | |
| Members of Chambers | POPLEY, Heather (2003) | | |
| Members of Chambers | PORTE, Adam (2014) | | |
| Members of Chambers | POWER, Elizabeth (1996) | | |
| Members of Chambers | PRESTON, Nicola (1992) | | |
| Members of Chambers | PRICE, Charles (1999) | | |
| Members of Chambers | PUNT, Dr Jonathan (2005) | | |
| Members of Chambers | PUSEY, William (1977) | | |
| Members of Chambers | RADBURN, Mark (1991) | | |
| Members of Chambers | REED, Steven (2005) | | |
| Members of Chambers | RICHARDS, Hugh (1992) | | |
| Members of Chambers | RILEY, Rachel (2013) | | |
| Members of Chambers | ROBERTS, Gemma (2006) | | |
| Members of Chambers | ROBINSON-JONES, Charlotte (2008) | | |
| Members of Chambers | ROTHWELL, Joanne (1993) | | |
| Members of Chambers | RULE, Philip (2001) | | |
| Members of Chambers | RYLATT, Jake (2017) | | |
| Members of Chambers | SANDHU, Harpreet Singh (2005) | | |
| Members of Chambers | SCHOFIELD, Tom (2001) | | |
| Members of Chambers | SEAL, Ricky (2012) | | |
| Members of Chambers | SHASTRI-HURST Neil (2018) | | |
| Members of Chambers | SHAW, Frances (2007) | | |
| Members of Chambers | SHAW, Jonathan (2008) | | |
| Members of Chambers | SHEPPARD, Tim (1995) | | |
| Members of Chambers | SINGH, Talbir (1997) | | |
| Members of Chambers | SMALLWOOD, Anne E (1977) | | |
| Members of Chambers | SMALLWOOD, Robert (1994) | | |
| Members of Chambers | SMEATON, Jessica (2008) | | |
| Members of Chambers | SMITH, Steven (2011) | | |
| Members of Chambers | SMYTH, Jack (2007) | | |
| Members of Chambers | SNELUS, James (1999) | | |
| Members of Chambers | STEMP, Scott (2000) | | |
| Members of Chambers | STOLL, James (1994) | | |
| Members of Chambers | SUMERAY, Caroline (1993) | | |
| Members of Chambers | TAFADAR, Sultana (2005) | | |
| Member of Chambers | TAYLER, Keri (1995) | | |
| Members of Chambers | TAYLOR, David (1993) | | |
| Members of Chambers | TAYLOR, Kathryn (2005) | | |
| Members of Chambers | THOMPSON, Neil (1982) | | |
| Members of Chambers | THOROGOOD, Bernard (1986) | | |
| Members of Chambers | TIWANA, Ekwall Singh (1988) | | |
| Members of Chambers | TYACK, David (1994 ) | | |
| Members of Chambers | UDDIN, Miran (2001) | | |
| Members of Chambers | VICKERS, Laura (2007) | | |
| Members of Chambers | VOLLANS, Philip (2015) | | |
| Members of Chambers | WALLACE, Andrew (1988) | | |
| Members of Chambers | WHITAKER, Stephen (1970) | | |
| Members of Chambers | WILKINSON, Marc (1992) | | |
| Members of Chambers | WILLETTS, Glenn (2000) | | |
| Members of Chambers | WILLIAMS, Emma (2012) | | |
| Members of Chambers | WINGRAVE, Michael (2001) | | |
| Members of Chambers | WITHERS, Stuart (2013) | | |
| Members of Chambers | WORLOCK, Simon (1975) | | |
| Members of Chambers | WYNNE, Ashley (1990) | | |
| Members of Chambers | XYDIAS, Nicholas (1992) | | |
| Members of Chambers | YASSERI, Yasmin (2005) | | |