Mr Michael Nolan QC > Chambers of Simon Croall QC > London, England > Lawyer Profile
Chambers of Simon Croall QC
Offices

Chambers of Simon Croall QC
Quadrant Chambers
QUADRANT HOUSE, 10 FLEET STREET
LONDON
EC4Y 1AU
England
Mr Michael Nolan QC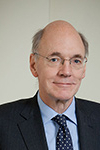 Position
Barrister specialising in shipping, insurance, sale and carriage of goods, ship sale, construction and finance, Admiralty, arbitration, harbours and oil pollution; reported cases include Rustal Trading v Gill & Duffus [2001] 1 Lloyd's Rep 14 (commodities/arbitration); Baghlaf Al Zafer v Pakistan National Shipping Co [2001] 1 Lloyd's Rep 1 CA (shipping/jurisdiction); Petrotrade v Texaco [2001] 4 All ER 853 CA (commodities, part 36); 'The Maria H' [2001] 1 Lloyd's Rep 707 (shipping/arbitration); Gannet Shipping v Eastrade Commodities [2002] 1 Lloyd's Rep 713 (shipping/arbitration); Bayview Motors v Mitsui Marine & Fire Insurance Co [2002] 1 Lloyd's Rep 652 and [2003] 1 Lloyd's Rep 131 (goods in transit insurance); Rayner v Davies [2003] All ER (Comm) 394 (CA) (Brussels Convention); Veba Oil Supply v Petrotrade [2002] 1 Lloyd's Rep 295 CA (commodities, expert determination); 'The Margaretha Maria' [2002] 2 Lloyd's Rep 293 CA (fishing vessel safety/share fishermen); Exxonmobil v Texaco [2003] 2 Lloyd's Rep 686 (commodities); Sandeman Corprimar v Transitos y Transportes Integrates [2003] 2 WLR 1496 CA (CMR, bailment); Dart Harbour Navigation Authority v Sec State for Transport [2003] 2 Lloyd's Rep 607 (harbours); 'The Kitsa' [2005] 1 Lloyd's Rep 432 (shipping/arbitration); Denfleet v TNT Global [2007] 2 Lloyd's Rep 504 CA (CMR); 'The Count' [2008] 1 Lloyd's Rep 72 (shipping, safe port); CTI Group v Transclear (1and 2) [2008] 1 Lloyds Rep 179 and 250, [2008] 2 Lloyd's Rep 52 CA (commodities, arbitration); Pratt v Aigaion [2009] 1 Lloyd's Rep 225 CA (insurance); Petroplus Marketing AG v Shell Trading International Limited [2009] 2 Lloyd's Rep 611 (commodities); Midgulf International Ltd v Groupe Chimiche Tunisien [2010] 2 Lloyd's Rep 543 CA (commodities, anti-suit injunction); X v Y [2011] 1 Lloyd's Rep 694 (shipping/arbitration); RG Grain v Feed Factor [2011] 2 Lloyd's Rep 432 (commodities/GAFTA); Pacific Basin v Bulkhandling Handymax AS [2012] 1 Lloyd's Rep 151 (shipping, piracy); Seagrain v Glencore Grain [2013] 2 Lloyd's Rep 595 (commodities); The 'Athena' [2013] 2 Lloyd's Rep 6 (shipping); Zhoushan Jinhaiwan v Golden Exquisite Inc [2015] 1 Lloyd's Rep. 283 (shipbuilding); HBC Hamburg Bank Carriers v Huyton Inc [2015] 1 Lloyd's Rep. 310 (voyage charter); The Styliani Z [2016] 1 Lloyd's Rep. 395 (Action in rem, amendment) Sarpd Oil v Addax Energy SA [2016] B.L.R. 301, CA (Commodities, security for costs); Ramburs Inc v Agrifert SA [2016] Bus. L.R. 135 (Commodities, GAFTA, substitution); Imperator I Maritime Co v Bunge SA [2016] [2016] 2 Lloyd's Rep. 293 (Time Charter, hull fouling); Kaefer Aislamientos v AMS Drilling Mexico [2017] 2 Lloyd's Rep. 575 (Jurisdiction; Oil rigs); Re Three Arbitrations [2018] EWHC 1399 (Comm) (Arbitration, extension of time).
Career
Qualified 1981; Middle Temple; Astbury Scholarship; Winston Churchill Scholarship; contributor Atkins Court Forms (Butterworths) – arbitration, carriers, commercial court and insurance; executive committee COMBAR 1998-2001. QC 2015.
Languages
French.
Memberships
COMBAR; London Common Law and Commercial Bar Association; LMAA (supporting member), SCMA.
Education
Oxford University (MA); City University (Dip Law).
Leisure
Tennis, swimming, skiing, books, theatre, film, opera.
Lawyer Rankings
(Leading Silks)
Ranked: Tier 5
Michael Nolan QC –Quadrant Chambers 'He easily understands the commercial background of legal disputes and his replies are concise and easily understood. '
Quadrant Chambers has the 'strongest consolidated offering of shipping skills at the London Bar' and offers a 'very wide range of very able counsel and juniors', according to clients. The set covers a full spectrum of dry and wet shipping mandates, and houses in-depth expertise across marine insurance, fraud, insolvency, finance and other commercial shipping disputes. The set is regularly involved in Supreme Court cases and landmark case Volcafe v Compania Sud Americana de Vapores, where Simon Rainey QC and David Semark faced John Russell QC and Benjamin Coffer, concerned the correct interpretation of the Hague-Visby Rules as to the burden of proof in cargo claims, was a notable highlight. Lionel Persey QC and Benjamin Coffer appeared in the Court of Appeal for Sea Tank Shipping AS v Vinnlustodin HF ('The Aqasia'), which is one of the leading cases on Hague Rules and limitation of liability. Classic Maritime v Limbungan Makmur SDN BHD, which examined on the correct application of standard force majeure clauses in long-term shipping contracts of affreightment, was a notable case for Simon Rainey QC and Andrew Leung. Elsewhere, Nigel Cooper QC acted against Michael Nolan QC in Kaefer Aislamientos SA de CV v AMS Drilling Mexico SA de CV, which provides guidance on the approach to take in a dispute over jurisdiction.
(Leading Silks)
Ranked: Tier 5
Michael Nolan QC –Quadrant Chambers 'An effective and meticulous advocate. '
(Leading Silks)
Ranked: Tier 2
Michael Nolan QC –Quadrant Chambers 'Exceptionally brilliant when there is a need to untangle complicated legal issues with different factors in play. '
Quadrant Chambers 'is a very strong set for maritime law and commodity trade disputes'. Alongside a large number of members instructed in complex international arbitration in the shipbuilding and commodities arenas, the set is well-equipped to handle more esoteric dry and wet shipping matters. Simon Rainey QC and Nigel Jacobs QC are instructed for the appellants in the Evergreen Marine v Nautical Challenge case, due to be heard by the UK Supreme Court concerning a collision between a Marshallese-flagged crude oil carrier and a Taiwanese-owned container ship in the entrance to the Jebel Ali port in the UAE. In the Singapore International Commercial Court, Thomas Macey-Dare QC represented Yaw Chee Siew, the former chairman of Otto Marine in claims brought by entities owned by ICBC concerning ship financing arrangements allegedly containing personal guarantees. Michael Nolan QC is noted for instructions in India- and Korea-related cases.
Top Tier Firm Rankings
Firm Rankings