Nicholas Davidson KC > 4 New Square Chambers > London, England > Lawyer Profile
4 New Square
Offices

4 New Square Chambers
4 New Square
LINCOLN'S INN
LONDON
WC2A 3RJ
England
Nicholas Davidson KC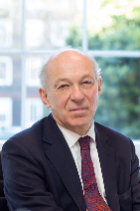 Position
Barrister specialising in professional liability (especially legal, financial) and commercial cases including insurance; significant cases include: AIB (UK) PLC v Mark Redler (a firm) [2014] UKSC (solicitors: breach of trust); Newcastle International Airport v Eversheds [2014] P.N.L.R. [2013] EWCA Civ 1514 (solicitors' liability in executive contract drafting; corporate governance); UCB Home Loans Corporation Ltd v Soni [2013] EWCA Civ 62 (partnership: holding out); National Union of Mineworkers v Scargill [2012] EWHC 3750 (Ch) (corporate governance); Kidsons v Underwriters at Lloyd's [2009] 1 Lloyd's Rep 8 (professional indemnity insurance notification requirements); Ross River Ltd v Cambridge City Football Club Ltd [2008] 1 All ER 1004 (bribery and fraudulent misrepresentation; corporate governance); numerous settled cases on investment management/advice' AIB Plc v Martin [2001] UKHL 63 [2002] 1WLR 94 (bank mortgage interpretation); Cave v Robinson Jarvis & Rolfe [2002] UKHL 18 [2003] 1 AC 384 (deliberate concealment); Medcalf v Mardell [2002] UKHL 27 [2003] 1 AC 320 (wasted costs); SEB Trygg Holding Aktiebolag v Manches and Others [2006] l Lloyd's Rep 14 (participation in arbitration; universal succession); Quorum A/S v Schramm (Nos 1 & 2), [2001] 1 Lloyd's Rep 249 and [2002] 2 Lloyd's Rep 72 (fine art insurance); Bank of Credit and Commerce International SA v Aboody [1990] 1QB 921 (actual undue influence); Bristol and West Building Society v Fancy & Jackson [1997] 4 All ER 582 (solicitors' breach of duty; causation and contributory negligence); National Home Loans Corporation Plc v Giffen, Couch & Archer [1998] 1 WLR 207 (scope of conveyancing solicitor's duty to lender); Nissho Iwai Petroleum Co Inc v Cargill International SA [1993] 1 Lloyd's Rep 80 (oil contracts, duty of co-operation); Wraith v Wraith [1997] 2 All ER 526 (legal aid; enforcing costs where solicitors at fault); Nationwide Building Society v Balmer Radmore [1999], PNLR 606; Nationwide Building Society v Thimbleby [1999] PNLR 733.
Career
Called to the Bar 1974; Inner Temple; QC 1993; Master of the Bench 1998; Pension Trustee 2000; Deputy High Court Judge; publications: contributor to 'Professional Negligence and Liability' (LLP 2000); 'Clinical Biochemistry Nearer the Patient: Liability: Who Carries the Can' (ed Marks and Alberti 1985); 'Scottish Decisions are Special' (paper to Faculty of Advocates and PNBA 1999); 'Advocacy Now and Then' (contribution to 'Now and Then' Sweet & Maxwell 1999); various contributions to 'Professional Negligence and Liability'.
Memberships
Chartered Institute of Arbitrators; past chairman Professional Negligence Bar Association; COMBAR; Chancery Bar Association; Bar European Group; Society for Computers and Law; PNBA.
Education
Winchester (scholar); Cambridge, (MA Economics part I, Law Part II): Council of Legal Education McGeagh Studentship; Certificate of Honour, Bar Final; Inner Temple Treasurer's Prize; Hughes Parry Prize, Inner Temple; Inner Temple Law Scholarship.
Top Tier Firm Rankings
Firm Rankings