Set Profile > Chambers of Marc Willems QC > Manchester, England
Chambers of Marc Willems QC
Offices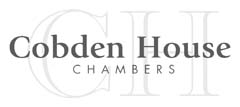 Chambers of Marc Willems QC
Cobden House Chambers
19 QUAY STREET
MANCHESTER
M3 3HN
England
Chambers of Marc Willems QC > The Legal 500
Rankings
Chambers of Marc Willems QC >
Firm Profile
Cobden House Chambers is one of the leading sets on the Northern Circuit and has strength and depth in personal injury law, criminal law, chancery and commercial law, family law, housing law and employment law.
The set: Cobden House is known for its legal excellence, applicability, cost-effectiveness and high-quality service. As a result of organic growth and quality recruitment, Cobden House has grown rapidly since its establishment. A friendly, approachable clerk's room with considerable knowledge of all disciplines is able to assist with queries.
Cobden House Chambers is located on Quay Street and occupies the former home of Richard Cobden, a Grade II listed Georgian building dating back to the 1700s, that was also used as a university and then a County Court. Chambers is a modern, forward-thinking set but retains the traditional focus on client care.
Types of work undertaken: The personal injury and clinical negligence department, headed by Richard Hartley QC, undertakes both claimant and defendant work at all levels and has strength and experience in high-value claims within industrial disease, road traffic, employer liability, clinical negligence and public liability cases. In recent years, members of the department have been involved in some of the highest value catastrophic injury claims in the UK. The department is also one of the leading insurance fraud teams outside London, being involved in many cases involving the ever-growing area of telematics.
The criminal department, headed by Ian Metcalfe, has vast experience of defending and prosecuting cases of the utmost complexity and of a highly sensitive nature. The team covers all aspects of crime, including road traffic offences and regulatory issues, and has the ability to service work from a junior level to Queen's Counsel. In recent years, members of the department have successfully defended several high-profile celebrities for historic sex offences brought about following the Yew Tree inquiry.
The chancery and commercial department, headed by Richard Oughton, has expertise in wills, trusts, probate, property law, private client, commercial and insolvency work. The team has recently recruited a pupil as part of the ongoing expansion as a chambers, and offers strength from junior to senior counsel.
The family department, headed by Peter Buckley, undertakes work in private and public law cases, covering care proceedings, residence, contact and injunctions, and has expertise in ancillary relief, covering the full range of hearings from the Family Proceedings Court to the High Court.
The housing department, headed by Paul Whatley, specialises in all aspects of landlord and tenant, homeless issues, and appeals, and conducts work for local authorities, private bodies, housing associations and other registered social landlords.
Main Contacts
| Department | Name | Email | Telephone |
| --- | --- | --- | --- |
| Director of clerking | Martin Leech | | |
| Deputy director of clerking | Dan Monaghan | | |
| Senior criminal clerk | Andrew Oakes | | |
| Senior civil and family clerk | Christina Cook | | |
| Senior civil clerk | Steven Tobias | | |
| Chambers administrator | Jackie Morton | | |
| Deputy criminal clerk | Jamie Conwell | | |
| Members of Chambers | WILLEMS QC, Marc (1990) | | |
| Members of Chambers | GOLDBERG QC, Jonathan (1971) | | |
| Members of Chambers | BLACKWELL QC, Louise (1985) | | |
| Members of Chambers | HARTLEY QC, Richard (1985) | | |
| Members of Chambers | STERLING, Robert (1970) | | |
| Members of Chambers | BUCKLEY, Peter (1972) | | |
| Members of Chambers | JOHNSON, Carolyn (1974) | | |
| Members of Chambers | NEALE, Stuart (1976) | | |
| Members of Chambers | GOLDWATER, Michael (1977) | | |
| Members of Chambers | OUGHTON, Richard (1978) | | |
| Members of Chambers | WHITE, Timothy (1978) | | |
| Members of Chambers | BRERETON, Fiorella (1979) | | |
| Members of Chambers | GREEN, Colin (1981) | | |
| Members of Chambers | SHERIDAN, Paul (1984) | | |
| Members of Chambers | METCALFE, Ian (1985) | | |
| Members of Chambers | HYMANSON, Deanna (1988) | | |
| Members of Chambers | KIME, Matthew (1988) | | |
| Members of Chambers | WILLITTS, Timothy (1989) | | |
| Members of Chambers | LITTLER, Martin (1989) | | |
| Members of Chambers | PARR, John (1989) | | |
| Members of Chambers | WILSON-BARNES, Lucy (1989) | | |
| Members of Chambers | MASSEY, Stella (1990) | | |
| Members of Chambers | HODGSON, Timothy (1991) | | |
| Members of Chambers | GILMOUR, Susan | | |
| Members of Chambers | HOLT, Abigail (1993) | | |
| Members of Chambers | MADDISON, David (1995) | | |
| Members of Chambers | SANDIFORD, David (1995) | | |
| Members of Chambers | ORR, Julian (1995) | | |
| Members of Chambers | OAKES, Christopher (1996) | | |
| Members of Chambers | MAZZAG, Anthony (1996) | | |
| Members of Chambers | NOWLAND, Lee (1997) | | |
| Members of Chambers | CALLERY, Martin (1997) | | |
| Members of Chambers | GEORGIOU, Angela (1997) | | |
| Members of Chambers | SHORT, Anna (1997) | | |
| Members of Chambers | JONES, Michael (1998) | | |
| Members of Chambers | GLEESON, Michael (1998) | | |
| Members of Chambers | MACGREGOR, Craig (1999) | | |
| Members of Chambers | HIRST, Rebecca (1999) | | |
| Members of Chambers | STRINGER, Jacinta (1999) | | |
| Members of Chambers | AKTHER, Tahina (2003) | | |
| Members of Chambers | Andrew Oakes | | |
| Members of Chambers | BALLINGER, Katherine (2008) | | |
| Members of Chambers | BOYLE, Jonathan (2005) | | |
| Members of Chambers | BROADLEY, John (1973) | | |
| Members of Chambers | COCHRANE, Stefanie (2008) | | |
| Members of Chambers | David Hewitt | | |
| Members of Chambers | DENT, Catherine (2015) | | |
| Members of Chambers | EMERY, Philip (2008) | | |
| Members of Chambers | FERBER, Iris (2005) | | |
| Members of Chambers | FLANAGAN, Nicholas (2004) | | |
| Members of Chambers | HAMMOND, Kate (2012) | | |
| Members of Chambers | HENSHAW, Gwen (2000) | | |
| Members of Chambers | KEELING-ROBERTS, Sam (2005) | | |
| Members of Chambers | KENNERLEY, John (2016) | | |
| Members of Chambers | KILPATRICK, Alyson (1991) | | |
| Members of Chambers | KNOWLES, Michael (2000) | | |
| Members of Chambers | KUMETA, Jenny (2005) | | |
| Members of Chambers | LEWIS, Gary (2010) | | |
| Members of Chambers | MARRIOTT, Jamie (2003) | | |
| Members of Chambers | McCUBBIN, Ian (2010) | | |
| Members of Chambers | MIRZA, Mussadak (2004) | | |
| Members of Chambers | MURRAY, Chloe (2012) | | |
| Members of Chambers | NARAYAN, Harry (1970) | | |
| Members of Chambers | NICHOL, Simon (1994) | | |
| Members of Chambers | PARMAR, Chetna (2003) | | |
| Members of Chambers | PIEARS, Angela (2001) | | |
| Members of Chambers | REID, Alistair (2014) | | |
| Members of Chambers | STEVENS, Richard (2008) | | |
| Members of Chambers | WALTHALL, Arron (2005) | | |
| Members of Chambers | WHATLEY, Paul (2002) | | |
| Members of Chambers | WILSON, Lisa (2009) | | |