Set Profile > Albion Chambers > Bristol, England
Albion Chambers
Offices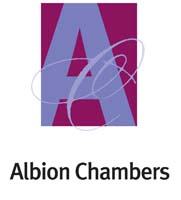 Chambers of Adam Vaitilingam QC
Albion Chambers
BROAD STREET
BRISTOL
BS1 1DR
England
Albion Chambers > The Legal 500
Rankings
Albion Chambers >
Set Profile
This Bristol set has an excellent reputation across the Western Circuit and beyond for matters including family law, crime, employment and disciplinary issues, inquests, regulatory issues, personal injury and clinical negligence, probate and the administration of estates, landlord and tenant matters and other land disputes. General common law is also dealt with.
The set: Albion Chambers was established around 100 years ago and has a long-established commitment to integrity, approachability and the highest quality of advice and advocacy. Its 66 barristers include five Queen's Counsel. There are three door tenants all of whom are Queen's Counsel, and one associate member.
Albion Chambers recognises the importance of high levels of service to professional and lay clients alike. Chambers' teams of committed specialists practise throughout the South West and beyond, providing clear, strong, expeditious and practical advice and representation. Highly skilled and experienced support staff offer friendly and efficient service.
Many members accept public access work.
Types of work undertaken: The extremely strong family team is now one of the largest in the country offering specialist advocacy and advice in all matters concerning matrimonial finance, public and private children law, divorce, ToLATA, Inheritance Act and cohabitee disputes. A number of members also undertake work in the Court of Protection. This work encompasses financial cases, personal welfare and serious medical treatment cases and those involving the Deprivation of Liberty Safeguards.
The crime team at Albion Chambers has specialist practitioners offering representation and the highest quality legal advice and advocacy. It offers particular expertise in fraud, regulatory crime, sexual offences and murder. Many of its members are frequently instructed in disciplinary matters and actions against the police and prison service. While most work is in the South West and South Wales, members also provide services nationally.
Employment expertise for employers and employees includes individual and group employment law and disputes concerning discrimination and human rights. Chambers can offer representation in a broad range of disciplinary tribunals.
In regulatory matters barristers prosecute and defend in actions brought by a range of regulators including the Health and Safety Executive, Department of Work and Pensions, Environment Agency, and Department of Environment as well as numerous local authorities. Some members are involved in advising on the development and implementation of policy.
Albion Chambers offers a small but specialised team dealing with personal injury and clinical negligence work. The team has experience in a broad spectrum of litigation in this field ranging from small claims to substantial catastrophic injury cases. The probate team offers professional representation and advice for all stages of probate and claims for family provision, with particular experience in dealing with wills, intestacy and probate work, much of which comes before the Family or Chancery Division. Landlord and tenant matters are dealt with as well as other land disputes. All types of general common law issues, contract and tort are handled including commercial disputes and professional negligence matters.
Main Contacts
| Department | Name | Email | Telephone |
| --- | --- | --- | --- |
| Members of Chambers | HYDE QC, Charles (1988) | | |
| Members of Chambers | HUGHES QC, Ignatius (1986) | | |
| Members of Chambers | VAITILINGAM QC, Adam (1987) | | |
| Members of Chambers | EKANEY QC, Nkumbe (1990) | | |
| Members of Chambers | BURGESS QC, Edward (1993) | | |
| Members of Chambers | BRUNNER QC, Kate (1997) | | |
| Members of Chambers | HILLS, Timothy (1968) | | |
| Members of Chambers | O'BRIEN, Nicholas (1968) | | |
| Members of Chambers | PRICE, Louise (1972) | | |
| Members of Chambers | FRIDD, Nicholas (1975) | | |
| Members of Chambers | STEEN, Martin (1976) | | |
| Members of Chambers | DUVAL, Robert (1979) | | |
| Members of Chambers | NORRIS, Geraint (1980) | | |
| Members of Chambers | TAIT, Don (1987) | | |
| Members of Chambers | MOONEY, Stephen (1987) | | |
| Members of Chambers | DIXON, Sorrel (1987) | | |
| Members of Chambers | ELDER, Fiona (1988) | | |
| Members of Chambers | DINAN-HAYWARD, Deborah (1988) | | |
| Members of Chambers | ZABIHI, Tanya (1988) | | |
| Members of Chambers | GRIFFITHS, Hayley (1988) | | |
| Members of Chambers | ROWSELL, Claire (1991) | | |
| Members of Chambers | BURNS, Simon (1992) | | |
| Members of Chambers | COOK, Paul (1992) | | |
| Members of Chambers | SPROULL, Nicholas (1992) | | |
| Members of Chambers | HARRIS, Elizabeth (1992) | | |
| Members of Chambers | FULLER, Alan (1993) | | |
| Members of Chambers | STANNILAND, Jonathan (1993) | | |
| Members of Chambers | NELSON, Giles (1995) | | |
| Members of Chambers | TAYLOR, Jason (1995) | | |
| Members of Chambers | ENGLISH, Richard (1995) | | |
| Members of Chambers | LEAFE, Daniel (1996) | | |
| Members of Chambers | POSTA, Adrian (1996) | | |
| Members of Chambers | REAL, Kirsty (1996) | | |
| Members of Chambers | SIVA, Kannan (1996) | | |
| Members of Chambers | HALL, Michael (1996) | | |
| Members of Chambers | WILTSHIRE, Hannah (1998) | | |
| Members of Chambers | PITTS, Charlotte (1999) | | |
| Members of Chambers | CHIDGEY, David (2000) | | |
| Members of Chambers | REGAN, Sarah (2000) | | |
| Members of Chambers | KNOWLES, Linsey (2000) | | |
| Members of Chambers | COTTERELL, David (2001) | | |
| Members of Chambers | SHEPHERD, Richard (2001) | | |
| Members of Chambers | CRANFIELD, James (2002) | | |
| Members of Chambers | FARQUHAR, Fiona (2002) | | |
| Members of Chambers | ROBERTS, Stephen (2002) | | |
| Members of Chambers | JENKINS, Benjamin (2004) | | |
| Members of Chambers | LUCAS, Joanna (2004) | | |
| Members of Chambers | BORKOWSKI, Gemma (2005) | | |
| Members of Chambers | MIDGLEY, Anna (2005) | | |
| Members of Chambers | KHANDKER, Monisha (2005) | | |
Barrister Profiles
| Photo | Name | Position | Profile |
| --- | --- | --- | --- |
| | Harry Ahuja | Harry Ahuja is an accomplished practitioner having worked in the criminal justice… | View Profile |
| | Philip Baggley | Philip Baggley specialises in child law including public and private children and… | View Profile |
| | Tim Baldwin | Tim Baldwin is a busy, dedicated civil and public law practitioner in… | View Profile |
| | Gemma Borkowski | Gemma Borkowski practises in matrimonial finance and child law. She specialises in… | View Profile |
| | Kate Brunner QC | Kate Brunner QC has a busy practice in crime, fraud, regulatory work… | View Profile |
| | David Chidgey | David Chidgey specialises in matrimonial finance and trusts of land cases. He… | View Profile |
| | Nikki Coombe | Nikki Coombe has substantial experience and expertise, both prosecuting and defending, in… | View Profile |
| | Simon Cooper | Simon joined Albion Chambers in 2017 and practises exclusively in family law,… | View Profile |
| | David Cotterell | Reflecting his dual qualification as a barrister and as a surveyor, David's… | View Profile |
| | James Cranfield | James is Head of the Child Law Team. He joined Chambers in… | View Profile |
| | Liz Cunningham | Liz Cunningham was called to the Bar in 1995 and practised from… | View Profile |
| | Alice Darian | Alice Darian is a specialist in family law, and has built a… | View Profile |
| | Deborah Dinan-Hayward | Deborah Dinan-Hayward is a matrimonial finance and Tolata specialist and financial dispute… | View Profile |
| | Sorrel Dixon | Sorrel Dixon joined Albion Chambers in late 2016 after relocating from London.… | View Profile |
| | Yasmine El-Nazer | Yasmine joined Albion Chambers as a tenant in November 2017 after the… | View Profile |
| | Fiona Elder | Fiona Elder is a specialist in criminal law undertaking prosecution and defence… | View Profile |
| | Richard English | Richard was in practice for over eight years prior to relocating to Australia.… | View Profile |
| | Fiona Farquhar | Fiona is an experienced family practitioner specialising in children law. She practises… | View Profile |
| | Clare Fear | Clare joined Albion Chambers in October 2018 having previously practised in Cardiff… | View Profile |
| | Nicholas Fridd | Nicholas is a specialist in criminal law who covers all offences. He… | View Profile |
| | Stuart Fuller | For the majority of his 27 years as a solicitor Stuart specialised… | View Profile |
| | Alan Fuller | Alan Fuller is a specialist advocate dealing with regulatory crime and is… | View Profile |
| | Ms Hayley Griffiths | Hayley Griffiths is an experienced family law barrister who specialises in all… | View Profile |
| | Chloe Griggs | Chloe joined chambers in 2017 following the successful completion of her third… | View Profile |
| | Michael Hall | Michael Hall is a specialist criminal practitioner. He is CPS panel advocate… | View Profile |
| | Libby Harris | Having practised in South Wales for 20 years, Libby moved to Bristol… | View Profile |
| | William Heckscher | William has specialised in family law since completing his pupillage at One… | View Profile |
| | Emily Heggadon | Emily joined Chambers in September 2018 after the successful completion of her… | View Profile |
| | Edward Hetherington | Edd Hetherington is a specialist criminal and regulatory advocate, routinely instructed by… | View Profile |
| | Timothy Hills | Timothy Hills is a criminal law specialist undertaking prosecution and defence work… | View Profile |
| | Charles Hyde QC | Considered to be 'intellectually in a class of his own'; as having… | View Profile |
| | Matt Jackson | Matt joined Chambers in March 2020 from 10KBW. Matt's practice focusses primarily… | View Profile |
| | Benjamin Jenkins | Ben Jenkins is on sabbatical for a year from 2019. Ben Jenkins'… | View Profile |
| | Monisha Khandker | Monisha specialises in child law and is regularly instructed on behalf of… | View Profile |
| | Sophie Knapp | Sophie Knapp is a specialist practitioner, acting for both applicants and respondents… | View Profile |
| | Linsey Knowles | Linsey Knowles joined Albion Chambers in December 2009 having previously practised in… | View Profile |
| | Daniel Leafe | Daniel Leafe's practice is exclusively in family law; 'one of the best… | View Profile |
| | Joanna Lucas | Joanna has extensive experience in all aspects of public law children. She… | View Profile |
| | Emma Martin | Emma is an experienced criminal practitioner, defending and prosecuting in a wide… | View Profile |
| | Patrick Mason | Patrick Mason is a senior lawyer with experience in both arms of… | View Profile |
| | Caroline Middleton | Caroline undertook her pupillage at 1GC Family Law and was a tenant… | View Profile |
| | Anna Midgley | Anna Midgley specialises in criminal law for both the prosecution and the… | View Profile |
| | Robert Morgan-Jones | Robert Morgan-Jones practises in Criminal and Regulatory Law. He joined Albion Chambers… | View Profile |
| | Rachael Morton | Rachael joined Albion Chambers in Spring 2018 and specialises in all areas… | View Profile |
| | Giles Nelson | Formerly at 5 Kings Bench Walk and St. John's Chambers, Bristol; Giles… | View Profile |
| | Geraint Norris | Geraint is one of the leading family practitioners on the Western Circuit… | View Profile |
| | Charley Pattison | Charley completed her pupillage in 2014 and joined Albion Chambers as a… | View Profile |
| | Derek Perry | Derek Perry is a specialist in criminal, regulatory and personal injury law.… | View Profile |
| | Charlotte Pitts | Charlotte Pitts is a family practitioner, specialising in children law. She practises… | View Profile |
| | Sarah Pope | Sarah specialises in complex public and private law children proceedings and the… | View Profile |
| | Louise Price | Louise Price has a wide range of experience in all areas of… | View Profile |
| | Sarah Regan | A specialist in criminal law, Sarah has an established practice in both… | View Profile |
| | Emma Robert | Having practised as a solicitor for 16 years, Emma transferred to the… | View Profile |
| | Stephen Roberts | Stephen transferred to the Bar in 2002 having practised as a solicitor… | View Profile |
| | Claire Rowsell | Formerly a solicitor (admitted 1988) Claire Rowell specialises in public law children… | View Profile |
| | Rupert Russell | Rupert joined Albion from Carmelite Chambers in London in 2018 where he… | View Profile |
| | David Sapiecha | David joined Albion Chambers in February 2018. He is greatly experienced in… | View Profile |
| | Richard Shepherd | Richard Shepherd specialises in employment, regulatory crime and inquests. He is the… | View Profile |
| | Kannan Siva | Kannan Siva is a criminal practitioner who has vast experience of defending… | View Profile |
| | Alec Small | Alec joined Albion Chambers in 2014 after the successful completion of his… | View Profile |
| | Philip Smith | Philip joined Chambers in September 2018 after the successful completion of his… | View Profile |
| | Nicholas Sproull | Nick is the Head of the Albion Chambers Matrimonial Finance Team. He… | View Profile |
| | Jonathan Stanniland | Jonathan Stanniland practices in matrimonial finance. He undertakes financial provision and trust… | View Profile |
| | Darren Stewart | Darren joined Albion Chambers in January 2019 following a successful 14-year career… | View Profile |
| | Don Tait | Don Tait is a specialist criminal practitioner. He is a CPS panel… | View Profile |
| | Lucy Taylor | Lucy Taylor became a tenant in Chambers in 2018 after completing her… | View Profile |
| | Adam Vaitilingam QC | Adam Vaitilingam QC is a highly-experienced silk and a specialist in criminal,… | View Profile |
| | Alexander West | Alexander specialises in Matrimonial Finance, Regulatory Crime and Inquests. Having joined Chambers in… | View Profile |
| | Jonathan Wilkinson | Jonathan joined Albion in 2016 and specialises in Court of Protection and… | View Profile |
| | Alun Williams | Alun joined Albion Chambers in 2017 after undertaking pupillage and early tenancy… | View Profile |
| | Hannah Wiltshire | Hannah Wiltshire specialises in Court of Protection and family law, and particularly… | View Profile |
| | Ms Tanya Zabihi | Tanya joined Albion Chambers in January 2017. She has over 27 years… | View Profile |
Top Tier Set Rankings
Set Rankings