Fabricio Longhin > Clifford Chance > Washington DC, United States > Lawyer Profile
Clifford Chance
Offices

Clifford Chance
2001 K STREET NW
WASHINGTON DC 20006-1001
United States
Fabricio Longhin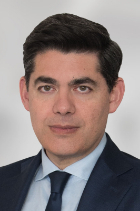 Work Department
Banking & finance, Energy & resources, Rail, Transport & logistics
Position
Fabricio Longhin advises developers, commercial banks, multilateral organizations, export credit agencies, infrastructure and energy funds and institutional investors in all aspects relating to the development and financing of energy and infrastructure projects in Latin America and the US.
Lawyer Rankings
(Leading individuals)
Clifford Chance is unsurpassed in terms of its breadth of expertise and geographic coverage. It routinely captures market share in hot markets and is rarely left behind by competitors. Clients range from commercial banks and investment banks, to development finance institutions (DFIs), multilateral agencies (MLAs), institutional investors and sponsors and developers. It has also impressed by leveraging its extensive network, from Sao Paulo to New York, Washington DC, Madrid and beyond. Despite Argentina's recent economic woes, the firm continued to advise on a significant number of projects linked to the country's public-private partnerships (PPP) programme, especially on the lender side. Colombia, Peru and Paraguay have also been important markets, while Brazil is beginning to show promise for the team. The firm has continued to demonstrate leadership in private placement financings, notably those linked to wind farms in Peru. It continues to be at the forefront of project bonds in the region and has also further developed its standing in hybrid financing structures. Gianluca Bacchiocchi is 'the go to guy for many of the banks' on project bonds, and has impressed further in hybrid financings and PPPs in Argentina. Washington DC partner Fabricio Longhin continues to earn multiple accolades, derived in part from his leadership in Argentina and Colombia infrastructure projects, including road PPPs in the former, along with multi-source financings in Paraguay. Washington DC's Lori Ann Bean and Catherine McCarthy continue to be at the forefront of MLA and DFI financings in Latin America, while Madrid partner José Guardo is an increasingly prominent figure in Spanish-driven financings. New York's Guido Liniado  has been elevated to partner, while Washington DC's Alberto Haito and Jessica Springsteen are key names at associate level.
Clifford Chance has seen a further uptick in bulge-bracket financings across Latin America. With a growth in large-cap deals in Brazil, this has further favoured a firm that has an especially strong record in Latin America's largest economy. This should not detract from its experience elsewhere, as the firm 'does a very good job of covering the territory and has a strong fleet of Spanish speakers'. Syndicated loans and trade and commodities finance have been a particular feature of its Brazil work, while project finance is flourishing right across the region. The firm has built a particularly formidable position in Colombia and Argentina project financings and is recognised for its experience in restructurings in Brazil and Mexico, including in the offshore oil-and-gas sectors. From a historical reliance on multilateral agency (MLA) and development finance institution (DFI) clients, the firm has successfully diversified its client base to also include a range of key commercial banks, alternative lenders and corporate borrowers. Clients now include Citibank, Goldman Sachs, Morgan Stanley, UBS, CVC Capital Partners, Franklin Square Asset Management, Rialto Capital, Sealed Air and Siemens. It advised BNP Paribas, JP Morgan, Mizuho and Rabobank on the $9.2bn acquisition financing of Suzano Papel e Celulose's $11bn acquisition of Fibria; the financing involved a bridge loan facility and an export prepayment facility. The firm also advised Supercanal, the Argentine cable, television and internet provider, on its $400m restructuring involving Chapter 15 proceedings and a tender offer for its $300m New York law-governed notes. The team 'always meets its commitments and takes initiative more than any other firm to anticipate issues and provide solutions', according to one client.  Chris Willott is a giant of the Brazil financing market, while Jennifer Demarco has a prolific record in Latin American restructurings. In the latter segment, Washington DC's Fabricio Longhin has made a significant impression on the market in recent years and is 'a very experienced practitioner across a range of products', 'maintains an outwardly cool demeanour, seems unflappable and is smart and reasonable'; he is one of a number of Argentine natives in the team that have helped the firm gain an especially strong position in financings linked to Argentina's recent RenovAr programme. Catherine McCarthy and Lori Bean are key members of the Washington DC team that continues to work closely with MLAs and DFIs on Latin America financings. Guido Liniado was elected to the partnership in May 2019 and senior associate Andrew Young is another up-and-coming name. Madrid partner José Guardo is commended for 'effectively negotiating with sponsors', 'professionalism throughout difficult negotiations' and is 'critical in keeping the deal moving'.
Led from Washington DC by Fabricio Longhin and also including lawyers based out of New York, Clifford Chance's nine-partner projects team handles a range of bank and capital markets-related finance and refinancing work for sponsors, investors and lenders, both from a domestic and international perspective. Working alongside practitioners from across the firm's broad international network, should the need arise, the team has a particular sweet-spot advising the lenders (including export credit agencies) in relation to development bank and multilateral financings of Latin American projects. Catherine McCarthy  excels in such deals and recently advised the multilateral and development finance institutions (including IDB Invest) on the $108m project financing for the Bicentenario 125,2 MW renewable wind energy power plant located in the Province of Santa Cruz, Argentina. Another area of strength is the team's work for US-based financial investors and institutions in the financing or refinancing of projects via private placements.
Clifford Chance has a multi-faceted team that comes highly recommended for major international projects. The firm's impressive network of offices, including those in Europe and Latin America, help make it a leading force in major Latin American infrastructure and energy projects. Much of that work is led by the US team, which is headed out of Washington DC by the highly rated Lori Ann Bean. The practice is especially strong on the lender side, but is also growing on the sponsor front, and has in the past year represented several clients on US development projects in the petrochemicals and manufacturing space. Other key individuals working in the capital include Fabricio Longhin  and Catherine McCarthy , who are well known for their Latin America expertise, as are Gianluca Bacchiocchi, Hugo Triaca, Chris Willott, and Guido Liniado in New York.